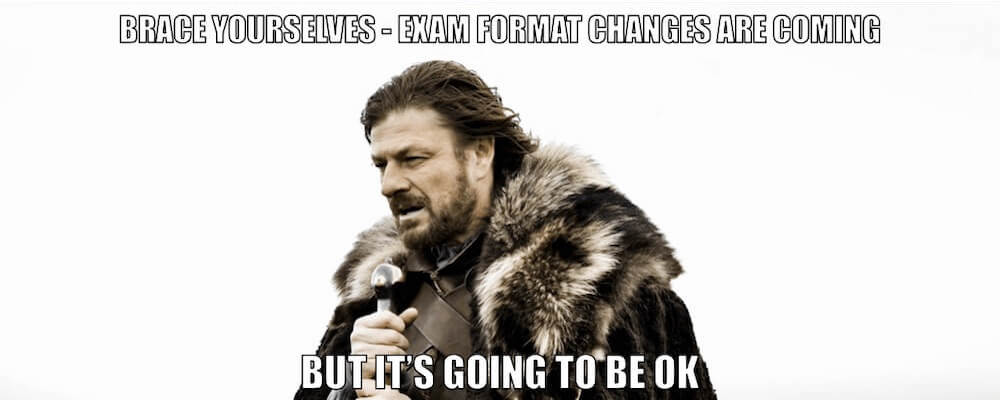 By Christine
The CFA exams have been tested with the same format for a decade, but after changing the way results are reported recently, CFA Institute casually dropped another big one on us: the vignette format for the CFA exams Level II and III are changing. This is the first change in the CFA exam format since 2009, where CFA Institute changed the format of the multiple-choice and item set questions on CFA exams from four answer options to three.
But change doesn't need to be scary! Read on to find out what the changes are, whether they will affect your exam, and what you can do to address the changes.
​What's the change?
Starting from the June 2019 exams, the CFA Institute has announced that the vignette format of the CFA exams will change slightly from its current format. In particular, there will now be more item sets, and item sets will not necessarily have 6 multiple choice questions.
Here's a table comparing the new format with the old one:
CFA exam level

June 2018

CFA exam Level II

20 item sets
​6 multiple-choice questions

18 item sets with
6 multiple-choice questions
​AND
3 item sets with
4 multiple-choice questions

CFA exam Level III

10 item sets

​6

multiple-choice questions

8 item sets with
6 multiple-choice questions
AND
3 item sets with
​4 multiple-choice questions
When will the change take place, and at which level?
The changes will take place:
from the June 2019 exam onwards, and
affects all vignette exams, i.e. the Levels II and III of the CFA exams.
Will the number of vignettes (and accompanying questions) remain consistent beyond 2019?
CFA Institute has left this ambiguous – they might be keeping their options open on this one. We think that, going forward, the format is likely to remain similar to the 2019 configuration, although it is no longer a 'guaranteed' format.
Will this mean the exam will be harder?
Mark Meldrum summed up the changes well on LinkedIn:
"It is actually easier to write vignettes if you don't have to stick with such a tight structure as 6 questions. However, that also gives CFA Institute the ability to ask about some topics they would not ask about before since it would have been difficult to get 6 questions from. So, easier to write, edit and prepare the exam, but now possibly more challenging to write as a test taker. A wider area in each section can now be covered."
We agree – with a more flexible item set structure, questions will be stronger, as examiners would not need to create weaker questions just to make the required 6-question total for each item set. And with more vignettes, there would be more topics tested.
I didn't agree to this when I signed up! Is it possible to cancel the exam and get a refund on this?
No. As mentioned, the effect of the exam format changes on your CFA exam preparation should be minimal. CFA Institute will not be offering any refunds – in any case the new format will still be applicable to 2020 and beyond.
Will new mock exams be issued to reflect the new format?
No. CFA Institute has said that the change does not affect the basic item set structure, and the total number of multiple choice questions remains unchanged, so the current mock exams are still appropriate practice for the CFA exams.
Would I have more to digest, since there are now more vignettes?
No. CFA Institute has stated that the 'cognitive load' will be proportionally reduced for item sets with less questions, and the vignettes will also be shorter. The variation in vignette length will be similar to how the CFA exam Level III essay portion has been.
Will the questions themselves have different point values?
No – all multiple choice questions will still have the same value at 3 points.
Have a question that's not covered? Let us know in the comments below and we'll get back to you!