Interviewing for a new job, targeting a promotion, or looking to progress your career?
Top tier firms know that the CFA Program produces results.
​For your next career move, here's a primer with all the facts and research showing how CFA charterholders and candidates have an edge over the rest.
Let's dive in!
---
A hiring primer for CFA charterholders and candidates
Nearly half of candidates register for the CFA exams for career reasons – be it career advancement, improving chances to obtain a job or simply getting recognition from employers.
Therefore, we have crafted what we think is the most complete CFA hiring primer on the internet. It is designed for all CFA charterholders and candidates to use it as 'talking points' to:
You don't need to use all the items in the checklist, it is likely only some would apply in your use case.

Just select a few base points, tailor and add relevance for your particular situation for maximum impact. Pick your mix.
---
1. CFA charter is the leading investment designation in the world
Interest in the CFA designation is at an all time high.
As of July 2023, there are more than 190,000 CFA charterholders worldwide in 160+ countries, with an annual growth rate of 6% for the 2012-2022 period.
Whilst we don't have granular data on the number of CFA charterholders by country, the CFA charterholder geographic split is roughly 56% Americas, 22% EMEA and 22% Asia Pacific.
The number of CFA candidates attempting the CFA exams has grown even faster, with more than 270,000 candidates taking Level 1, 2 and 3 exams in the 2019 exam cycle alone!
Despite the pandemic which caused majority of exam postponements in 2020, the number of CFA candidates rebounded quickly in 2021 with nearly 230,000 candidates for all 3 levels. That said, 2022's candidate registration fell drastically to 144,815 despite a more flexible and frequent exam schedule. More data is needed to understand if this is a permanent shift or a temporary blip from the pandemic.
Without a magic crystal ball predicting the future, we expect candidate numbers to gradually increase from 2022's low, returning in the long term to 2021's levels. Few reasons for this:
The global nature and quality of the CFA designation creates a level playing field for investment professionals worldwide, contributing to its popularity;
Increasing demand in qualification-focused emerging markets such as China and India; and
Strong member support from CFA Institute: CFA Institute is the world's largest association of investment professionals, with more than 190,000 members globally. CFA Institute continues to support its members with the latest financial research, thought leadership and continuing professional development opportunities.
---
2. The CFA charter is a quality indicator
CFA charterholders are a signal of commitment, discipline and determination.
They have proven themselves by dedicating 1,000+ hours of intense study time to pass one of the most rigorous series of exams in the financial industry, while working full time.
​This initiative for continuous self improvement would be an asset to any firm, especially in the competitive financial services industry.
According to Financial Times' 2018 Skills Gap Survey, "drive and resilience" is one of five skills identified as most difficult to recruit for amongst MBA graduates, despite it being a skill MBA graduates claim to be most proficient in. This suggests a mismatched expectation between employers and MBA graduates.
​Having a CFA Charter itself may be a stronger indicator of drive and resilience compared to an MBA.
---
3. The CFA charter is increasingly preferred by investment management firms
Since the 2008 financial crisis, retail and institutional investors are placing more importance in investment professionals who have appropriate industry credentials.
Firms increasingly reflect this client preference in their hiring process. Excluding junior staff members, the CFA charter is required or preferred by more than 90% of investment management firms. The requirement for a CFA charter increases with seniority, with 25% firms requiring senior and executive level employees to have a CFA charter.
​
A key driver for this trend is the strong emphasis on ethics in the CFA curriculum. As part of the CFA program, candidates and charterholders adhere to a mandatory Code of Ethics and Standards of Professional Conduct. Upholding high ethical standards builds trust with clients, which is crucial to retaining business and attracting new clients.
With the evolving market landscape, there is also an increased focus on ESG (environmental, social and governance) investment principles. CFA charterholders are well positioned to lead in this area of socially responsible investing.
---
4. CFA Program offers a uniform measure for diverse job candidates
Why is diversity important in business?
According to McKinsey's 2017 research, diverse companies are more likely to deliver higher profitability and value creation. Diversity helps companies attract top talent, improve customer experience, employee satisfaction and decision making overall.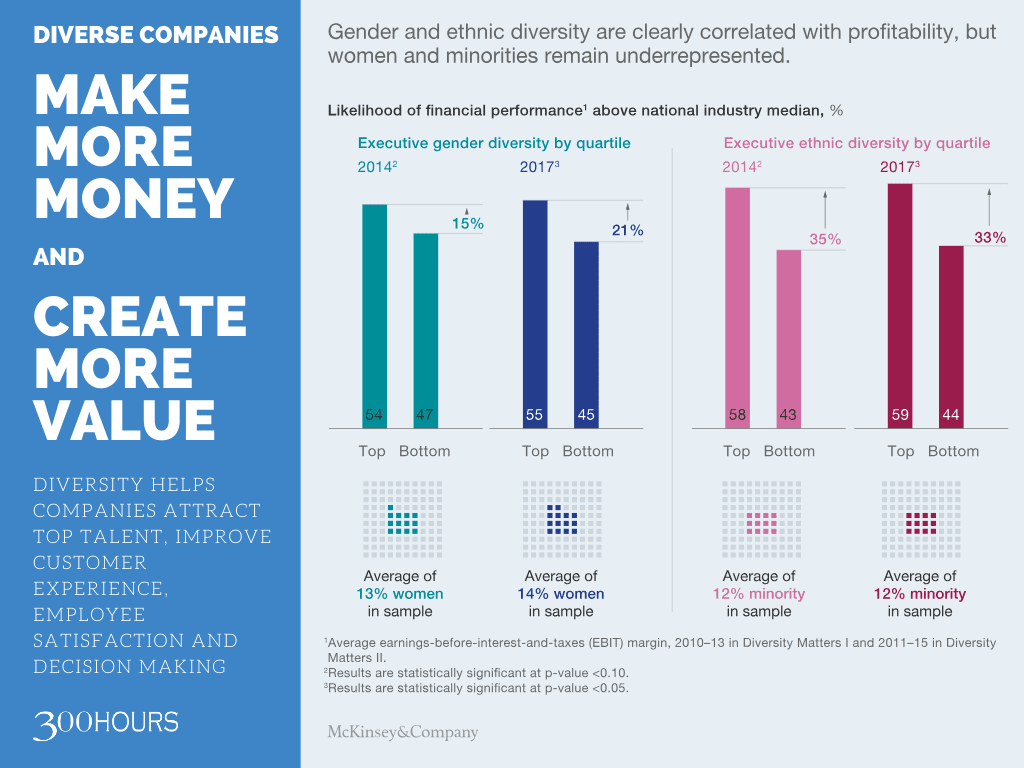 ​Even if hiring for diversity matters, it can be difficult for companies to compare between candidates who come from a diverse set of backgrounds. Here is where the CFA designation would prove useful – it provides a global, uniform means to measure all candidates regardless of country, background, gender or ethnicity.
​In fact, the CFA program itself can be a source of diversity, given its global popularity. According to CFA Institute, female participation in the CFA Program has more than doubled globally in the last 5 years, currently accounting for 39% of all CFA candidates. For Level 1 candidates – a key contributory signal of future trends – female participation in some markets, notably Australia and UK, is now at least 50%.
---
5. CFA Program is likely to deliver a good return on investment for employers
In an era where recruiting the right talent remains a challenge, upskilling existing workforce may be a lower risk, more cost efficient strategy to adapt to changes in the fast-paced financial sector.
Many leading institutions in the investment management profession pay for or reimburse their employees for CFA programs. Supporting employees enrolment into the CFA Program can be beneficial for employers because:
It upgrades employees with no downtime: CFA designation is a thorough, self-study, graduate-level program that can be achieved while working full time.
It retains highly qualified employees and reduces turnover through professional development, which in turn can further help attract top talent.
It Increases employees' engagement and motivation which leads to higher productivity.
For finance, the CFA credential is relatively cost efficient compared to other qualifications: Assuming first passes, the total CFA exams fees for 3 levels ranges from US$ 3,100–4,100, depending on registration deadline. On the other hand, a 2 year MBA qualification typically cost US$60,000 – 100,000 in tuition and fees alone, excluding employee downtime, living expenses and the opportunity cost of forgone salaries. 
---
Best of luck for your career planning! If you've got more points to add, let us know in the comments below!
​Meanwhile, you may be interested in these other related articles: