Important: this article has been updated for August and 7th December 2020's (big) schedule changes.
2021 represents a big step change for all CFA candidates, with full transition to computer-based testing (CBT), shorter exams and increased testing frequency for all Levels.
It also doesn't help that CFA Institute has since then implemented a few additional changes to 2021's exam dates and exam cycles.
For those considering the CFA exams, how do these changes impact the speed of your path to CFA charter? What are the differences between the various CFA registration options? ​How does that route change if you fail?
No worries, we've analyzed all available exam cycles and mapped them out for you in our (ahem) beautiful CFA Journey Planner – check it out!
---
CFA Exams: Summary of CFA Institute's Recent Changes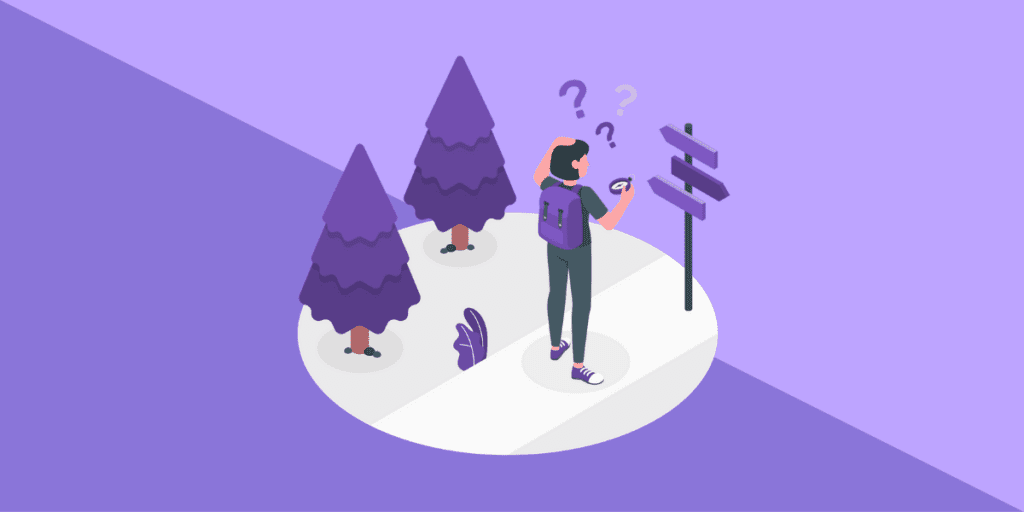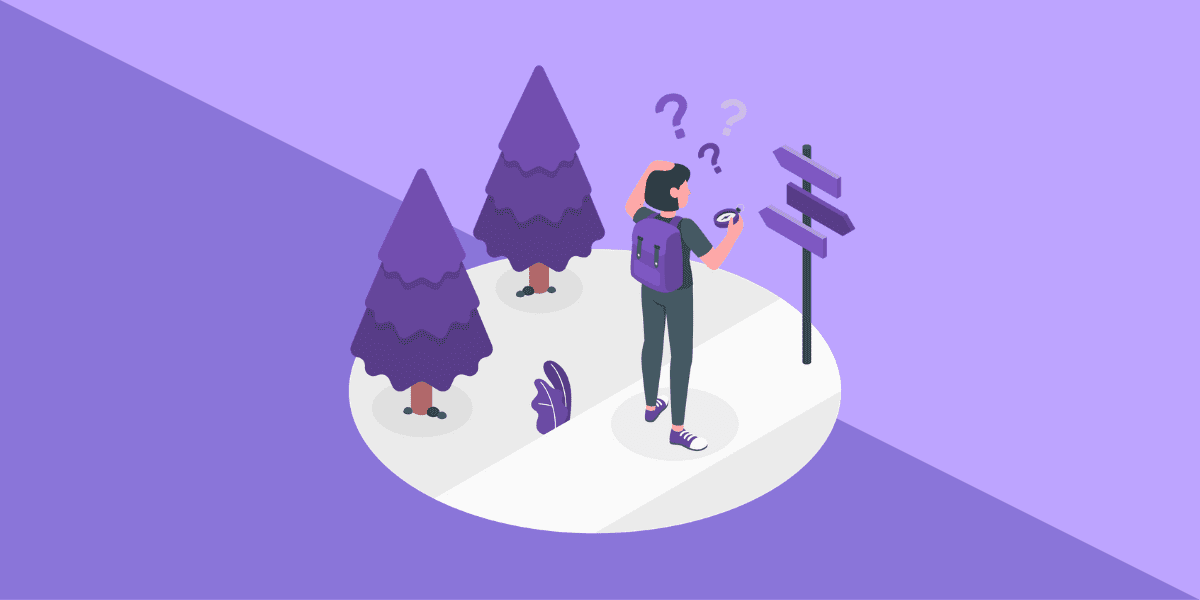 On 4th August 2020, CFA Institute announced that all Levels of CFA exams will be computer-based from 2021, along with some format and schedule changes :
Exam format and duration: aside from the change to computer-based testing (CBT), exam length for each Level is also reduced by 25%, i.e. 2 hours and 15 minutes per paper (instead of 3 hours), with 2 papers per Level as before.
Exam frequency: instead of the single day testing around the world, CBT exams can be scheduled in multi-day windows at more test centers globally. Candidates need a 6 months minimum gap between exam attempts (the "6 months rule"), given the increased testing frequency for all Levels.
Subsequently on 7th December 2020, CFA Institute also announced one-off additional exam slots for Level 1 in March (for select Dec/Feb postponed candidates only) and July, November for Level 2 and August for Level 3 as well. Talk about madness 🙂
​All changes summarized neatly in the table below:
| CFA Exam Cycles by Level | 2021 | 2022 Onwards |
| --- | --- | --- |
| Level 1 | 6x this year, with exam windows available in February, March (one-off), May, July (one-off), August and November. | 4x a year, with exam windows available every quarter in February, May, August and November.​ |
| Level 2 | 3x a year, with exam windows available in May, August and November. May and November 2020 Level 2 are one-offs.​ | 2x a year, with exam windows available in February and August going forward.​ |
| Level 3 | 3x this year, with exam windows available in May, August and November. | 2x a year, with exam windows available in May and November.​ |
In summary
In 2021 (only), Level 1 exams would be held 6x a year, whilst Level 2 and Level 3 exams are offered 3x a year in multi-day exam windows. The extra one-off exam slots in 2021 are to accommodate all the postponed candidates during the pandemic.
From 2022 onwards, it will revert to a regular schedule of 4x a year for Level 1, twice a year each for Level 2 and Level 3.
Naturally, this major upheaval created a lot of confusion especially around how the "6 months rule" works, how the different exam cycle options compare, and more importantly, how the new path to obtaining CFA charter looks like.
Well, I hope this is the one chart that explains it all!
---
CFA Registration Journey Planner: Plan Your Path to the Charter Easily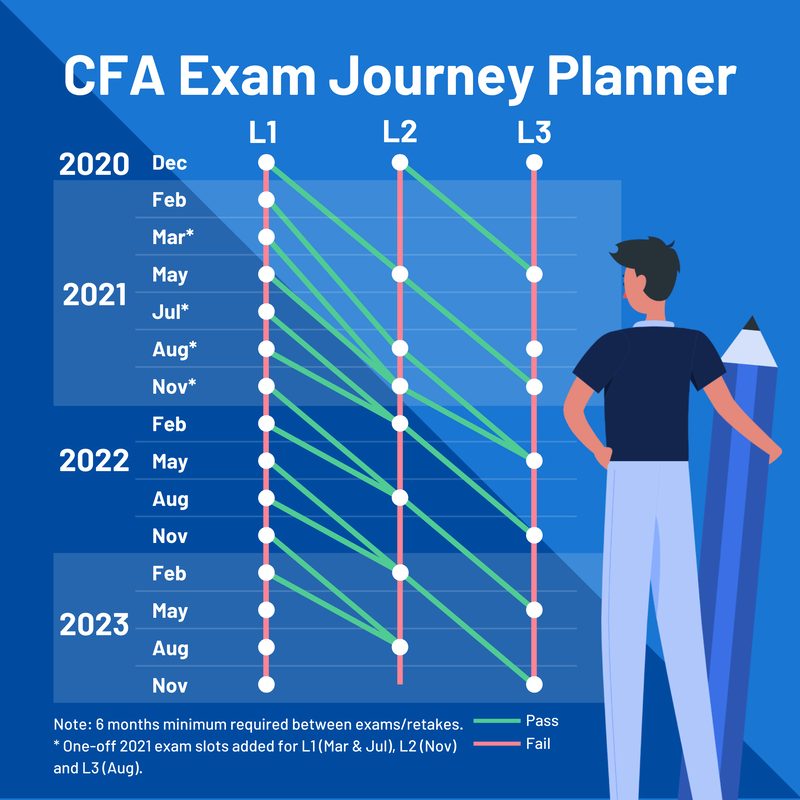 Our handy CFA Journey Planner infographic lets you plot your route to the CFA charter at a glance.
It displays the exam slots for each Level for 2020-2023, with the next available exam intake depending on results (pass or fail). This lets you easily see what options you have and apply the "6 months rule" to understand when are the next applicable exam intakes.
Let's run a few example scenarios:
If you're sticking to Dec20 Level 1 intake, but failed that exam, the earliest you can attempt Level 1 again is 6 months from December 2020, i.e. May21 intake, not Feb21.
If you failed Level 2 in May21, due to the "6 months rule", the next available Level 2 exam you can register for is Nov21, not Aug21.
If you passed Dec20 Level 2, you can register for May21 Level 3.
If you failed Dec20 Level 3, you can retake it in May21.
There are a few interesting insights we can conclude from these exam schedule changes.
---
2021 CFA Registration Options: What Have We Learned?
1)You can now obtain your CFA charter faster than before. Registering for Level 1 May21 is a one-off chance to blitz through the CFA charter in less than 1 year
Given the increased testing frequency on every Level, CFA candidates can now complete all 3 levels faster than previously. Upon passing, candidates can progress to Level 2 in 6-9 months and Level 3 usually in 9 months.
Under the old system, the fastest one could complete the CFA charter is in 18 months with 3 consecutive passes. From 2021, passing all 3 Levels consecutively only takes 15-18 months as the norm, with two one-off, crazy chance to do it in less than 1 year with Dec20 and May21 Level 1 exams!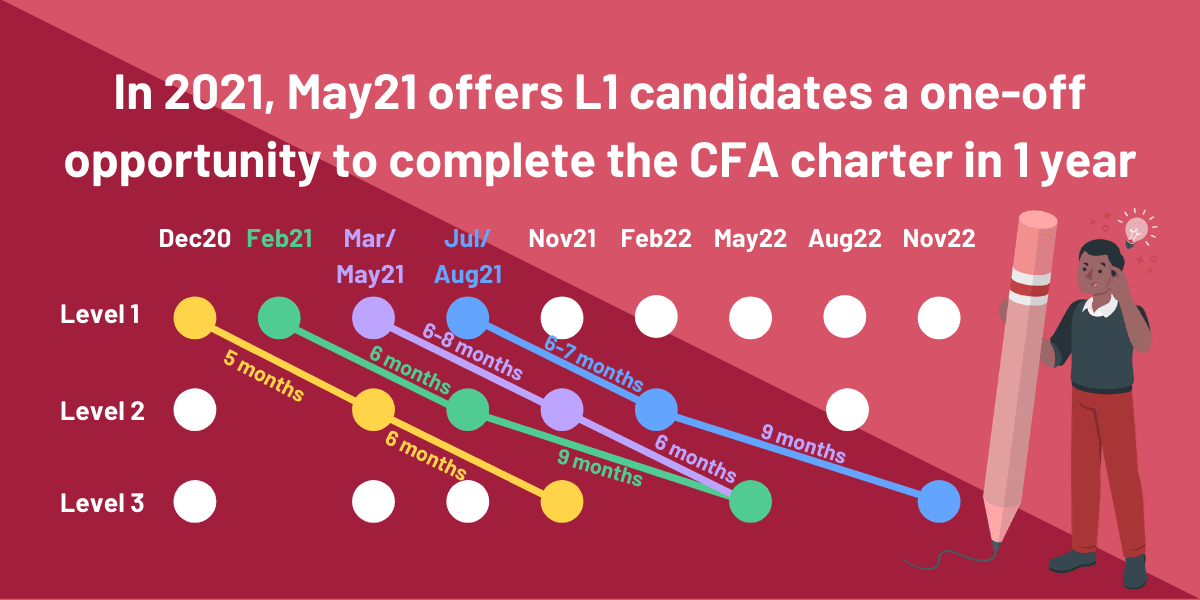 It would be a tough (but not impossible) route to take on May21 Level 1, then Nov21 Level 2 and finally May22 Level 3. However one needs to bear in mind the high potential for burn out given that you may have to start studying for the next level before results are out, assuming you're juggling a full-time job and studies simultaneously.
If you're up for the challenge, the last day to register for May 2021 Level 1 exams is 23 February 2021.
---
2) The cost of failure has significantly reduced: you can retake a level every 6 months
Nothing surprising here given the "6 months rule"!​
---
3) From July 2021, there isn't much difference in speed across all Level 1 registration windows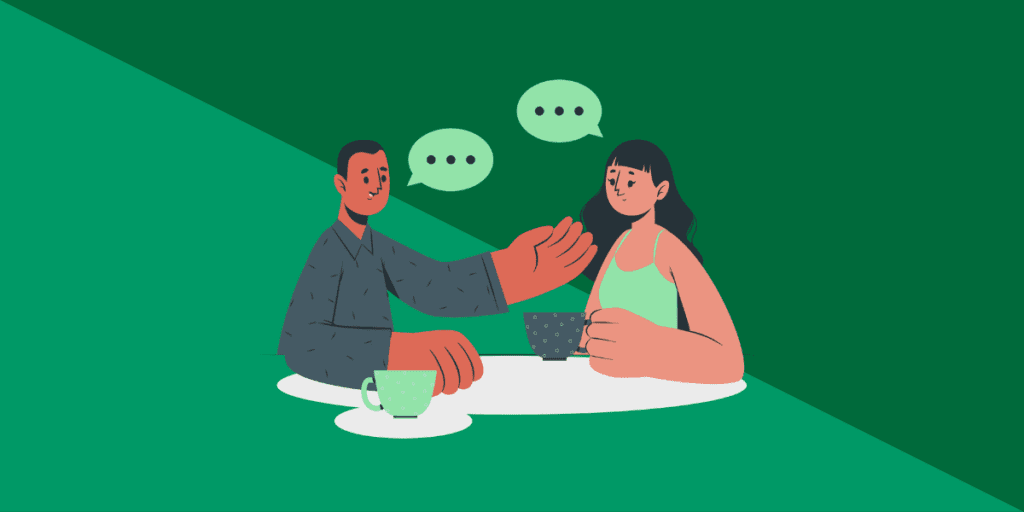 If you're considering Level 1 much later (say mid 2021 onwards) and wondering which exam cycle is best to go for, the good news is that there isn't much speed differences across all the exam windows after first half of 2021.
February and August exam cycles are slightly faster – but only by 3 months – compared to May and August. It is a 6 months wait to Level 2 for Feb/Aug Level 1 candidates who passed, but a 9 months wait for May/Nov Level 1 candidates. From mid 2021 onwards, assuming 3 consecutive passes, it takes candidates 15-18 months to complete all 3 exams regardless of the choice of exam registration window.
Given the negligible differences in speed for the 4 regular Level 1 exam windows, choose your exam slot based on your personal, work and life commitments to maximize your chances of success:
Although February and August cycles are 3 months quicker, the schedule would be more intense as it takes up to 2 months for results to be published, which in effect only gives you 4 months to Level 2 which would be challenging with an intense full-time job.
On the other hand, May and November cycles allow you to have 6-7 months of proper studying time after result publication, which is a more sustainable study plan and achievable with a full-time job.
---
Need more information on CFA exam registrations? Here are related articles of interest:
Decided on your exam registration window? Great! Here are the best resources to kickstart your studies after registering: