About Kaplan Schweser
Kaplan Schweser is one of the biggest CFA prep provider in the market, with 30 years experience in CFA exams.
Developed by Dr Carl Schweser and Dr Andrew Temte in 1990, the Schweser Study Program became the CFA industry leader in the mid-1990s, and hasn't looked back since. The Schweser Study Program was acquired by Kaplan Inc in November 1999.
Dr Temte became the CEO of the Schweser Study Program, and today is the CEO of Kaplan Professional, covering not just CFA, but other qualifications such as ACA, ACCA, CIMA, CFP, CAIA, and FRM.
Kaplan Schweser today has 12 full-time CFA-qualified faculty members, and 13 other full-time faculty members who hold other professional designations such as CAIA, CFA or FRM.
What study packages are available for the CFA Program?
Kaplan Schweser has a few simple study packages depending on the level of support you would like for your CFA exam prep.
The Essential package covers all the basics for candidates that prefer to self-study. For those who prefer a bit more structure and guidance, the Premium and PremiumPlus packages include weekly instruction, workbooks, instructor support and review programs as well.
Kaplan Schweser's current CFA offers and deals
Kaplan Schweser does offer discounts, freebies and deals from time to time, including an Early Bird discount that's usually offered right around CFA registration deadlines. Here are the current deals, offers and discount codes for Kaplan Schweser's CFA exam prep packages:
Study and Review Materials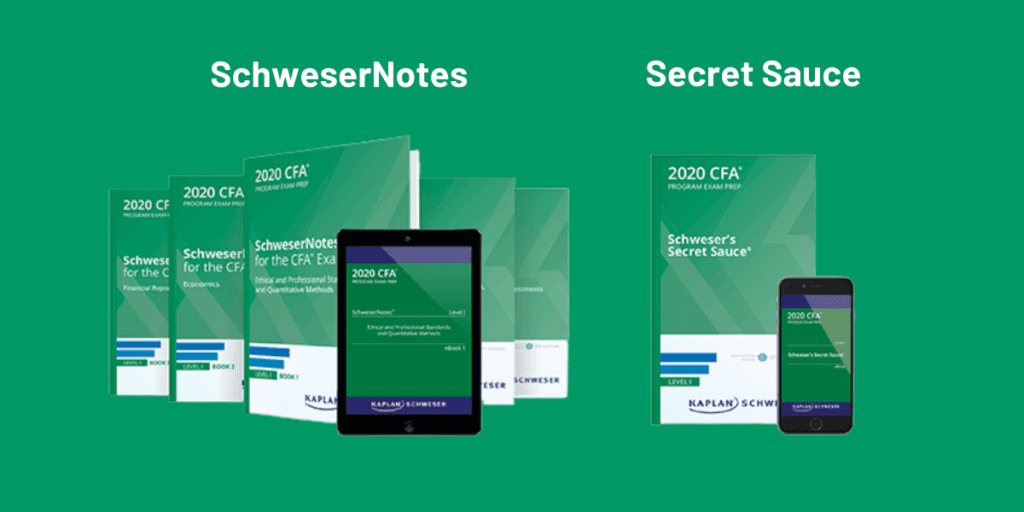 SchweserNotes: Kaplan Schweser's study notes are clear, concise and comprehensive
Called SchweserNotes, the five-volume set is everything Schweser thinks candidates need to study for to pass the exam.
It's important to know that the Schweser study notes intentionally do not cover everything in the CFA curriculum. Instead, the study notes are designed to be more concise, helping candidates better process the CFA Learning Outcome Statements (LOS).
There are also practice questions and self-tests at the end of each topic – although they are usually more to check that you've read everything, rather than testing you on the same difficulty level as the real exam.
SchweserNotes are available in print form, in ebook format, and even in audio format.
Review Notes: Kaplan's Secret Sauce
The Secret Sauce is Kaplan Schweser's compact guide for candidates as the exam day approaches. This smaller book is handy to bring around once you've completed the study notes.
It contains concise, readable explanations of the major parts of the CFA curriculum, along with tips, strategies, plans and analyses that help inform your exam-day performance.
You can check out SchweserNotes and Secret Sauce at Kaplan Schweser's online store here ↗︎
Practice Questions and Mock Exams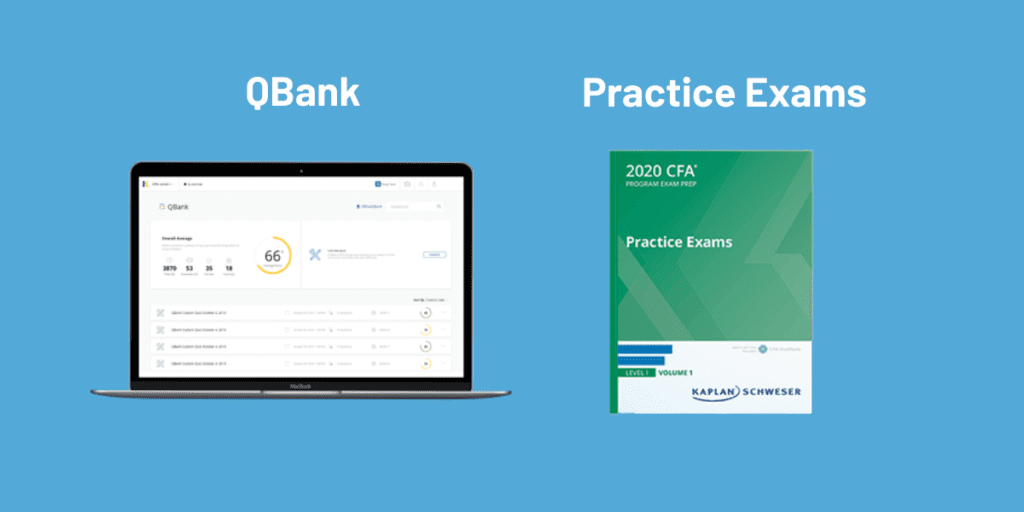 Question Banks: practice with thousands of questions online
Available as an online platform, the SchweserPro QBank has thousands of multiple-choice questions and allows you to customize your own exams by topic, difficulty and number of questions.
At last count, the number of questions available in Kaplan Schweser's Qbank is:
CFA Level 1: 3,500+ questions
CFA Level 2: 3,000+ questions
CFA Level 3: 1,500+ questions
All questions have full answer explanations, with useful performance metrics to focus your studies.
Full Qbank description and details from Kaplan Schweser here ↗︎
Practice Exams: Four full practice tests, online mocks are available
Kaplan Schweser offers four full Practice Exams for each level. Each practice exam consisting of an AM and PM paper, and they are available in print or online.
They also offer an Online Mock Exam, which is timed, simulates the exact interface of the computer-based exam (Exam Sim mode) and includes a Mock Exam Tutorial: detailed, guided walkthrough the mock exam questions and answers after you've taken the exam.
More on Kaplan Schweser's question banks and practice exams ↗︎
CFA Classes, Courses and Videos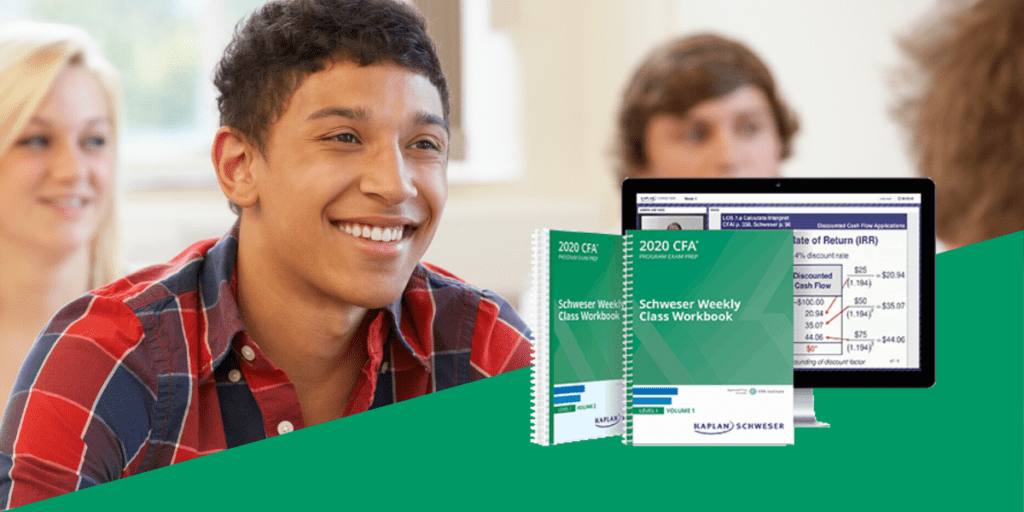 Classroom & Video Courses: Attend live or online
Schweser's classroom courses consist of weekly classes and on-demand video lectures. It includes all the material you need, although you do need to be disciplined in attending classes and watching the on-demand video lectures beforehand.
Live weekly classes are currently offered in about 3+ cities, but if live classes aren't offered in your city you can attend online. If you miss any classes, all classes are archived online so that you can catch up on them later.
Review Courses: Varying lengths and intensities to suit all needs
Schweser offers a range of review courses in varying duration and intensity. They're offered in certain cities, so always check to see the latest availability.

1-Day Workshops focusing on one topic, such as Financial Statement Analysis.
3-Day Workshops covers key topics for the entire exam, practice questions, instructor tips, and includes all the materials you need plus the Secret Sauce book.
5-Day Workshops are intensive courses conducted over five consecutive days, with a thorough review of key topics, practice questions, instructor tips, and includes everything you need including the Secret Sauce book.
WindsorWeek is a 7-day workshop conducted at the University of Windsor (Ontario, Canada). Consisting of hundreds of candidates from all over the world, it's a full immersion in the CFA curriculum, with 48+ hours of instruction, all the materials you need, one-on-one tutoring sessions, a mock exam, with lodging and meals provided.
More details on all Kaplan Schweser's CFA classes and courses ↗︎
Online Platform and Apps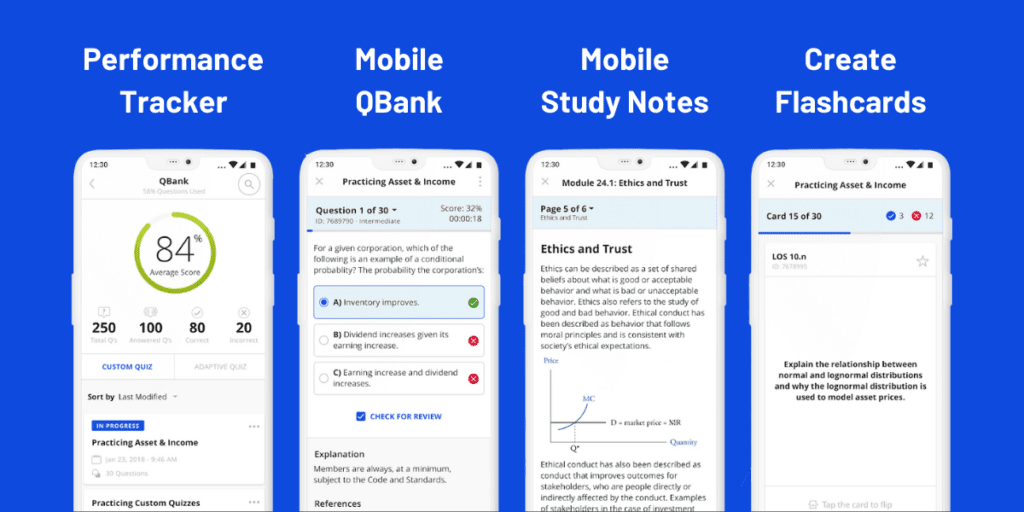 Kaplan Schweser App: Your CFA materials on the go
The Kaplan Schweser App (iOS, Android) is a fairly new addition and launched in 2019. It makes all of the below available on your phone:
SchweserNotes
SchweserPro QBank
Flashcards
Secret Sauce
To suit studying on a smaller screen, Kaplan's transformed their study material into bite-sized formats, with some limited offline capabilities. There have been some reported login issues with the app, but hopefully this should have been resolved now. It's worth checking out if you've already gotten any of the study material covered by the app.
You can download the Kaplan Schweser App here (free download, but content needs to be pre-purchased) ↗︎
Other Features: Flashcards, QuickSheets, PassProtection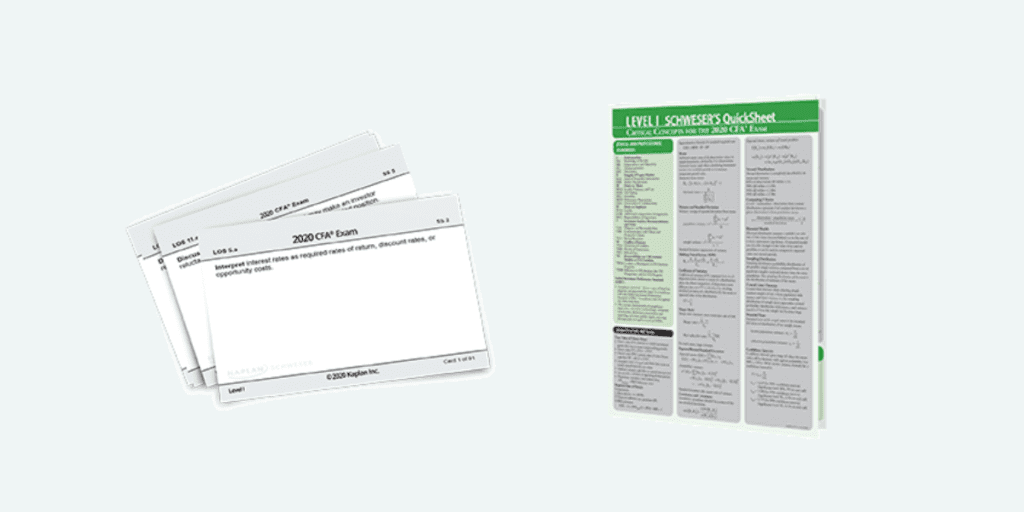 Flash Cards
Flashcards are really useful study tools to help retain information. It's really best practice to make your own flashcards, but if you'd like a ready-made set that covers all topics, Kaplan Schweser has one. The design is as we'd recommend:
paper cards color-coded by topic
Indexed by study session, reading, and LOS
All CFA LOS are covered
LOS printed on one side; complete answers on the other
There's a free sample of Kaplan Schweser's flash cards, which you can download from their free materials page ↗︎
QuickSheet
Most of Kaplan Schweser's CFA packages also include a Quicksheet, which is Kaplan Schweser's CFA formula sheet. This is 6 pages of key formulae, definitions and concepts in one laminated tri-fold card. You'll also get a soft copy.
Here's an example of how a Quicksheet looks like. You can also download a PDF version of this at Kaplan Schweser's free materials page.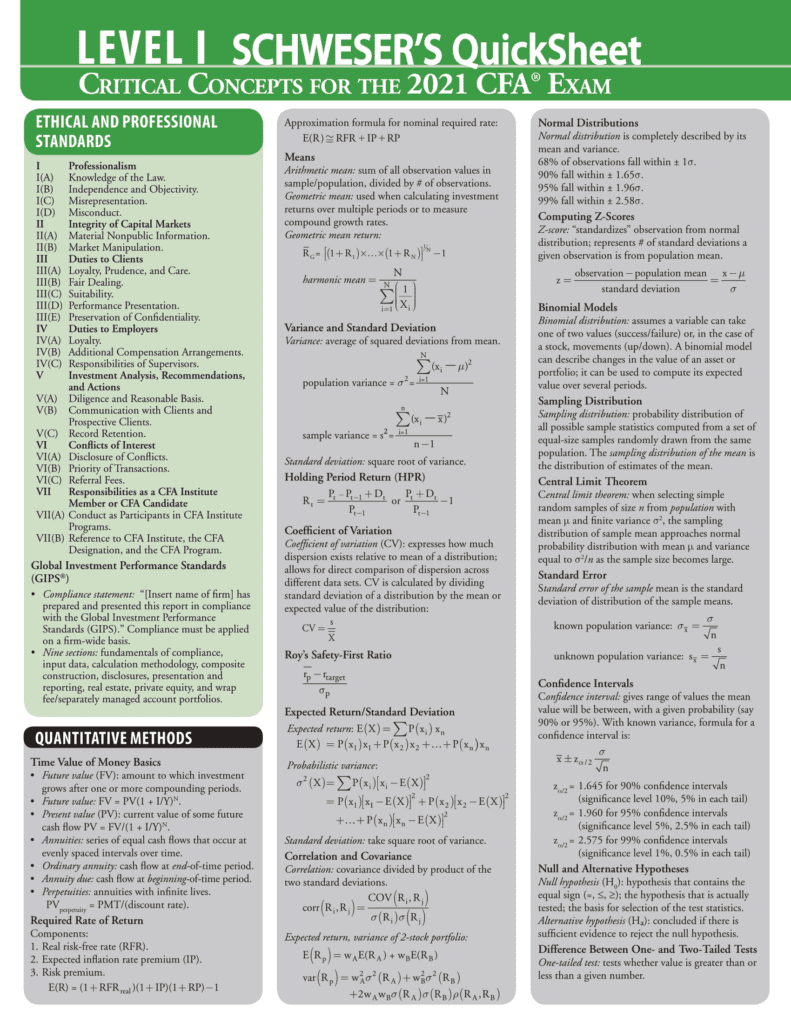 PassProtection Guarantee
Kaplan Schweser offers two layers of guarantees for failing candidates:
First is what they call The Schweser Commitment, which gets you the same exam prep package free for the next exam sitting if you fail. Conditions are:

Applicable only to Essential, Premium, or PremiumPlus packages
You must answer at least 50% of the available online questions (i.e. QBank, Topic Assessments and Practice Exams) via the online platform

If you don't meet the above criteria, you can still get 50% off the same-level purchase, which only applies to previous purchases of Essential, Premium or PremiumPlus packages.