About CFA Institute and the CFA curriculum
CFA Institute's materials are the definitive source for the CFA exams. The exams are tested exclusively on the Learning Outcome Statements (LOS) that are outlined in their materials. If it's not on the LOS, it can't be tested.
So, this should obviously make the CFA curriculum the best available tools for your CFA exam preparation, right?
Not necessarily.
When the CFA program first started, the CFA Institute did not issue their own materials. Instead, they published a list of readings that candidates were supposed to use to guide their studies, using an assortment of reference books. As the CFA program grew in popularity, specialized third-party providers began offering a suite of notes specifically tailored to CFA candidates, and eventually CFA Institute began writing and publishing their own definitive curriculum.
The CFA curriculum was notoriously challenging to read and digest, especially in earlier days. To a certain extent, that makes sense – the CFA Institute's curriculum is primarily meant to define what could be tested, rather than act as a streamlined study tool. As a source, the CFA curriculum is unbeatable, but third-party materials are usually easier to read and are 'slimmer', i.e. third-party providers have cut out parts that they've deemed less crucial in order to create a shorter set of books that candidates can better complete on time for the exam.
75% of candidates use additional material from third-party CFA providers
The CFA Institute has made great improvements on the readability and accessibility of their materials in recent years, but the material's reputation for being difficult to read (deserved or not) remains.
Our research surveys show that about 75% of candidates used third-party providers as their main studying method. Here are some of our recommended providers:
CFA Institute materials are included with every CFA exam registration
CFA Institute study materials (electronic version) are available to all registered candidates, so it's included in the exam registration fee.
Print versions of the CFA curriculum are available for registered candidates to purchase for US$299 plus customs/shipping fee.
However, there are also ways to save on the registration fee. CFA Institute gives out scholarships that most candidates can apply for. Read our guide on how to successfully apply for CFA Institute scholarships here.
Offers and deals by third-party CFA providers
Another way to save is to make sure you get the best deals if you're using any third-party provider. We keep tabs on the latest offers by CFA providers such as the ones below:
Official CFA Curriculum by CFA Institute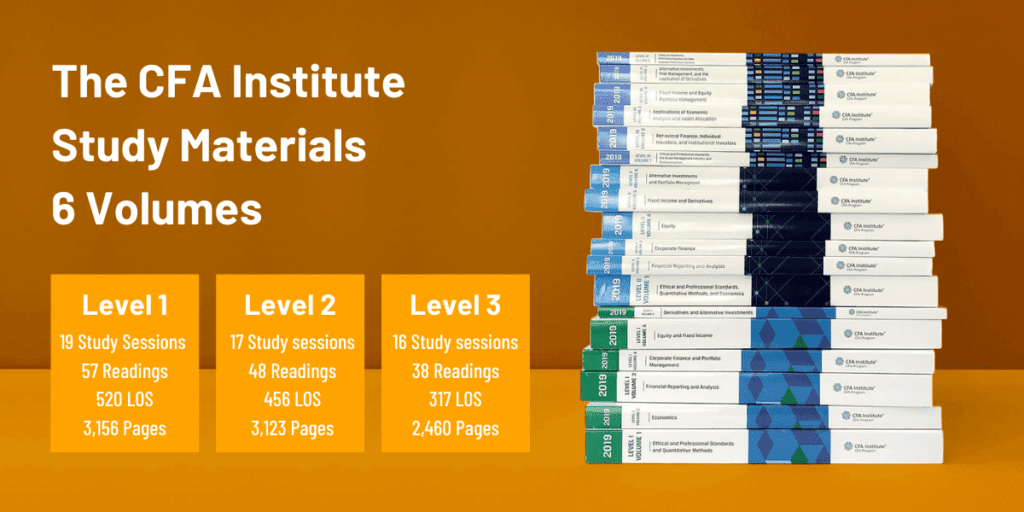 The CFA curriculum is available online or in paper form:
As the curriculum, it goes through every LOS in definitive detail, and nothing is left out. This can be an advantage or a disadvantage – the thoroughness means you'll cover everything, but many candidates find it too long and have difficulty understanding which topics and areas should be prioritized.
At the end most chapters the CFA Institute includes a set of 'practice problems' to test your knowledge. These questions, together with the CFA Institute topic tests and mock exams, are the closest you'll get to the actual CFA exam questions and are insanely useful for your prep. Make sure you cover these, even if you decide to give the actual curriculum a pass.
Our top recommended providers for CFA exam materials →
Practice Questions and Mock Exams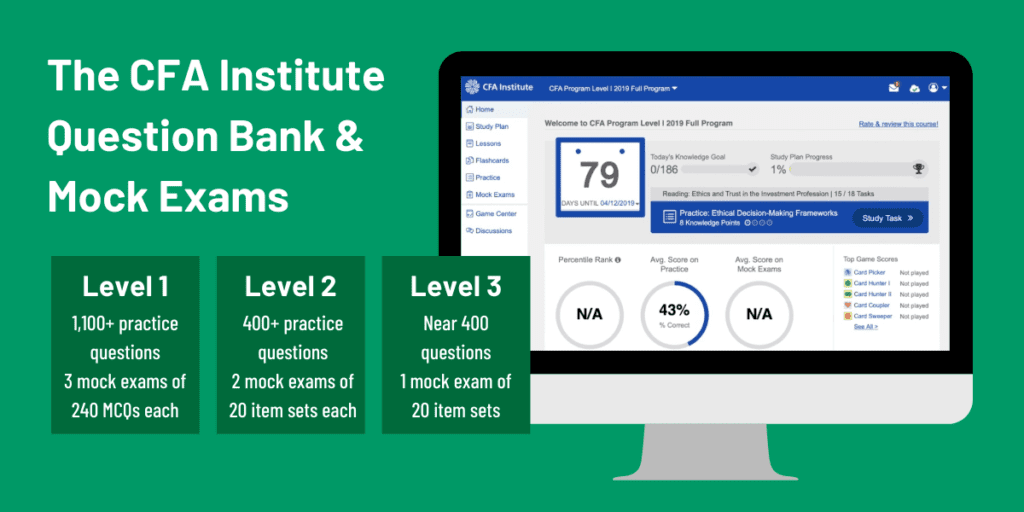 End of Chapter Practice Questions
Also included in the CFA Institute material are what candidates commonly refer to as 'end-of-chapter' (EOC) practice questions – officially referred to by CFA Institute as 'end-of-reading practice problems'.
These are questions at the end of most CFA Institute curriculum readings, under a section labelled 'Practice Problems'.
You should definitely

not

skip these questions, but making them a priority to supplement your prep. Not only are they high-quality and similar to actual exam questions, but there are a ton of them for you to practice on:

Level 1: 1,600+ end-of-reading practice questions
Level 2: 1,100+ end-of-reading practice questions
Level 3: 600+ end-of-reading practice questions
Question Banks
Your CFA Institute material also includes a question bank in addition to the end-of-reading practice problems:

More than 1,100 practice questions for Level 1
More than 400 practice questions for Level 2
More than 400 practice questions for Level 3
Mock exams
CFA Institute also includes mock exams in their material, which should be at the top of your priority list of mock exams to complete before your actual CFA exam.
CFA Institute currently includes with their materials:

three mock exams for Level 1
two mock exams for Level 2
one mock exam for Level 3
You can easily get more practice material, but choose a good provider
CFA Institute questions are definitely the ones to complete, but often more practice is needed. There are lots of study providers that offer practice questions, but quality varies so it's important to choose a provider with a stellar reputation for good practice questions.
300Hours has thousands of ratings on all top CFA exam providers, which includes ratings specifically by practice questions, so you can compare and decide which provider to choose:
The CFA Learning Ecosystem (LES)
CFA Institute's online learning platform for the CFA exams is called the Learning Ecosystem, or LES. The latest version of this online platform is well-featured, although complaints of reliability and downtime during the weekends persist.
The CFA LES is divided into the sections below:
Study Plan
The Study Plan section lays out a recommended approach to studying for your upcoming CFA exams. There are two kinds of study plans that you can choose:
Structured Plan: Go through the curriculum, reading-by-reading, as laid out by CFA Institute.
Adaptive Plan: Offers a personalized path through the curriculum. This is determined by factors including practice question performance and the importance of each reading. After taking an 'adaptive assessment', your recommended plan will be prioritized specifically to your strngthes and weaknesses.
Lessons
The Lessons tab is the core curriculum – all the reading material that defines your CFA exam curriculum. As you read through the material, several features are available:
Confidence Levels: You can mark your confidence levels as you go through each page to help later revision. This will also be highlighted in the Lessons table of contents.
Notes: You can take your own study notes as you go along, summarizing what you've learnt in your own words. Every note you take will contain a quick link to the original source material for easy reference.
Bookmarks: Adding a bookmark simply flags that section, in case you would want to be able to easily recall it later.
Highlights: A good old fashioned highlighting tool.
Flashcards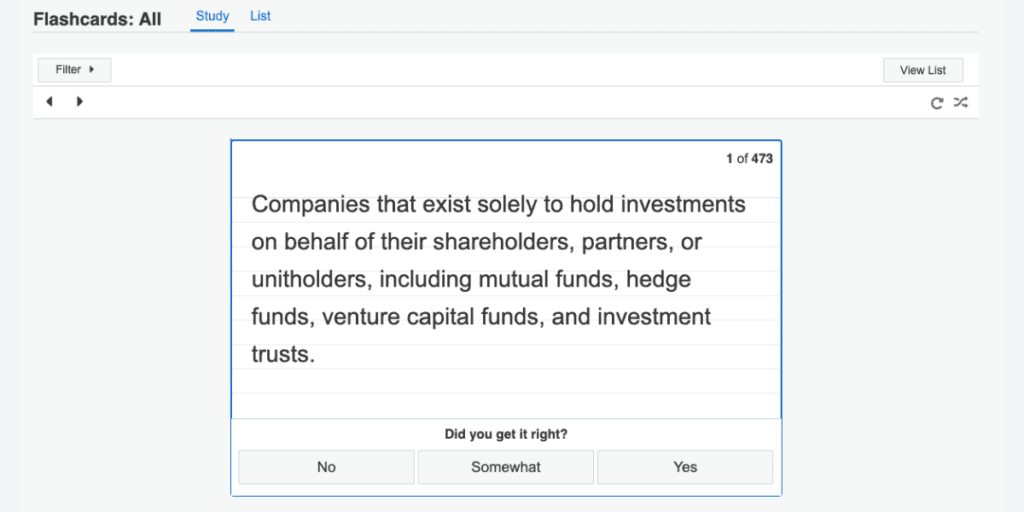 The Learning Ecosystem also comes with premade flashcards that you can test yourself on. You can also print out all the flashcard material in a listed format for offline reading.
Practice
This is CFA Institute's question bank. You get:
More than 1,100 practice questions for Level 1
More than 400 practice questions for Level 2
More than 400 practice questions for Level 3
Mock Exams
In the Mock Exams tab, you'll get access to:
three mock exams for Level 1
two mock exams for Level 2
one mock exam for Level 3
You should prioritize these mocks as these will be the closest experience to the CFA exam as you'll get.
Game Center
An interesting curiosity, the Game Center offers several simple games that involve quizzing you with the flashcard materials. These involve variations on pick-the-right-card or match-the-cards themes – not Game-of-the-Year material, but there is a live scoreboard so if you fancy having some niche bragging rights, go right ahead.
Discussions
Discussions in the Learning Ecosystem are really a comment system for the curriculum. Throughout the curriculum, you can add comments that can be read and replied to by all candidates. These comments can be seen at the end of each curriculum page – you can ask or answer questions or discuss a particular point in the reading.
CFA Learning Ecosystem on mobile
There's no app, but the entire Learning Ecosystem is accessible on mobile. The mobile implementation is pretty useable, so as long as you have a stable internet connection, you'll be good to study on the go.