Since 2021, CFA Institute has implemented many changes for the CFA exams.
You probably already know that all CFA exams are transitioned to computer-based testing (CBT), with higher testing frequency available and a reduced test duration.
However, CFA Institute tends to announce other smaller – yet important – changes via its website or by emailing candidates directly.
So here's a list of 10 recent CFA exam changes which you ought to be aware of.
---
CFA Level 1 eligibility expanded
In November 2022, CFA Institute has changed the CFA Level 1 eligibility rules such that undergraduates with 2 years remaining in their studies can now register for CFA Level 1. More information on this rule change here.
Previously, the earliest you can sign up for Level 1 was if you're a final year undergraduate. If you're thinking of signing up for the CFA Program whilst at university, check out our guide on the pros and cons of studying CFA whilst at university.
---
A paid CFA deferral option is now available
Given the pandemic and candidates' changing situation, CFA Institute has further updated and streamlined the exam deferral request which can only be processed via a form.
There are some new rules to discourage disingenuous deferrals as well. See our CFA deferral policy page for the latest summary (which now includes a paid deferral option for candidates), and the CFA refund and withdrawal policy for your full set of options.
---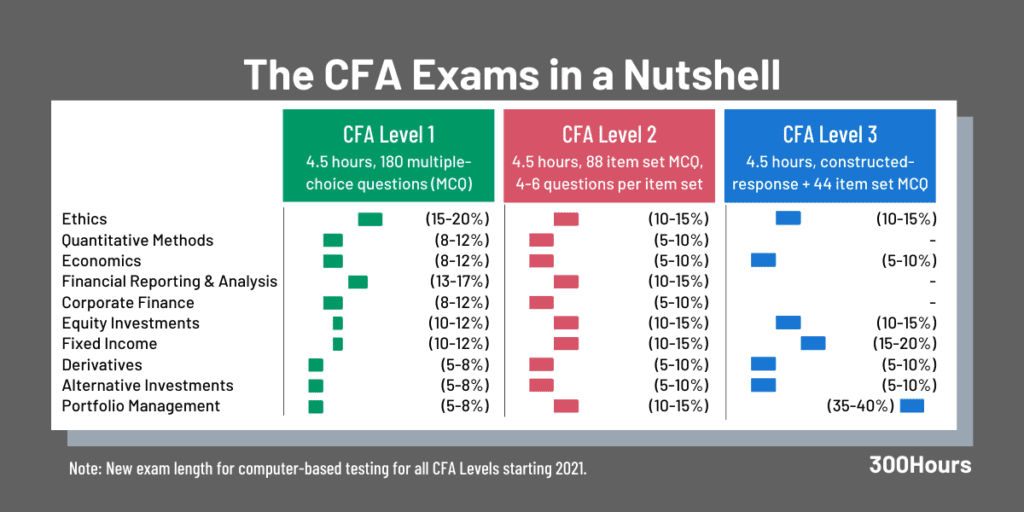 CFA Level 1 CBT now feature two sessions of 2 hours and 15 minutes each, with 90 multiple-choice questions per session.
However, the crucial change from paper-based exams is that the 10 Level 1 topics are now split across the two sessions:
---
For more information, check out the latest:
---
With 25% of reduction in testing time to 2 hours and 12 minutes per session for CBT, CFA Institute has confirmed that there will be 44 question per session, making 88 questions in total for CFA Level 2.
The allocated time is 3 minute per question (including reading time) and each question is worth 3 points.
Unlike Level 1 CBT, it seems that all 10 topics for Level 2 are tested in both sessions as there is no mention of different topics tested per session. This means that all 10 topics may be covered in either the first and second sessions, or possibly both sessions.
---
CFA Level 3 CBT exam format: Constructed-response (essay) questions are now in both sessions
Given that CFA candidates often report difficulty in completing the essay session on time, CFA Institute has sensibly decided to mix both constructed response and item set questions in each session to average things out.
This means that each CFA Level 3 exam session has either 6 item sets and 5 essay sets or 5 item sets and 6 essay sets. The total number of questions for Level 3 exam doesn't change: 11 essay sets and 11 item sets, with 12 points each.
Just like CFA Level 2, all topics can be tested in either sessions and are mixed up randomly according to topic weight.
---
Online Proctored Testing (OPT) option is no longer available for CFA exams
During the pandemic, CFA Institute ran a few limited-capacity online proctored testing (OPT) option for its February-April 2021 candidates.
Since then with the pandemic restrictions easing, CFA exams are now back to in-person, computer-based testing since then, and online option is no longer offered.
---
New CFA exam changes in Level 2 and 3 exam frequency announced
Main reason for the shift was to move CFA Level 3 exam windows away from end of the year due to human grading requirements near the holiday season. This meant that CFA Level 2 and 3 will be tested thrice and twice a year respectively from 2022. Check out our visual summary of these latest schedule changes in our CFA journey planner article.
Refer to our CFA exam dates article for more info or use add our free CFA calendar to yours to stay up to date.
---
New exam cycles may change your CFA registration plans
With the new one-off exam cycles introduced (see previous point), there may be important repercussions to your CFA journey due to the "6 months rule" between exams: mainly that it is now possible to proceed faster through the CFA program in one year (!), assuming consecutive passes (Level 1 February, Level 2 August and Level 3 February).
For more information on this, check out our CFA Journey Planner article for the full picture, to understand the timeline of what happens if you pass or fail at each level.
---
There is now a maximum of 6 attempts per Level
In addition to CFA candidates only allowed to take a maximum of 2 exams a year (i.e. the '6 month rule' mentioned in previous point), there is also now a maximum limit of 6 attempts per CFA level.
I suppose this really shouldn't be an issue for most candidates, since if you were to attempt a CFA level 6 times, it may be a sign that the CFA Program isn't really for you.
---
When would computer-based CFA exam results be released?
CFA Institute announced that CFA Level 1 and Level 2's CBT results would be released around 60 days after the exams, whilst Level 3's CBT results would be available within 90 days from the exams.
While this is the same statement as per paper-based exams, historically CFA Institute have announced the CFA exam results earlier:
52 days (or approx 7.5 weeks) after exams for Level 1 and Level 2
66 days after exams for Level 3
From what we've seen so far, CFA Institute was just being conservative with the CBT guidelines and have been slightly faster at announcing computer-based CFA exam results vs. the paper-based timings.
Stay up-to-date on our prediction on when the latest CFA exam results would be announced here.
---
Hope you have found this useful. Were there any CFA exam changes you learned about from the list above? Or do you have more to add? Leave a comment below!
Meanwhile, you may find these related articles useful: