Will your salary increase as you go through the CFA Program?
​
Yes, it does. In fact, you don't even have to wait until you become a CFA charterholder.
Proper, reliable CFA salary data are hard to come by, so we started our own years ago to help our readers.
The key differentiator of our CFA salary analysis is the removal of the "work experience / seniority effect" on average total compensation, so that we can better capture the true effect of CFA Program on average pay.
Thanks to you all, here is our updated, 2023 edition's CFA average salary research that helps you evaluate the benefits of the CFA Program, as well as a few other useful compensation insights.
Let's go!
---
Why do we need to remove the work experience bias in our CFA salary research?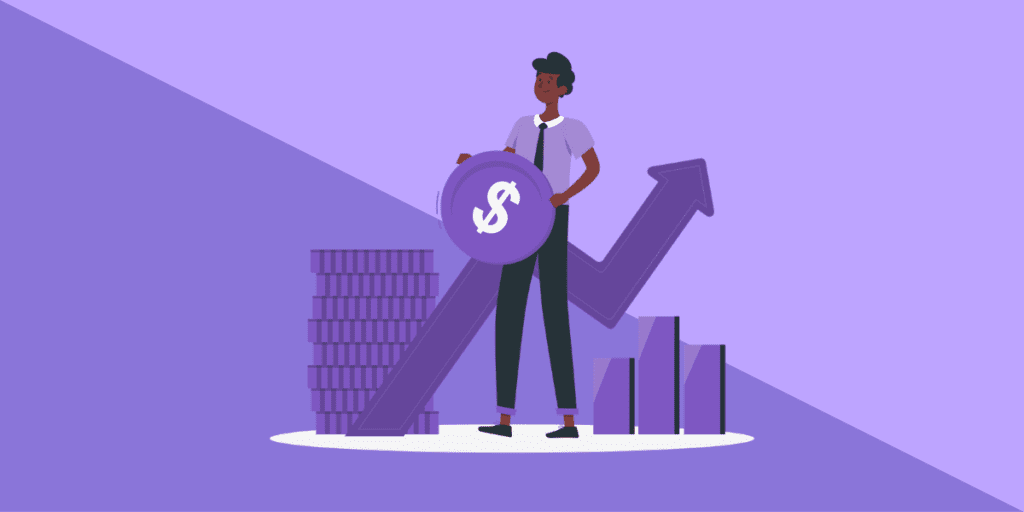 In most other CFA salary reports, there is a fundamental problem of separating the influence of work experience on reported salary data.
This makes those reports less useful for potential CFA candidates in deciding whether CFA is worthwhile, since those salary reports are merely surveys without any useful conclusions.
As candidates progress through the CFA program, their work experience also tends to increase, which leads to difficulty in attributing rises in pay to the CFA qualification alone – the pay increase could just be due to the candidates' work experience increasing.
For our analysis, we've utilized salary data by work experience from PayScale to create a salary vs work experience curve for an equivalent sample, which is then used to index our reported salary. This minimizes the effect work experience has on our analysis.
In short, all of our CFA salary analyses below excludes the work experience bias through this method.
---
Our 2023 CFA salary data represents typical CFA candidate distribution
Our sample data by geography approximates the international CFA candidate distribution quite closely.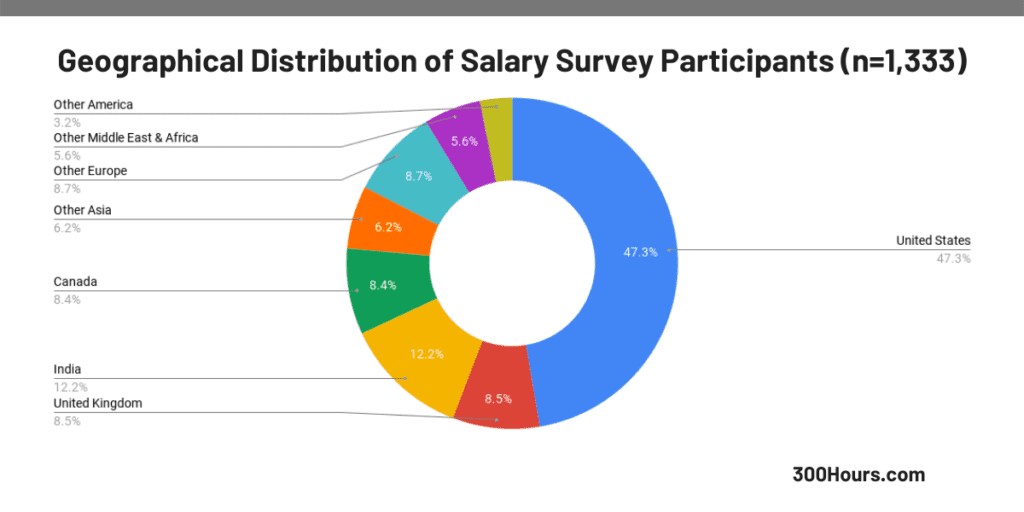 ​Thanks to our helpful readers, we've collected quite a few data points – 1,300+ and counting.
We need your help to collect more data for further robust analyses going forward. To receive the latest updated salary analytics going forward, leave your details in the form below.
---
1) Having a CFA Charter increases average salary by 47%
​Even after removing the work experience factor, there is a very clear increase in average pay as candidates progress through the CFA Program.
​On average, submissions that indicated they passed CFA Level 3 or are CFA charterholders earned 47% more than CFA Level 1 candidates.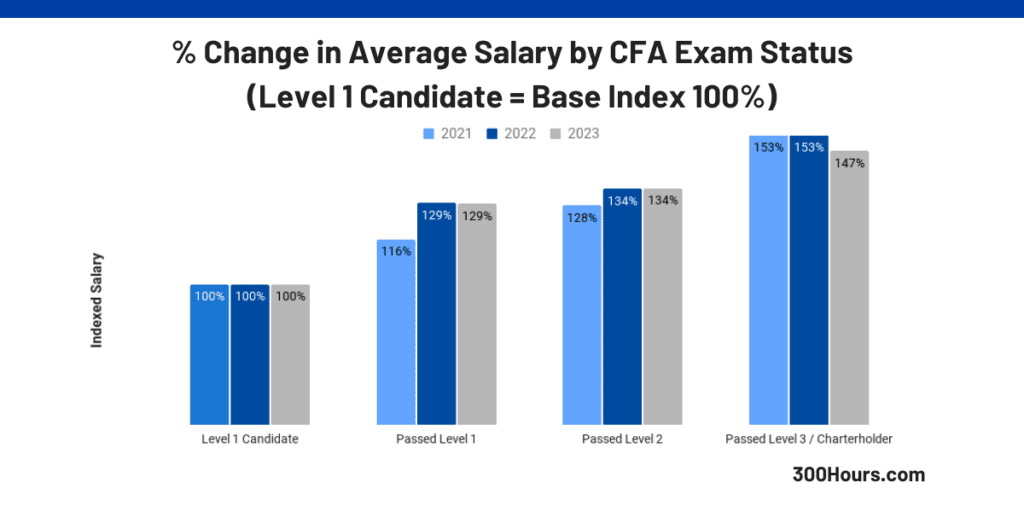 In 2023, candidates who passed CFA Level 1 on average experienced a 29% increase, whereas candidates that passed CFA Level 2 saw an average increase by 34% to their total compensation.
Interestingly, there is a significant change this year compared to 2021, whereby the average CFA salary increase after passing Level 1 is much higher at 29% (vs 16%), whilst passing CFA Level 2 increases average salary by 34% compared to a Level 1 candidate.

So it seems that there is a change in the job market, whereby passing CFA Level 1 and Level 2 are valued similarly, in terms of average salary increment.

This could be great news for those passing CFA Level 1 as there is an earlier/faster payback.

The average salary increase by level achieved has also remained relatively stable since our records in 2021.
That said, to get the most of the "CFA effect" on your pay, you should aim to pass CFA Level 3, which on average increases your salary by 47%, just like last year.
​Now, that's some motivation for completing all 3 CFA exams!
---
2) Having an MBA (regardless of CFA status) increases average salary by 20%
So we've talked about how the CFA exams increase your potential salary level.
So, what if you have more than just the CFA program going for you?
Interestingly, the only other qualification that matters on average (to pay checks, at least), is an MBA: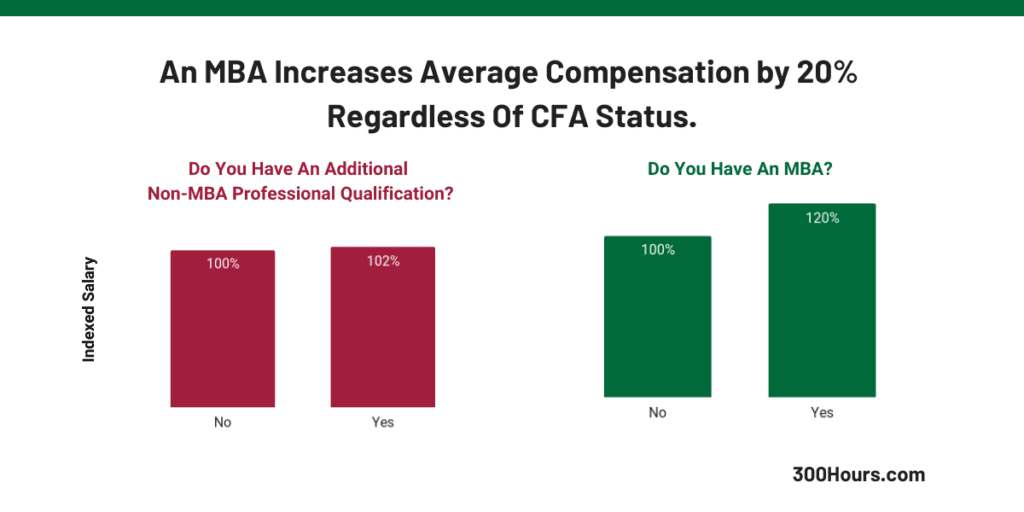 Candidates who have an MBA (regardless whether they are involved in the CFA Program or not) have showed an average 20% increase in pay, compared to those who don't have an MBA. That said, whether this itself is sufficient to make the case for an MBA is still up for debate, as it depends on your individual circumstances and objectives.
---
3) Which industry pays the most, on average?
​What about the industry you're in?
​Not surprisingly, candidates in finance-related industry out-earn their non-finance counterparts.
​Here are our top 5 industries ranked by the highest indexed salary: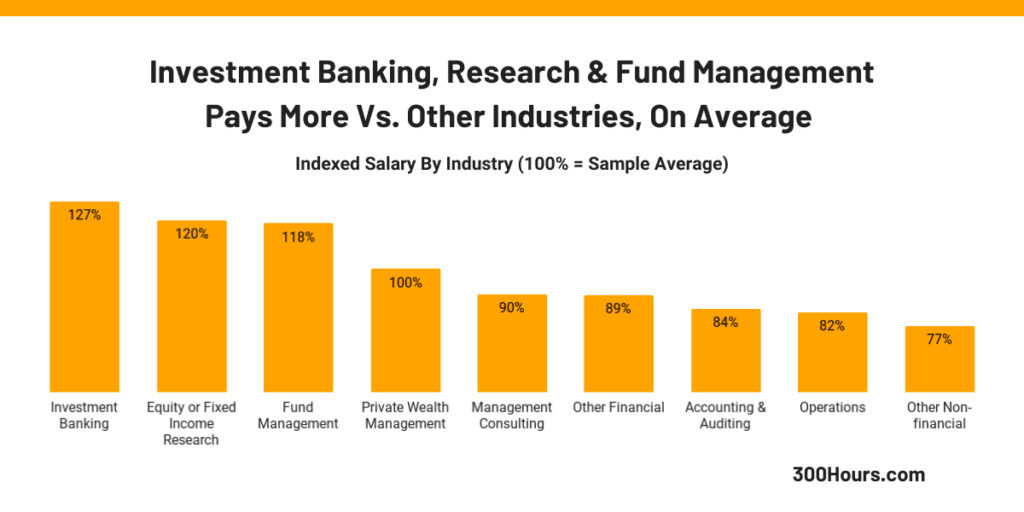 Obviously, pay is only one aspect of the equation in terms of sector consideration. What also matters are your interests, work-life balance, perks, among other things.
Compared to our first analysis a few years ago, we noticed that the Investment Banking, Fund Management and Accounting & Auditing sectors recorded an average indexed salary drop of 10% points.
This is probably down to the profitability pressures and scrutiny faced by these 3 sectors in particular in the last few years. It is certainly worth noting the general pay volatility in the finance sector.
---
​Some caveats on our Chartered Financial Analyst salary research
The conclusions here are useful if you're looking for more information on CFA salaries, but please do keep these points in mind:
This doesn't mean you're due an increase of X% from your current employer the minute you pass your CFA exams. This data is based on aggregate market data. We believe this does show that you have the potential to earn more, but this will also depend on your discussions with your firm, and your willingness to switch companies.
You'll need to actively look for jobs (duh). Many candidates tend to (irrationally) think that with the right qualification, they can sit back and the job offers will come rolling in. This is never the case – in addition to having the right qualifications, you'll also need to actively hunt for jobs. Network, interview, rinse and repeat. You can read our guides on this here:
---
Here's how to get our latest CFA salary analysis, from now on.
​Just leave your details below:
---
​What do you think? What is your personal experience like as you progressed through the CFA program. Let us know via a comment below!
Meanwhile, here are a few related articles that may be of interest: