CFA and CAIA designations can appear very similar at first sight, as they both target investment and financial professionals.
However, there are differences in global recognition, breadth and depth of topics studied, career focus and exam difficulty. They could even be a complementary set of finance certifications to go for, depending on career goals.
For those who are unsure or particularly new to these designations: here's a helpful, straight-to-the-point summary guide comparing CFA vs CAIA, so you can decide what works best for you.
Read on to find out more!
---
What is the CFA Program?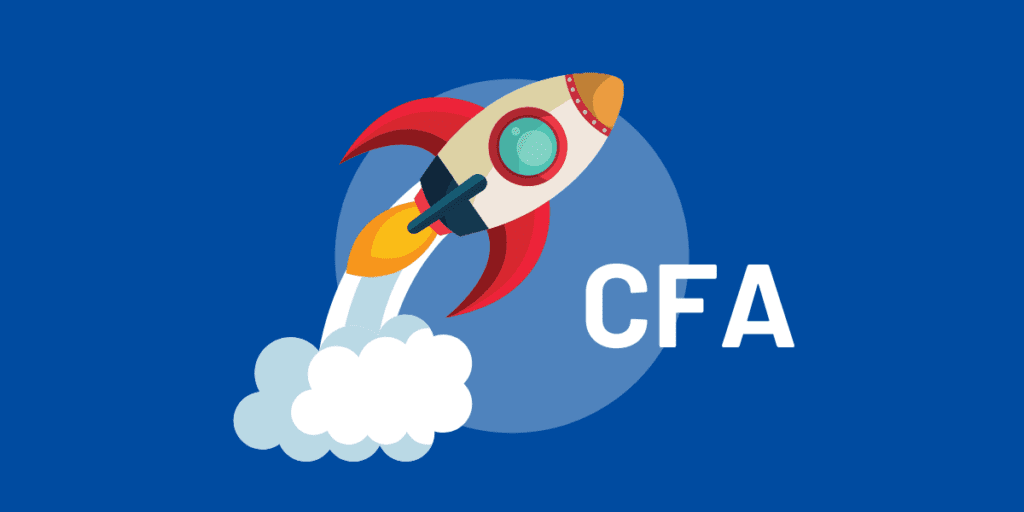 The Chartered Financial Analyst (CFA) Program is a professional, masters degree equivalent credential offered by the CFA Institute.
CFA program covers a broad range of topics relating to investment and portfolio management, financial analysis, stocks, bonds, and derivatives, and provides a generalist knowledge of other areas of finance.
It gives you expertise and real-world skills in investment analysis, and has become a gold standard in the finance and investment management industry. Typical CFA charterholders' career paths include portfolio management, buy-side research, investment banking, private equity and corporate finance.
We've written a lot about the CFA program, check out these articles to learn more:
---
What is CAIA?
Chartered Alternative Investment Analyst (CAIA) is a professional designation for investment professionals offered by the CAIA Association. It is a global certification that is estimated to also be a Masters degree equivalent.
In terms of history, CAIA certification is much 'younger' than CFA program in that the first CAIA exam was conducted only in February 2003 (vs. 1963 for CFA exams). Since then, thousands of individuals worldwide have registered for the program, with more than 12,000+ current CAIA members worldwide.
In contrast with CFA, CAIA designation is recognized globally as the benchmark for analysis, application, and standards of practice in the alternative investments arena.
Alternative investments include real assets (e.g., real estate, infrastructure, natural resources, commodities, intangible assets), hedge funds, private equity, and structured products. Whilst CFA program covers alternative investments as well, it is a small part of its overall program.
With the CAIA designation, you'll be an expert in alternative investments asset class, which is highly valued by employers in the private equity, hedge funds and pension industries. This is evidenced by the latest asset management industry outlook, where demand for alternative investments expertise is set to rise.
We've covered quite a bit about the CAIA designation too, check out these articles to learn more:
---
CAIA vs CFA difficulty
Here's one awesome chart to rule them all – the difficulty comparisons of various finance certifications 🙂
As you can see, CFA Level 3's difficulty is considered similar to a Master's degree, using a benchmark provided by UK NARIC (now renamed UK ENIC, thanks Brexit).
As CAIA is not officially ranked by UK ENIC as yet (and hence not in the chart above), we reached out to John Bowman, Senior Managing Director of CAIA Association who stated that:
We estimate that completing CAIA Level 2 is equivalent to a Masters-degree equivalent (RQF Level 7), as that's how it's written and targeted.

And given only full CFA charterholders are waived through, that also logically follows.

John Bowman, Senior Managing Director of CAIA Association
In short, both CFA and CAIA are equally difficult in the sense that they are both comparable to a Master's degree course.
That said, it's important to note that CFA exams have 3 levels, whereas CAIA exam has only 2 levels to pass. That combined with the fact that CFA exams have lower pass rates (22-56% depending on level) compared to CAIA's pass rates (50-69% on average), CFA exams are often said to be tougher.
CFA candidates on average take 4 years to pass all 3 exams, whilst data has shown that 75% of CAIA candidates earn their CAIA charter in 12-18 months.

It's also important to note that a CFA charterholder gets CAIA Level 1 exemptions as well, making the path to obtain CAIA charter faster with just one exam to pass.
The quality/seniority of the CAIA candidate demographic may partly explain this higher pass rate trend though. This is because 75% of the time, CAIA is a second credential for candidates after a PhD, Masters, JD, MBA or FRM.
In contrast to CFA Level 1 candidates (who can be as young as a university student), CAIA candidates are typically older and more experienced career-wise, and are taking up CAIA as a second (or third!) professional credential to boost their specialist knowledge in an asset class.
Overall, after speaking to our readers who have done both qualifications, on balance we get the sense that CAIA exams are easier to pass compared to CFA exams.
---
CFA vs CAIA: Summary of key differences
The CFA program requires knowledge and expertise in a much broader range of financial analysis topics, such as portfolio management, economics, financial reporting, quantitative analysis, derivatives, alternative investments and more.
In contrast, CAIA designation is more specialized in the alternative investments asset class, e.g. real assets, hedge funds, private equity, CDOs, credit derivatives, and other structured products.
The CFA program covers alternative investments too, but that's about 5-10% of its curriculum. Thus, CFA exams are broader in topic scope yet shallower in depth, whereas the CAIA is builds up a mile's depth of knowledge in just one topic: alternative investments. Both qualifications cover the same professional standards and ethics topics though.
Here's a quick summary comparing both designations:​
CFA
CAIA
Pre-exam qualifications
Have a bachelor's degree; or

Final year undergraduate of a bachelor's program; or

When registering for Level 1, have at least 4,000 hours of work experience and/or higher education that was acquired over a minimum of 3 consecutive years.
None. However, basic foundation in finance and quantitative aptitude is desirable.​​
​
Study Areas
10 Topics: Ethics, Quantitative Methods, Economics, Financial Reporting & Analysis, Corporate Finance, Equities, Fixed Income, Derivatives, Alternative, Portfolio Management.​​​
​
8 Topics: Professional Standards and Ethics, Current & Integrated Topics, Asset Allocation & Institutional Investors, Private Equity, Real Assets, Commodities, Hedge Funds & Managed Futures, Structured Products.
Number of Exams
3 levels (fastest route is in 12-18 months)
2 levels
Exam Frequency
Level 1: 4x a year (Feb, May, Aug and Nov).

Level 2: 3x a year (May, Aug and Nov).

Level 3: Twice a year (Feb and Aug).

Use our CFA Journey Planner tool to plan your registration.
For both Levels: Twice a year in March and September.​
​
Exam Format
Level 1: Multiple choice questions

Level 2: Item set questions (multiple choice)

Level 3: Item set and constructed response questions
Level 1: Multiple choice questions

Level 2: Multiple choice and constructed response questions​
Pass Rates
The range of CFA pass rates since 2010:

Level 1: 22%-43%
Level 2: 39%-47%
Level 3: 46%-56%
The range of CAIA pass rates since 2010:

Level 1: 52%-74%
Level 2: 56%-64%
Fees and Costs
One-off Enrollment Fee: $350

Registration fee (per level): $940-$1,250​​

Retakes: same as registration fee

See here for more details of CFA exam cost estimates.
One-off Enrollment Fee: $400

Registration fee (per level): $1,150-1,250

Retakes: $450 per level

See here for more details of CAIA exam cost estimates.
Study Hours Needed
At least 300 hours per level
At least 200 hours per level
Post Exam Requirements
To become a CFA charterholder:

Pass all the 3 levels of CFA exams;

4,000 hours of relevant work experience;

Submit reference letters for 2-3 professional references;

Become a regular member of CFA Institute;

Adhere to CFA ethics and professional conduct.​​
To become a CAIA charterholder:

Pass both levels of CAIA exams;

Hold a bacherlor's degree, or the equivalent, and have at least 1 year professional work experience;

or alternatively, have 4 year professional work experience;

Abide by CAIA's member agreement;Pay CAIA membership fees.
---
CFA and CAIA: Similarities and topic overlaps
What about similarities between CFA and CAIA?
Most of CAIA Level 1's content is covered in all 3 levels of the CFA program. However, CAIA Level 2 is quite different and the topic overlap with CFA program is minimal.
For example, CAIA uses the same Ethics modules as CFA program, and a lot of the basics of quantitative analysis are also covered in CAIA Level 1.
I guess it's not surprising that CAIA Association offers a Level 1 waiver for CFA charterholders through its Stackable Credential program.
A significant part of the CAIA Level 1 is covered by the CFA program, with most of the overlap between these designations found in the CAIA Level 1 exam.

According to Stephen Horan, MD of Credentialing at CFA Institute, about 80-85% of CAIA Level 1 is covered by the CFA program (all 3 levels).

However, we estimate that the same figure drops to about 10% for CAIA Level 2.
This is an interesting insight for those who are keen on obtaining both CFA and CAIA certifications for their career, as CAIA can be used to supplement knowledge gap in alternative investments.
---
CFA vs CAIA: Which is right for you?
In short, CAIA is highly specialized and has a stronger focus on alternative investments, whereas the CFA designation covers a broader scope of financial analysis, portfolio management and investment topics.
From a career building perspective, both CAIA and CFA are globally recognized designations with ample employment opportunities in their respective areas of expertise, granted that the CFA qualification is more well known globally due to its longer history.
Plenty of finance professionals obtain both qualifications to better perform in their roles and career, especially via CAIA's stackable credential program, which allows CFA charterholders who have no CAIA exam history to skip CAIA Level 1 exams, as well as get a 10% discount on registration fees.
In a way, CFA and CAIA can be complementary in the sense that CFA gets you the global recognition and prestige in finance, but CAIA can further signal your alternatives investments expertise which is highly sought after in current market. About 1/3 of CAIA charterholders are also CFA charterholders.
If you had to choose one, it really depends on your preferred career route. CAIA seems to be the clear choice if you want to specialize in alternative investments sector. If you're less sure but keen on a career in finance, perhaps CFA is a better choice for a broader finance base.
In other words:
If you're interested in becoming a portfolio manager, research analyst, investment banker, consultant, risk manager, corporate financial analyst, or moving into the C-suite, then the CFA charter will be a better fit.
If you're more interested in specializing in unconventional investments such as hedge funds or private equity, then the CAIA charter works better.
---
Hope this helps you decide which certifications you would like to go for (or do both)! If you have more questions, just comment below and I'll try to help 🙂
Meanwhile, you may find these related articles of interest: