I took and passed my CFA Level 3 ten years ago, almost to the day. Those were the days where if you wanted your practice questions on a computer, you got posted a CD-ROM.
The advances in high-quality online learning for CFA candidates since then have been staggering. There are now not just video lectures, but notes, study trackers, question-by-question discussion threads, review summaries, question banks and mock exams – all available online instantly.
All these advances mean that CFA prep today is a lot more accessible, effective and tailored to candidates than it has ever been.
Salt Solutions is a fantastic example of this new breed of providers. Their fully-functional beta has been live since October 2020, and they've just launched their full "CFA learning experience".
We had special, early access to their new product for the past few weeks, here's our in-depth review…
---
What Salt Solutions has launched for CFA candidates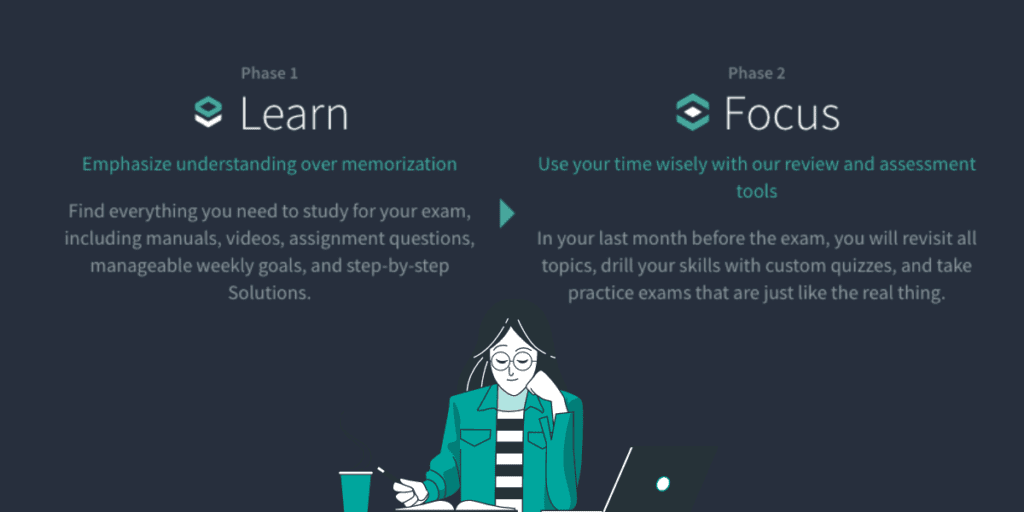 A full study experience for CFA Levels 1 and 2, with Level 3 scheduled for release in January 2022
A two-phase prep course:

Learn: the core study phase, which features high-quality video lessons, "Solutions" that "walk users through assignment answers step-by-step", and a CheckPoints scheduler that sets weekly goals and prioritized tasks automatically.
Focus: designed to boost your confidence in the last month before exams, featuring review materials, quiz questions, a custom quiz builder and mock exams.
This is now with a monthly subscription model of $129 a month. Salt Solutions has chosen a flexible subscription model – you can sign up at any time, cancel at any time, or even pause your subscription.
---
Created by a product-passionate team
The lead instructor behind Salt Solutions is Mike Carmody, who features in all Salt Solutions' video lessons and brings more than 20 years of teaching experience to the team.
(Also a shoutout to Marc Coward, lead content manager for Salt Solutions, who frequented our forum back in his candidate days!)
From our interactions and previous experience with members of the Salt Solutions team, we can say that these are extremely passionate and hands-on people behind the platform. It's clear they truly want to build a great product above everything else, and from the looks of it, they may very well have.
Does their newly-launched platform deliver?
---
Salt Solutions: Our walkthrough, review and recommendations
Instant access
As you may expect from an online platform, access to Salt Solutions is instant. Just choose your CFA level and exam date and off you go:
After you complete registration, you immediately get access to all aspects of the CFA learning platform.
Mobile access is also smooth and optimized.
Salt Solutions is also available as a Progressive Web App (like 300Hours!) which works well with Android and iOS.
Here's an overview of all the sections that make up Salt Solutions' CFA learning platform.
Learn Dashboard: study progress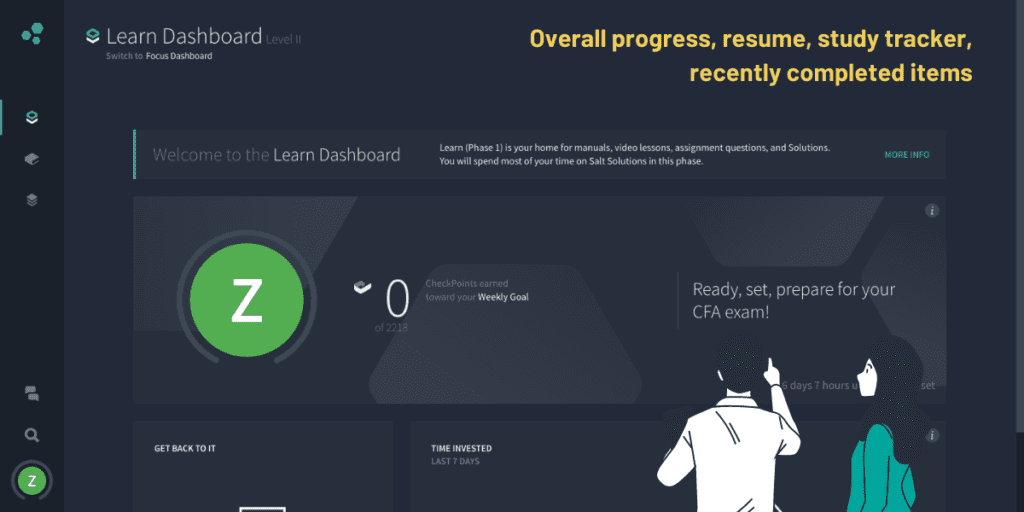 The Learn Dashboard shows you what your study progress is like – overall progress score, a Netflix-like Resume button, study time tracker (handily compared to global average), and recently completed items.
The CheckPoints system shows the material you need to cover by giving you points to achieve. This is automatically recalibrated depending on whether you achieved your previous goals, and points are assigned based on topic weights to prioritize your studies according to exam importance.
This gives you a good idea of how far along you are, how much more you have to go, and whether you're on track or not.
Focus Dashboard: topic-by-topic mastery level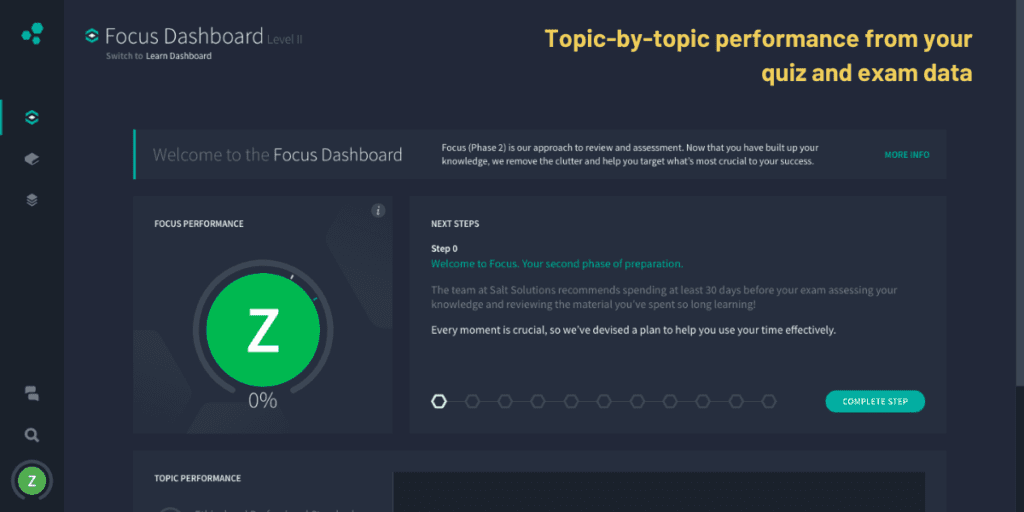 The Focus Dashboard, on the other hand, dives into your topic-by-topic performance based on data from quizzes and exams that you've taken. This gives you a good idea of areas to focus on based on your mastery levels and exam weightings.
Learn Content: all you need to study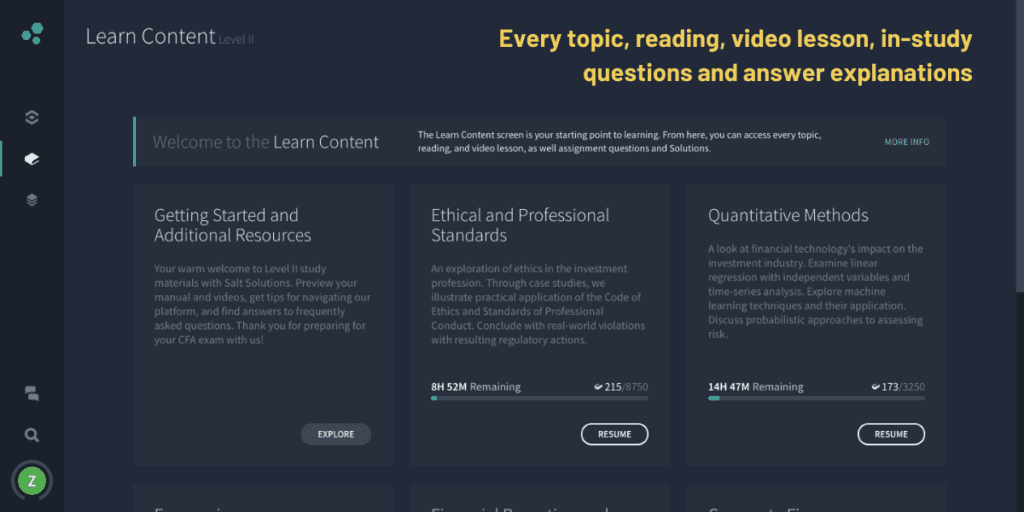 This is the meat of the platform – from the Learn Content tab, you can access every topic, reading, video lesson, in-study questions (called "assignment questions") and their associated answers or "Solutions".
Working through the content is dead simple – start at the top and work your way down, or go in any order you choose. Progress bars show your level of completion of every topic area so that you don't miss anything out.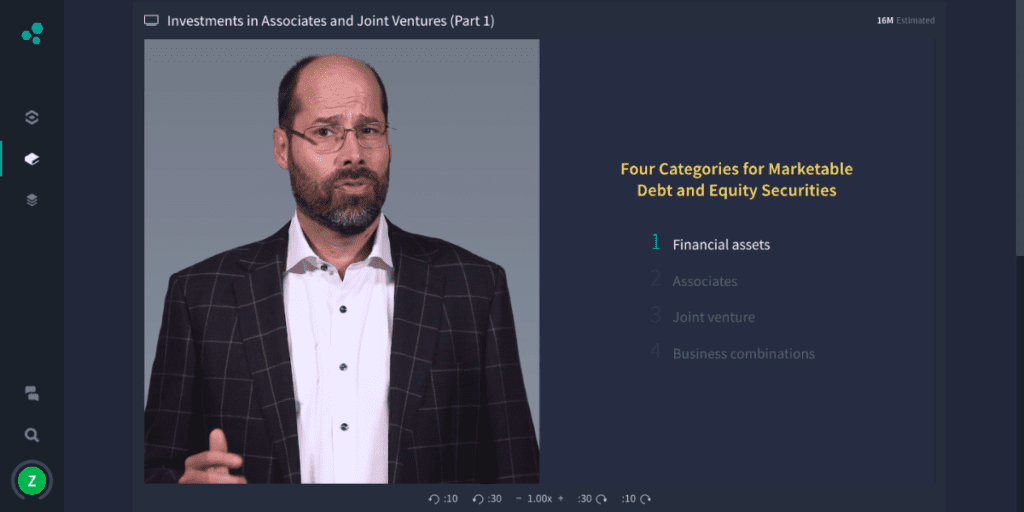 To take you through the exam concepts, all CFA exam readings are covered by written notes and video lessons, which features lead instructor Mike Carmody. This isn't just a talking-head lecture though – the bulk of each video lesson is an animated presentation of the concepts, with a voiceover walking you through everything.
The quality of the video and audio is exceptional – everything is crisp and clear, close-captioned, downloadable and with transcripts. Controls of the lesson are great too – you can skip forward, speed up or slow down the lesson easily.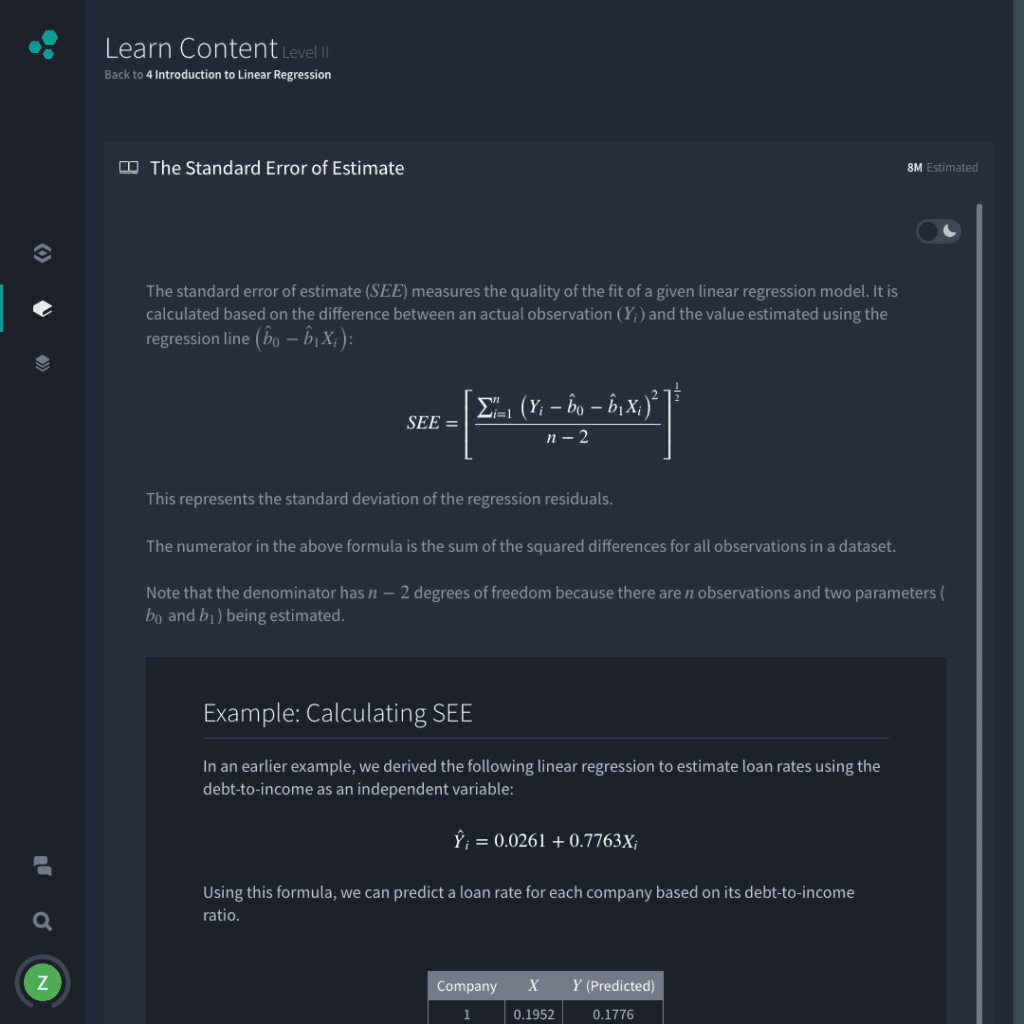 Focus Content: review, practice and test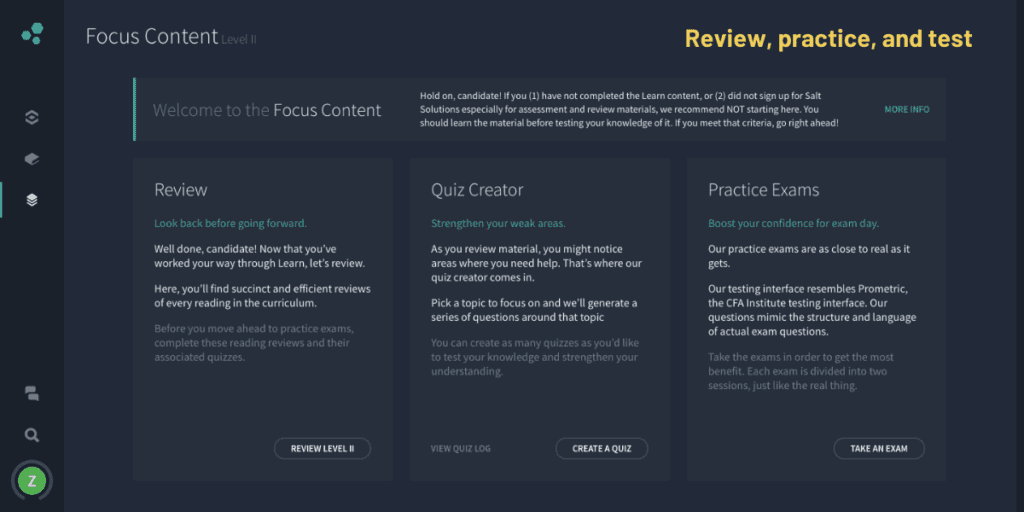 The Focus Content tab has three main sections:
Review: a quick summary of each topic + questions to freshen up your memory – very useful after completing a long slog of studying. I would advise using this often as you go along.
Quiz Creator: Create mini-quizzes in one click to test and top-off your understanding of each topic. This can be created by topic or by individual readings.
Practice Exams: 3 full practice exams, taken in a format similar to the Prometric CBT exam experience.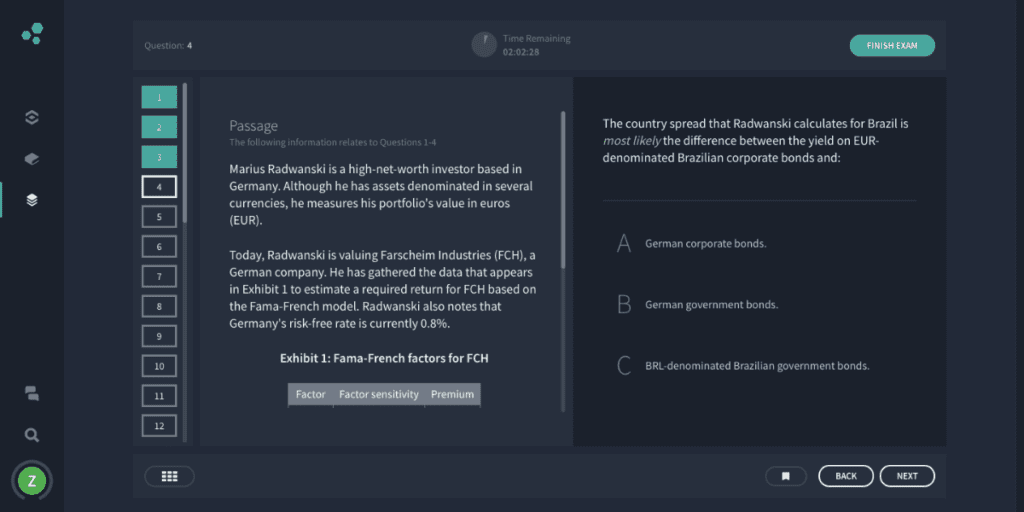 Taking quizzes or practice exams is simple – just dive straight into it.
The practice exams are arranged in a layout similar to the Prometric CBT experience, so you'll be familiar with how the actual CFA exam will be like. All questions have detailed answers, and if you have additional questions you can consult the related discussions thread, or ask a question yourself.
The inclusion of Review, Quiz Creator and 3 full Practice Exams make the Focus part of Salt Solutions a very good deal.

$129 (if you subscribe for one month, in the last month) for 3 full mock exams, review materials for each topic, and a quiz bank would rank as one of the best deals out there among quality providers.
---
My favorite functionality: Search and Discussions
My favorite feature isn't even one that was strongly highlighted by Salt Solutions – the Search functionality.
To delve deep into a particular concept or topic, all you have to do is search for the term. Salt Solutions will suggest terms to look up and show all instances where this concept is taught and reviewed.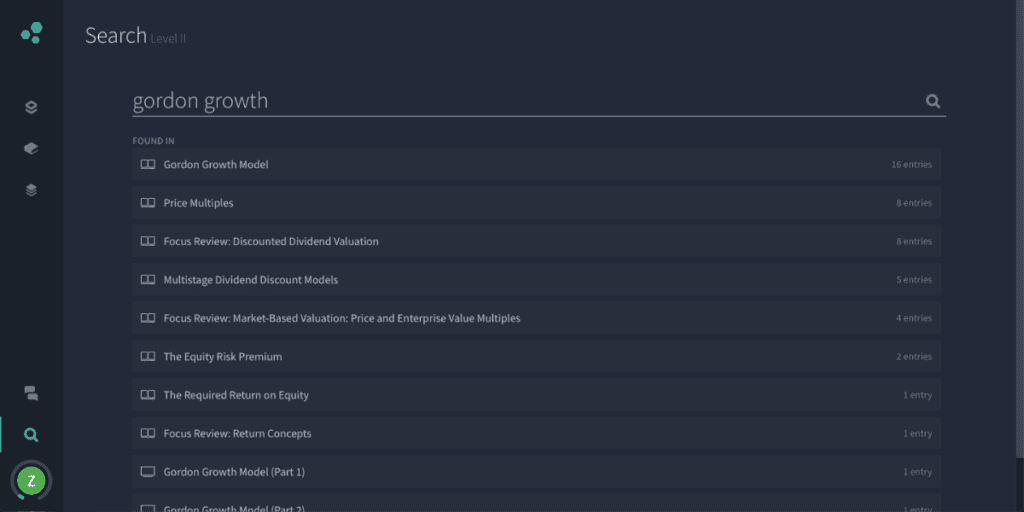 Boom – instant deep dive. And if you have more questions? Log a discussion, and the content creators themselves will answer.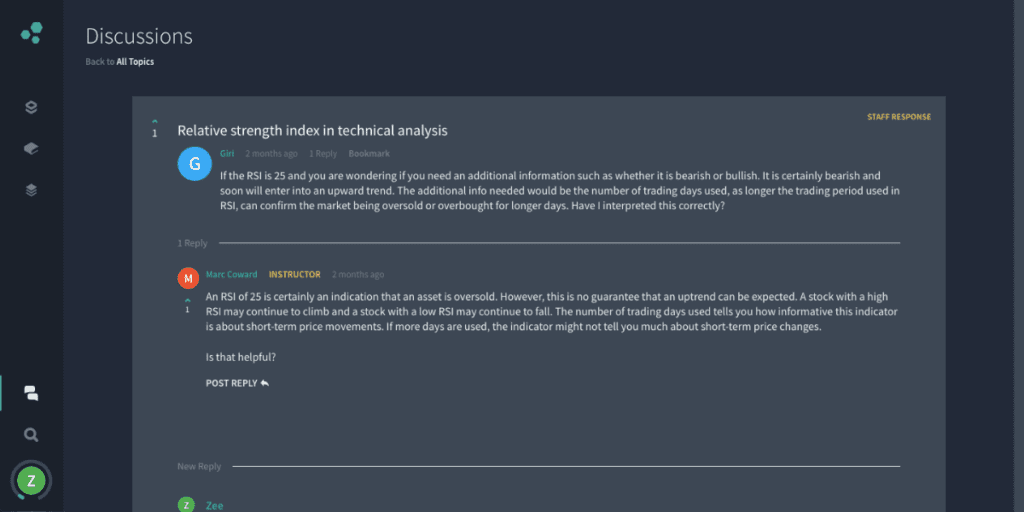 Speaking of discussions – this is a handy tool for you to reach out directly to the Salt Solutions content creators on any questions you have.
Questions about hypothesis testing during your study phase? Need some help during your practice exam? Not sure about the Gordon Growth model during a quiz? Just ask your question in the Discussion tab found on every page and you'll get your answer.
---
Conclusion: a comprehensive, polished online CFA learning platform
Salt Solutions have created a really great product here.
The platform is buttery-smooth and easy on the eyes, and all the individual pieces fit together well to deliver a cohesive study experience. There is thorough coverage of the readings through Learn and adequate practice through Focus.
If you're looking for a one-stop online CFA learning platform, Salt Solutions is definitely a solid option.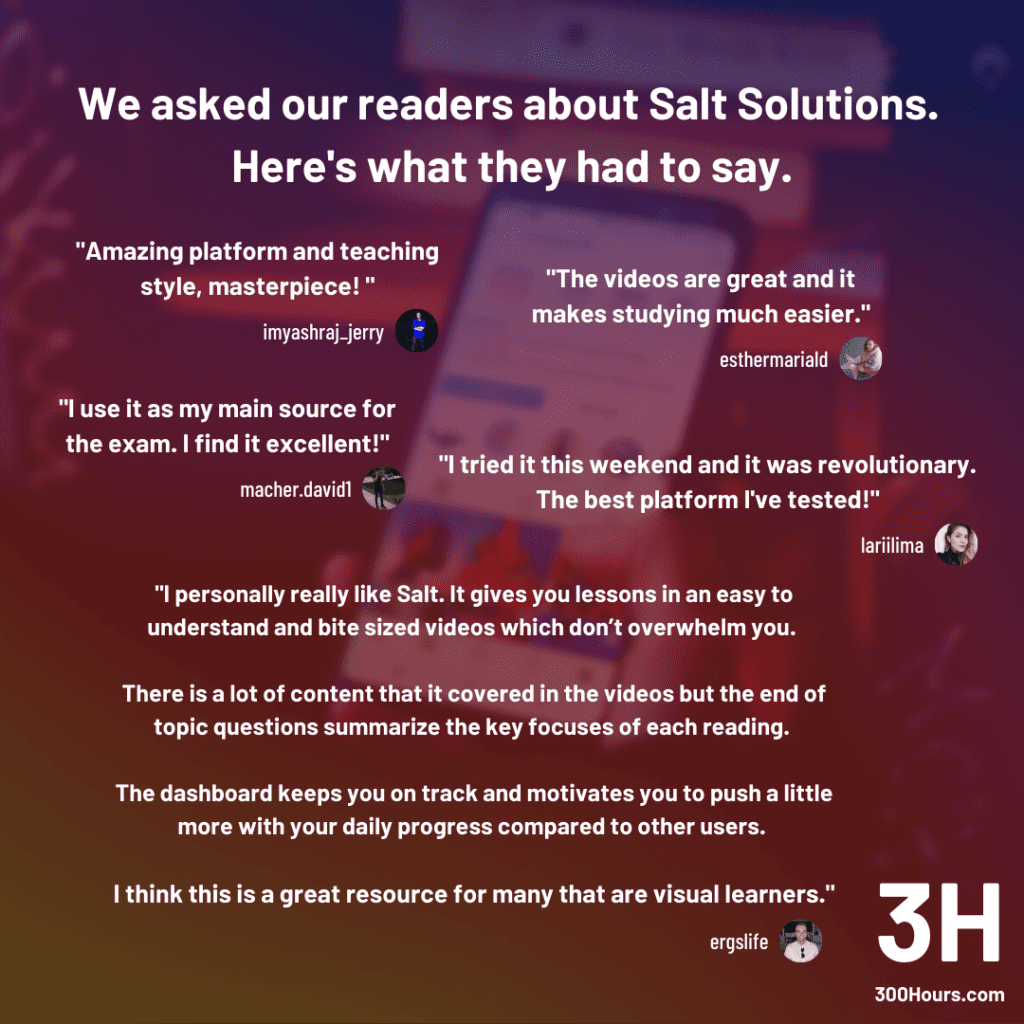 Some of our readers who have been part of the beta program have also chimed in with their mini-reviews:
"Amazing platform and teaching style, masterpiece! 👏"

imyashraj_jerry
"The videos are great and it makes studying much easier."

esthermariald
"I use it as my main source for the exam. I find it excellent!"

macher.david1
"I tried it this weekend and it was revolutionary. The best platform I've tested!"

lariilima
"I personally really like Salt. It gives you lessons in an easy to understand and bite sized videos which don't overwhelm you.

There is a lot of content that it covered in the videos but the end of topic questions summarize the key focuses of each reading.

The dashboard keeps you on track and motivates you to push a little more with your daily progress compared to other users.

I think this is a great resource for many that are visual learners."

ergslife
---
Pricing and free full access to Salt Solutions content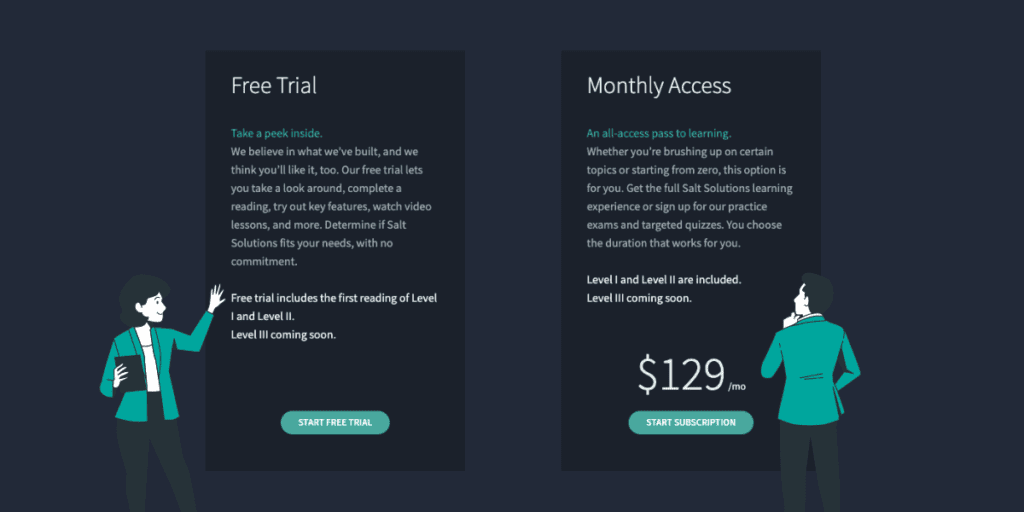 The entire Salt Solutions package is available at $129 per month, which gives a low-price point of entry for full access. The subscription model also works out well if you're looking for a short and intense review and practice tool.
You can also try out Salt Solutions by getting their trial. This gets you full access to the first 2 readings within Quantitative Methods, including manuals, videos, assignments as well as the associated Review Materials found in Focus.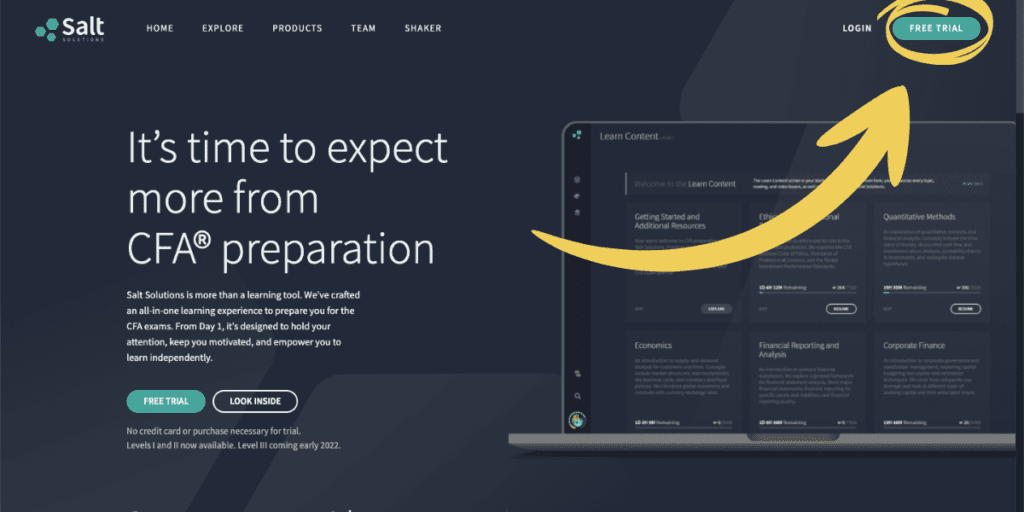 To sign up for their trial, go to the Salt Solutions website and click on the 'Free Trial' button on the top right. After a short sign-up process, you should be up and ready to study immediately.
Have you tried Salt Solutions, or were you part of their beta? Let me know what you think of their learning platform in the comments below!