Did you know that in certain situations, the Investment Management Certificate (IMC) can be more suitable than taking on the CFA exams?
With over 5,000 exams sat each year, IMC is the most widely-recognised and established qualification of its kind in the UK.
The IMC has been used by investment professionals for 25 years, and is taken by staff in leading investment firms in the UK and overseas. This exam is now available globally as well via remote proctoring.
​
The IMC is the investment industry's benchmark entry-level qualification, so if you're looking for a lighter approach to the CFA program, but still have a strong recognition in the industry, read on to find out more!
---
What Is Investment Management Certificate?
Awarded by CFA UK, the Investment Management Certificate (IMC) is the benchmark entry-level qualification for UK investment professionals.
Launched in 1994, the IMC is used by leading investment management firms to demonstrate employee knowledge and competence for regulatory purposes, and by individuals working across all areas of the sector in developing their careers.
It has been recognized by regulators as the UK benchmark investment management exam, and is an FCA Appropriate Qualification for the activity of 'managing investments'. It is also a powerful CV booster for fresh graduates looking to break into UK investment management sector.
To date, 42,500+ candidates have passed the two-part exam and hold the IMC designation, which requires approximately 220 hours of study. Commonly viewed as a stepping stone to the CFA program, IMC covers the key topics of economics, accounting, investment practice, regulation and ethics.
In terms of candidate profiles: over 50% of IMC candidates sitting the exam are actively involved in front office investment activities, including portfolio management, research, investment consulting, risk management and relationship management.
IMC is generally considered suitable for anyone working in an investment-related role. Typical roles include portfolio manager, research analyst, risk manager, relationship manager, wealth manager, sales & distribution, operations, IT / technology.
---
IMC Exams, Summarized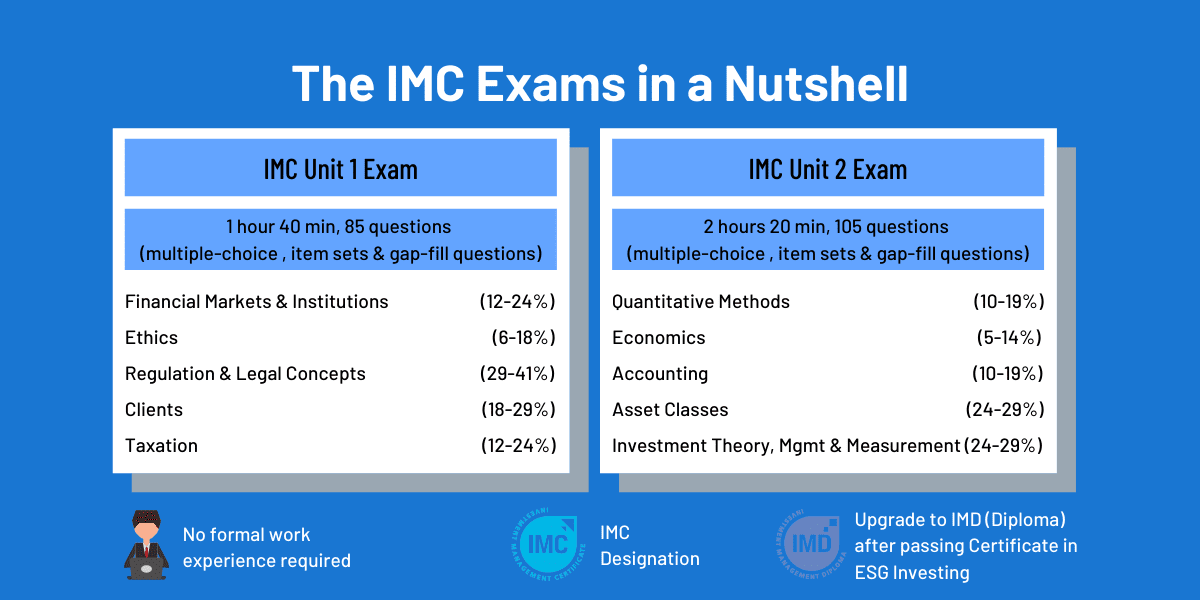 The IMC designation is a two-part, computed-based testing (or remotely proctored) examination:
IMC Unit 1 consists of 85 questions in 1 hour 40 minutes, whereas
IMC Unit 2 consists of 105 questions in 2 hours 20 minutes.
Whilst there are no constructed-response type questions ('essay'), there are 3 types of questions in IMC exams:
standard multiple-choice
item sets
gap-fill style (where you have to type in the answers to 'fill the gap').
​Unit 1 focuses on a broad introduction into the investment environment, covering how financial markets work, ethics, client advisory and UK tax, legal and financial regulatory system. Unit 2 is more application-focused: diving into topics such as economics, accounting, financial mathematics and statistics, learning about asset classes and the investment management process.
​
Similar to most other professional designations such as CFA, FRM or CAIA, the IMC designation is also a self-directed learning program:
In terms of study hours, it is recommended that IMC candidates devote around 220 hours in total to complete the certification (100 hours for Unit 1 and 120 hours for Unit 2).
CFA UK publishes the Official Training Manual (OTM), which forms the syllabus IMC exams are based on. The syllabus is updated every year on 1st December, and covers exams taken during 1st Dec to 30 November that year. It is important to make sure you have the right syllabus for your exam timeframe.
Roughly 20-30% of candidates are self study candidates (who solely use the OTM without third party materials). However, if you are considering additional study support then there are lots of third party providers available.
If you are a working professional, you should be able to reasonably balance exam preparation with your work schedule.
The IMC exam can be taken every working day at Pearson VUE test centres in the UK, and at selected overseas sites. You can also take the exam at home via its online proctoring service. You can find your nearest IMC test center here. Candidates are required to sit the exam within 12 months of the registration date.
Once each exam is completed, you'll get a provisional result statement before leaving the test center, and the official result via post within 21 working days from your examination date. The result is a simple pass or fail, with no details on exact score. However, if a candidate fails, indicators of areas of weakness will be given to guide candidates on their relatively weaker topics.
---
IMC Exam Pass Rates & Pass Marks
The IMC is a Level 4 qualification benchmarked under the UK ENIC (European Network of Information Centers) framework, which means that the level of difficulty of the qualification broadly equates to the first-year of an undergraduate degree.
Here is a chart comparing the difficulty of IMC vs other financial qualifications:
The latest pass marks are:
65-75% for IMC Unit 1
60-70% for IMC Unit 2
On average, IMC Unit 1 and Unit 2 have pass rates of 65%-80%, which is expected for a foundation course to investment management. To pass the examination, candidates need to achieve an overall pass mark/score regardless of where the marks were distributed throughout the examination.
---
IMC Exam Topics & Weightings
IMC Unit 1 Exam
The IMC Unit 1 exam mainly focuses on the introduction to financial markets, accompanied with legal, taxation, regulatory and ethical considerations required in client investment advisory. It consists of 85 questions with an allocated time of 1 hour and 40 minutes.
​The topics areas and exam weights are as below:
| IMC Unit 1 Topic Areas | Weighting |
| --- | --- |
| ​Financial Markets and Institutions | 12% – 24% |
| ​Ethics and Investment Professionalism | 6% – 18% |
| Regulation & Legal Concepts | 29% – 41% |
| Client Advice | 18% – 29% |
| Taxation in the UK | 12% – 24% |
IMC Unit 2 Exam
The IMC Unit 2 exam consists of 105 multiple-choice, item sets, and gap-fill style questions, with an allocated time of 2 hours and 20 minutes.
IMC Unit 2 builds on the foundation of Unit 1 and focuses on application during investment practice, covering topics such as economics, accounting, quantitative methods, asset classes and portfolio management.
​The topics areas and exam weights are as below:​
IMC Unit 2 Exam Topic Areas
Weighting
Quantitative Methods
10% – 19%
Economics (Micro & Macro)
5% – 14%
Accounting
10% – 19%
Asset Classes
​(Equities, Fixed income, Derivatives, Alternative Investments)
24% – 29%
Investment Theory, Management & Measurement
24% – 29%
---
IMC Exam Fees (GBP £)
IMC exam fees are pretty straightforward and significantly cheaper than CFA exams:
Fee Type
IMC Unit 1
IMC Unit 2
1) Exam Fees (and Retakes)
£300
£320
2) Official Training Manual (OTM), i.e. IMC Syllabus
£113 + Shipping
​(£6-£25 depending on country)
£118 + Shipping
​(£6-£25 depending on country)
There are minor savings if you purchase both Units' OTMs, but this depends on your exam timeline as candidates need to be mindful that the IMC syllabus gets updated annually on 1st December and lasts for one year until 30th November.
The fees are the same even with online proctored IMC exams.
As you can see, IMC can be a cost effective, low barrier yet reasonably prestigious qualification to kickstart your UK finance / investment management career.
With some discipline and determination, one can actually complete the IMC qualification quickly for less than £900!
Of course, this assumes self-studying without additional third party material and passing both units in the first try (which is a reasonable assumption given the relatively high pass rates).
---
IMC Exam Dates
Unlike most other financial designations, candidates can sit for the IMC exams throughout the year (except holidays and weekends).
That said, candidates must carefully plan the time of exam registration, bearing in mind that the IMC syllabus (Official Training Manual, OTM) gets updated annually on 1st December and remains until 30th November the following year, unless otherwise necessary. ​
Here's a quick summary of the registration and exam scheduling details:
Exam Registration
IMC exam registration is done through CFA UK.

Upon registration, candidates will receive an email confirmation providing scheduling instructions, a unique username and password.

Note that candidates can only view exam availability after registration.
​Exam Scheduling
After registration and payment, candidates will need to wait for 2 working days before they are permitted to schedule an exam.

To do so, they need to login to Pearson VUE's website to select a date, time, and location to take the IMC exam. Similar process applies for online-proctored IMC exams.

Candidates can sit for exam on most working days in one of 52 locations across the UK or selected centres worldwide.
Exam ​Registration Expiry
Candidates have 1 year from initial exam registration to sit for the exam.

Otherwise, the registration will expire after 1 year with no refunds given. Re-registering will cost the same exam fee each time.
​Number of Exam Attempts
Candidates are not allowed to take an IMC exam (i.e. either one or both units) more than 4 times in any 4 month test window.

No further attempts are allowed once a candidate achieves a passing score.

For resits, candidates need to wait 3 working days after the exam date to re-register for the exam.

Note that all candidates are only permitted to attempt each unit of the IMC exam only once per calendar month.
---
What Are the Requirements for IMC Qualification?
One of the best features of the IMC qualification is the lack of requirements given its foundational nature, despite its relative prestige as a potential stepping stone to other finance qualification.
There is no requirement to have completed any other qualifications prior to taking the IMC. For typically 60%-80% of candidates, the IMC is their first professional qualification.
In order to complete the IMC qualification (and use the IMC designation in your CV), all you have to do is:
pass IMC Unit 1 and Unit 2 exams;
join CFA UK as an IMC member by paying an annual fee of £120.
Unlike the CFA qualification, there is no working experience required for the IMC certificate.
Exemptions are available for 1 unit of the IMC exam depending on circumstances. Interestingly, CFA candidates who have passed IMC Unit 1 exam can apply for Unit 2 exemption if:
They have passed CFA Level 1 or 2, providing no advice to retail (private) investors is undertaken.
They have passed CFA Level 3, including those who advise retail (private) investors.
That said, IMC candidates who are successful in applying for an exam Unit's exemption still have to pay the same exam fee for it. More details on IMC exemptions policy on CFA UK's website.​
---
Benefits of An Investment Management Certificate
Given its relatively low cost (from a money and time investment perspective), the IMC qualification can be particularly beneficial for those at the beginning of their finance / investment management career.
Once you earn the IMC designation, you can expect to:
Boost your CV as a fresh graduate to differentiate yourself from the rest
Kickstart your career in investment management
become an FCA 'Approved Person' which may enhance your employability and earning potential in UK investment sector
For investment professionals and their employers alike, the IMC-CFA route provides a globally-recognised career progression.
---
IMC vs CFA: Which is Right for You?
In short, the CFA charter is an all-inclusive designation that focuses more on portfolio management at its highest level. On the other hand, IMC designation is an entry level qualification – it is designed for fresh graduates, career changers as well as investment support staff who are looking level up their basic knowledge in investment management. So, from a career building perspective, IMC is a lighter version compared to the CFA charter.
​It really depends on where you are in your career:
If you are a fresh UK graduate, and would like to explore investment management as a potential career, it is worth considering IMC as a starting point to explore the world of finance and what interests you, whilst boosting your CV. IMC can be a stepping stone to other financial designation (such as CFA, FRM or CAIA) later on as you build up your experience.
On the other hand, if you are already in the finance/investment sector, and would like to further specialize in investment management, CFA would be a better bet as it works best with a few years of finance experience under your belt.
Here's a quick summary comparing both designations:​
IMC
CFA
Pre-exam qualifications
None, but it is advised that a Bachelor's degree prior to IMC designation provides a better career standing.​
Have a bachelor's degree; or

Undergraduate with 2 years remaining of a bachelor's program; or

Have a minimum of 4,000 hours of work experience and/or higher education over a minimum of 3 years.

See CFA entry requirements for more details.
Number of Exams
2 units (fastest route is 2 months)
3 levels (fastest route is in 18 months)
Exam Frequency
Unit 1 & 2 can be booked throughout the year, whether in-person or remote testing.

Maximum 4 attempts in 4 months​
Level 1: 4x a year (Feb, May, Aug and Nov).

Level 2: 3x a year (May, Aug and Nov)

Level 3: 2x a year (Feb and Aug).
Exam Format
IMC question format consists of standard multiple-choice, item sets and gap-fill style questions.

Unit 1 has 85 questions
Unit 2 has 105 questions
Computer-based exams from for all levels:

Level 1: Multiple choice questions
Level 2: Item set questions (multiple choice)
Level 3: Item set and essay questions
Pass Rates
65%-80%​​
The range of CFA pass rates since 2010:
Level 1: 22%-49%
Level 2: 29%-55%
Level 3: 39%-56%
Fees and Costs
Total minimum cost: ~ £900 (or around US$1,100)​
One-off Enrollment Fee: $350
Registration fee (per level): $900-$1,200​​
Retakes: same as registration fee
Total minimum cost: ~US$ 3,100
Study Hours Needed
Unit 1: 100 hours
Unit 2: 120 hours
At least 300 hours per level​
Post Exam Requirements
To become IMC-qualified:

– Pass IMC Unit 1 and Unit 2;
– Join CFA UK as an IMC member (local membership) by paying an annual fee of £125;
– No work experience required.​​
To become a CFA charterholder:
– Pass all the 3 levels of CFA exams;
– At least 4,000 hours of relevant experience, completed in a minimum of 3 years;
– Submit reference letters for 2-3 professional references;
– Become a regular member of CFA Institute;
– Adhere to CFA ethics and professional conduct.​
Overall, IMC offers an excellent career entry opportunity in investment profession, particularly valued by UK investment firms. It is a good value-for-money designation that requires relatively low time and money investment, and is a perfect stepping stone for future, more specialized financial designations like CFA, FRM or CAIA.
So if you're currently student or just aiming for a career in investment management in general, and unsure if you're ready to commit to the CFA charter, the IMC qualification can be a solid starting point. You can always decide to follow up with a CFA charter later, and meanwhile you'll have added valuable credentials to your CV.
---
Any questions or comments? Let us know in the comments below!
Meanwhile, you may find these related articles in our Beginner's Guide series of interest: