What is FRM qualification all about?
If you're keen on a career in risk management, consider the Financial Risk Manager (FRM) program by by the Global Association of Risk Professionals (GARP): a two-part, self study set of examinations with global recognition.
​
This comprehensive guide is packed with the latest information that will aid your decision making on FRM certification. Let's take a look!
---
Overview of the FRM Certification
Since the inception of FRM program in 1997, more than 60,000 certified FRMs have successfully obtained the designation. They are employed internationally at nearly every major bank, asset management firms, hedge funds, consulting firms, and regulators.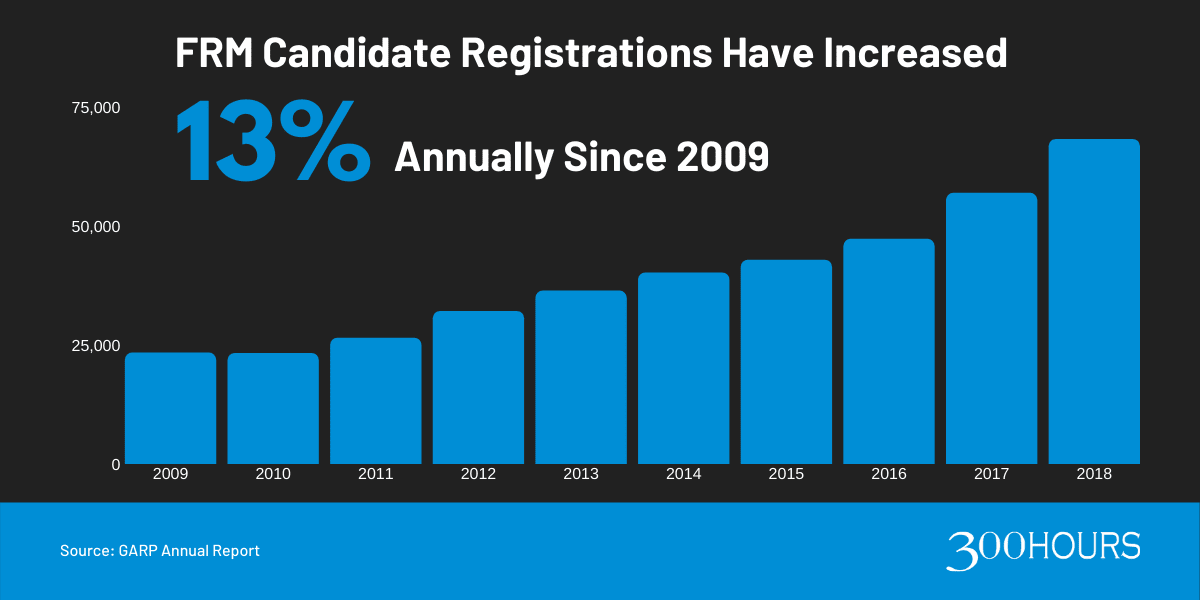 There is fast-growing demand for the FRM certification – registrations for the FRM exams have grown by an average of 13% per year since 2009, registering a growth of 20% in 2017-2018 alone.
---
What Is FRM Exam? A Quick Overview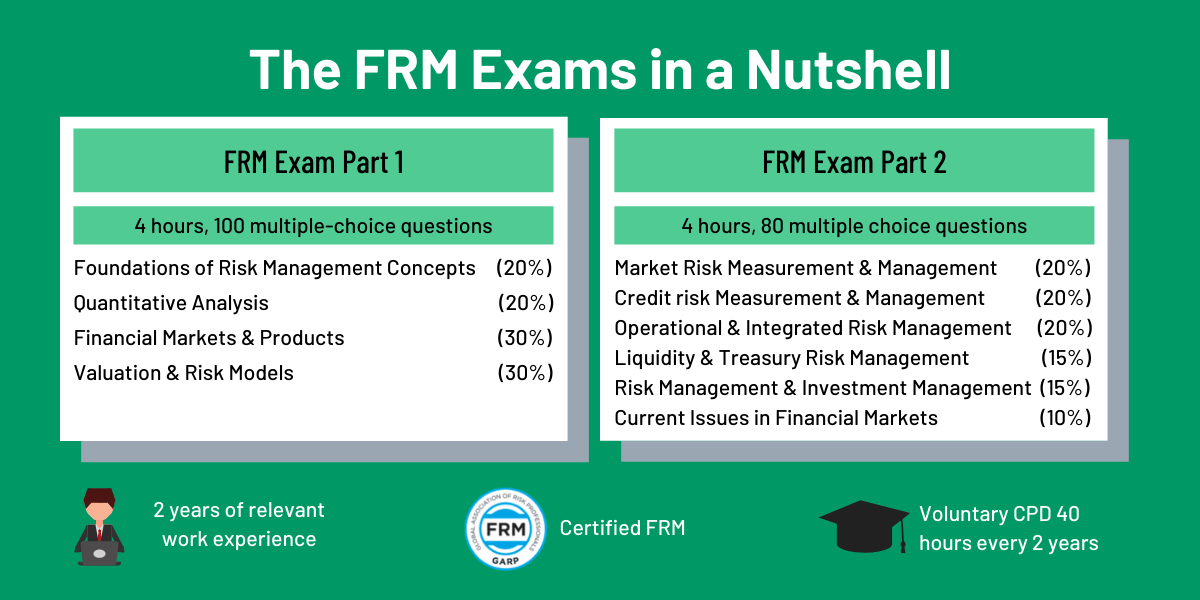 The FRM exam is a two-part examination consisting of a 4 hour multiple choice exam each.
There are some recent changes due the COVID-19 pandemic:
May20 exams were postponed globally and replaced by a one-off exam slot in October 2020.
GARP announced that FRM exams will transition to computer-based testing (CBT) in 2021, so the last paper-based exams would be Nov20 Part 1 and May21 Part 2.
From 2021, there would be 3 exam windows for Part 1 (May, July and November); and 2 exam windows for Part 2 (May and November/December). Candidates can still take both Parts on the same day, but you will need to pass Part 1 before Part 2 is scored.
The exams are conducted exclusively in English, in person at 100+ exam sites around the world. You can find out your nearest FRM exam center here.
In terms of pass criteria, there are no negative markings for incorrect answers. The passing score is determined by the FRM Committee each year.
The exam results are sent to candidates via email approximately 8 weeks after the conduct of exam, and result is a simple pass or fail. However, you will be provided with quartile results so that you can see how you scored on specific areas relative to other candidates.
---
FRM Pass Rates Since 2010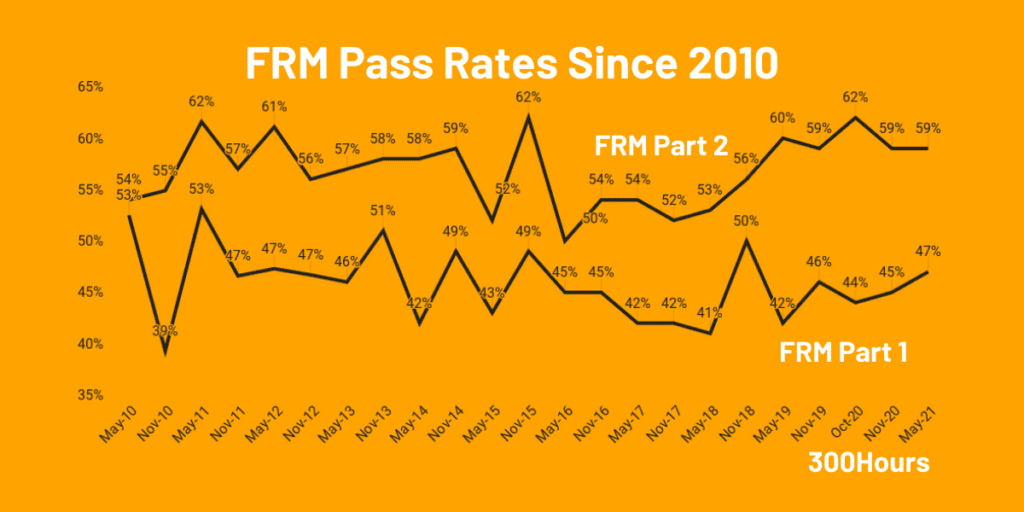 The latest May 2021 FRM exam results recorded pass rates for Part 1 and Part 2 at 47% and 59% respectively.
Since 2010, the historical pass rates for Part 1 ranges from 39%-53%, with a 12-year average of 46%. On the other hand, Part 2's pass rates ranges from 50%-62%, with a higher 12-year average of 57%.
Check out our FRM pass rates article for the latest analysis.
---
FRM Exam Topics & Weightings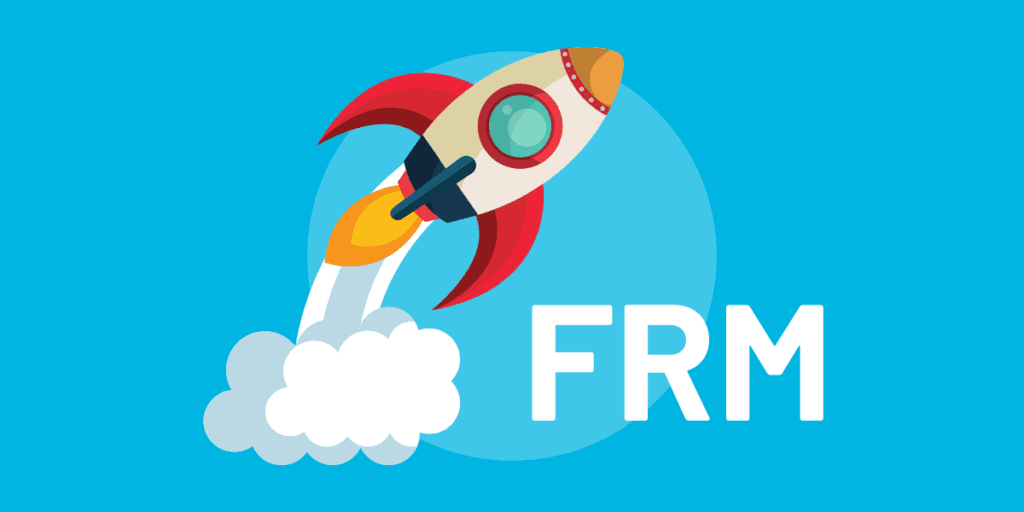 FRM Part 1 Topics
​The FRM Part 1 curriculum covers the tools used to assess financial risk. The topics and percentages are as below:
| FRM Part 1 Topic Areas | Topic Weight |
| --- | --- |
| Foundations of Risk Management (FRM) | 20% |
| Quantitative Analysis (QA) | 20% |
| ​Financial Markets & Products (FMP) | 30% |
| Valuation & Risk Models (VRM) | 30% |
FRM Part 2 Topics
​The FRM Exam Part 2 highlights on the application of the tools studied in Part 1 with a deeper understanding of risk types and risk management. Topics and percentages are in the table below: ​
| FRM Part 2 Topic Areas | Topic Weight |
| --- | --- |
| Market Risk Measurement & Management (MR) | 20% |
| Credit Risk Measurement & Management (CR) ​ | 20% |
| Operation Risk & Resiliency (ORR) | 20% |
| ​Liquidity and Treasury Risk Measurement and Management (LTR) | 15% |
| ​Risk Management and Investment Management (IM) | 15% |
| Current Issues in Financial Markets (CI) | 10% |
---
FRM Exam Fees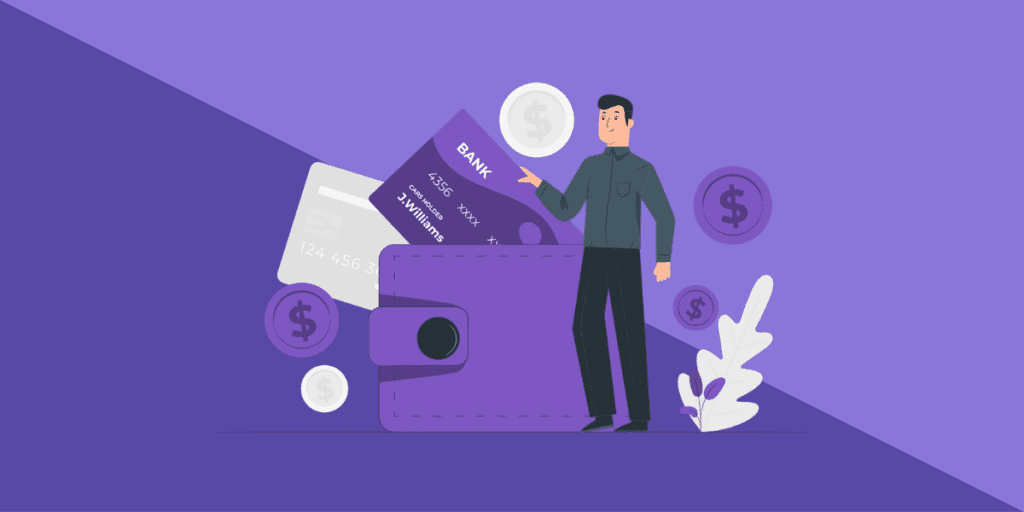 There is a recent increase in FRM exam fees due to the transition to computer-based exams. Here are the latest FRM exam fees:​
| Fees in USD ($) | FRM Part 1 | FRM Part 2 |
| --- | --- | --- |
| Enrollment​ (one-off) | $400 | – |
| Early Registration | $550 | $550 |
| Standard Registration | $750 | $750 |
There is a one-off enrollment fee of $400 that applies to first time FRM candidates. So if you're retaking Part 1 exams, the exam fee varies between $550-$750 only depending on your registration date.
In contrast, if you're new to FRM, you'll need to add a one-off enrollment fee of $400 on top of that.
From 2021, the fees for Part 2 FRM candidates are the same as Part 1 (excluding the one-off enrollment fee), ranging from $550-$750 depending on registration date.
That said, registration fees are only one part of the costs of FRM exams. Check out our FRM fees article for a more thorough estimate of total cost.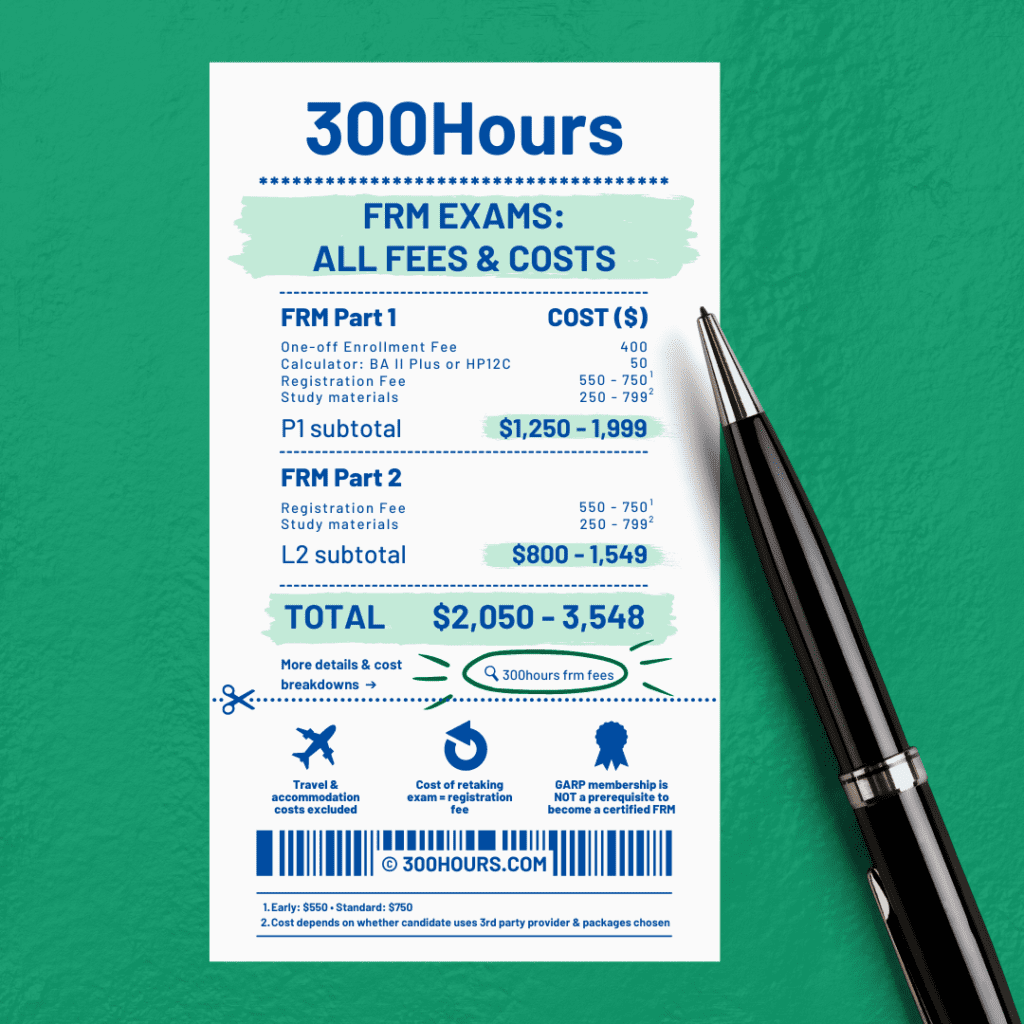 ---
FRM Exam Dates & Key Registration Deadlines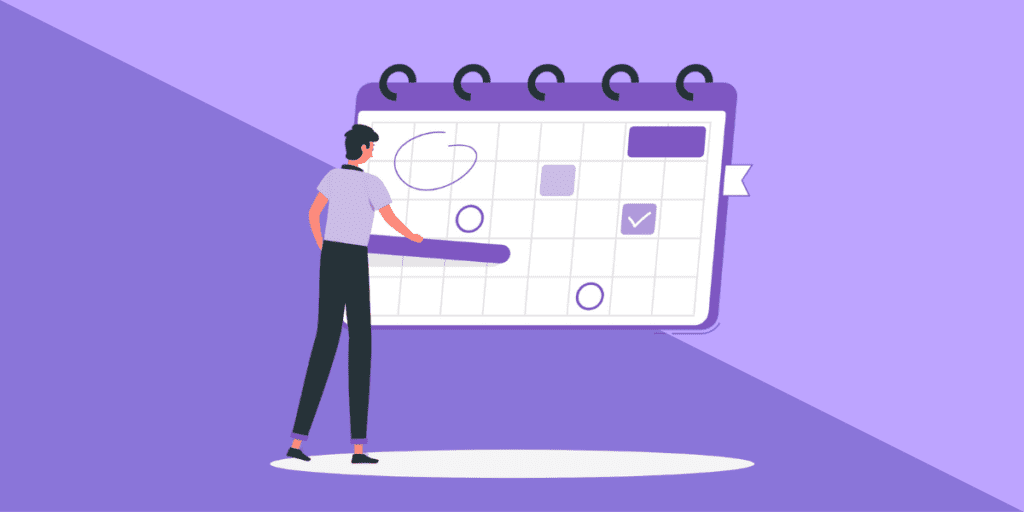 For 2021's May and July's exams, registration will open on 1st Dec 2020. Stay updated with the key exam deadlines below:
Key Deadlines
May (Part 1 & 2) and
July (Part 1 only) FRM Exams
November (Part 1) /
December (Part 2) FRM Exams
Registration Opens
1 December 2020
1 May 2021
Scheduling Opens
15 December 2020
15 May 2021
Early Registration Ends
31 January 2021
31 July 2021
Special (RAD)* Requests Due
Special (ADA)** Requests Due
28 February 2021
31 August 2021
Registration Closes
Last Day to Defer to next Exam
31 March 2021
30 September 2021
Last day to schedule/reschedule Exam
Last day to select/change exam sites
8 April 2021
20 October 2021
Exam windows and dates
8-21 May 2021 (FRM Part 1)
10-23 July 2021 (FRM Part 1)
15 May 2021 (FRM Part 2)
13-26 Nov 2021 (FRM Part 1)
4-10 Dec 2021 (FRM Part 2)
* Request for alternative exam date for religious reasons only (RAD)
** Accommodations for Americans with Disabilities Act (ADA)
For the latest FRM exam key dates and deadlines, check out our FRM exam dates article.
---
What Are the FRM Exam Requirements?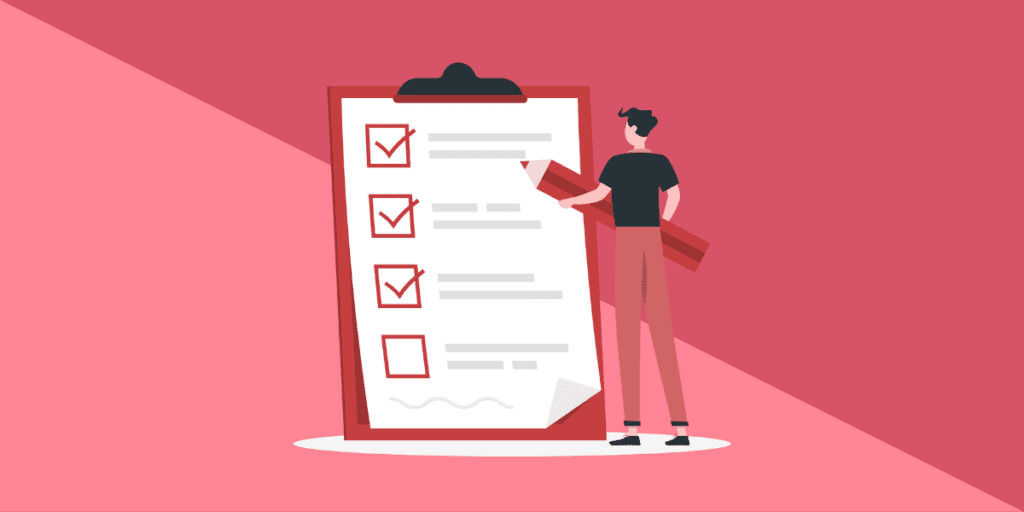 In order to be certified as a Financial Risk Manager (FRM) and be able to use the FRM designation after your name, the following conditions must be fulfilled:
Pass the FRM Exam Part 1;
Pass the FRM Exam Part 2 within 4 years of passing Part 1; and
Demonstrate 2 years of professional full-time financial risk management work experience.
FRM work experience requirements:
To demonstrate relevant work experience, GARP requires a candidate submission of a minimum of 4-5 sentences (at least 300 words) detailing how he/she manages financial risk in their day-to-day work.
Experience completed for school will not be considered, including internships, part-time jobs, or student teaching.
The work experience submitted cannot be more than 10 years prior to having passed the Part 2 exam.
There are time limits to getting FRM-certified:
Once a candidate passes FRM Part 1, he/she must then pass the FRM Part 2 within 4 years.
Then, the candidate will have 5 years from the date of passing FRM Part 2 exams to obtain work experience verification. If this is not done in time, the candidate will have to re-enroll and pass both Part 1 and Part 2 exams again for certification, not to mention re-paying the required fees to do so.
---
Benefits of FRM Certification
FRM certificate is one most widely accepted global designation for risk management profession, and getting this certification certainly sets you apart from the rest. Once you achieve this designation, you can expect to:
Differentiate yourself and further boost your risk management credentials in the financial industry
Enhance career growth and increase job mobility in the risk management sector
Become a part of the global elite group of risk management professionals who are FRM-certified
Be recognized globally as a leader in financial risk management
Command better remuneration package and job opportunities
---
FRM vs CFA – Which is Right for You?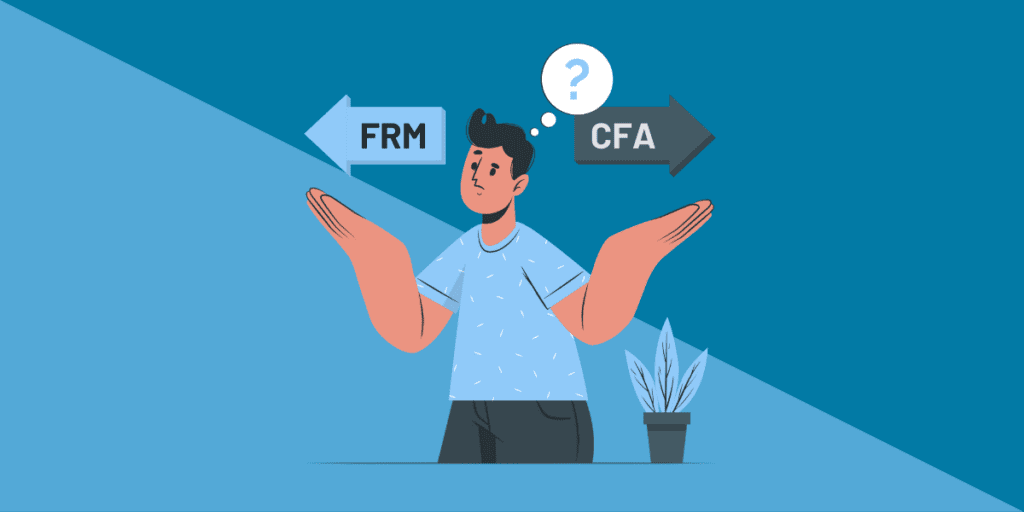 This is a popular topic which has a whole article in itself.
We compare the differences and similarities between these designations, in terms of syllabus, difficulty and career objectives. Do check it out!
---
Are you considering FRM, as well as the CFA designation? Leave a comment below!
Meanwhile, you may find these related FRM articles of interest: