What should you be doing for your CFA last month preparations? Especially if it's your first time, and you're not sure what a CFA Level 1 last month study plan looks like?
Among all the chaos, prioritization and focus are key in the last month.
To keep things simple for you, here are 8 concise pointers to take note on to utilize your last month effectively to maximize your chances of passing the CFA exams, regardless which level you're sitting for.
Let's dive in!
---
1. Check that your studying progress is on schedule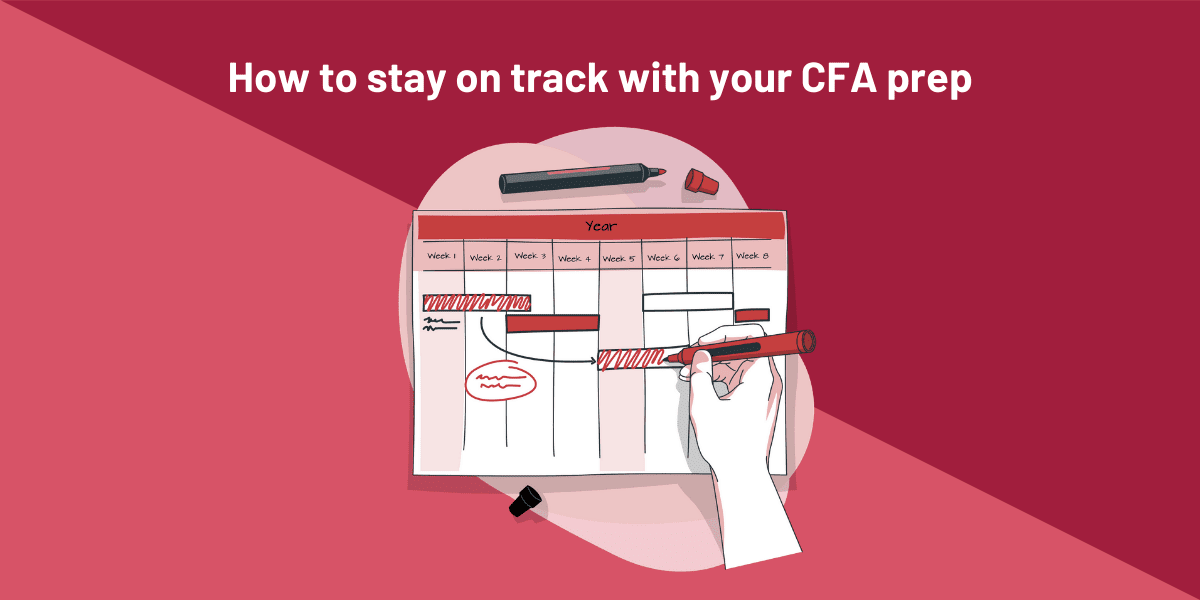 If you're using our free study planner, you'll be fully informed on your progress and know if you're on track. In general, you should be aiming to finish your studying by the last month and transition fully to review and practice.
If you need help to speed up your studying, here are some tips to blitz through the remaining material.
---
2. Make sure you know your CFA Ethics
If you're new to the CFA exams, you may have made the mistake of not having studied Ethics yet, or even assumed it's like a company compliance test – just choose the obvious 'ethical' choice and voila, free points.
It's not like that. At all.
Ethics is significantly weighted in all 3 exams, highly transferable between CFA levels, and may be the tie-breaker for your pass/fail grade. And the questions are hard.
Need help? Here are some helpful tips on how to master Ethics, and our unmissable Ethics cheat sheet.
---
3. Know how to pass the CFA exams
Learn from others' mistakes. Refer to our CFA advice and tips for Level 1, Level 2 and Level 3 to learn what you should watch out for.
Relevant articles that will help:
---
4. Complete all the practice exams you can find
Practicing for the real day is the best way to prepare for the exam, especially in the later stages of your prep.
When you're attempting practice exams, you should aim to stick to exam time limits as well to simulate exam conditions.
And how many is enough? A good rule of thumb is to complete for 4-6 sets of practice exams in the last month.
Relevant articles that will help:
---
5. Increase your study effectiveness
Achieve a higher absorption and understanding of the material per unit of time. Try out different study places and observe your ability to focus, stick to the ones that you can concentrate best, switch to something new once you get tired of it for a boost.
​
Relevant articles that will help:
---
6. Boost your motivation
Devise an incentive and reward system that works for you.
If you realize that you're burning out, take steps to recover – there is still time to regroup and rethink your approach.​
Relevant articles that will help:
---
7. Improve your health. It'll improve your exam scores
Eat well, nurture your concentration and cut out processed, sugary food.
Take the occasional break, catch up with friends or go for a run – these reduce stress and you'll come back refreshed and raring to go!
Most importantly, improve your sleep quality to make up for more intense study sessions.
​
Relevant articles that will help:
---
8. Remember to take a break too
When it all gets too much, remember that there's a limit to what even you can do.
Have a laugh to take the pressure off.
Do something relaxing (yes it sounds foreign but you're allowed!).
Your friends and family may not get it fully, but you need support from others who understand, drop by the 300 Hours Forum.
---
​I hope your studies are going well and it'll be over soon! The last month is where it matters and all get cemented in your brain. Let us know how you're getting on in the comments below!
Meanwhile, you may find these related articles of interest: