'How to get a CFA exam refund' has never really been a frequently asked question, but then the pandemic happened.
With so many uncertainty and exam postponements, CFA Institute had to adapt and the CFA exams had gone through a huge variety of changes just in 2020 alone.
Among all this uncertainty, some candidates may be thinking about getting a refund.
The CFA refund policy around the CFA exams have not really been a big focus historically, and in the face of the pandemic they have undergone quite a few changes.
In this article, we'll go through the refund options available to candidates – which can be different depending on individual circumstances.
---
How to get a CFA refund immediately after registering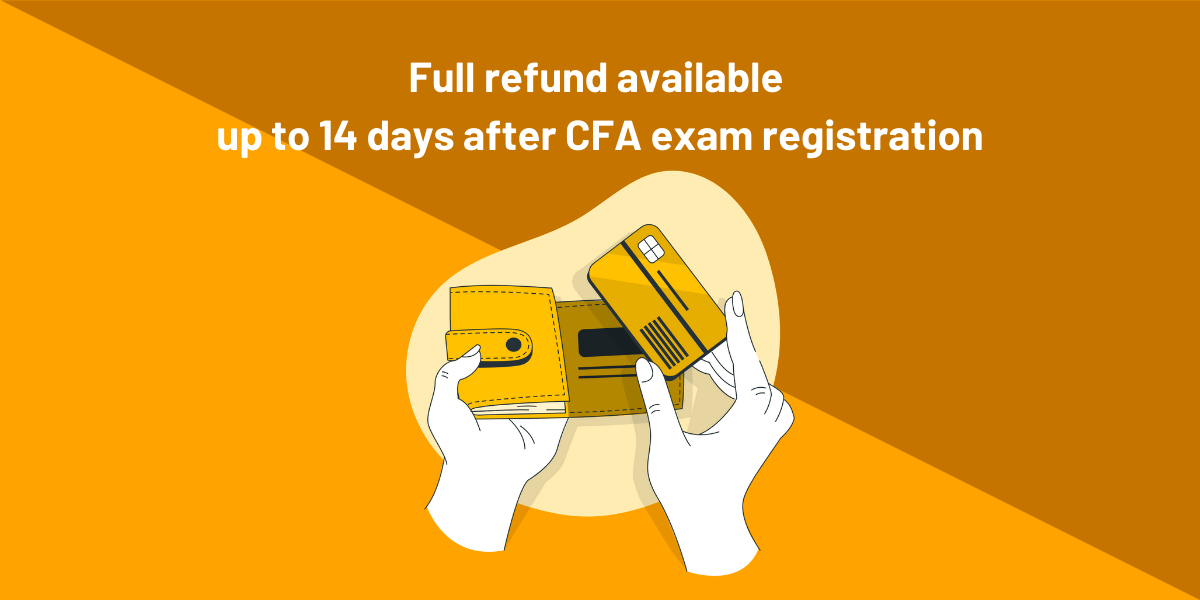 If you get buyers remorse immediately after initially registering for the CFA exams, don't worry – CFA Institute does allow refunds:
But we do mean 'immediately' – refunds will only be available within 14 days of payment of your exam registration fees (through 11:59 PM Eastern Time on the 14th day).
To clarify, an initial registration here excludes a registration made to reschedule an exam sitting that was either deferred by the candidate or postponed by CFA Institute.
So, if you wish to cancel CFA exam and request for a refund, you should be able to do this by logging into your CFA Institute candidate account and search for the option under 'Manage Your Exam'.
If you fulfil these conditions, you're entitled a full refund of your enrollment fee, registration fee, and any other sales tax payable. Some additional terms apply to all refund requests:
FX differences apply. Due to fluctuating exchange rates, CFA Institute cannot guarantee the exact amount paid to CFA Institute will be the amount returned in currency other than US currency.
After 14 days, no refunds in any circumstances. After the refund 14-day period has ended, enrollment and registration fees are non-refundable, even in the event of a medical condition or other extreme circumstance. Ouch.
Print curriculum refunds not included. Payments for print curriculum orders are nonrefundable once the order has been placed. This one I get – CFA Institute ain't Amazon, they are unlikely to have the logistical capacity to process print curriculum returns.
---
CFA exam postponed? Here's how to get your refund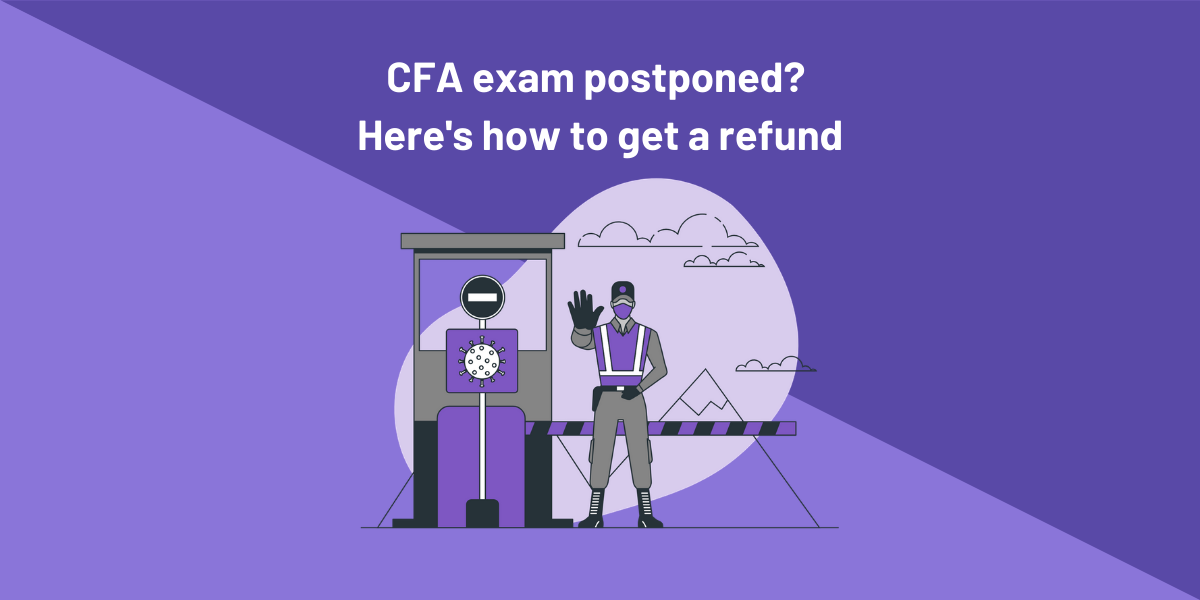 CFA Institute initially refused to hand out refunds when they first announced the postponement of the June 2020 exams. This was eventually changed so that a refund would be offered, under specific circumstances.
Here are the key terms and requirements about this 'CFA postponement refund':
You need 2 cancellations or postponements by CFA Institute due to COVID-19. Your CFA exams have to have been postponed or cancelled twice already.
No refunds from any materials you've bought. This includes CFA Institute print curriculum.
Do you get your enrollment fee refunded? Yes. Originally, CFA Institute explicitly stated that enrollment fees will not be refunded, but now their official statement has changed to 'all fees paid with your original registration will be refunded'.
However, if your registration was twice cancelled due to COVID-19, and you exercise the complimentary deferral in your account for a 2022 exam, that means you will forfeit your right to request a refund.
How to request a postponement refund from CFA Institute
CFA Institute will contact you on your options (including refund). Fret not, CFA Institute has since polished its process for exam cancellations and will contact you directly on your options after an exam cancellation/postponement announcement.
Refunds can take up to 120 days. CFA Institute has stated that it expects refunds to potentially take up to 120 days from date of request.
CFA Institute will follow up with specific instructions on refunds. Refund instructions will be provided at the time your scheduled exam is again postponed.
---
Are there any other options other than a refund?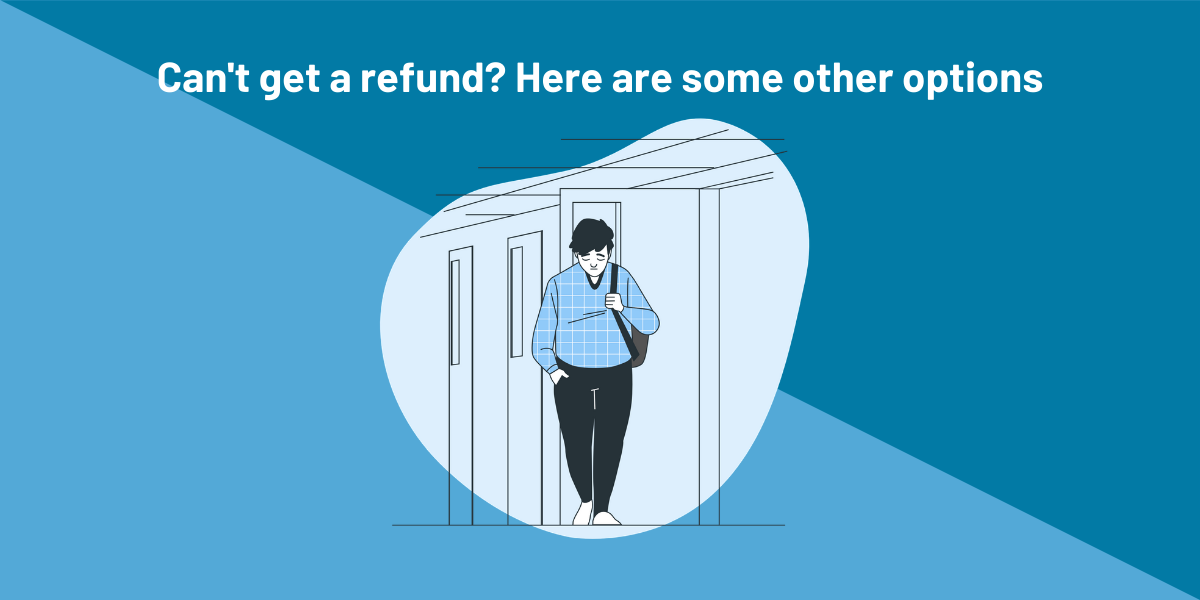 If for any reason you're not going to be attending the CFA exam you registered for, and if you don't want or don't qualify for a refund, there are two other options:
Deferral to the next available exam
Deferrals to the next available exam are considered by CFA Institute, depending on your circumstances.
There are 'standard' and 'non standard' reasons for a deferral, some of which require documentation to proof it. There is no CFA sick policy per se (except COVID-19), please check out the latest CFA deferral policy for full details.
But in short, you may be able to – if applicable to you – use the 3 'non standard' reasons (COVID-19 exposure, flu-like symptoms, travel restrictions) for deferral, which does not require documentation to proof it.

But this route has some risks to it.
As you can imagine, this route may be abused and there are risks to it that CFA Institute is aware of and actively discouraging:
If someone reports to CFA Institute that you are using this non-standard deferral route fraudulently, it may be reviewed by the Professional Conduct Program (PCP).
'Non standard' deferrals can only defer to a future exam window that is at least 9 months from your current one. Those who defer under 'standard' deferral
Most importantly, starting from Feb 2022, there is a limit to 1 deferral request every 12 months due to these 3 reasons (COVID-19 exposure, flu-like symptoms or travel restrictions). All subsequent requests linked to the initial paid registration will be declined.
Withdrawal from the CFA exam
CFA Institute also offers a withdrawal option for all 3 levels of the CFA exam.
A CFA Institute refund or a deferral would be preferable in every scenario, since with a withdrawal you don't get your money back, nor do you get to postpone your exam.

A withdrawal option is available until 5 days before the start of your exam window (not exam date itself!).
You can withdraw if you wish to re-register for the next exam without waiting for the current exam results to be released – but then, it would make more sense to apply for a deferral, if possible.
A withdrawal would therefore only make sense, in our opinion, if you wanted to defer your exam to the next exam cycle, but for some reason do not qualify for a deferral.
---
Phew, hope the above clarifies the issue and lay out your options if you are exploring CFA refund options.
Meanwhile, here are some related articles which may be of interest: