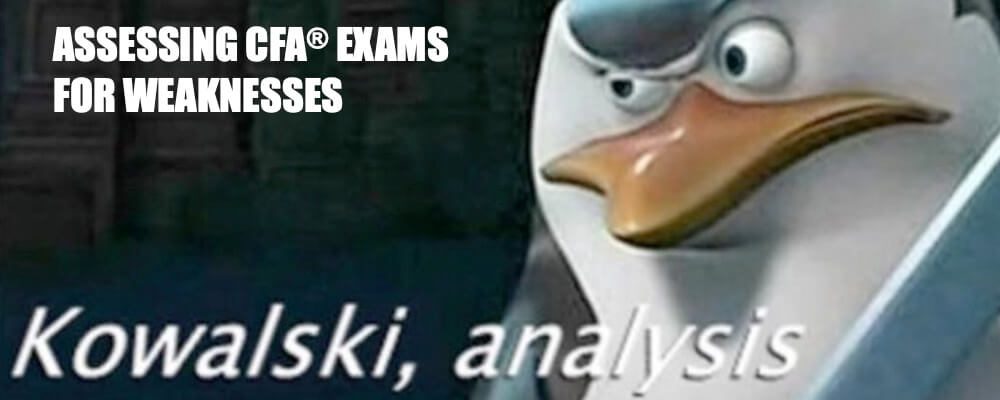 By Sophie
"Those who cannot remember the past are condemned to repeat it." – George Santayana, 1905.
Amidst the manic hustle and bustle of preparing for the CFA exams by doing endless practice exams, sometimes we forget a crucial and effective weapon we already have – information.
There's extensive information through our CFA Exam Insights on past performance and topic-by-topic breakdown that highlights the differences between candidates who passed or failed. Why not use that knowledge to help you prepare more effectively and avoid the common pitfalls?
Ignoring this is like walking into a room to negotiate without doing some prior research on your counterpart. Guess who's gonna walk out winning?
This article draws from our CFA Exam Insights guide, and focuses on the lessons learned from the recent performances of each Level, what can we do about them and actions you can take to make a difference. If you find this article useful, consider getting the guide and supporting our research!
Candidate performance by topic area has been consistent across the years. Through our 300 Hours Results Analyzer survey, we've been able to chart how over 100,000 candidates have performed by topic areas in past CFA exams.
The chart below shows the percentage of candidates score categories by topic area. Lots of red mean that candidates generally performed poorly in that topic area, whereas lots of green mean that candidates performed well. We've ordered the topic areas by observed topic difficulty, and also grouped them into three groups.
---
Level I Lessons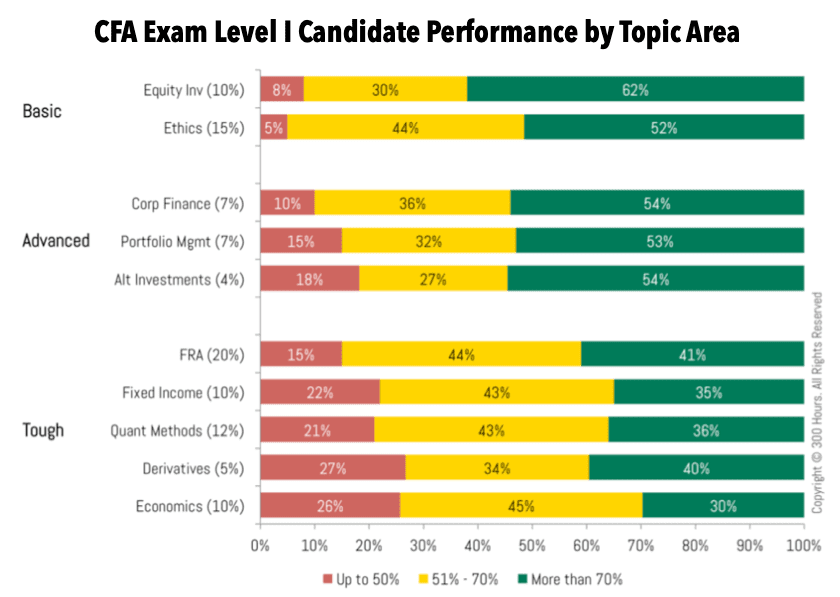 We found that the most useful view was through 3 tiers of increasing difficulty:
Tier 1: Basic. Topic areas where candidates tend to do well. This includes Ethics, a crucial topic area, and Equity Investments.
Tier 2: Advanced. Some topic areas, such as Alternative Investments and Portfolio Management, can be polarizing. Candidates tend to either do very well or very badly here. Take the time to understand the underlying principles behind these topic areas.
Tier 3: Tough. These are the difficult and often heavy-weighted topics, such as FRA, Economics and Quantitative Methods. Not only are these important, but candidate performance also tends to dip here. Take care to pay attention to these topic areas from the start.
---
Level II Lessons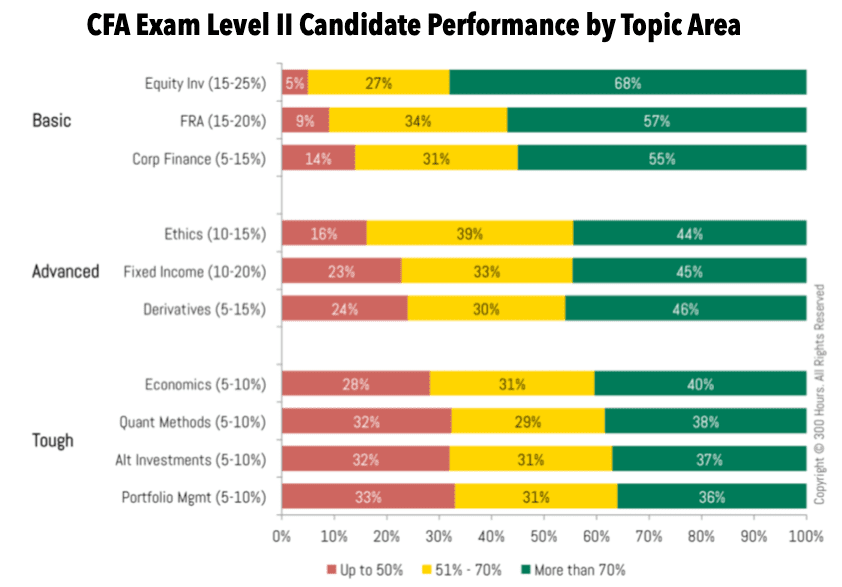 The same 3 tiers as Level I (but with differing topic areas) are observed in Level II. But what you should also pay attention to is how disproportionately weighted the first two tiers are compared to the last one.
• Tier 1: Basic (35-60% of the exam). Topic areas where candidates tend to do well. Make sure you have a strong base in these topics, as these 3 topic areas can account for more than half of the exam!
• Tier 2: Advanced (25%-50% of the exam). Another 3 topic areas that can account for up to half of the Level II exam, but with a significantly poorer observed performance than Tier 1 topic areas. Fixed Income and Ethics are definitely topic areas to really focus on.
• Tier 3: Tough (20-40% of the exam). Easily the poorest-performing topic areas of Level II, but also carries the lowest weighting. That's no reason to completely discard them though – topics like Quantitative Methods would be utilized throughout the exam.
---
Level III Lessons
If you're preparing for Level III, it's important to know not just how heavily weighted topics are, but whether they're usually set as a constructed-response question or item-set question. When preparing, always keep the question formats in mind and consider how each topic area could be presented in the exam.
The chart below illustrates the topic area spread across recent years of Level III exams, weighted by points and split by exam format.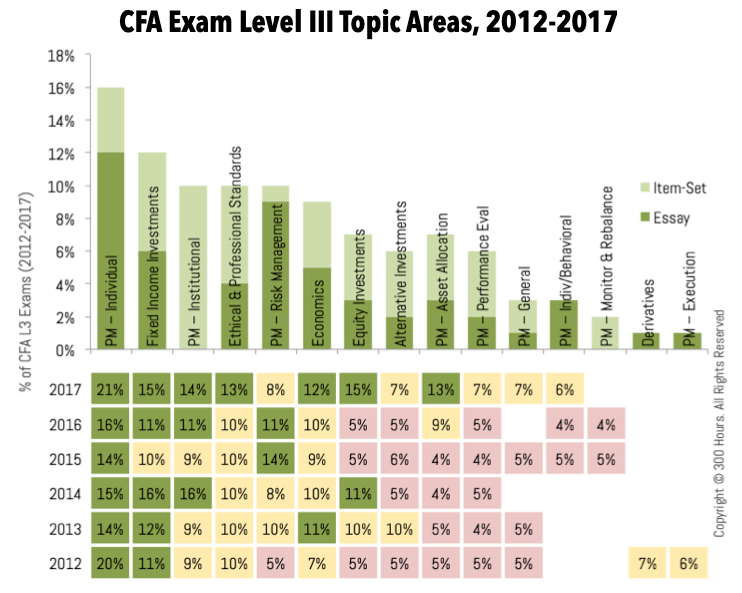 A few useful observations from this chart:
Ethical & Professional Standards usually appears as two item-set questions
Ethics has consistently appeared in the item-set section, spread across 2 item-set questions (for 10% of the total exam). Of course, this isn't a guarantee that Ethics will not appear in the constructed-response section, but it is a strong indicator that Ethics will most likely be presented in an item-set format.
Constructed-response feature many Portfolio Management questions
Portfolio Management and Wealth Planning questions account for about half the Level III exam. Historically, you can see from the chart that the majority of these questions feature in the constructed-response paper.
Investment Policy Statement (IPS) questions are often set as constructed- response questions, so make sure you practice your IPS-construction skills!
The data and conclusions in this article are from our CFA Exam Insights guide – do consider getting it for more insight into the CFA exams and how to increase your chances of passing. Thoughts? Questions? Let us know in the comments below!