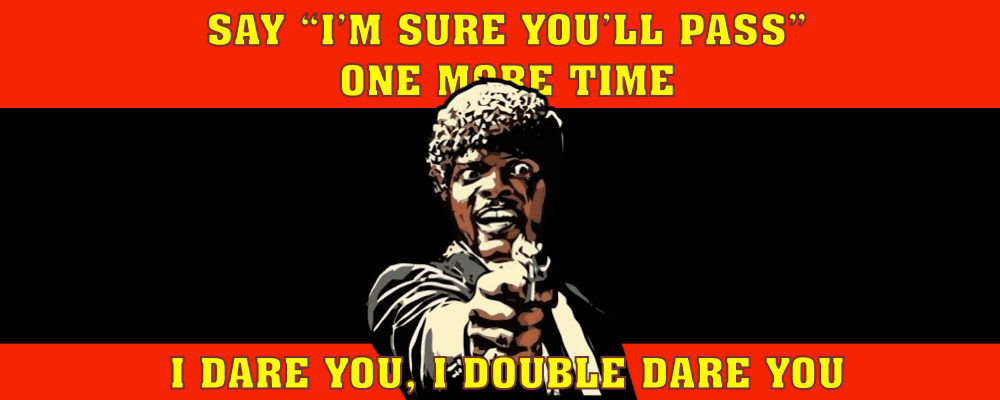 By Christine
Warning: this is a ranty post.

This article has a go at well-meaning friends, family and colleagues, whom probably only want the best for me and are just concerned about me when I was tearing my hair out as a CFA candidate.
But sometimes the stuff that people say to me as a CFA candidate makes me want to bash my head against a wall. Or bash theirs instead.
Here are my top 10. What are yours?
#1: "Don't worry, I'm sure you'll pass."
This is by far the number one offender for me. To be fair, this is the default option when you can't really think of anything else to say. Which is usually the case. But still – I've not used this comment for anyone else taking the CFA after taking it myself.
​Derivatives include:
"Oh, you're so smart! You'll do fine."
"You always worry about exams and you always do well."
#2: "It's only Level I! It's easy!"
Oh for God's sake, shut up.
This isn't actually restricted to just Level I. Comments I got in Levels II and III include:
"It's Level II! You've already passed Level I, so you know you can do it!"
"It's Level III! You've already passed 2, it'll be easy!"
#3 : "Oh, the exam isn't until June/Dec, you have PLENTY of time."
I know they're trying to reassure me. But hearing this from someone who's never taken the CFA, I'm gonna think: You have no idea what you're talking about. Hearing this from someone who's taken the CFA before, I'm gonna think: Easy for you to say, you're done. Then proceed to continue freaking out. It's a guaranteed no-win situation.
#4: "You've studied so much already. There's NO WAY you'll fail."
I do beg your pardon, but you don't know what you're talking about. No, strike that, you're right. The ones that failed (more than 50% of them) must have just sat on their asses then.
#5: "Maybe you're overstudying? Be careful not to overstudy."
What the hell is overstudying? Oh, I might do too well, so I should remember to slack off? This makes no sense at all.
#6: "Hey, it's only an exam."
Damn, you're right. Why didn't I realize this before? Why am I bothering with hundreds of hours of studying? Screw this. In fact, why bother with anything at all? It's only 'things'.
#7: "So what're you doing this weekend?"
For the last time, I'm studying. Yes, the same as last weekend, and the weekend after next. You know when the damn exam is.
#8: "You're taking a week off? Just to study?"
Yes, I am. No, it's not an excuse to enjoy myself. Far from it. Believe me, I would rather be working than spending all my time trying to figure out whether Jack LaChance from Jiminy Bob Asset Management should long this put option or short this call option.
If your co-workers are not the CFA-taking type, it can be terrible. Other cheeky remarks I've heard:
"Enjoy your time off!"
"At least you're going on holiday next week."
#9: (After your study leave and exam) "Had a good rest?"
This is sometimes said with a smug or patronizing tone. If it's right after my exam, I'm usually too exhausted from taking the exams to choke the offending person to death.
Other derivatives include:
"So how was your 'holiday'?"
"Feeling regenerated?"
#10: (If you passed) "See? I KNEW it."
I'm normally so elated from passing that I rarely care about this. But I could cheerfully wring this person's neck anyway.
I know, I know. Almost everyone who says these things to me are people who just want to know if I'm alright. The CFA prep process makes me pretty stressed out and cranky, and takes up loads of my time, so naturally it comes up in conversations. But being in a cranky state of mind is exactly what makes these statements so annoying.
OK, rant over. Do you have your own pet peeves to vent? Let us know!