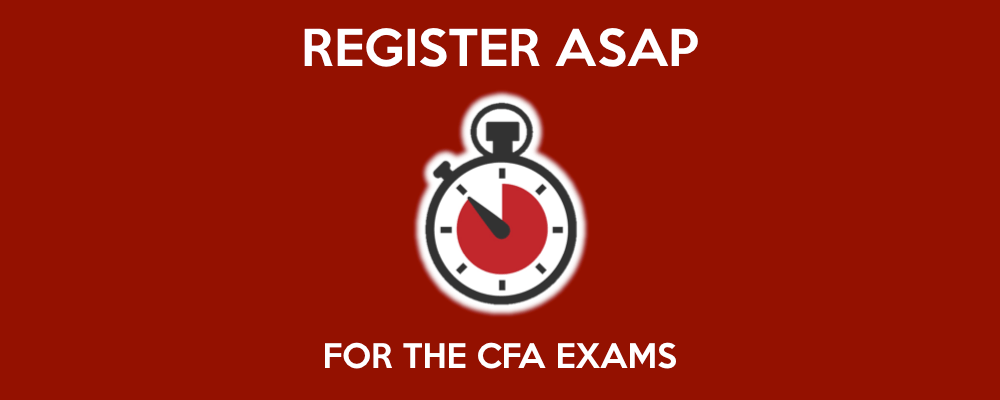 By Christine
Many candidates make a huge mistake when it comes to registering for their CFA exams.
The point of no return, if there is such a thing in the CFA exam process, is when you register for the exams. That's what makes many candidates hesitate a bit when deciding whether to register. To many of us, it's more than shelling out the hundreds of dollars, but it's also a mental commitment to ourselves, that we are officially committed to another cycle of determined effort.
This is a shame, because being undecided costs money, and increases your chances of failing. Here's how you should go about your decision to register for the CFA exams, and why you need to decide as soon as possible – in the next few days, in fact.
Consider The Monetary Aspect
Let's start with the quantifiable bit – looking at the cost involved.
We all know that registering late is more expensive, but do you know what are the key dates to save the most cost? Below are the registration deadlines for the June 2017 CFA exams. To get full details of the CFA exam deadlines, sign up to our Calendar.
Deadline (Eastern Time)

21st September 2016
​23:59 ET

​15th March 2017
​​23:59 ET

1st-time enrolment fee
Retakers need not pay this again

USD 450

USD 450

​USD 450

​Exam Fee

​USD 650

​USD 930

USD 1,380
Looking at the rise in costs between all 3 deadlines, you can see that the key deadline, not to be missed, is the second one, i.e. 15th February 2017. Beyond this date,
the cost rises by more than $400 just for registration alone
.
$400 gets you a crapload of extra study materials, so why waste it on indecision? Make sure you make the second deadline.
You Need All the Extra Time You Can Get
As we mentioned, registering for the exams also symbolizes something else. By registering, we're acknowledging to ourselves that we're committing the exam. And that often marks the point where we stop being half-hearted and lackadaisical in our studies and start planning for real.
After all, we've registered.
So think about this – if you're leaving it until beyond the 15th of February to register for a CFA exam that takes place early June 2017, are you really giving yourself the best chance you can to pass? Not really.
Commitment-wise, if you do want to pass, you need to start getting serious as soon as possible. And that means not just meeting the deadlines. Decide whether you want to take the exam or postpone it, and if you do want to take the exam, register as soon as possible. Today, if you can.
Many of you would have chosen to put this decision off until you got your Level I results. That's fine – many in the past have done so, and you can't register for Level II until you get your Level I results anyway. But from here on out, there is no reason to delay further.
Have you decided on registering for the CFA exams in June? Let us know below.