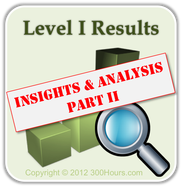 Hope you enjoyed the
topics analysis of Level I
and
Level II
in the previous posts! This week's Poll also touches on CFA topics.
Voice your feedback
and let me know which topics you find the hardest!
As you will know, certain parts of the CFA exam process is not particularly clear cut. It isn't clear what the passing mark, for example – i.e. the Minimum Passing Score, which varies from year to year, has never been publicly released.
There isn't much clarity on the rest of your results sheet either – if you failed you get a band rating of 1 to 10, but it's not quite clear how far you really were from passing. The analysis tool posted here helps ground the scores somewhat, but it's still an approximation.
As far as I know, no one has really taken a stab at thinking what actually the MPS might be. No one knows – but one could try and estimate it.
The MPS for Level I Jun 2012.
Before we dive into the details – a very important reminder to you, as a candidate. The information in this section really has no practical application in your CFA preparation. No matter what information is disclosed on the MPS, with the exam format as it stands, you should always aim for 70% and above. No amount of speculating on the MPS is going to change that.
This analysis is just for fun – do NOT use this to prep for your exam. You have been warned.
Having said that, based on the Level I June 2012 results analysis, it is estimated that the Minimum Passing Score for Level I June 2012 is somewhere between 64% and 68%. It's likely to be 64%, but more data would be needed to further confirm this.
How was this estimated? These are based on two 'assumptions' which should be fairly solid. Out of the sample:
There is no failing score that can exceed the MPS (e.g. through ethics adjustment)
There is no passing score that can drop below the MPS (again e.g. through ethics adjustment)
The reason why they're labelled 'assumptions' is because of the ethics adjustment factor. Since the methodology of ethics adjustment is unclear, this could mean the above two statements aren't necessarily true. But looking at the sample, I think the assumptions apply.
Since the theoretical maximum and minimum scores can be calculated for each result breakdown, given enough data around the Band 10 failures and passing score, a range of possibilities can be deduced, which becomes more accurate as the sample size increases.
To reiterate on earlier advice – this actually does not affect your study targets or patterns whatsoever. 70% and above should always be your target. Getting to 60%+ and saying 'good enough' is a great recipe to crashing and burning.
The Difference Between Failing Bands is About 7-12 Questions.
If you failed a CFA exam at some point, you might have wondered exactly did your failing band mean. How far were you from passing? Hopefully some of this research will help answer these questions.
Again, from observing the Level I June 2012 results, the average percentage difference between bands is about 3-5%. This equates to about 7 to 12 questions in the Level I exam. This means that if you got a Band 9, on average, you could have been as much as 11 questions away from a Band 10 (depending on how 'low' a Band 9 you were).
How was this calculated? This is a fairly approximate exercise. Since you only have maximum and minimum values to work with as 'solid' numbers, how do you estimate the differences between bands? I settled for looking at the mid-point scores (i.e. point between min and max scores) of the results in each band – graphed as below. In other words, I looked at the rough mid-point of the distribution for each band, and measured the difference between these points across bands.
As you can see the mid-point declines on average 3-5% across each band, or 7-12 questions per band. This presumably drops off at a higher rate at the Band 1-3 range. However as the lowest result category is large (0-50%) the accuracy of this method decreases in the lower bands. Combined with a lower number of Band 1-3 samples, estimating the range of the lower end of the failing bands to a fair level of accuracy wasn't possible.
Hope you found the analysis useful! For more June Level I analysis on topic performance, click here. Let us know what you think in the comments below.
(Disclaimer: Note that the estimates and calculations in this post are my own opinions and theories, and is in no way connected or endorsed by the CFA Institute.)
Like this post? Get our analysis report for all our analytics for all levels, or view our 10 Commandments for every level!