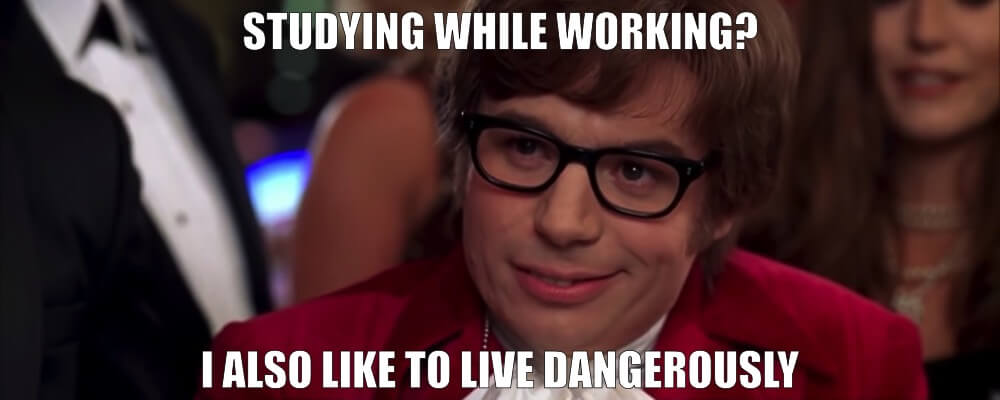 By Christine
When is the best time to hit the CFA exam books?
It is possible to study for the CFA exam mostly on the weekends – you may have to start earlier, but definitely possible. But if you had to study during the work week, how would you do it?
For this I turned to work-week-study experts. I discussed this with several candidates and charterholders that have successfully integrated workday studying into their lives, including Sophie. The general pattern (besides studying during office hours, which is a luxury only some job roles can afford) is to set aside some time either in the early hours of the morning, or a block of time at night after work.
Every workday routine is unique to each individual, so let's explore which strategy would work best for your case.
Step 1: Find out if you study better in mornings or evenings.
Deciding whether to study in the morning or evening is unique to each individual based on their daily schedule and commitments, and has less to do with whether you're a morning or night person.
Experiment and find out early in your study effort and this will pay off beautifully in the long run.
How is it like to study in the morning?
Gives you a clear start – morning routine generally disciplined, and your brain is less cluttered.
Can be easier as you may feel too exhausted from a trying day at work if you study at night, but you're always fresh in the morning
Can be more difficult as it takes a strong commitment to wake up significantly earlier in the morning to study before work
However, trying to maintain enough discipline to study at night, after an exhausting work day, may prove even more challenging
How is it like to study in the evening / at night?
It's more flexible for work – you can study more or less depending on how early you get back from work
However, if you've had a long day at work it can be difficult to muster the focus and willpower at the end of the day. This was continually my issue with workday studying.
Research done by various studies conclude that the brain learns more effectively just before sleep. Quoting Jessica Payne, Ph.D., a psychology professor at the University of Notre Dame. "The sleeping brain decides what to remember and what to forget. By placing sleep close to learning, there's less conflicting information to process."
However, improper management of sleeping times can lead to sleep deprivation, which will have a much heavier and adverse effect on your studies
Set aside some time to experiment – try out a few days where you wake up at a set time to study before work, and another few days where you start your studying after work. It takes time for your body to adjust so assess yourself towards the end of each week.
Here are 3 points to grade yourself:
How alert and motivated you felt during your study sessions
How effective you thought you were in your studies
Whether you got enough sleep
Step 2: Set a firm start time, but with a ±15 mins flexibility.
Setting a start time is important for both morning and night students.
You need a crisp, clear start time in the morning, otherwise you'll never get started. Since there is usually a clear cut-off time (e.g. time to go to work) you'll need to be very disciplined with the start time. If you're one of those whose snooze buttons are lovingly worn out, you may consider studying at night then.
Setting a start time for night studying is equally important – it's very, very easy to say "I'll get to it later, I'll just stay up a bit later" and continue playing Call of Duty. That is not an option – getting enough sleep is crucial. We suggest setting a target time (e.g. 7:30 pm) and giving yourself a ±15 minutes flex (e.g. 7:15 pm to 7:45 pm), with the understanding that over time your start time should average out at 7:30 pm.
Step 3: Set a firm end time.
Setting an end time is important for both morning and night studies. As you have daytime commitments such as work, you can't study too late into the morning or work will start to suffer. It's surprisingly easy to drift later and later into the day and start to continually be late for work.
If you're studying at night, setting a firm end time is absolutely critical to ensuring you get enough sleep. Procrastination is the true enemy of the night student – because candidates end up putting off starting, and delaying sleep because they think they should be studying a while longer.
Step 4: Remember that getting enough sleep is still crucial.
Almost all studies unequivocally agree that getting enough sleep is crucial in ensuring you study effectively. Chronically pushing yourself towards less sleep to get a bit more study time is risky at best and counterproductive at worst. When setting your schedule, make sure your bedtime still gives you enough time to sleep.
What works for you?
Do you currently study on workdays, or struggling to stay motivated? Share your strategy with us below!