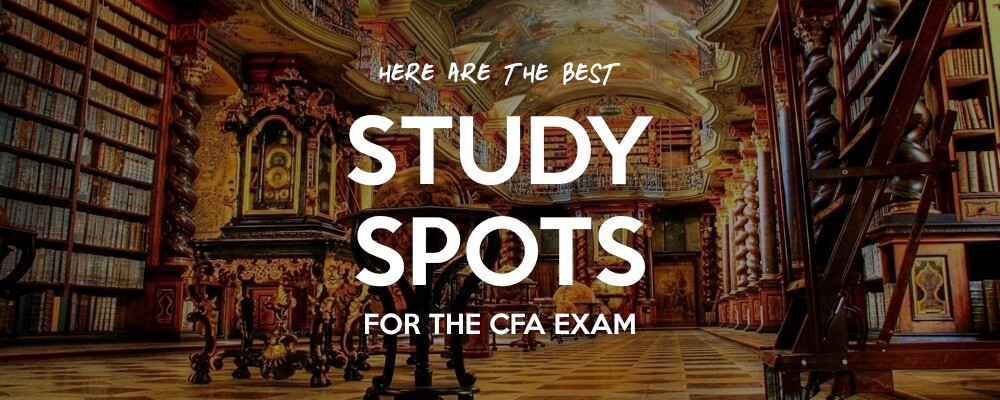 Places to study for your CFA exams can be quite a personal choice – many people have identified different places that tend to work best for them. My personal choices are varied, but there are several basic requirements that apply to everyone:
A comfortable chair and table combination
A relatively quiet area
And washrooms
It is advisable to identify several great locations to study – rotating through locations can be a great way to maintain drive and consistency in your studies. Read on to see my top recommendations, and their pros and cons.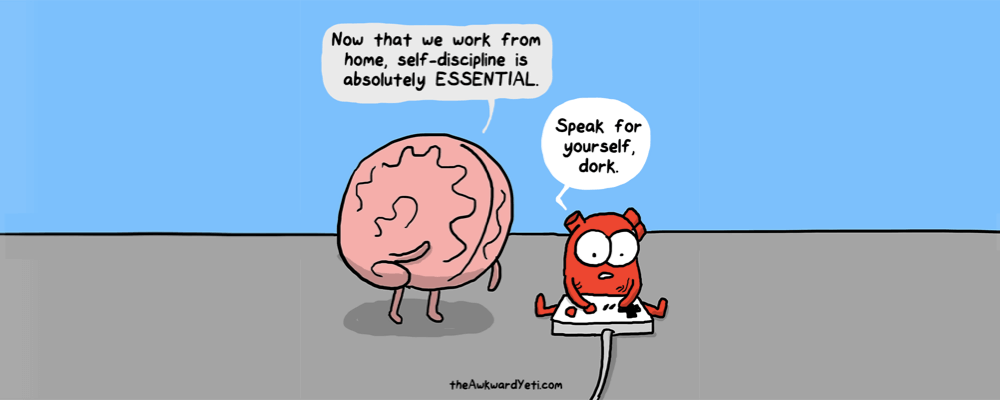 #1 – Your Home
There's no place like home. The decision whether to make your home a study place is an important one. Studying at home is easily the most convenient option – you have access to all your material, there is no time wasted in commuting, everything is familiar.
However, there are significant drawbacks as well – other people in the house, TV & video games, temptation to take naps just to name a few. There is also a Pavlov-like effect I noticed back in university – I studied a lot in my room in university until I began to find myself instinctively disliking being in my room. I would feel tired and moody and I eventually realized it was because my room now reminded me of the dark exam studying days.
If you decide to study at home, do it in the most 'public' area in your home, such as the kitchen or dining area, far away from potential distractions. And NEVER in bed.
Studying at Home: Pros
No travel time involved
Full access to all material – no chance of forgetting anything at home

Trouble-free internet access (if needed)

Sustenance (food, beverages) is easily available
Studying at Home: Cons
Lots of distractions and temptations – internet, TV, video games, naps
Many areas not necessarily suitable for study (e.g. bedroom)
---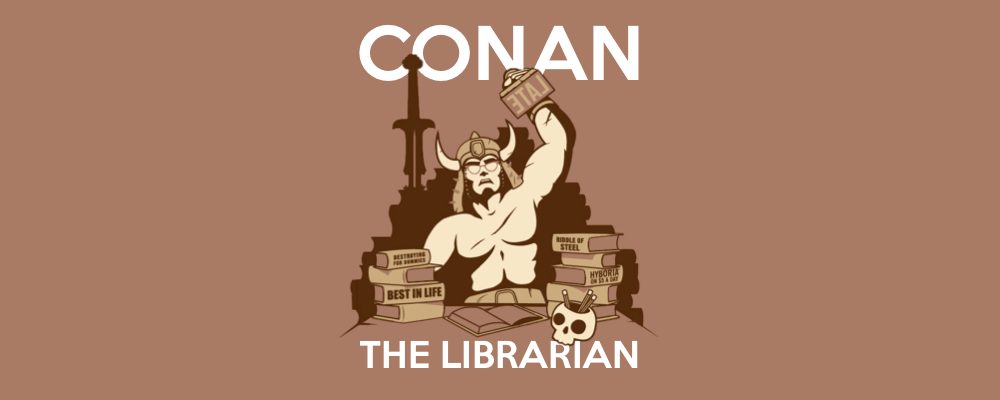 #2 – Libraries

Libraries are great for studying – the lack of distractions, quiet environment and study booths make it a pretty awesome place to hunker down and really hit those study sessions. They are also especially good for
mock exam practice
– the quieter setting allows you to better simulate exam conditions.
My issue with libraries so far has been their relative lack of refreshment facilities (minor problem) and sometimes spotty internet access – if you're using online practice exams that will be an issue. I also have very little access to libraries where I live – most libraries are miles away from my home. If you have a good one nearby, I would make that your primary study station.
Studying in Libraries: Pros
Minimal distractions, very quiet environment
Good mock exam environment
Studying in Libraries: Cons
Having a drink with you, or getting a drink can be complicated
Can be difficult to get to from home
Constantly packing and unpacking your books can be a pain
---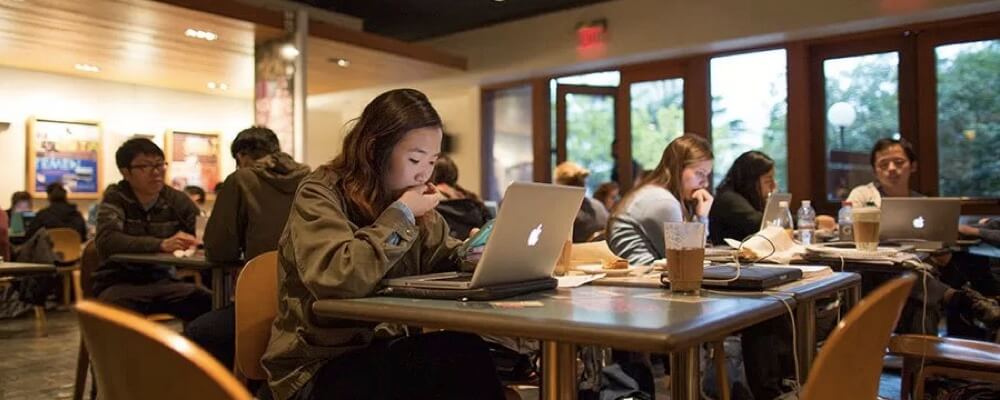 #3 – Cafes
Cafes are like the evil twin of libraries. They're almost everything that libraries aren't – they're easily found everywhere but generally noisy and facilities are less well suited for long studying hours. But because of easy access, a nearby cafe was one of my most frequented study places during my own CFA preparation.
If you're an old-school student like me (paper only), you don't need wall sockets or internet, so you're good to go at any cafe. However if you do require internet and power access, some cafes these days readily provide access to both. Do a day or two of research and you'll be surprised how many great local areas there are!
Try and source a cafe that is relatively quiet, has nice comfortable table-chair settings, and has long opening hours.
Studying in Cafes: Pros
Easier access than libraries – generally there are much more cafes available!
Easy beverage and light food access
Studying in Cafes: Cons
Can be noisy
Internet access can be spotty
May not be as comfortable as a study spot
---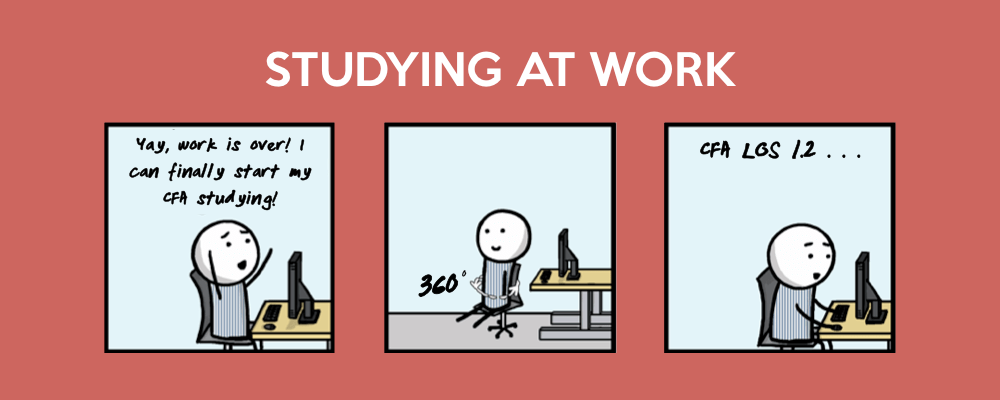 #4 – Your workplace
One of the most effective places I've found to study has been my office on weekends. The office, if you think about it, is an evolved environment designed to encourage humans to work when they'd rather be doing something else. Perfect for CFA studies.
Just jesting of course, but there are a lot of advantages: it's familiar yet there's very few distractions, it will be relatively quiet on the weekend (depending on your industry, of course), good access to refreshments and washrooms. Also, because of the strong association of my office with work, I also personally find that my productivity and mental drive is also higher compared to other locations
The downside is that being in your office 7 days a week can lead to rapid burnout – taking the same commute and sitting in the same building every day of the week ain't fun. Use your workplace wisely.
Studying in the Office: Pros
You know where everything is
Outside of office hours, it's actually quite quiet
Refreshments easily available
Mental productivity can be higher
Studying in the Office: Cons
Burnout risk
Your efforts are open to scrutiny by your co-workers
---
Got a favourite place for mastering your CFA sessions? Share your experience with us in the comments below!