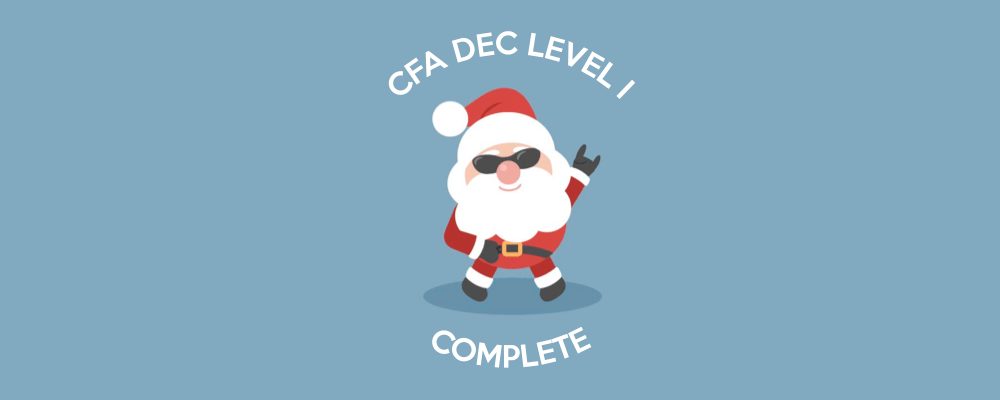 Hey December Level I candidates! Now that the exams are over, you must be relieved, although a little tensed and worried with the coming results day come in January, and how you'll cope with the upcoming Level II. You know, if you pass December Level I.
You guys are taking a big challenge, aiming to complete CFA in 18 months, and I'm here to tell you it is possible with a little bit of strategy and upfront planning (see my Level I, Level II and Level III experiences). Here's how to put your best foot forward for the upcoming Level II challenge: it's all about managing expectations, doing some upfront planning and studying smart.
I know the last thing you want to be doing is thinking about yet another CFA exam. But having a quick read through this will set you up right, and you don't have to do anything else for the remainder of the year. Promise.
What should you expect if you pass?
​
Level II is tough, especially right after Dec Level I when you're still tired and have a tighter time line. But it can be done with careful planning (see further below).
Clear your schedule as much as you can Feb to June. You'll need all the extra uninterrupted time to revise the extensive materials and formulae for Level II – there's loads of them! It will all be worthwhile when you pass Level II like a boss, I promise.​
What you should do now?​
Chill, reward yourself and enjoy the time off until results day in January (here's how the results format will look like, and here's how to interpret the charts).
Update your CV for the year's achievements, whether or not you're looking for a new role. My favourite quote is "luck is when preparation meets opportunity". It's always good to have an updated CV at hand, it will come handy anyway when you need to benchmark your worth in the market right before a salary negotiation, or when an interesting job opportunity pops by.
Craft your Level II study plan ahead of time, assuming you'll pass when the result is out in January. Figure out which prep provider you'd want to use, because Level II is a beast, and it's highly likely you won't have time to finish the huge amount of CFA curriculum material in 4 months, bearing in mind that you still need to leave the whole last month free for practice papers – the 300 Hours way. Yes, that's 3 months for revising all Level II material, but fret not, this has been done before and I'm here to guide you to survive this tough period!
What you should NOT do now?​
Worry. I know, sometimes it's easier said than done. But it would not change anything really about the results, so you might as well enjoy your well deserved time off and recharge. Because if you pass Level I in December, it's going to be a hardcore 4 months to prep for Level II June right away – you need to be well rested and ready to go then!
Study. Yes, you read that right, don't study now, leave it until results day in January when you are certain. Not only you risk burning yourself out for Level II (and destroying your chances of passing that), nothing's gonna be absorbed anyway because your brain will turn to mush and ready for the year end holidays. It's all about studying smart. This also is in line with our findings that most students start their studies in January, after the holiday season.
Enjoy your time off and have a blast! Still worried? Share your thoughts with us in the comments below. We're always here to help!​