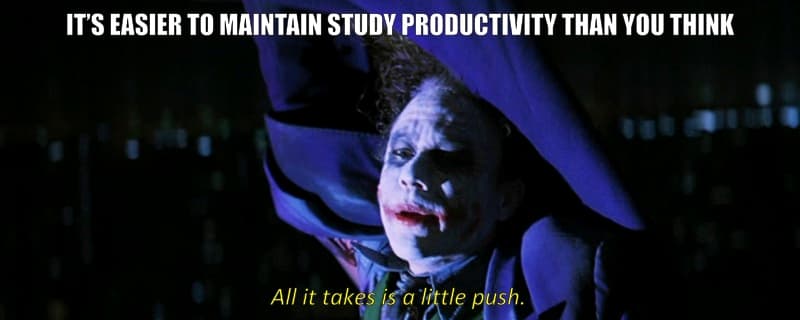 Boost Study Motivation by Using the Power of 'Small Wins'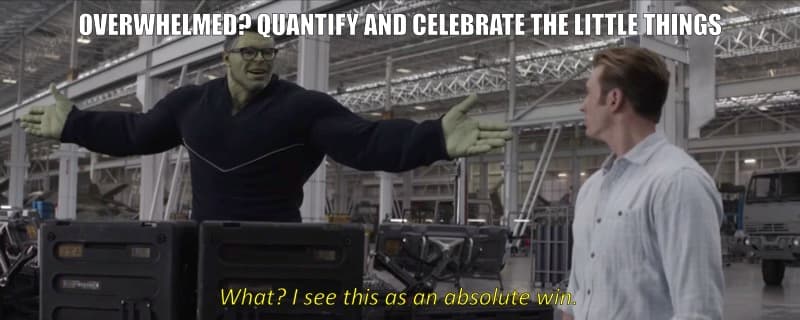 Let's start with an example: Say you still have 396 pages of study material to read through until the exams, not to mention the practice papers and end-of-chapter questions to work on. Gosh… that sounds slightly impossible especially with work and family commitments to juggle. Panic sets in. Sounds familiar?
When we feel overwhelmed by the sheer enormity of the task still ahead, we freeze up when there's too much to do. The result? We end up faffing about for a few hours churning, exhausted yet achieving nothing. Worse, the unproductive sessions puts us further behind our study plan, further creating a negative spiral of stress, panic and lack of progress.
Back to the example story: let's say you have to finish reading 396 pages in 35 days. That means 12 pages per day on average, but let's just increase that to 20 pages a day to allow time for practice papers and some emergency buffer. That means reading materials will be finished in 20 days, with 15 days buffer to go for completing practice papers and questions. Now, that looks less daunting and more achievable, especially if you are taking 1 week off before the exams for the extra time boost.
Research has shown that
working with a specific time limit AND dividing the task up into smaller chunks helps us stay focused.
A good place to start is to
break your daily study requirements into small, concrete and achievable tasks for your to-do list.
​Looking back at my study plan years ago, here's an example of a study goal for a typical day (in chronological order):
Read through Book 4, Chapter 6 – pages 112-125 (13 pages)
Complete and review Chapter 6's end-of-chapter (EOC) questions
Read through page Book 4, Chapter 7 – 126-143 (17 pages)
Complete and review Chapter 7's end-of-chapter (EOC) questions
Naturally, some tasks are harder and some are easier. What's important here is the sense of achievement when you cross an item off your list, which further motivates you to tackle the tougher ones. What I found super effective is to have the first task you can complete and cross off easily, which from my example above, I could have done by further breaking down the first task into two (half chapter readings per task).
By breaking down your overall goal into smaller chunks and sticking to the study plan, you will start to feel more calm and in control as the daily tasks are achievable, and more importantly, you know that you have sufficient time for the necessary preparations for a good shot at passing the CFA exams.
---
Maintain Focus and Productivity by Taking 'Power Breaks'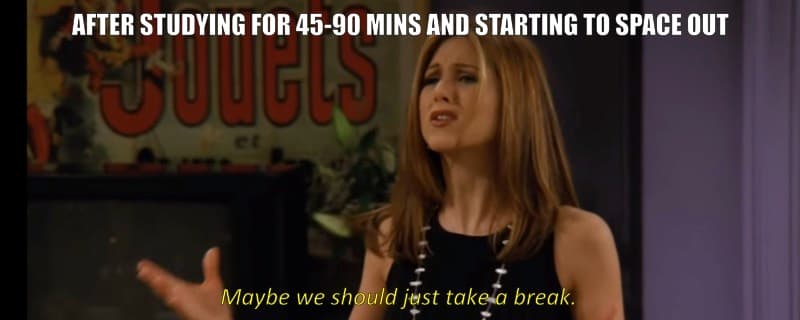 At work or whilst studying, have you ever noticed that your attention span seem to taper off after 45-90 minutes? Quite often, we find ourselves carrying on for another hour or so, unfortunately with half (or less!) of the productivity of the earlier session – a waste of our precious little time left for the exams
With longer study sessions, there's an effective way to break this cycle of declining productivity: I call it the 'power break'
. Some of you may think this is counterproductive given the lack of studying time as is, however, it's the quality of time off that matters. For every 45-90 minutes study cycle, taking a solid 15-20 minute break to completely switch off and recharge works wonders for your next session. Here are a few examples:
Have a quick lunch or snack away from the study desk
Go for a shower or a stroll in the park
Listen to music or call a friend
Do some stretching exercises, meditate, power nap or even just closing your eyes to practice deep breathing
It's all about managing your energy, rather than time specifically. By organizing the study sessions into mini sprints (where you're most focused and 'in the zone') with a little break to look forward to after that, this method ensures that our energy levels are constantly renewed and recharged to maximize productivity in the longer run. Incorporating a healthy lifestyle withsufficient restful sleep, good diet and moderate exercise levels also contributes to our overall sense of well being and balance.
​Studying for the CFA exams can be a huge challenge at times. It's important to remember that it's a marathon rather than a quick sprint, so pace yourself, take deep breaths and try out the 'slice-and-dice' technique above in your daily routine.
Do you use mini-tasks and 'power breaks' in your own CFA exam prep? Let me know in the comments below.