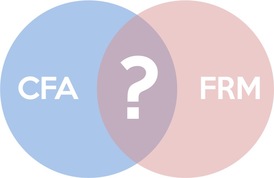 By

Eric Smith, CFA, FRM
FRM Product Manager,
Kaplan Schweser
What do CFA and FRM have in common? More than you may think.
As a follow-up to The Complete Beginner's Guide to the Financial Risk Management (FRM) Qualification, I'd like to provide a closer look at each FRM® topic area and point out the main areas of overlap with the CFA® curriculum. A significant part of the FRM exam is covered by the CFA syllabus – we'll go through which topics in detail in this post.
Hopefully, this information will give you a better idea of the material tested on the FRM Part I and Part II exams, and allow you to understand the main similarities and differences between the FRM and CFA exams.
As you will see, most of the overlap between these designations is found on the FRM Part I exam.
The FRM curriculum covers a variety of risk management topics and provides guidance on how to view these concepts in an integrated fashion. Given the large amount of material covered (close to 140 total assigned readings), the FRM Exam is tested in two parts.
In general, the Part I exam focuses on the fundamental tools and techniques used to assess risk, while the Part II exam focuses on the application of those tools in practice and further examines the major subcategories of risk management (e.g. market, credit, and operational risk).
FRM Part I Exam Topics

The four main knowledge areas tested at Part I and their exam weightings are as follows:
Foundations of Risk Management (20%)

Quantitative Analysis (20%)

Financial Markets and Products (30%)

Valuation and Risk Models (30%)
FRM Part II Exam Topics
The five main knowledge areas tested at Part II and their exam weightings are as follows:
Market Risk Measurement and Management (25%)
Credit Risk Measurement and Management (25%)
Operational and Integrated Risk Management (25%)
Risk Management and Investment Management (15%)
Current Issues in Financial Markets (10%)
The detailed topics, similarities and differences between the FRM qualification and the CFA exam syllabus can be found in the table below. You can click on the image to enlarge it: