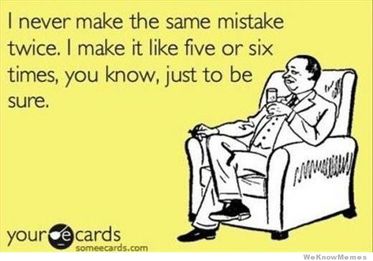 By Sophie
"Those who cannot remember the past are condemned to repeat it." – George Santayana, 1905.
Amidst the manic hustle and bustle of preparing for CFA doing endless practice exams, sometimes we forget a crucial and effective weapon we already have – information.
There's extensive information through our CFA Results Analysis on past performance and topic-by-topic breakdown that highlights the differences between candidates who passed or failed. Why not use that knowledge to help you prepare more effectively and avoid the common pitfalls?
Ignoring this is like walking into a room to negotiate without doing some prior research on your counterpart. Guess who's gonna walk out winning?
In this post, we will focus on the lessons learned from the recent performances of each Level, what can we do about them and actions you can take to make a difference.
Level 1 Lessons
Based on the recent

Dec 2012 analysis

, the

problematic areas are largely the same for June 2012

candidates: Quantitative Methods, Derivatives, Economics, Fixed Income.

Alarmingly, these topics (except Derivatives) have significant topic weightings too (34% in total) – so if you find that you still haven't fully grasp these concepts and it's showing up in your practice questions in your last month game plan too frequently, it's time to really focus on nailing these now.

You can't afford to give too many points away as the difference between bands is only 3-4%, that's about 8-11 questions, every point counts when it's Band 10 or a pass!

Don't panic, we are here to help – if you've any questions on concepts you don't understand, ask the Community and check out the CFA Level I Topic Picks to learn from others too.

Level I December 2012 Performance Analysis
---
Level 2 Lessons
---
Level 3 Lessons
Level III is quite a beast, mainly due to the essay format

. I mean, 96% of candidates do worse in essay format than item-set, and

that includes me

.

Furthermore, you are competing against the best of the best globally, who all have proven their worth to be in the exam room, just like you. Think about it, only 1.4% point separates each band, on average. You'd be furious if you got a Band 10 for this last hurdle!

Looking at the chart on the right, Derivatives and Fixed Income manage to frustrate us again. A more worrying trend is the performance in Portfolio Management's IPS questions for Institutional and Individual investors.

What can we do here? More practice questions on Derivatives and Fixed Income asset classes, but what about essay-style IPS questions? I have just the solution for you: the Ultimate Guide to Answering IPS Questions for Institutional and Individual Investors! Don't miss out on the Level III Topic Picks for GIPS tips (sorry) as well.

Level III June 2012 Performance Analysis
---
Liked this post? Don't miss out on the
300Hours Weekly Workshops
as well to pick up tips and tricks to tackling key questions. If you need any help on questions, I'll be at the
Forum
!