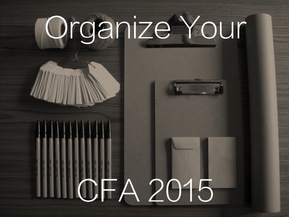 By Zee
Today is probably the first work day of the year for many of you. Welcome back, and if you're finding it tough, take it a bit slow!
One way you can get a great start on things (CFA-wise) is to ensure you're on top of all the deadlines you should be aware of. As a candidate, I constantly forgot key dates and various other admin tasks, not helping my already-high anxiety levels. I was usually so busy concentrating on my studies that I usually had a mild panic attack when it came to remembering deadlines and even exam days.
To help you out, I will cover all relevant dates for the June 2015 CFA exams here, as well as any registration questions you may have. We also now help candidates keep track of these dates via our constantly-updated CFA Calendar, which will always contain the latest relevant CFA dates for all exams.
---
2014
July
24 September

2015
January
2 February
18 February
18 March
Late March
20 April
Early May
6 June
June-July

Late JulyEarly-Mid August
---
---
Deadline (Eastern Time)
1st-Time Enrollment Fee
Exam Fee

24 September 2014, 23:59
US$450
US$630

18 February 2015, 23:59
US$450
US$825

18 March 2015, 23:59
US$450
US$1,210
---
What's this '1st-Time Enrollment Fee'?
This is the fee that's only applicable if you're new to the CFA program. If this is your first time registering for a CFA exam ever, then you'll have to pay this fee, otherwise you don't.
Do I get print curriculum books with my registration?
No.
Your registration fee includes the e-version of the curriculum, plus practice tests, mock exams and the CFA Institute's study planner (you can also create your own using Sophie's guide here.)
If you'd like your own print curriculum, you'll be able to buy it during the registration checkout process for US$150 + shipping. You can also buy it post-registration if you like.
I have another question. Can I get a response from you guys?
You can! We know that pre-registration is a period of confusion and possibly many questions for a lot of our readers. If you have any question at all, always remember that you can reach us at the 300 Hours Forum. No question is too small, and we will always help any candidate that reaches out for help!
If you've got a question for us, you can start a thread in the 300 Hours Forum, or simply comment below!