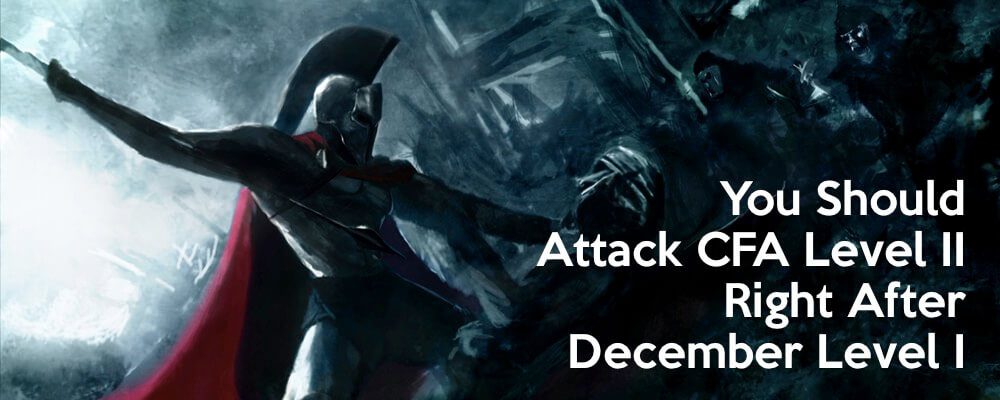 By Christine
"Freedom!!!!" – William Wallace, Braveheart
You may be experiencing this joy right after December Level I. So the natural question now is, are you going to attempt Level II right away?
If the answer is no, that's fine. You have your reasons. But we also have reasons – four of them – to think that you should at least consider moving ahead with CFA Level II right now. Read on to find out more!
#1. It may be harder to sign up in the later years than you think.
If you have an ask around, there are quite a few people who've taken CFA Level I, and not progressed to CFA Level II. If you ask them why, it's likely they'll say something like "Well, I took CFA Level I, but didn't really get around to CFA Level II. Next thing you know, it's been seven years."
It's harder than you think to pick it up where you left off, more than a year later. The best way is to keep the ball rolling, and sign up immediately for the next CFA level.
​#2. Your CFA knowledge is fresh in your head. Use it while it's hot.
Another reason to immediately progress to Level II is to build off the material that you've just learnt to pass CFA Level I. Even after a 2-week vacation I sometimes have trouble remembering my login passwords. Having to refresh your memory with CFA Level I material after a 1.5 year hiatus makes your CFA Level II effort even more challenging.
#3. Not confident of your chances? Treat it as a free option. "No, because I might fail" makes no sense.
We don't get it when candidates say, "I'm not taking this June's Level II because it's too soon – I might fail." If you don't take it, isn't it the same as definitely failing (at least for this June)?
The upcoming June exam should be treated as an opportunity: a free option to try and pass. If you do, you can shoot for Level III and be on your way to a 18-month hat-trick! If not, you aren't any worse off. You can still try and pass it the following June, and you've already studied hard for Level II and are more likely to pass it the second time around.
​
​#4. You still have time to study after the December CFA results.
I don't accept the idea that there "isn't enough time" to study for the immediate June Level II exam. Loads of people that we know of have done it. Loads. It's a solid, achievable thing that isn't out of anyone's reach.
Sophie detailed her experience studying for Level II here – she didn't start studying until she found out for sure that she'd passed CFA Level I. It wasn't an issue for her, and as long as you put in the effort, you will be able to make it in time.
​Have you decided to pursue CFA Level II this June? If you've got any questions or worries, drop them in the comments below!