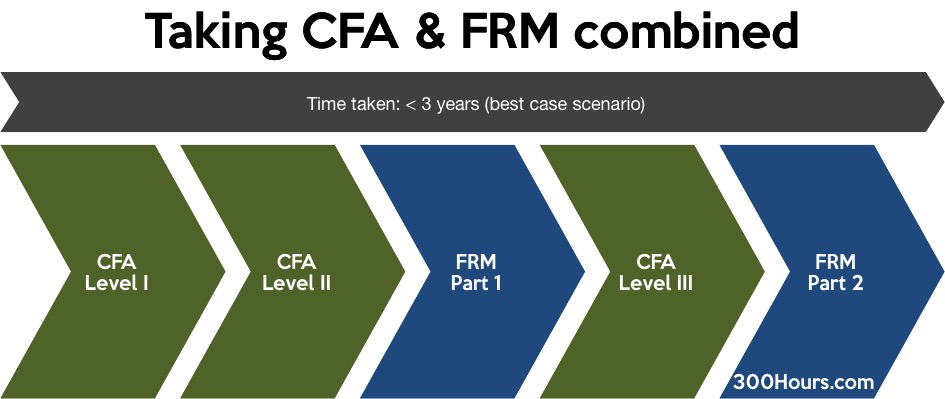 By Aakansha
When looking to boost my financial expertise and qualifications, I had what I assume was a fairly common dilemma: CFA or FRM?
While the CFA designation opens up job prospects in the field of Research Analysis, Investment Banking and Portfolio Management, FRM on the other hand will open up opportunities in Banks, Treasury & Risk Management. However, with cut-throat competition in the field of finance, and companies desiring prospective employees to have as many designations possible, why not nail both CFA and FRM?
My professor challenged me to exactly that – take up both of them. Five levels of exams, with an average of 300 hours of time devoted to each level? It seemed impossible to me, at the time.
However, with a little bit of planning, I can happily tell you that it is possible – I completed all levels of the CFA and FRM exams in just under 3 years. Let me tell you how I did it.
CFA & FRM: What You're Up Against
The CFA program consists of 3 levels and the major focus of the course is on Investment Management.
The major topics of study include:
Portfolio Management

Corporate Finance

Fixed Income

Equity Investments and Economics

Ethics

Derivatives
The FRM course on the other hand is a 2-level exam and the major focus is on Risk Management. The major topics of study are:
Market Risk ( VAR-Value at risk)

Credit Risk

Operational Risk

Financial Markets and Products

Basel Norms
In general, the FRM Part 1 exam gives a basic idea about the various risk tools and techniques, whereas Part 2 is a much more detailed study of the various types of risks.
Some parts of the FRM syllabus are already covered by CFA syllabus, so you get some study efficiency there. Since the CFA Level II and Level III exams are held only once a year in June, the time gap between them can be utilised to take the FRM Part 1 exam.
So what is the best order to attempt the exams? It depends of course on which you'd like to prioritise, and also on whether you pass your exams in your first attempt. I have suggested a timeline to show the order in which one can plan to opt for the all the levels. In my experience, this best utilises your financial knowledge, without having to do too much 'double-studying', i.e. studying overlapping material twice. You can find out more on how the CFA and FRM syllabus overlaps here.

How to Prepare for CFA and FRM
Both CFA and FRM requires you to devote considerable amount of time. It is widely believed that among all the 3 levels of CFA, Level II is the most difficult. However, as per my experience, CFA Level II looks difficult because the syllabus is vast and also because all the students have this pre-conceived notion that it is difficult. The real challenge in clearing CFA is Level III because it is there that all the concepts are tested and there is a change in the exam format as well. (Yes, the deadly morning essay questions!)
Since FRM Part 1 syllabus is almost covered after clearing CFA Levels I and II, it is a slight relief. However, for Part 2 FRM – one needs to be very thorough with the material since most of the questions are application-based.
How to Avoid Burnout and Maintain Motivation
If you do decide to run the mother of all financial exam gauntlets, make sure you do make some time to recover in between. I believe one of the main reasons I stayed (more or less) sane during the process was to find time for adequate breaks between the gruesome study hours. Having a positive environment is also important: I was fortunate to have an awesomely supportive family and an great set of friends who have helped me to stay relaxed during my preparation days.
I'd love to hear your thoughts on taking on both qualifications in the comments below!