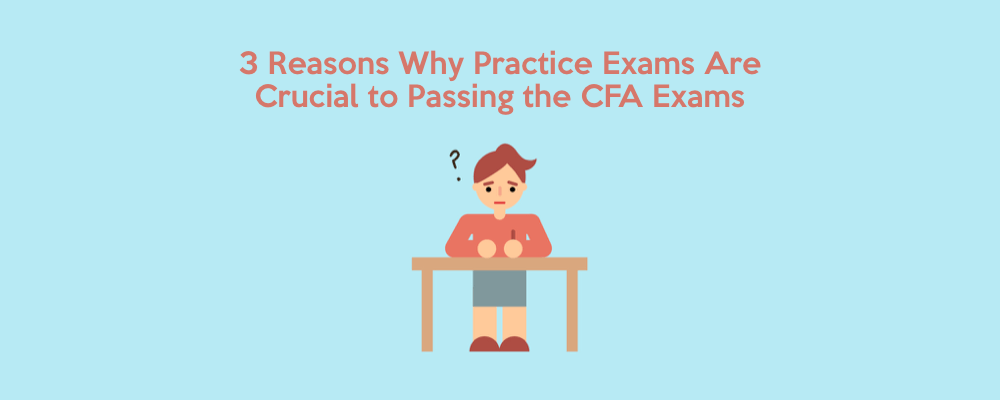 By Zee
How important are practice exams to the CFA program?
We ran a poll asking first-time CFA candidates how many practice or mock exams that they were aiming to complete when prepping for their respective CFA exams, and below is a pie chart representing the breakdown to the responses to the poll.
Looking at the chart, almost half of respondents are targeting 4 exams or less for their CFA preparations.
This is simply not enough practice to ensure a pass.
Here is a list of the number of mock or practice exams Christine took in each year of CFA exam process – she amazingly has all her books so we could properly verify her recollection as well.
Level I (passed): 6 exams (5 Schweser, 1 CFAI mock exam)
Level II (failed): 3 exams (3 Schweser)
Level II (passed): 6 exams (6 Schweser)
Level III (passed): 7 exams (6 Schweser, 1 CFAI mock exam)
Christine attempted a slightly-higher-than average number when anecdotally comparing among the team. But compared to some of the more enthusiastic candidates, 6-7 exams may not even be considered a lot. Many of our longer-term readers have targeted more than 10 exams. Although we're not saying everyone should get through at least 10 practice exams, I can't emphasise enough how important they are are to passing.
Here's why:
#1 – They teach you which are the key topics
Practice exams, be it from CFA Institute or a third party prep provider, will be weighted with the similar topic weightings as stated by CFA Institute. By working your way through practice exams your mind automatically gets taught what topics are important. This will come in handy as you review topics – as you encounter key topics you will remember 'ah, I came across something similar in Practice Exam B, better pay more attention to this'.
#2 – They give you an idea of the exam structure
Looking back on Level I, I was extremely lucky to have passed Level I the first time. I had absolutely no idea what the exam format was a mere 3-4 weeks before my exam. I didn't bother even thinking about it.
As a result, the importance of answering questions speedily (Level I gives you 1.5 minutes to read and answer each question on average) was lost on me until the very end. What probably saved me was that I was a natural time-worrier to begin with. I tend to rush through questions in any case, and so I was naturally better-prepared for Level I.
Doing a practice exam (or even better, a fully timed and marked practice exam) early on obviously alerts you to all these kinds of niggles that you may have overlooked. Timing, exam formats, wording style, question types – you get a feel for all of this when you hammer out practice exams.
#3 – They help you retain concepts that you've studied
Reading through the study notes is obviously important – it introduces you to new concepts, formulae and calculation methods from each chapter. But going through practice exams is what drives it fully home into your brain. Due to the amount of material in each CFA level, there is also a tendency for candidates to forget earlier chapters they've read. Practice exams brings it back as it tests the entire curriculum at once.
You can read all about riding a bicycle, or how to swim from textbooks all you want. But in the end, you need a certain amount of practice to get used to the feel of how the real thing is.
By simply aiming to complete more practice or mock exams, you can massively improve your passing chances. Don't pass this up – try and get through as many as your prep time will allow.
You can check out our practice/mock exam guide here if you're looking for the best recommendations and deals. What's your own practice exam plan? Share your story with other readers in the comments!