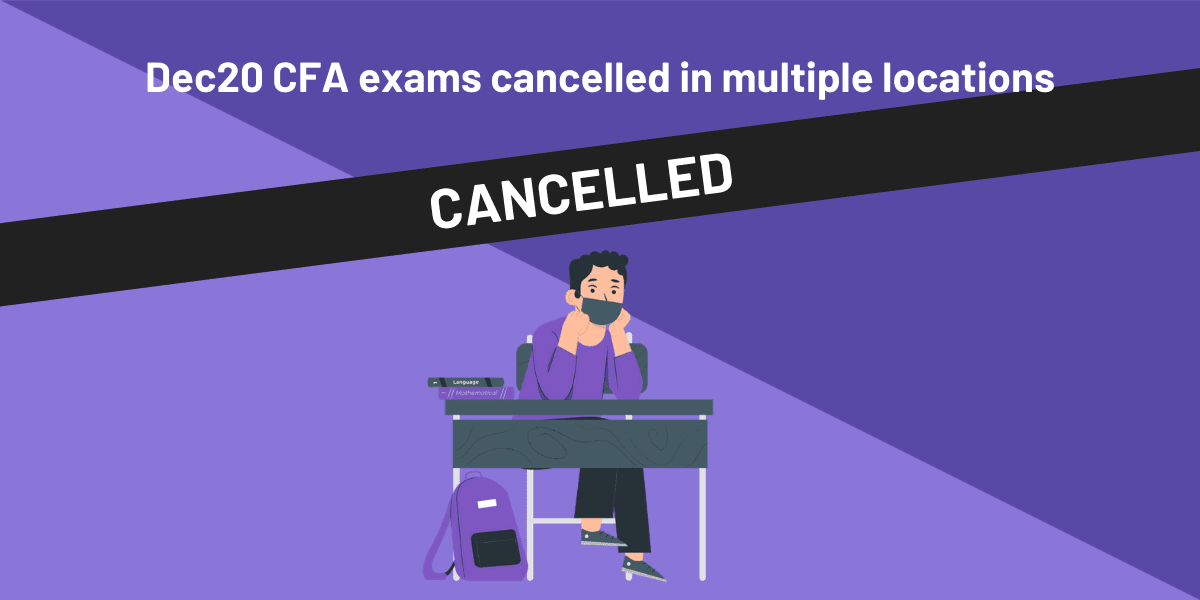 By Zee Tan
On 7th Oct 2020, CFA Institute announced that the Dec20 CFA exams have been cancelled in 37 locations worldwide. This was followed by:
15th Oct 2020: increased to 58 locations
22nd Oct 2020: 61 total cancelled locations
29th Oct 2020: 63 total cancelled locations
5th Nov 2020: 70 total cancelled locations
11th Nov 2020: 83 total cancelled locations
19th Nov 2020: 90 total cancelled locations
24th Nov 2020: 98 total cancelled locations
4th Dec 2020: 104 total cancelled locations
Hopefully there will be no more cancelled locations announced. In this article we cover where's been cancelled, and a roundup of the top most-asked candidate questions.
CFA exam locations cancelled for December 2020: the full list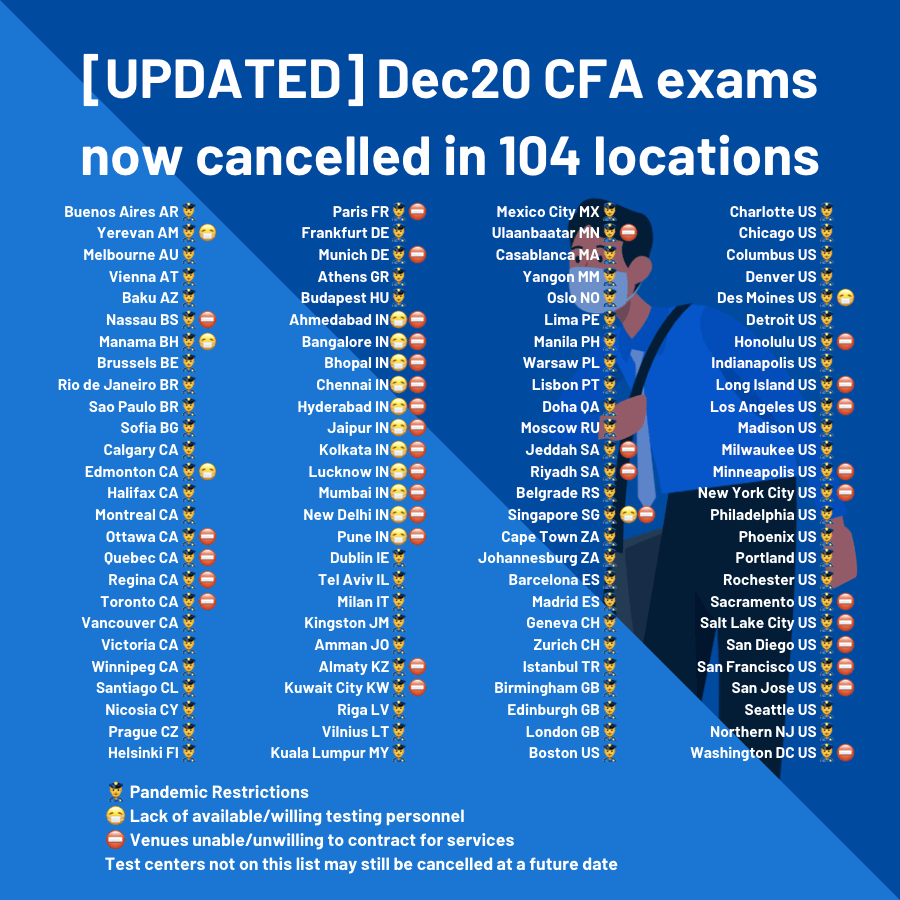 The full list of cancelled locations are listed below:
All Current Cancelled Test Locations for the December 2020 CFA Exams
Buenos Aires, AR
Yerevan, AM
Melbourne, AU
Vienna, AT
Baku, AZ
Nassau, BS
Manama, BH
Brussels, BE
Rio de Janeiro, BR
Sao Paulo, BR
Sofia, BG
Calgary, CA
Edmonton, CA
Halifax, CA
Montreal, CA
Ottawa, CA
Quebec, CA
Regina, CA
Toronto, CA
Vancouver, CA
Victoria, CA
Winnipeg, CA
Santiago, CL
Nicosia, CY
Prague, CZ
Helsinki, FI
Paris, FR
Frankfurt, DE
Munich, DE
Athens, GR
Budapest, HU
Ahmedabad, IN
Bangalore, IN
Bhopal, IN
Chennai, IN

Hyderabad, IN
Jaipur, IN
Kolkata, IN
Lucknow, IN
Mumbai, IN
New Delhi, IN
Pune, IN
Dublin, IE
Tel Aviv, IL
Milan, IT
Kingston, JM
Amman, JO
Almaty, KZ
Kuwait City, KW
Riga, LV
Vilnius, LT
Kuala Lumpur, MY
Mexico City, MX
Ulaanbaatar, MN
Casablanca, MA
Yangon, MM
Oslo, NO
Lima, PE
Manila, PH
Warsaw, PL
Lisbon, PT
Doha, QA
Moscow, RU
Jeddah, SA
Riyadh, SA
Belgrade, RS
Singapore, SG
Cape Town, ZA
Johannesburg, ZA
Barcelona, ES

Madrid, ES
Geneva, CH
Zurich, CH
Istanbul, TR
Birmingham, GB
Edinburgh, GB
London, GB
Boston, US
Charlotte, US
Chicago, US
Columbus, US
Denver, US
Des Moines, US
Detroit, US
Honolulu, US
Indianapolis, US
Long Island, US
Los Angeles, US
Madison, US
Milwaukee, US
Minneapolis, US
New York City, US
Philadelphia, US
Phoenix, US
Portland, US
Rochester, US
Sacramento, US
Salt Lake City, US
San Diego, US
San Francisco, US
San Jose, US
Seattle, US
Northern NJ, US
Washington DC, US
104 locations translates to more than 53% of all listed CFA exam centers for Dec20. Here's how the cancellations have trickled in over the past weeks leading up to the exam: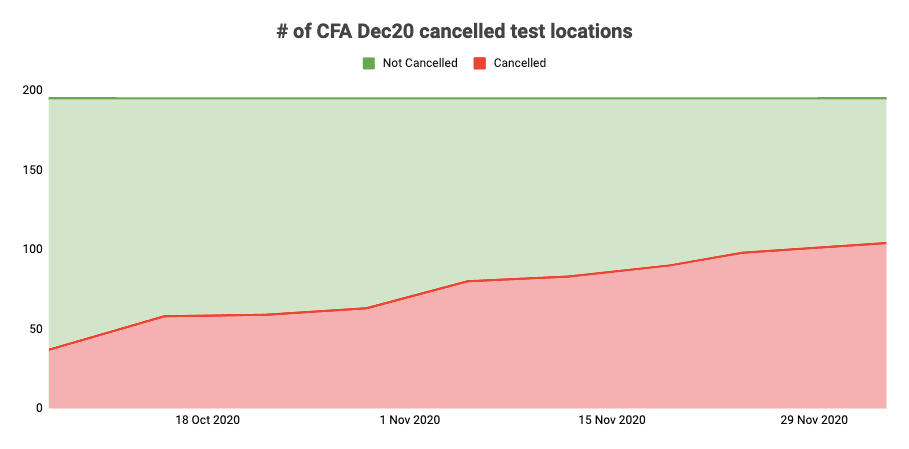 ​CFA candidates affected by the cancellations should receive an email from CFA Institute within 24 hours of the announcement informing them of the cancellation, together with a 'complimentary registration'. You should be able to defer to a 2021 exam immediately upon receiving the email.
If it's been 24 hours and you've not received an email, it's best to get in touch with CFA Institute as soon as you can.
​"While I know this comes as disappointing news to some of our candidates, the combination of local public health rules and the lack of venue availability means we cannot proceed with the exams in some markets," said Margaret Franklin, CFA, President and CEO, CFA Institute.
​"I want to thank our candidates for their patience as we work through the impact of this public health crisis, and I assure them that we considered all options before making this difficult decision."
FAQs: Dec20 local exam cancellations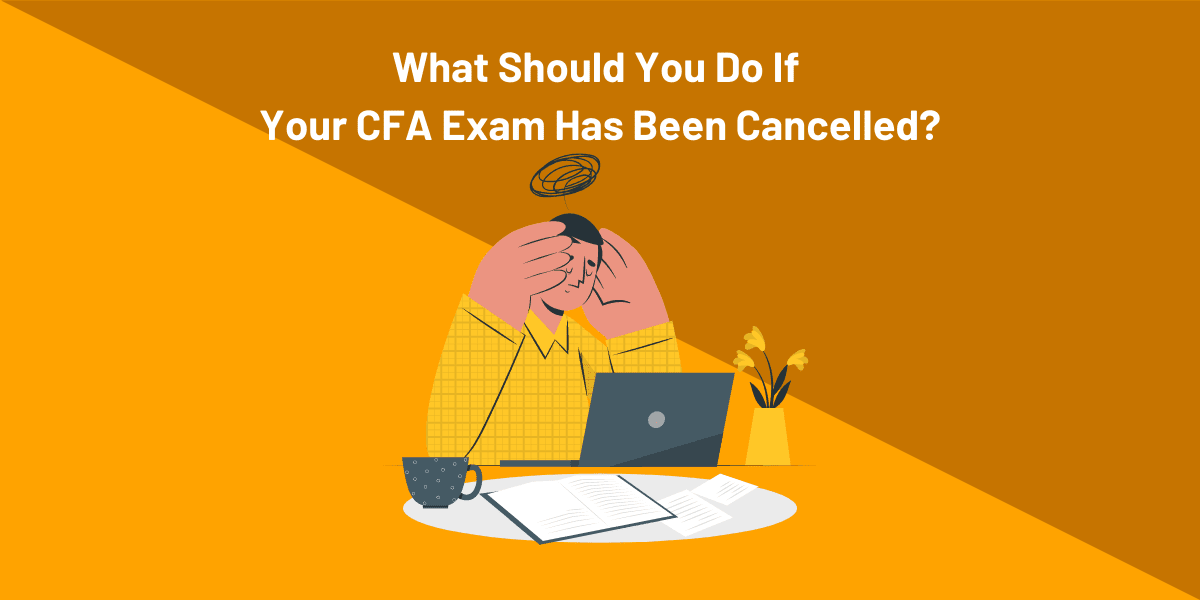 If your exam location is impacted, you will receive a notification email from CFA Institute 'within 24 hours'. You will find a complimentary registration in your account and can immediately defer to an exam in 2021.
Please remember that because of the introduction of the computer-based testing format, registration is now a two step process:
Step 1: Registering for a window. You can register for a window immediately (i.e. Feb21, May21, etc)
Step 2: Scheduling your exam appointment. This means confirming the actual day you'd like to take the exam. If you're unsure exactly what date and time will work best for you, you can do this step later. CFA Institute have also stated that they are 'adding exam availability all the time', so if you don't currently see availability or your preferred location, you can check back later. You have until the scheduling deadline to complete step 2, which should be about 2 months before the exam window. You can view all scheduling deadlines with other key deadlines here.
All Dec20 CFA candidates are allowed to postpone their exam to any 2021 date – they have until 20 Oct 2020 to do this.
If you feel that your exam location will be cancelled and you don't want to take the risk, you can postpone now.
CFA Institute has announced cancelled locations every week, but hopefully this is all done now.
Nothing's impossible, but CFA Institute hopes it'll be a lot less likely. As you likely know,
the 2021 CFA exams will be computer-based tested
.
The computer-based testing format employed by CFA Institute will allow for:
multiple exam days instead of just one exam day
more exam locations, with less candidates per exam center
simpler exam logistics (e.g. personnel, shipping)
It's hoped the more COVID-robust format will mean that the 2021 CFA exams will be less likely to be cancelled.
There were 196,768 registrations for Jun20, and typically December exams attract more than 50,000 more registrations. So it's likely that 2020 would have around 250,000 CFA exam registrations, if not more.
This could mean that 2021 would need to process up to half a million individual CFA exams. Yikes.
CFA Institute, however, would be fully aware of this and likely factor this into their 2021 CBT exam logistics. In addition to more exam days and more test locations, CFA exam sessions also now occur twice as often under the new CBT exam schedule.
CFA Institute have highlighted all the above points, but they've not explicitly guaranteed that every postponed candidate will be able to get their first choice of exam slot and location.
Given that Feb21 is so close to Dec20, if you're feeling jittery about your chances, it might be better to shoot for May21. Other than that, your guess is as good as ours, I'm afraid.
When the Jun20 CFA exams were postponed, we published
a list of alternative, COVID-proof qualifications that CFA candidates might be interested in
, which includes financial modelling, programming, data science, languages and well-being courses.
Additionally, CAIA has just announced that online proctored exams are now available, so you can take your CAIA exams right from home.
Alternatively – you could also take a break. Spend some time with your family and friends, practice some yoga, and focus on yourself.
It's been a tough week (and year). But keep things in perspective, and take care of yourself.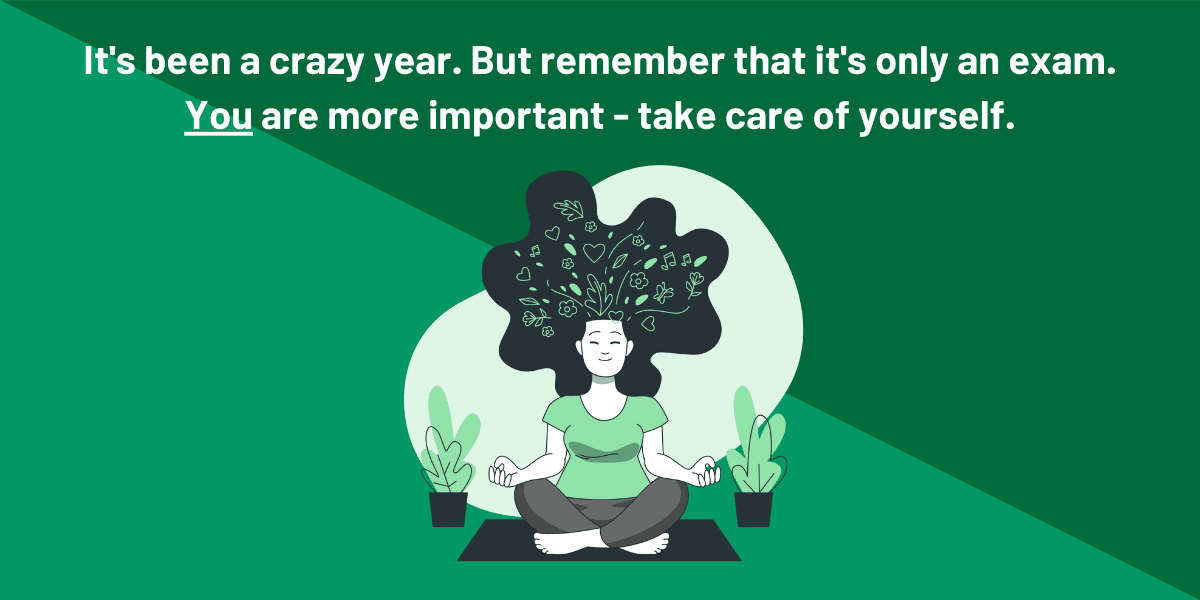 2020 has been the toughest year, ever, for CFA candidates. I sympathize with your frustration, anger and despair. But remember that it's just an exam, and the most important thing is to take care of yourself, whatever that may mean to you right now. Keep things in perspective.
u/Rotis127419 at Reddit summed it up well:
Given the cancellations in a lot of places, I feel like a lot of us who are frustrated and upset need to hear that life isn't all about work and our career. Yes, it's important of course – but it's not the end all, be all.

The other day, I found out that someone in my firm's pregnant wife had a brain aneurysm and passed away unexpectedly. He lost his wife and unborn child. The guy's whole life got turned upside down in the blink of an eye.
​
The point is, stop stressing about this exam. Yes, it's hard work. But life isn't all about this stuff. So take a day or two or several off, get some sleep, spend time with friends and family, and then dive right back in with a positive attitude. Good luck for whoever is still taking in December!
​
If you need any additional help or have any questions, we're at hand. Just comment below.