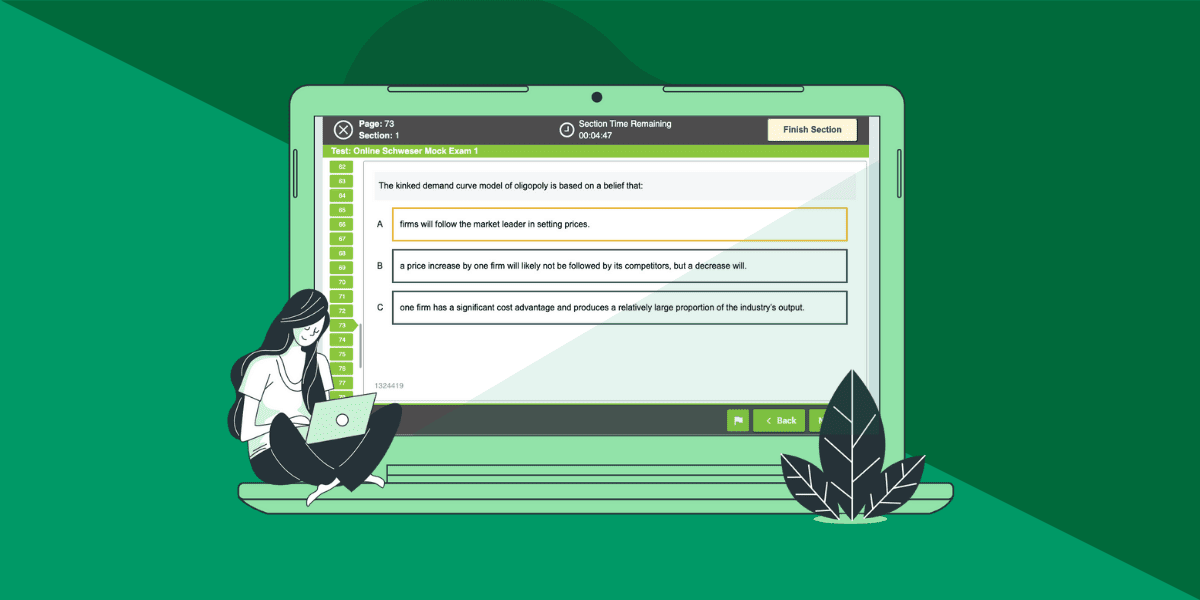 As you likely know, the CFA exams will be moving to a computer-based testing (CBT) format for all levels in 2021.
How would the CBT exam experience be like? To help candidates prepare for that, Kaplan Schweser has launched an Exam Sim mode for their mock exams that simulates the actual experience that you'll get when you're taking the CFA exam.
We tested it out to see how it works – read on to find out more!
Exam Sim Will Launch for All CFA Levels and Exam Windows, Available for Feb21 Now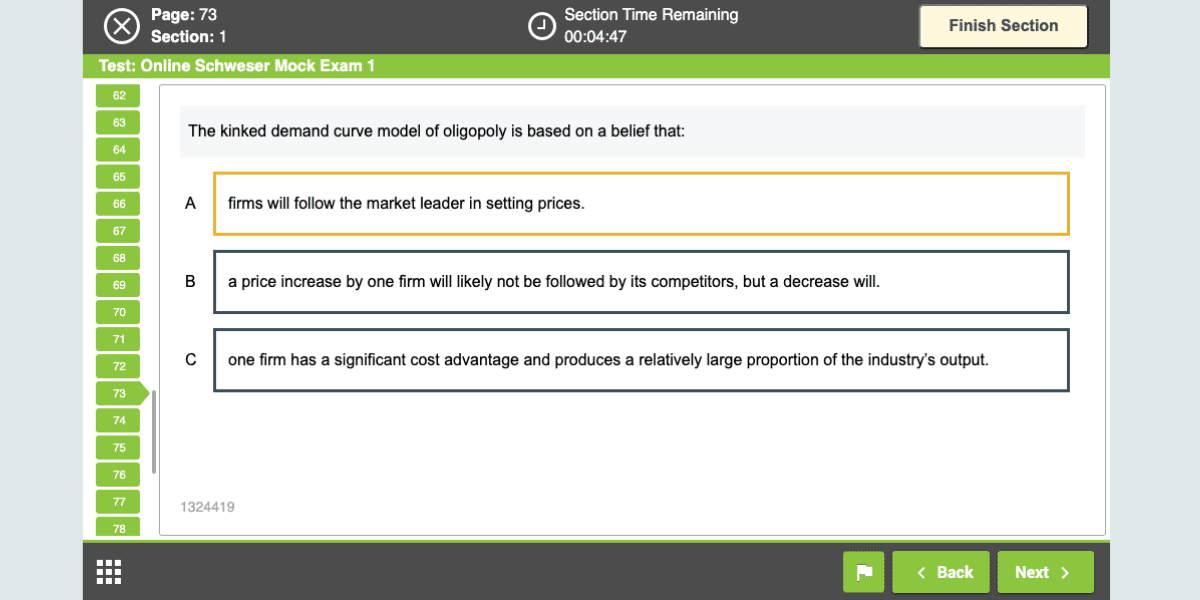 Kaplan Schweser's Exam Sim feature is available right now for the Feb21 Level 1 CFA exam. All other levels and windows will have this functionality available for the next exam. If you haven't gotten mock exams from Kaplan Schweser
you can find them here
.
Exam Sim mode, upon loading, shows pretty much the exact same interface as what Prometric (CFA Institute's CBT exam provider) shows on their demo interface for the CFA exams.
There's a menu on the left showing all the questions you have in your exam, with navigational buttons on the lower right. The exam timer is right on top, and the question and answer choices dominate most of the screen real estate.
​Here is a side-by-side comparison of Exam Sim mode with Prometric: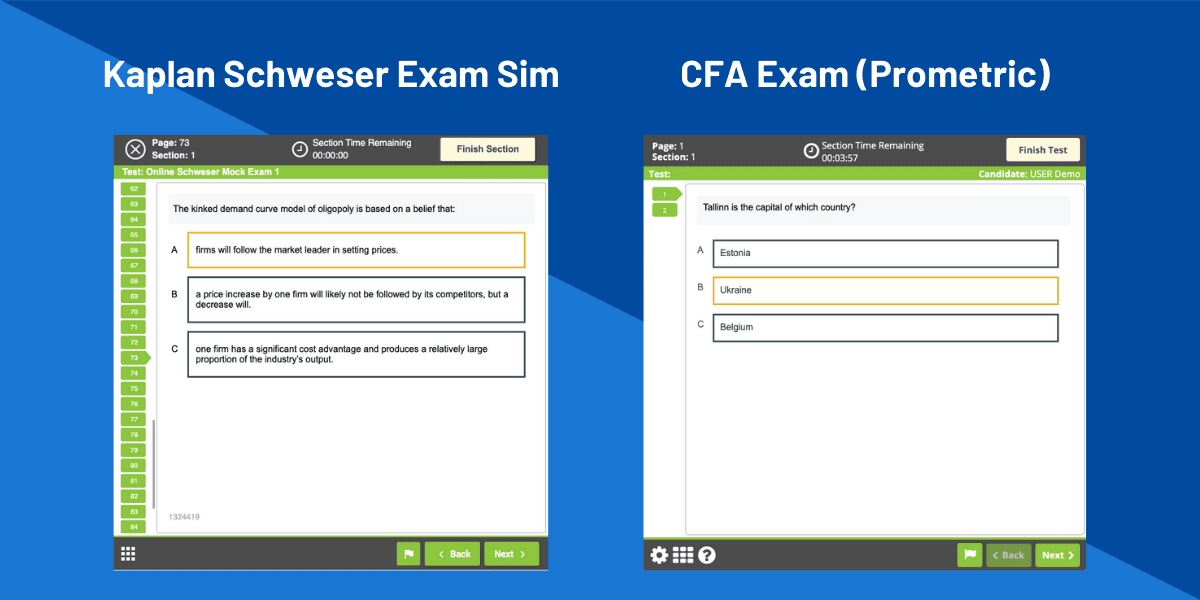 Pretty much like-for-like visually. But what about functionality?
Most CFA exam functionalities are also replicated in Exam Sim mode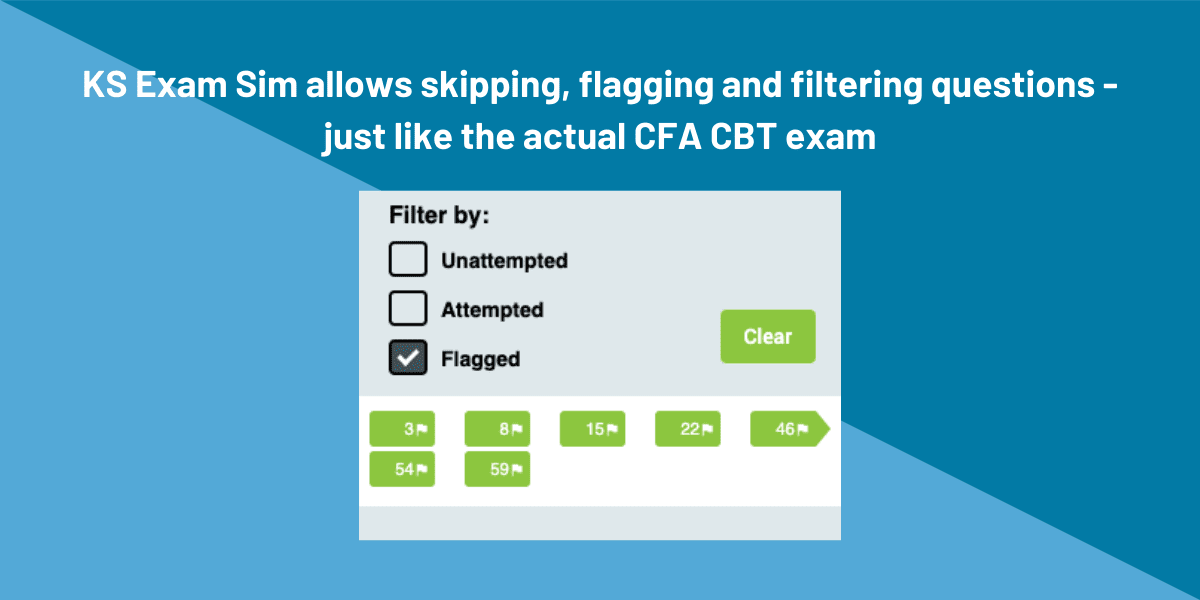 The next thing we did was to test functionality – does Exam Sim mode behave the same way as the real thing?
Time limits

The Exam Sim is timed using the same time limits and built-in breaks that you'll see during the real CFA exam.  However, Kaplan's interface does not force you to complete the exam within these time constraints, but rather serve as guidelines for you to simulate exam day conditions without actually being constrained by them if you don't want to.
For example, once the timer hits zero on Exam Sim mode, you can still continue completing the mock exam. This is handy since at the start of practice you might need more time to finish your exam than the allocated time!
Answering functionalities

Candidates can flag, skip, and filter questions the exact same way Prometric does on CFA exam day. All questions must be answered in order to complete the mock exam.
Results will be shown on your learning dashboard upon completion, and you'll be able to use the Mock Exam Tutorial to view answers and explanations.
Are there any key differences?
There are two differences between Exam Sim mode and the actual CFA exam interface. The actual Prometric interface has two extra functionalities:
A Preferences tab, which allows you to select a different colour scheme to the default white, green and grey, and lower screen contrast. These features are likely to do with accessibility, but when we went through all the colour schemes we didn't think any were better than the default one.
Prometric's interface has the ability to highlight text, which was not (yet) built into Exam Sim.
Apart from that, the interface is like-for-like, so practically speaking, the Exam Sim mode is an excellent replica of what you'd expect to see on CFA exam day.
Kaplan Schweser have also stated that the two functionalities will be added in future iterations.
How do I access Exam Sim mode for my CFA exam prep?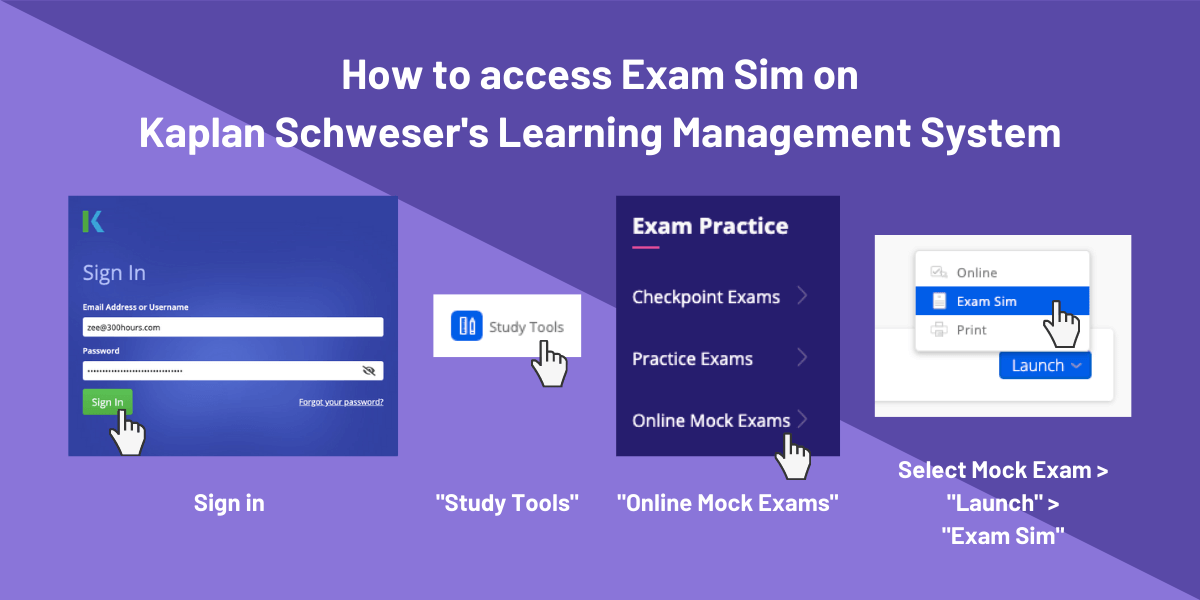 If you have an online mock exam from Kaplan Schweser for the Feb21 Level 1 CFA exam, you can activate Exam Sim right now.
​As mentioned, all 2021 CFA levels and exam windows will get this feature for their mock exams as well – you can get them directly from Kaplan Schweser here.
How to Access Kaplan Schweser's CFA Exam Sim feature:
Log in to Kaplan Schweser's Learning Management System
Select your CFA exam
Click the 'Study Tools' icon in the top right of the navigational bar
Under the 'Exam Practice' heading, select 'Online Mock Exams'
Select the mock exam you'd like to launch
Select 'Launch' and Select 'Exam Sim'
​
So with Exam Sim, there are now three modes to Kaplan Schweser's mock exams:
Online: This is the traditional Online Mock Exam using the Kaplan interface.
Exam Sim: The newest mode that replicates CFA Institute's Prometric interface used on CFA exam day
Print: Allows you to print the questions and answer them on paper
Our thoughts on Kaplan Schweser's Exam Sim mode for the CFA exams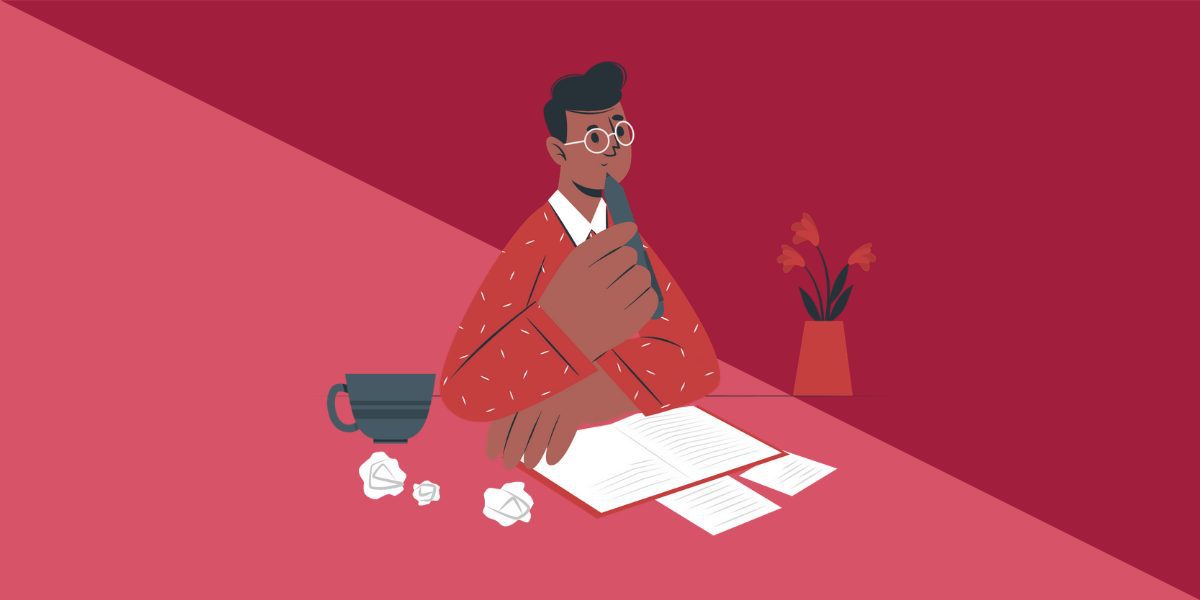 With the changes and chaos going on because of the pandemic, it's really good to see that providers are rising to the challenge and innovating their study packages and platforms to adapt.
Anything bringing candidates closer to the actual CFA exam experience is always a good thing. Kaplan Schweser's Exam Sim feature is a swift and slick reaction to the CBT CFA exam format, especially considering we've only recently learned how the actual CFA exam interface would look like.
Kaplan Schweser have also said that they've got "more improvements in the pipeline", so we're looking forward to seeing what those are!
CBT-specific CFA exam advice from Kaplan Schweser's instructors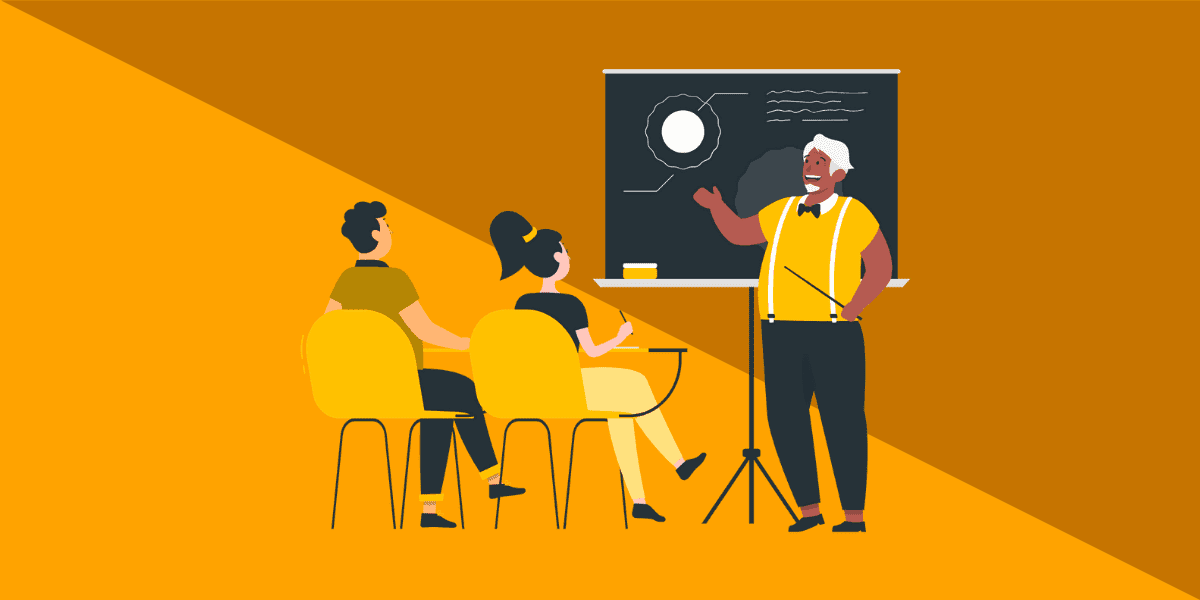 We also took the opportunity to ask Kaplan Schweser's instructors for some tips on how computer-based testing will affect prepping approaches. If you have any additional questions just let us know in the comments, and we'll get them answered.
The general approach to studying for the exam should be the same whether taking a paper-based exam or computer-based exam.
Candidates still must learn and practice all topics within the CFA curriculum and incorporate a proper review program in the month prior to the exam.
A well thought out study program and a disciplined approach to completing the program are essential. Being able to apply the curriculum to the exam questions is the deciding factor in exam success, not whether the questions are delivered on paper or on a computer.
CBT has been around for quite a while and we've worked with test providers on many exams. We're confident in their ability to deliver a secure exam experience.
One caution would be to familiarize yourself with the exam day procedures at the center. The more you understand about the check-in procedure, what you are allowed to bring, etc., the less stress you will have on exam day.
​The other bit of advice relates to technical problems with the equipment. We don't anticipate this to be an issue, but if it happens, follow the procedures to get the proctor's attention right away and stay calm. Once the issue is resolved, focus on moving forward with the exam.
Candidates need to practice a lot of questions to properly prepare for the exam. Most candidates underestimate just how much practice they really need. Not all practice needs to be on the computer.
That said, we recommend candidates do a significant amount of practice under exam-like conditions. That means taking exams on the computer, using a realistic simulation, staying within the actual test time for each session, and completing an entire exam in one sitting.
Practicing in this way will remove some of the unknowns on exam day and allow candidates to better focus on the questions themselves rather than the exam environment.
We are always working on improvements to our study experience and have already launched several changes for the Level 1 2021 season, including our video explanations for our Qbank questions, our OnDemand Class, our OnDemand Review, and additional functionality in our online platform.
Level 2 and Level 3 will have similar product rollouts over the course of 2021.
We have more improvements in the pipeline based on feedback from our customers and will have more to say on those launches in the future.
---