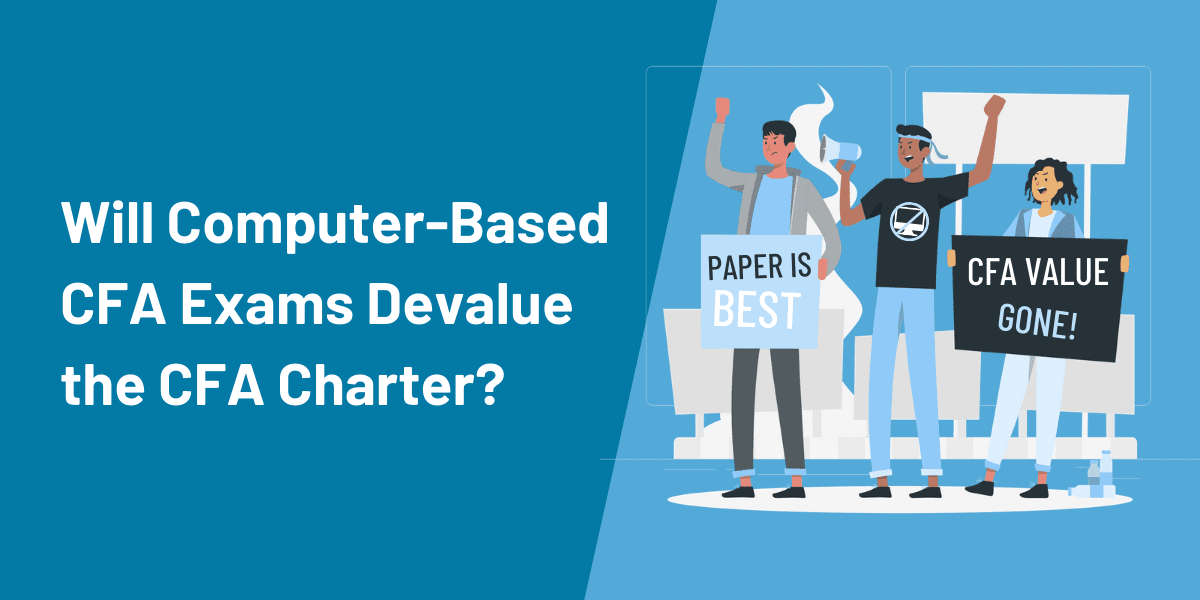 ​What have been candidates' comments been, exactly? There have been a lot of generic weeping and gnashing of teeth, but when we analyzed the comments we've received, a few themes emerged.
"This is a cash grab. Everything is online, and yet registration fees aren't cheaper."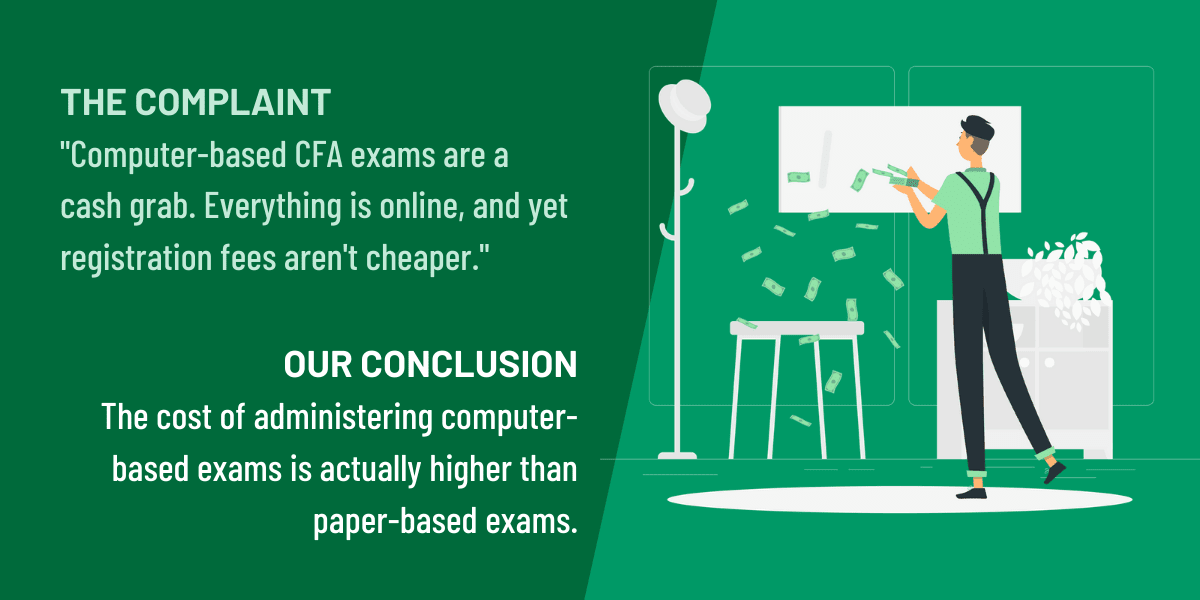 OK, so there's a line of thought saying that because everything is moving to computer-based testing, exam fees should be cheaper. Exam fees aren't going down, ergo this is CFA Institute trying to make more profit per candidate.
Here's why this is nonsense.
The costs associated with candidates' learning materials won't change, as that remains unchanged.
That leaves costs associated with administering a computer-based exam. But is a computer-based exam really cheaper to administer compared to a paper-based exam?
If you think about it, to take a computer-based exam, a candidate will:
Sit in a testing room (costs money to rent) and
Tap answers into a computer (costs money to rent)
While being watched and guided by a proctor (costs money to hire)
There are no obvious cost savings compared to paper-based testing. On top of that, CFA Institute will now have to work with a facilities provider (e.g. Pearson VUE), which as an additional supplier, will likely drive costs up further.
Grading might likely cost slightly less compared to scantron grading, I'll give you that. But it's not necessarily a given that computer-based exams are overall cheaper to administer.
CFA Institute have also confirmed that the costs associated with deploying computer-based exams are higher than paper exams:

"Our delivery on CBT will be more expensive for us to deliver as opposed to costing less. Think about it this way—rather than a single, massive venue and a single day of testing we will now have multiple days of testing in smaller, computer-based venues."

– Chris Wiese, Sr. Head, Exam Development with CFA Institute (via Reddit)
Conclusion? Computer-based CFA exams are more expensive to carry out. It's more expensive to provide you with a computer rather than an exam booklet.
---
"The exam is shorter now. It's not as tough."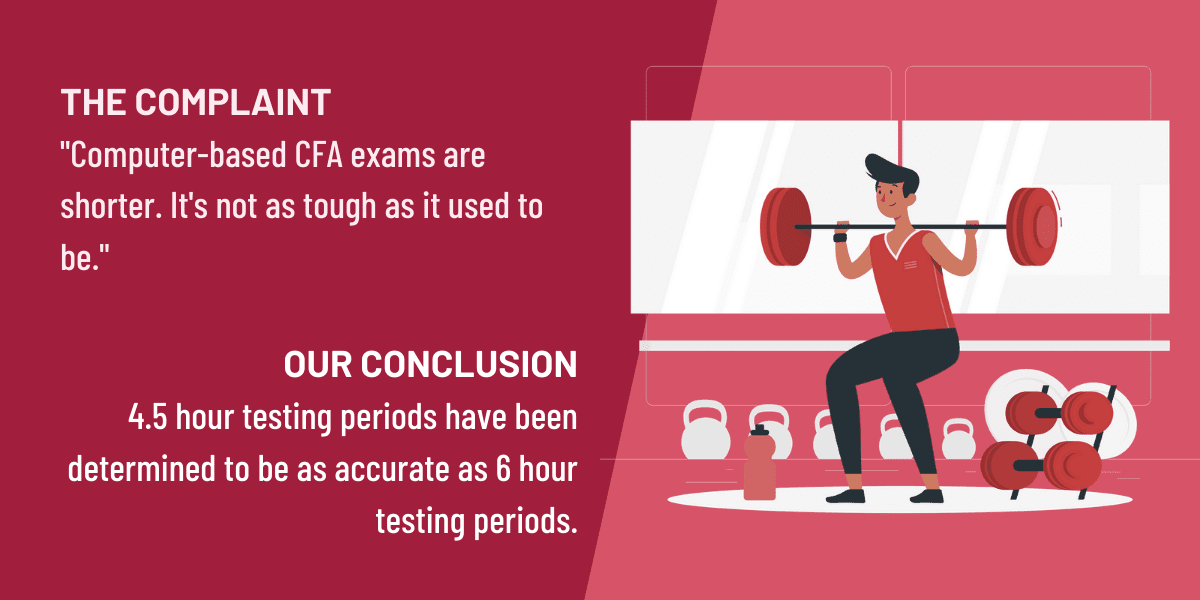 The
computer-based exams are now 4.5 hours long
, rather than the 6-hour marathon that candidates had to sit through before.
Does this make the exams easier? Yes and no, we think.
CFA Institute has stated that lessening testing time to 4.5 hours does not reduce assessment accuracy:

"Before planning a shift from 6 hours to 4.5 hours we invested in independent psychometric research of our examinations. We found that the incremental information produced by 1.5 hours of additional testing was negligible. In other words, we already have sufficient information after 4.5 hours of testing to reliably determine whether a candidate should pass or not.

​We liken this to a thermometer. You don't receive a more accurate reading just because you use the thermometer longer."
We're gonna trust the findings of CFA Institute's psychometric research – they have millions of dollars to spend on this kind of research, unlike us poor, bootstrapping souls.
But we think there will definitely be a small advantage to a 4.5-hour test – you will not be as bloody tired. A tired candidate performs poorly, makes careless mistakes, recalls less information. Candidates will be more likely to produce a crappier result in a 6-hour exam than a 4.5-hour one.
The exam is focusing on testing CFA curriculum knowledge, not your exam stamina. So your superior 4.5-hour result is arguably the more accurate test of your abilities, before fatigue takes its toll.
So while you may perform better in a shorter, 4.5 hour test, this is likely a more accurate assessment of your CFA curriculum knowledge.
---
"Everyone and their mother will be flooding in to become a charterholder."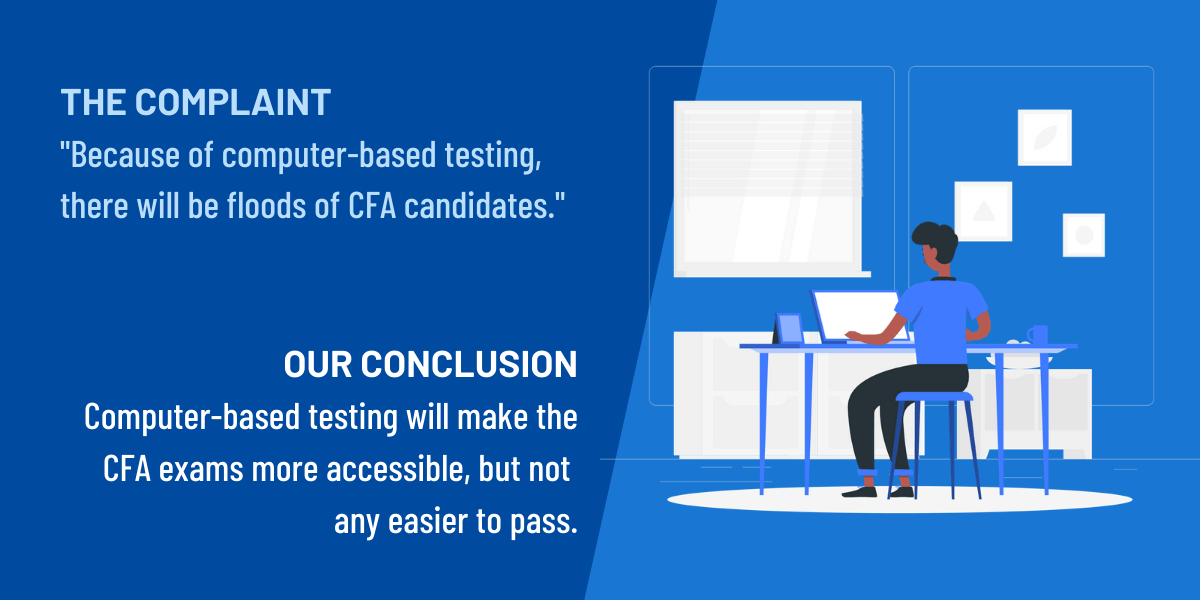 There is an argument that because of the transition to computer-based exams, there will now be a flood of candidates taking up the CFA Program. Charterholder numbers will go up, and therefore the value of the CFA charter will decrease.
"Easier to take the CFA exams" can be broken down into two facets:
exam difficulty – how difficult is it to complete the CFA exams
accessibility – how many people are allowed to attempt the CFA exams
​
In addressing 'exam difficulty', CFA Institute has already stated that question difficulty isn't going to change:

"Our highest priority is to uphold the rigour of the CFA charter. The passing score calculations and standards will remain unchanged, so candidates who complete a computer-based exam will be held to the same standard as those who complete a paper-based exam."
So the main barrier to the CFA charter remains the same: passing CFA Levels 1, 2 and 3.

Just because everyone is free to climb Mount Everest, doesn't mean that everyone can successfully achieve it.
It is true that the shift to computer-based exams will likely make the CFA Program more accessible.
But this is a good thing.
Candidates that previously might have needed to fly to a neighbouring country just to take the exam might now be able to go to a nearby test center. With the pandemic, accessibility and smaller test groups also would be crucial to being able to hold the exams in the first place.
Does opening up the CFA charter to people who previously can't sit for the exams for non-merit reasons diminish the value of the CFA charter? If you think so, then we should just campaign for the CFA Program to be shut down – by that reasoning, no more new candidates mean that the CFA charter will be priceless!
So CBT means that the CFA exams will be more accessible (a good thing) but equally difficult to pass as before (also a good thing).
---
"You can retake the exam in just 6 months! It's not as 'valuable' as before when we had to wait a year."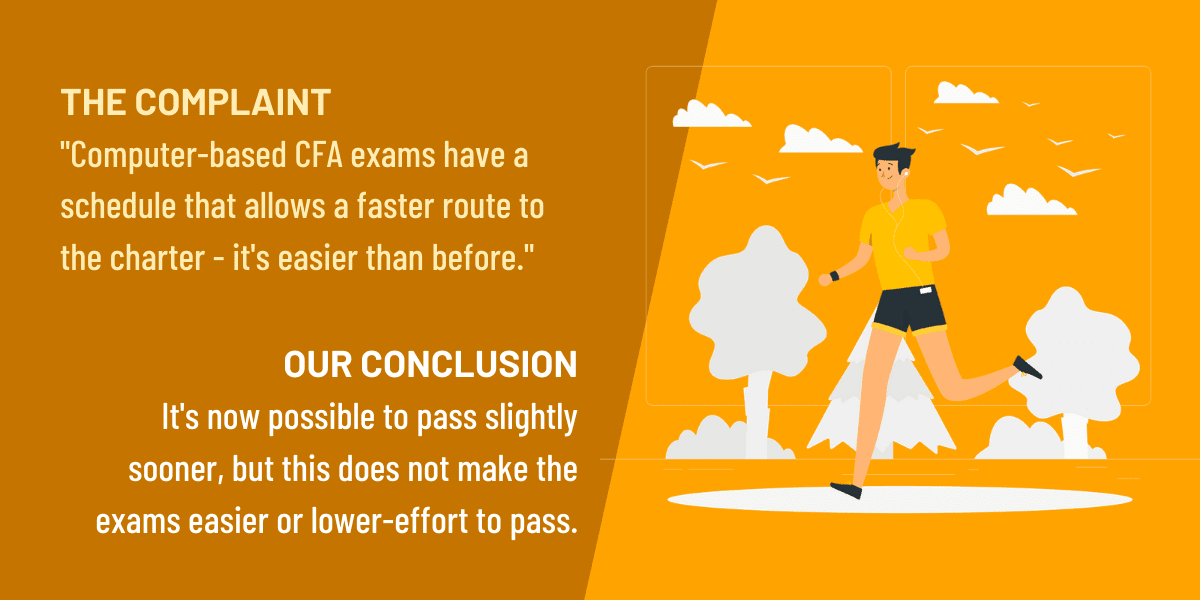 Under computer-based testing, the CFA exams will be held twice as often compared to the paper-based format. Level 1 is now held four times a year, and Levels 2 and 3 will be held twice a year.
Referring to our CFA Exam Journey Planner, the route from Level 1 to Level 3 can be as short as 15 months, 3 months shorter than before.
OK, so candidates can theoretically get the charter sooner, or reattempt the exams at a faster rate.
So what? The cost of failing is really the cost of reregistration, materials, and most importantly the effort and time put in. Which does not change regardless of how many chances you get a year to pass the exams.
Raring to complete the CFA Program as quickly as possible would likely not be at the top of most candiates' minds. Life gets in the way sometimes. You may be starting a new job. Health issues with yourself or a loved one. Weddings. Babies. The new schedule will make it easier to plan for all of that.
Candidates may actually end up taking longer on average to complete the exams, since postponing by 3-6 months is much less of a big deal compared to deferring a whole year like before.
Even if the wait is shorter, I'm not sure if I see how this makes the charter more valuable. It's just flawed to think that a paper-based CFA exam pass is somehow better because you had to wait longer between exams.
So although the new schedule does offer a slightly faster route to completing the exams, this does not somehow make it easier or lower-effort to pass.
---
Conclusion: Computer-based testing isn't going to devalue the CFA charter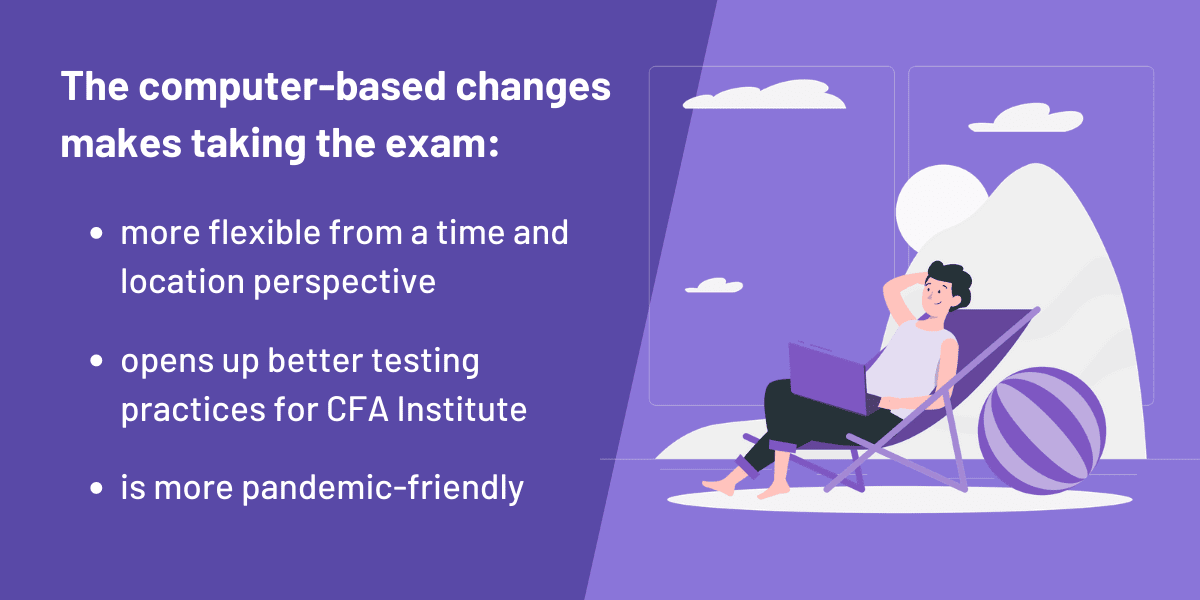 Look, I get it. I'm a charterholder, and
I failed Level 2 once
. I had to wait 12 months to retake too. With the computer-based changes, candidates have things easier now. Boo.
But to compare across years is just petty and not useful. If you're comparing across years, why not compare with 1963, when there was only one written-essay exam, and the pass rate was 94%?
The computer-based changes makes taking the exam
more flexible from a time and location perspective,
opens up better testing practices for CFA Institute, and
is more pandemic-friendly.
We think this is great, and does not lower the value of the CFA charter – but perhaps it increasing it further, by using more flexible and dynamic format that reflects our current technological platforms.
Thoughts? Let me know in the comments below!