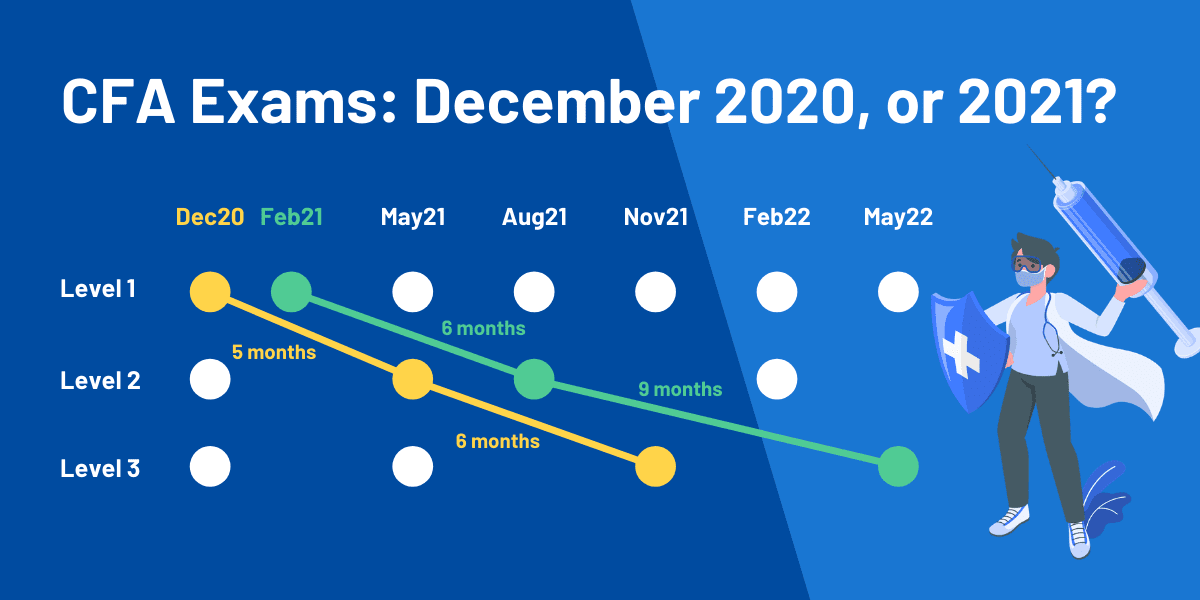 Last week, CFA Institute ripped up the rulebook once again, announcing that CFA Level 2 and Level 3 will transition to computer-based exams in 2021, effectively cancelling the paper-based Jun21 exams and making Dec20 the last paper-based exam.
Registration for the Dec20 CFA exams close very soon – 19th August, as a matter of fact. So should you plan to take the exam in December 2020, or push your plans to 2021?
To give you guidance on which should be your next CFA exam, we've pored through all the information CFA Institute has announced. We will discuss in this article:
Five reasons why you should postpone to 2021
Five reasons why you shouldn't postpone to 2021
Our final recommendation
What are the deadlines to postponing my exam from December 2020 to 2021?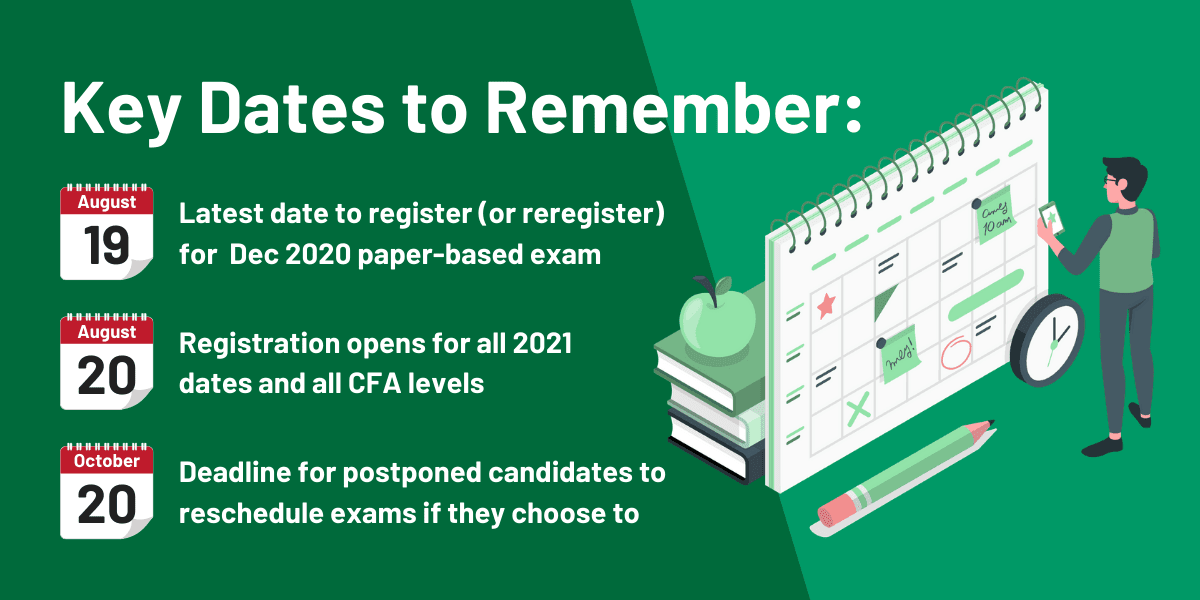 The latest date to register (or reregister) for the December 2020 paper-based exam (Dec20) is 19th August 2020.
Registration for all 2021 dates and all CFA levels will open on 20th August 2020. Registration for Feb21 L1 is already open.
If you're a postponed candidate currently registered for Dec20, you have up to 20th October 2020 to reschedule your exam, should you choose to.
How to postpone your December 2020 CFA exam to any 2021 exam date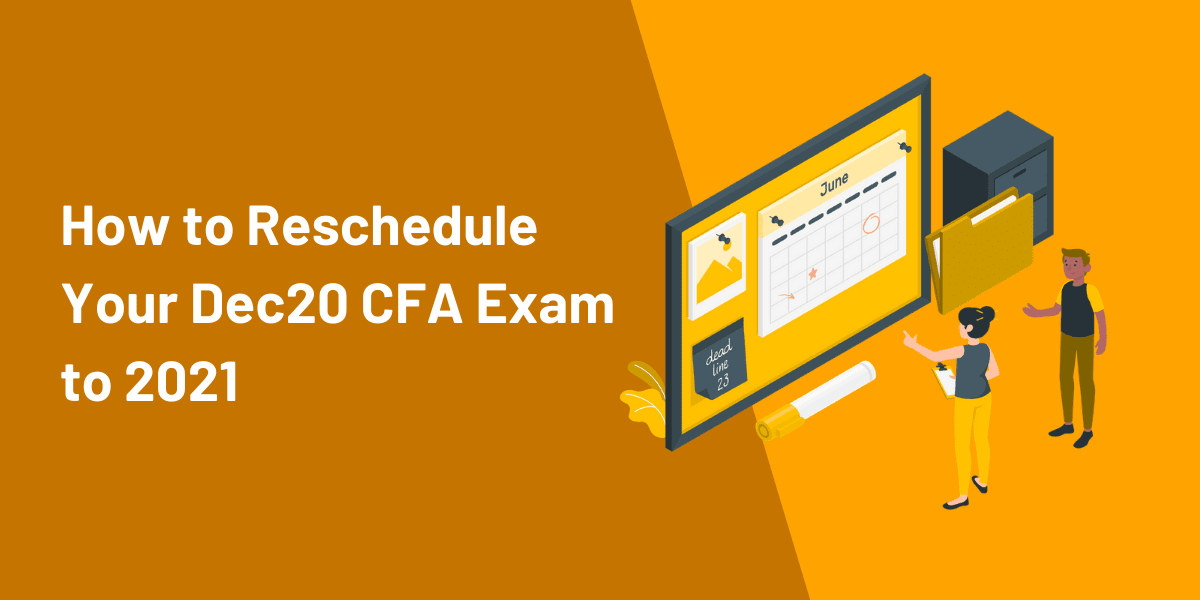 All 2021 exam dates will be available from 20th August 2020.
If you're already registered for Dec20: Sign in to your account, go to the CFA Program tile and follow the instructions under Manage Your Exam to Withdraw from Exam. Then, you may re-register for your choice of future exam date with no additional fees. You must complete this process by 20 October.
For everyone else who has to change their registration: To register for a new exam date, sign in to your account and complete the registration process for your choice of future exam date with no additional fees. Again, you must register for your future exam date by 20 October.
5 reasons why you should postpone your December 2020 CFA exam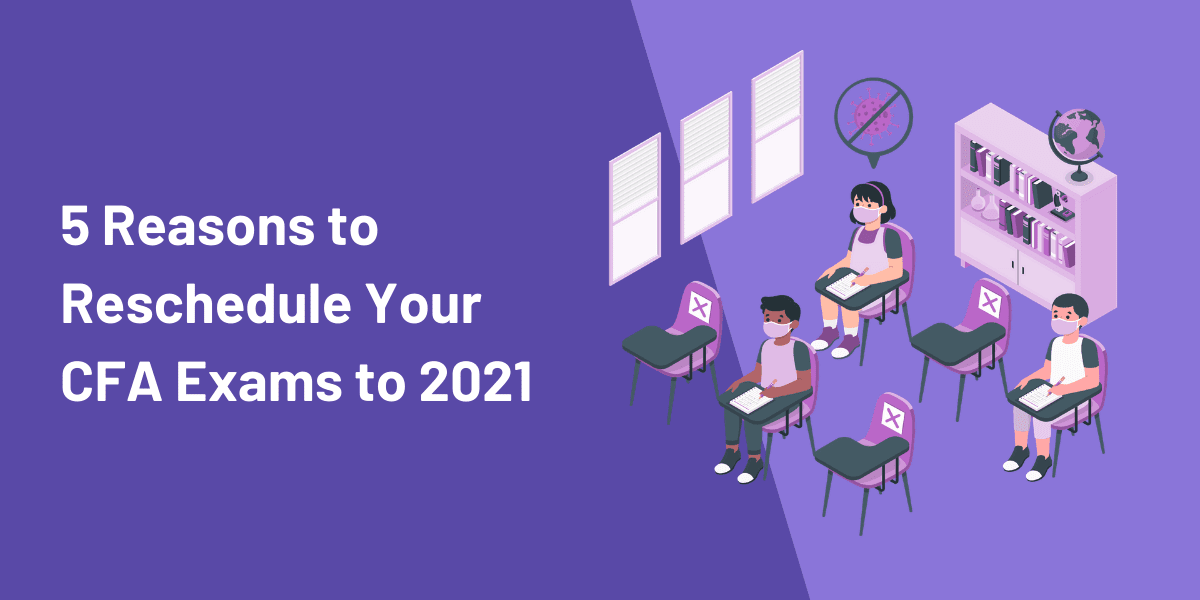 We recently published
an article about how likely the Dec20 exams would be cancelled
. As the likelihood of CFA exam cancellation will be down to local COVID regulations, we ran a survey asking our readers what the situation was like where they were, and collected 1,500+ responses.
​In the survey, candidates were asked to factor in local regulations, as well as their best estimate on whether COVID regulations will continue (or tightened) in December.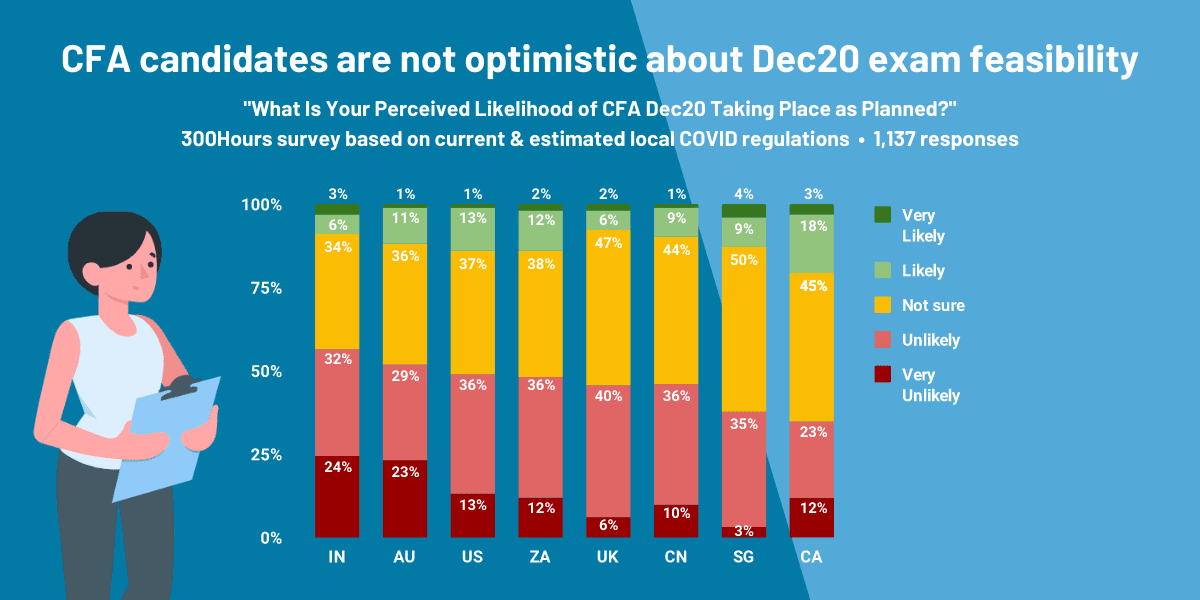 With very few exceptions, such as New Zealand, candidates in almost all countries indicated that it's more likely that the CFA exams would not take place as planned in their location.
You can probably get a feel for your own location, but the survey may confirm what you're already feeling – it's not looking great for an as-usual Dec20 CFA exam. Postponing to 2021 might be a good chance to get more certainty over your exam dates.
The computer-based CFA exams will now take place in a 10-day window, rather than just one big day. There will also be 400+ testing centers for computer-based CFA exams compared to the current 190+ test centers.
This means that CFA computer-based test centers are likely to have just 5% of candidates per test center compared to past CFA exams.
Less candidates per venue = better social distancing = safer for everyone.
Some might bemoan the loss of prestige of a 'harder' CFA exam – with the new CFA computer-based exam format, the exam is now 4-4.5 hours long, rather than the 6-hour paper-based marathon.
CFA Institute has stated that after about 4.5 hours of testing, additional testing is unlikely to further improve the accuracy of the assessment. But a shorter exam in our opinion would work in your favor, and improve your chances in being better prepared for the exam. A shorter exam makes for a less tired candidate, and less tired candidates are likely to perform better.
Instead of just the one exam day, computer-based CFA exams will now be offered in a 10-day exam window. Candidates will be able to choose a day that suits them, and with two or four exam slots a year (depending on the level), you'll be able to choose a time of year that better suits your workload, or personal plans like holidays, weddings or
babies
.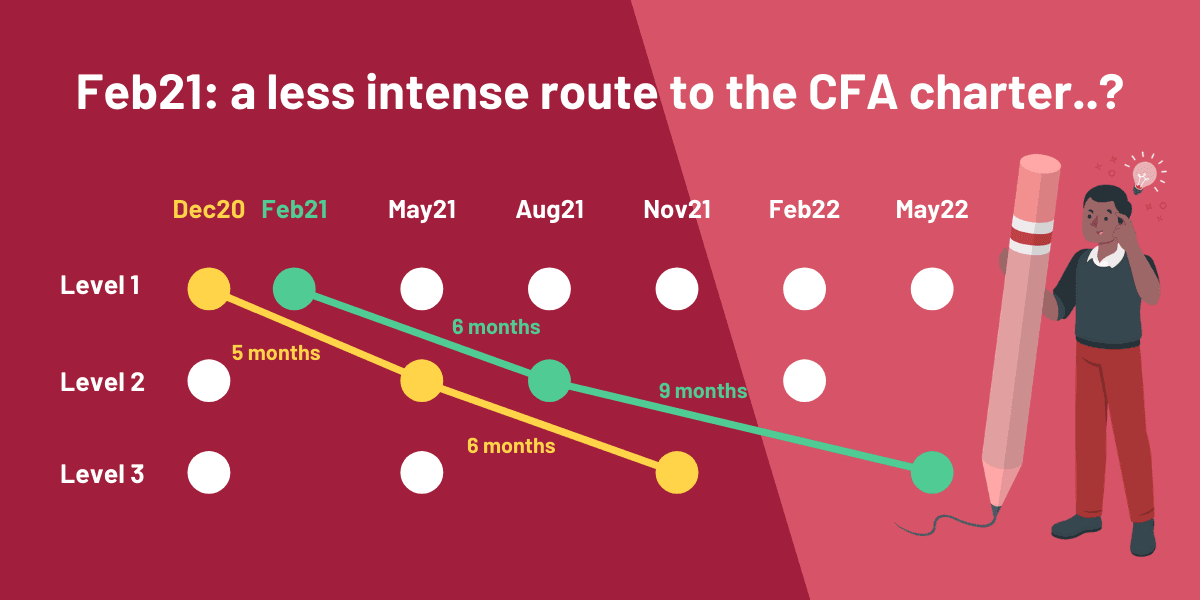 If you pass Level 1 in Dec20, you have just 5 months to your next L2 exam (May21). If you pass that, you then have 6 months to your next L3 exam (Nov21).
Compare this to taking your L1 exam in Feb21, where the soonest L2 exam will be Aug21, and L3 in May22. That gives you 6 months to study for L2, and a nice 9 months for L3. This sounds more manageable to us, while still being faster than the previous paper-based route.
Although not yet confirmed by CFA Institute, the paper-based exams are also likely to have a longer time to results compared to computer-based exams, so you would have a longer period of waiting for your results, and wondering whether you should presumptively start studying for the next level.
Of course, you could choose to take it slow as a Dec20 candidate. Candidates passing in Dec20 don't HAVE to immediately register for the next available exam – but the temptation will be there.
---
5 reasons why you shouldn't postpone your December 2020 CFA exam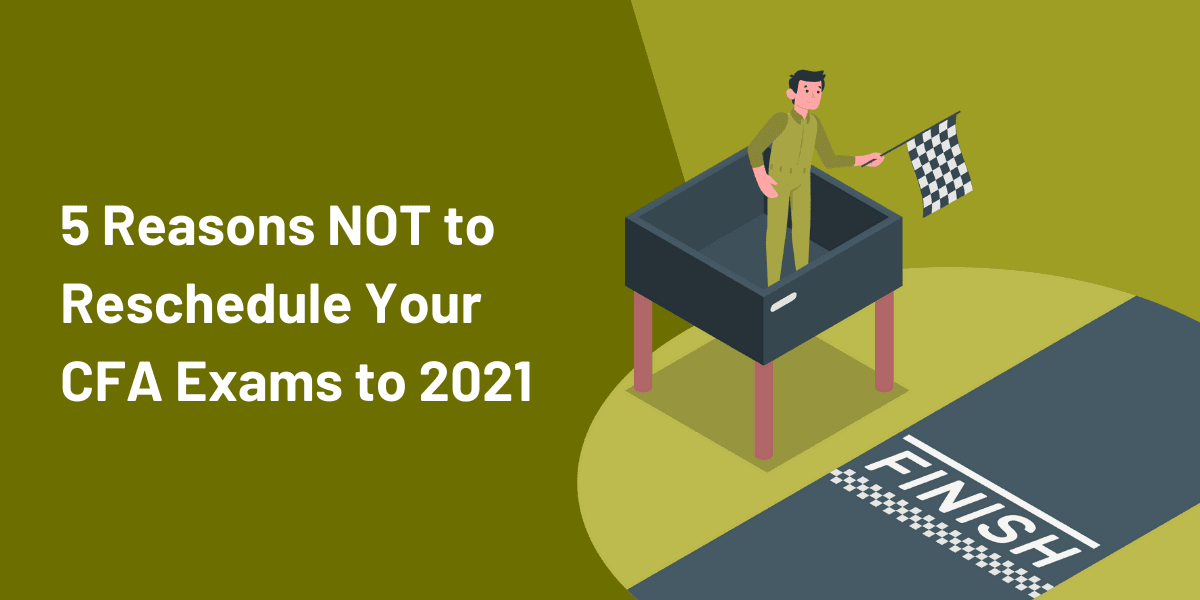 "Let me get on with my life already," a candidate lamented in one of our Dec20 survey responses – a sentiment echoed by friends across
Twitter
and
Instagram
.
If you're a candidate that's been postponed from Jun20, you might also dread the prospect of having to yet again 'restart' your studies.
Don't want to wait any longer? Sit tight for Dec20.
Maybe you're an L3 candidate and you want to make it a clean-sweep of paper exams. Or you'd like to experience a paper-based exam in one level and computer-based exams in future levels.
Whatever the reason, there is genuine preference by many candidates for a paper-based CFA exam, and Dec20 will be the last chance to take the CFA exam in a paper-based format.
Just so you know, the computer-based CFA exams will provide writing material, but this will be in the form of dry-erase boards rather than paper. If that makes any difference in your decision.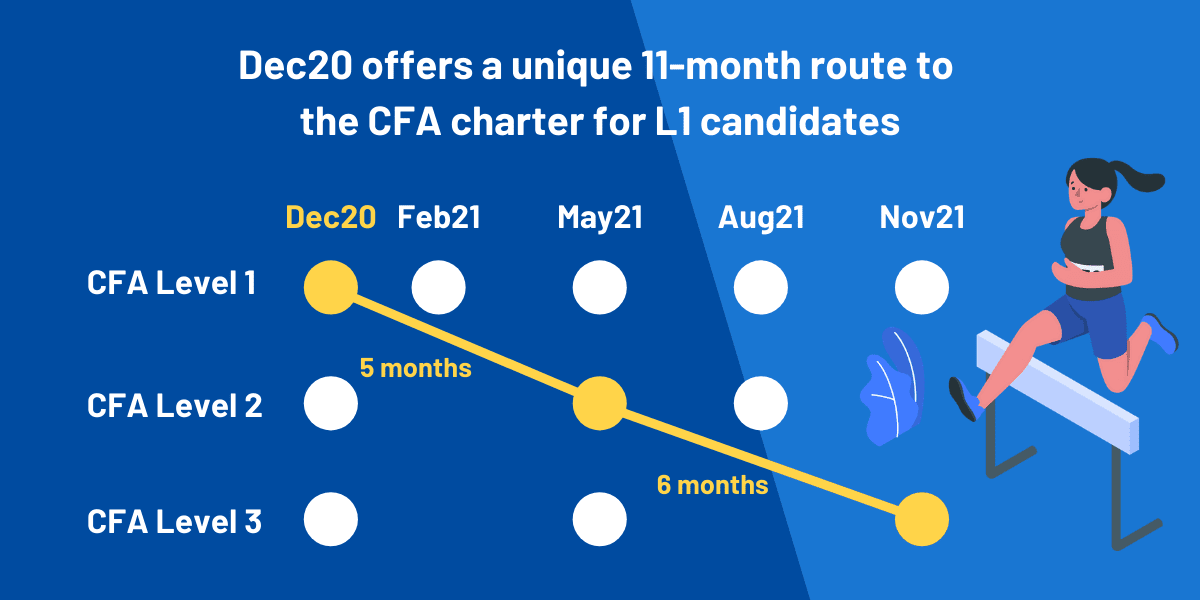 Dec20 is the next available CFA exam, and so by default offers the fastest route to the CFA charter regardless of level.
Additionally, because of the transition to computer-based exams, Dec20 also offers a uniquely fast (and intensive) route from Level 1 to Level 3 in just 11 months. This means a Level 1 candidate taking the exam in Dec20 could pass Level 3 in Nov21.
A record that will never be broken – at an intensity that will never be rivalled. If you want to attempt this, stick with Dec20.
Not to be defeatist, but Dec20 will also save you more time if you fail and have to retake, especially if you're a Level 2 or Level 3 candidate (There is less of a difference for Level 1 candidate as there are four slots a year rather than two).
If you fail Dec20 as a Level 2 or Level 3 candidate, you will be able to retake in May21, about 4 months after your Dec20 results are released. If you postponed to May21 and failed, the next time you'll be able to retake will be Feb22 (L2) or Nov21 (L3). So deciding to take Levels 2 or 3 in Dec20 gives you the ability to retake your exam sooner if you fail.
---
Should you postpone your CFA exam from Dec20 to 2021?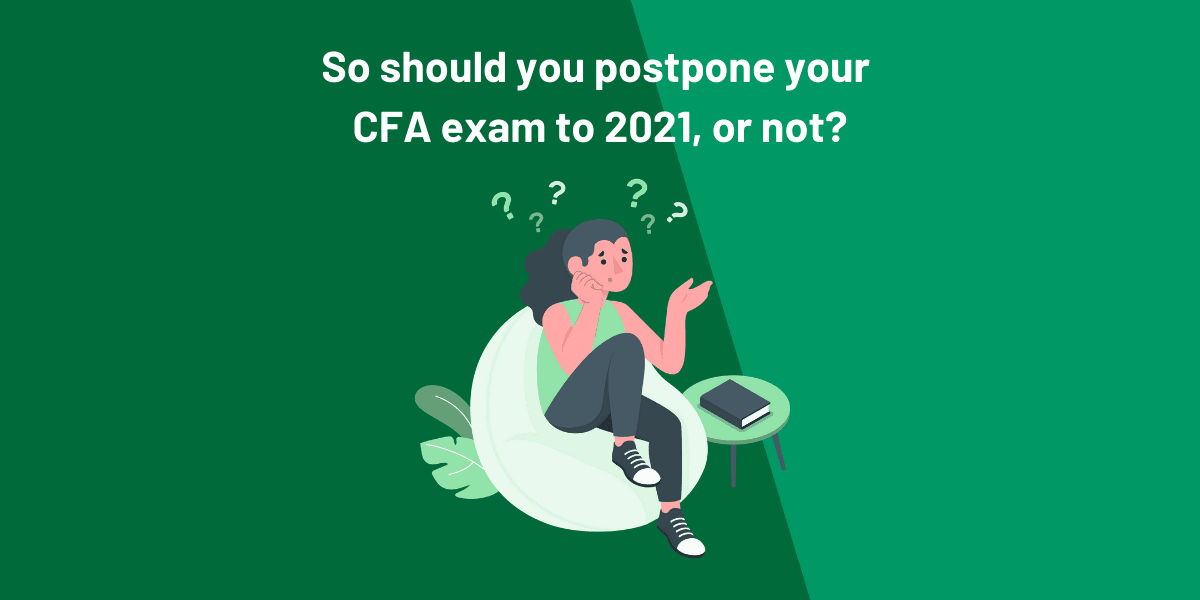 Unless you have a very strong reason to finish the CFA exams ASAP, we think for most candidates it might be a better idea to
postpone to a 2021 exam date
:
It's likely to be safer, COVID-19-wise. More exam days, more test centers = better social distancing.
More certainty on whether it'll be allowed to take place. It's not currently looking good for Dec20, and computer-based test centers will be smaller, and therefore more COVID-compatible.
Shorter exam, more flexibility. We think that a shorter exam with better schedule flexibility would suit you better and increase your chances of performing better in your exam.
Have you decided when you're taking your next CFA exam? Let us know in the poll or comment below!