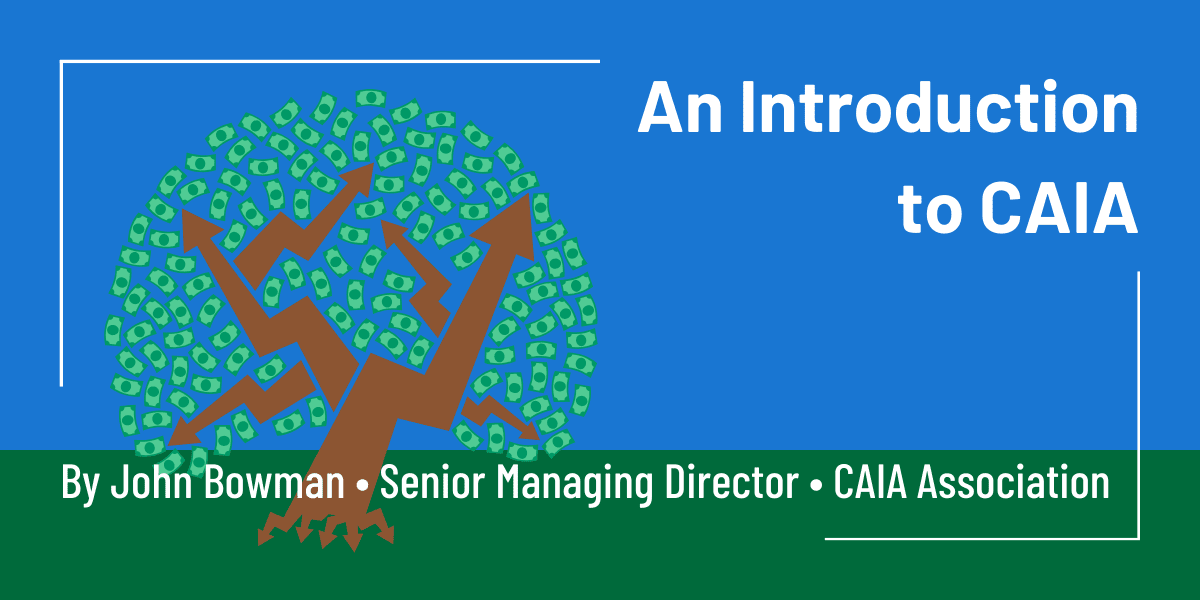 ​
John L. Bowman, CFA • Senior Managing Director • CAIA Association
​Pursuing professional education is a tricky business; often a thankless one. Professionals, by definition, have vocations, social lives and often families. Grown-up distractions and responsibilities abound, creating pulls and temptations that render "undivided attention" a figment of those long lost days on university campuses.
I've spent approximately 15 years of my career serving the asset management industry through education, including managing director at CFA Institute. The offerings in investment management are a proverbial dog's breakfast of alphabet soup with overlapping and indistinguishable acronyms, often representing the overlapping and indistinguishable purposes of the programs.
​There are a few outstanding qualifications, and many hundred poor ones.
​
With that in mind, I'm hoping to provide an overview of the CAIA Charter and, in the process, underscore the ultimate mission as well as expose a few common but false narratives. ​
​What makes CAIA Unique?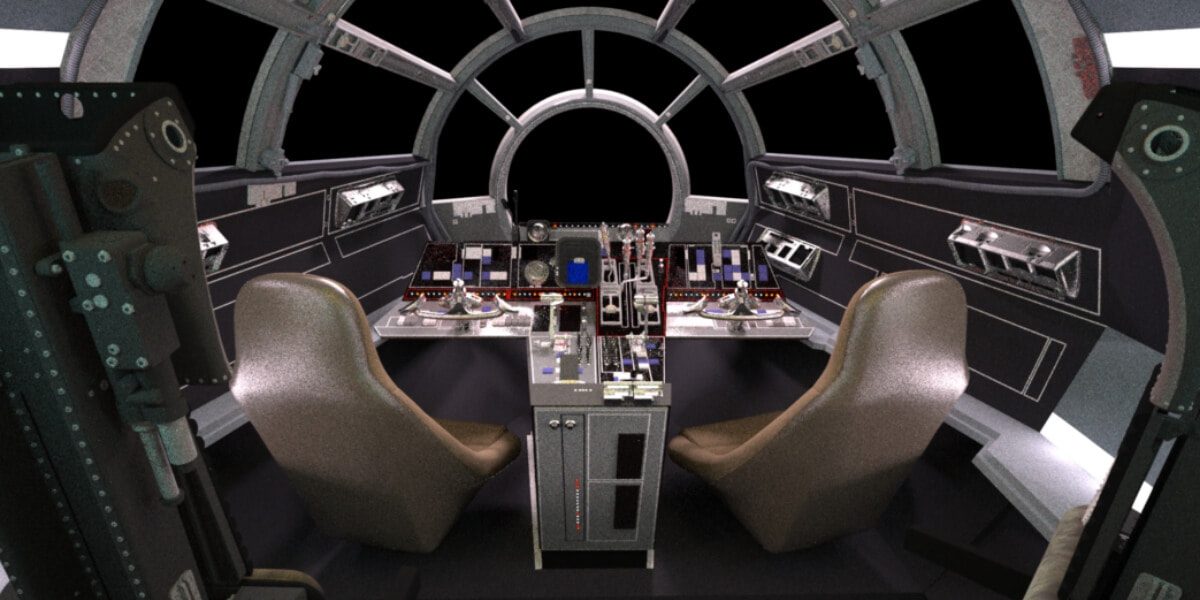 The concept of "barriers to entry" existed well before Michael Porter's five forces introduced the phrase into the common lexicon of board rooms.
In fact, post-world war economic theory is rife with examination of higher prices, ubiquitous brands, and sustained market share as evidence of competitive differentiation. Any good leader knows that a unique selling proposition is critical to long term success (and protection) of a product or service.
I call this our 'strategic moat' and we talk about it often at CAIA Association. But how do you distinguish an educational program? Aren't they really teaching all the same basic material? The answer depends on the 1) source and evaluation process for the curriculum and 2) the philosophy of delivery.
From our humble origins in 2002, the CAIA Charter Program has aimed to equip investment professionals to "Think like an Allocator." This phrase is newer to our marketing material but deeply rooted in our history. We strongly believe that all investment professionals, regardless if they ever happen to be employed by an asset owner, should have the ability to think and manage seamlessly across the full spectrum of risk premia.
The CAIA Curriculum: The Allocator's Cockpit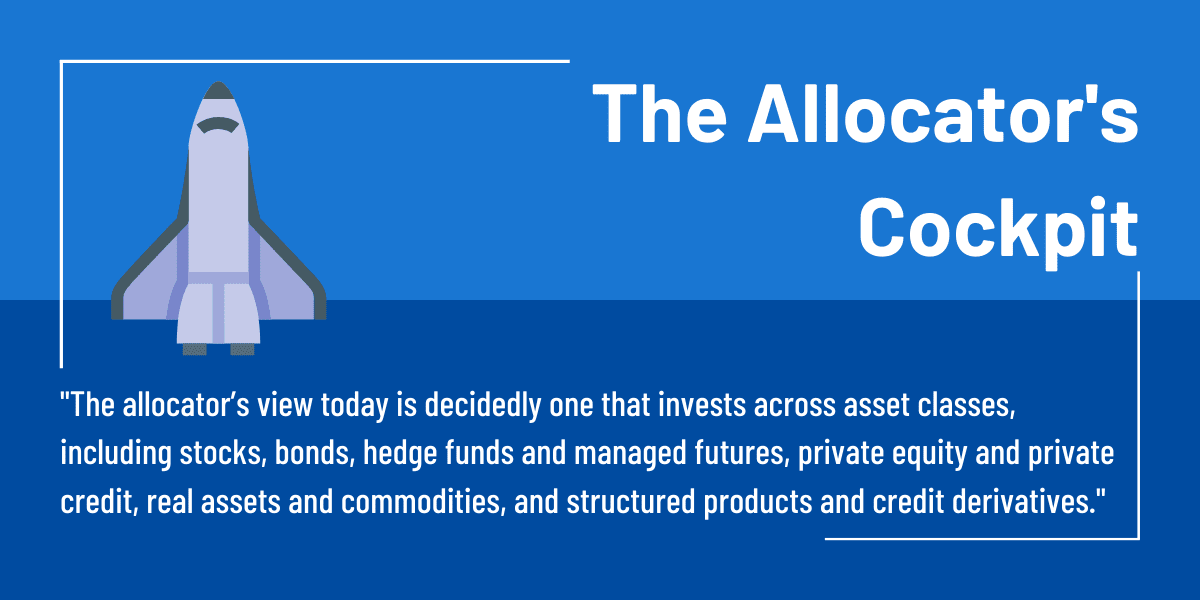 The allocator's view today is decidedly one that invests across asset classes, including stocks, bonds, hedge funds and managed futures, private equity and private credit, real assets and commodities, and structured products and credit derivatives. This is the "Allocator's Cockpit" by which our curriculum takes its cue. It defines its flow, material and voice.
As such, allocators play a disproportionate role in helping guide the positioning of the program and canon of what is taught and tested. This process is manifested in several in-person roundtables and individual meetings each year with many of the largest pensions, endowments, foundations and sovereign wealth funds around the world. That top of the food chain perspective is balanced with rigorous survey work with our nearly 12K global members who continuously counsel us on how investment practices are evolving and how the CAIA program should respond.
In summary, CAIA is neither a specialist program that prepares you for one role nor a "generalist" program that offers a surface level introduction to the industry. We offer something very purposeful and unique; a simulation experience in the captain's seat of an allocator that births more informed investors, regardless of what specialization that charterholder may ultimately pursue. ​​
​All About the CAIA Learning Experience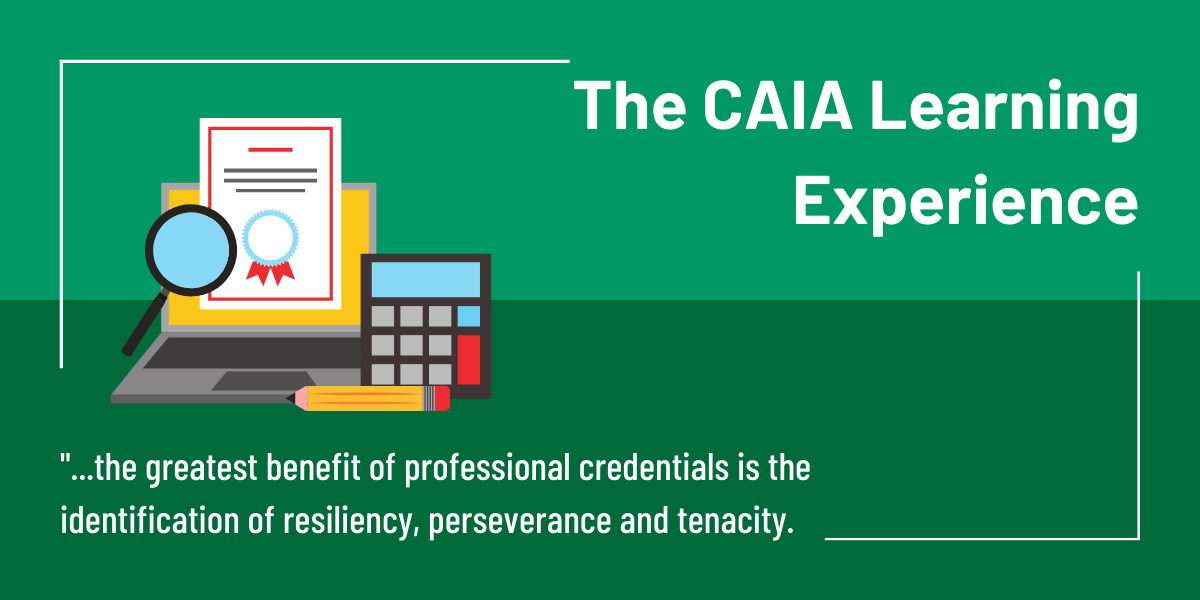 The Curriculum: The CAIA Charter Program consists of two levels, each with more than 500 learning objectives, 40 readings, and 800 pages of study material.

Exam Schedule: Each exam experience requires up to five intense hours in a bricks and mortar exam center in either March or September.

Time Commitment: Successful candidates tell us they spend more than 250 hours per level across 3-5 months of reading, completing review questions, taking a mock exam and utilizing third party preparatory materials.


This is not for the faint of heart or casual certification collector – but if you're considering qualifications like the CFA Program you should know that already!
I wish I had a secret sauce or magic pill, but the only accurate advice I can give you is this: if you put the time in to master the material, you will likely pass.
There is no short-circuiting the intended learning experience. Starting early and pacing yourself are the keys to success as cramming or rushing will invariably lead to burnout and failure.
Develop a study schedule that is realistic and a good fit for your lifestyle. Discuss your ambitions and plans with your spouse, family, roommate(s) and colleagues. Early mornings, late evenings, lunchtime, travel and commuting time, and weekends are all options for study time and you'll want support from those around you.
Many employers will offer time off as well for studying so explore that with your manager and HR department.
Devote the final two weeks before the exam to review more difficult topics and take a full length mock exam. Sufficient rest and a healthy diet leading up to exam day are also critical.
Finally, a note on
preparatory materials
.
There are a range of third party products and services to help you understand the concepts and prepare for the exam. We consider them partners and an extension of our brand. They can be extremely beneficial, especially in a distance learning program that is physically and mentally challenging.
But never mistake them for substitutes for the actual curriculum. The CAIA materials should always be the primary foundation for your study, which should be anchored on the Learning Objectives (LOs). We have disciplined processes to ensure every exam question is drawn from the curriculum and explicitly traced to an LO. Third party supplemental materials are never referenced or relied upon for exam development.
Setting the CAIA Exam Passing Score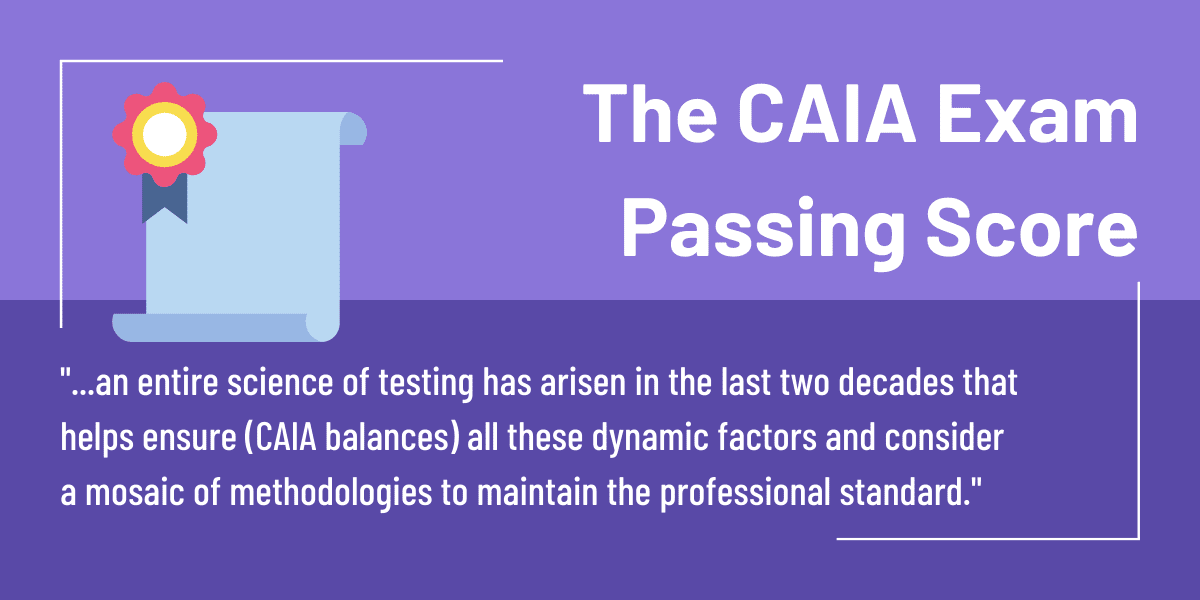 "How could I have failed?!" I've heard this countless times over the years from very pedigreed, brilliant investment professionals. I'm empathetic but always reinforce that the exam isn't a yardstick for your value or intelligence but rather your understanding of the curriculum. A high stakes exam program is not swayed by background, impressive resumes, or investment performance; it is the ultimate, and sometimes ruthless, meritocracy.
The crown jewel of CAIA Association will always be the reputation of the Program that is built on the cornerstone of exam integrity. And the first principle of exam integrity is ensuring a consistent standard is applied longitudinally.
In other words, whether you took the exam in the first class or recently, the measure of mastery and success is the same; the four letters on your business card must have credible staying power. Unlike degree programs and many certificates, the vintage year, instructor, or location of your studies do not determine the quality of your feat; 2002 Boston to 2020 Botswana, a CAIA charterholder is a CAIA charterholder.
This is not an easy task given evolution of the industry and therefore curriculum, changing demographic composition of candidates, and inevitable variations in exam difficulty. But an entire science of testing has arisen in the last two decades that helps ensure we balance all these dynamic factors and consider a mosaic of methodologies to maintain the professional standard.
Similar to the CFA Program, we actively set the passing score using the practice above and the pass rate becomes a residual. While the pass rate has drifted down over the years, there is no active engagement or maneuvering to "manage" a pass rate up, down or sideways. Our north star is and always will be assuring clients and the profession benefit from well trained and ethically sound investment professionals to steward their wealth and retirement. The more the better.
Conclusion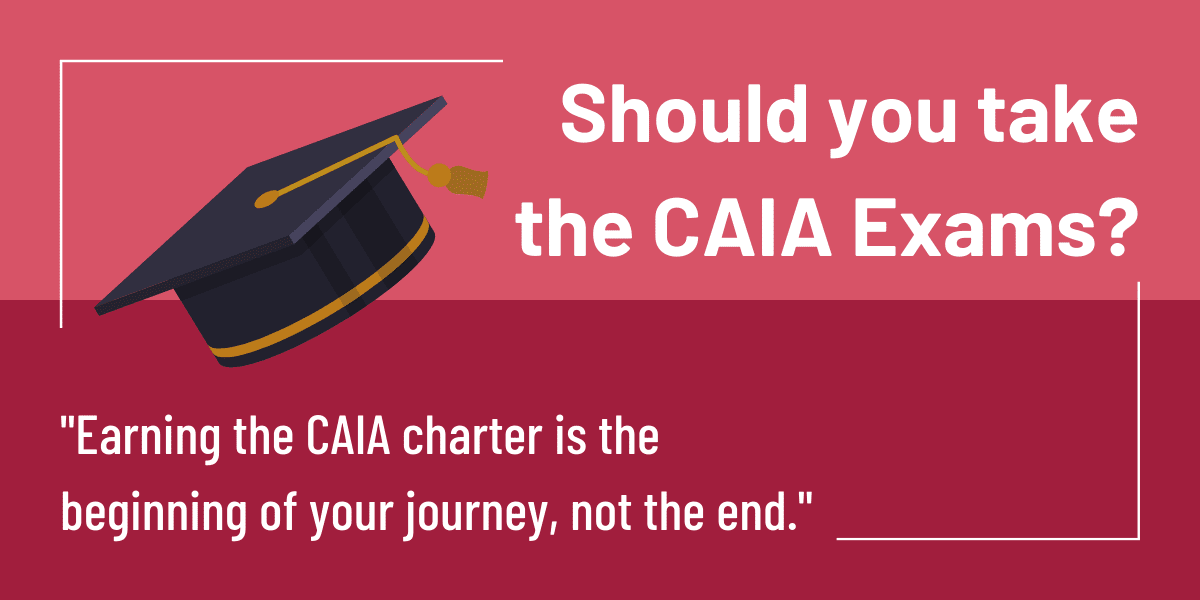 Completion of the CAIA Charter Program will and should come with more respect, compensation, responsibility and career upside…over the long term.
​But the most important role we play as an industry body is minding the front door to the profession. Professions must have minimum requirements and CAIA (among others) provides a standard entry ticket.
Therefore, earning the CAIA charter is the beginning of your journey, not the end. It is a condition of eligibility, not a finale. It is a career long commitment to a higher calling, not an episodic academic endeavor. Professions are a team sport where all players collectively unite to place the interests of the client above their own, to foster dignified futures and retirements, and to serve the greater good through their local communities.
If you're interested in the CAIA charter, these articles will help: