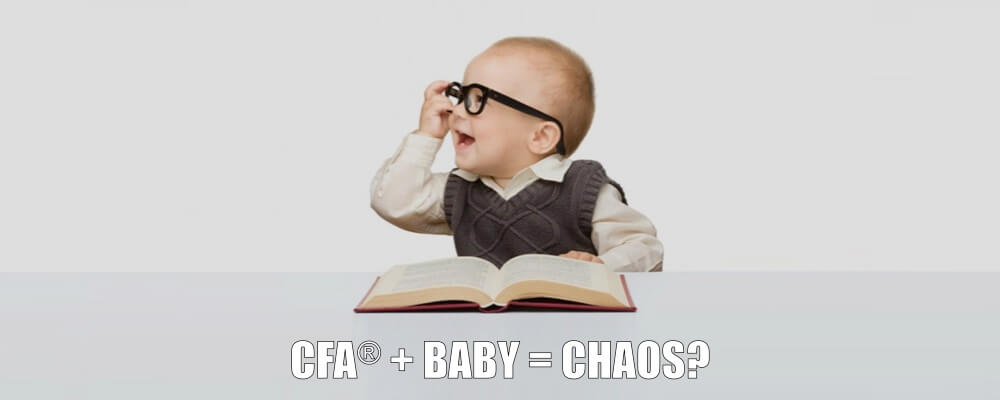 By Adam Hayes, CFA
The baby started crying at just before four o'clock in the morning. My wife had accepted baby duties that night and went to him to feed him a bottle; I also awoke. I lie in bed with my eyes open, blinking in the darkness.
The CFA exam – my CFA exam – begins in five hours. I hoped I was ready.
CFA Exam Level II, plus a new wife and child
I had passed the CFA exam Level I after months of hard studying, but without a wife – and certainly without a kid. My fiance and I had been engaged for a while and she understood I needed study time for some nights after work and increasingly on weekends as the test approached.
Her OB/GYN had told her that there were indications that she may experience trouble getting pregnant, that it could take more than two years of trying and after that period of time we should begin fertility treatment. Why not get a head start, then, we thought.
We needn't have worried: her pregnancy test stick showed positive the second month in to our two year attempt. It was May, three months before our wedding.
When my wife became pregnant, we decided to move out of the city and to the suburbs. It wasn't an easy decision – we both worked in Manhattan and our Brooklyn neighborhood, Williamsburg, was growing more affluent each week as more Wall Street types like myself made the decision to re-habitate across the East River. But, for us, this was no place to raise a child. We both agreed that a child needs a sprawling lawn and some woods for climbing trees and looking under rocks. We found a lovely house by a commuter train line and moved. On the to-do list: change my testing center location.
Studying for the Level II exam with a pregnant wife did not start out much different than studying with a fiance. In order to get in my 300+ hours in, I cracked open the first e-book of the curriculum in December and was immediately immersed in valuation models, pricing swaps, and financial reporting & analysis. The baby was due on Valentine's Day, and I knew I didn't have much time before my study plan would be forever thrown into chaos.
The stork arrives, study chaos ensues
My wife went into labor five days before her due date. We drove through blizzard-like conditions to get to the hospital in Manhattan only to be turned back – we had arrived too soon. That night while my wife would intermittently wake up groaning in labor agony, I would take advantage of those moments when she was able to doze off to work end of chapter questions. I knew that I wouldn't be able to retain new information, and I was beginning to fall behind on my reading schedule. Doing practice questions for material I had already gone over didn't help me master those chapters, but it kept me sane and collected.
My son was born the next day, perfect in every way. For a full week I put all studying on hold to spend time with my new family. New babies cry, and my son particularly enjoyed crying in the middle of the night. My wife, tired from a recent birth, took turns with me holding and calming him down, feeding him and changing his diapers. And then in the morning I had to go to work. I was falling behind in the readings – alternative investments seemed like such a far-away point, and I hadn't even peeked at ethics, saving the 'best for last'. Even when I could get through a reading, I found that I could no longer retain the information.
Juggling babies and exams
By mid-April I was panicking. I had to change tactics. Family had to come first and although the CFA Program was important to me, I told my wife that I was planning to skip the test this year and put it off for a year or two instead.
She looked at me and said over her dead body would I quit now after putting in so much hard work already, and given that hard work put in with a newborn!
So instead of quitting, I booked us a trip – our honeymoon with the baby – to Cabo in Mexico for two full weeks, arriving back home three days before the exam. I figured, what better place to study than on a beautiful beach with beautiful weather.
Just knowing that the vacation was booked somehow gave me focus to study throughout the rest of April and into May. I powered through the rest of the curriculum, finishing up the end of chapter questions in Ethics on the flight down to Mexico.
Mind you, this was no picnic. My son still had trouble sleeping through the night, rarely making it more than a few hours at a time in silence. We later found out that he had some acid reflux, which is common in young babies, and a little bit of baby zantac eventually did the trick. We only found that out in July.
Still, I would read the material with my tablet in one arm and my son in the other. I told myself that I was doing this for him, for the future well-being of my family. That one day I can be proud to explain to him what those three letters mean after my name when he asks me about it with a child's curiosity.
Great study leave. Worst. Vacation. Ever.
My plan for Mexico was this: mock exam in the morning; lunch; hang out with the wife & baby on the beach; dinner; re-read study notes and trouble areas. Every single day. I had the CFA Institute mock and a book of 6 sample mocks from a test prep provider. I did each mock once and then re-took it a day or two later. Over the course of the two weeks, I had done each practice exam twice, increasing my score (for the first attempt at an exam) from around 56% to 76%. I was feeling more confident. The baby would wake up each night crying. I would lock myself in the hotel room each morning.
Not the most conventional vacation, I'll admit. My wife would later inform me that this was the worst vacation she ever had.
So when my son started crying at 4am the night before the test, I was used to it. I was lying in bed staring at the ceiling, but I was not panicking. I was calm and collected. I was dreaming about financial statements when he woke me.
I was ready.
Exam Day
I arrived early to the test center, equation sheet in hand. My wife called me before I entered the testing center and wished me good luck. She then put my son on the phone. My four-month old didn't say anything, but young babies do not know what phones are. I knew that the silence on the other end of the line was my kid and passing this exam was a step towards giving him perhaps a better life.
I passed the Level II exam, scoring above 70% in most subjects. After getting my results, I immediately signed up for Level III and downloaded the e-books.
Studying with an infant who was becoming a toddler would present its own unique challenges and time pressures and I knew I wanted to get as early a start as possible. No trip to Cabo this year, but I felt prepared.
And I'm happy to report that I also passed my Level III exam, and I'm now officially a CFA charterholder!
Lessons Learnt
Family comes first. But that doesn't mean you can't pass your exam!

Knowing that your goals now include bettering your child's life can really motivate you to study!

If you fail, you can always re-take the test. You can't re-experience your baby growing up.
Need more advice on studying for the CFA exams as a parent? Read this article:
Questions? Want to share your own experience? Let us know in the comments below.