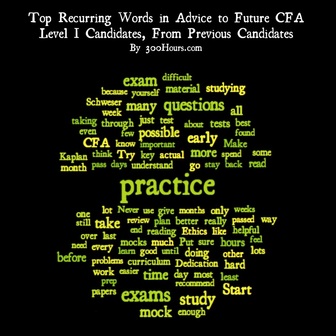 By Christine

As you know, advice from a past candidate can be valuable. So how about a thousand past candidates?
Following the recent CFA exam results, we received more than a thousand submissions from candidates on their CFA results and experiences, through our free CFA Analysis tool.
In our tool, we also included a commentary area for candidates to include any advice they have for future candidates. The idea is to look through all the advice, and see if there are any common themes that pop out that we can share with our readers.
We've done the analysis, and in this article we'll look at the five common themes that emerged from hundreds of advice snippets from actual candidates.
"Practice. Then practice some more."
The word cloud at the start of this post is generated from actual verbatim advice from all our submissions. The larger the word, the more frequent the word was repeated.
As you can immediately observe, the most repeated word was 'practice', followed by 'exam', 'exams' or 'questions'.
So as we've mentioned time and again, practice is the key to CFA success. Sure, you have to make time to study the curriculum, but make you make practicing your priority. If you end up going slower than you planned in studying the material, do not sacrifice practice time to catch up. Form a quick and dirty plan to get to the end of your reading, and start practicing.
Our CFA Exam Insights book includes analyses on the optimal number of practice exams candidates should be attempting. You can see a summary in the link below, or get a more detailed view and other analyses by reading our book.
---
"Start early. Progress, not perfection."

In the movie
The Equalizer
, Denzel Washington's character trains one of his fellow coworkers to gain the necessary fitness to pass his upcoming security guard exam. Denzel remarks "progress, not perfection" when encouraging his coworker to eat healthy and continue working out.
Progress, not perfection. In other words, don't worry about getting it all right, or waiting for the 'right time', just get things moving.
This also applies to your CFA studies. Starting early has a lot of advantages. You quickly learn what you're in for, and if you need more time than originally planned, you have some buffer time built in. You don't necessarily have to start with all guns blazing and risk burnout – just start early and start slow.
Progress, not perfection.
---
"It's not the content, but the volume. Prepare to put in the hours."
This will come as a revelation to some first-timers to the CFA exams. Taken in small portions, the CFA material isn't as hard as perhaps some subjects that you would have taken on in university. You shouldn't have significant issues understanding the sections when scrutinized individually.
The challenge is learning to master everything at once, in order to take the exam in a one-day sitting.
That's where practice is key. Many candidates happily work their way through the material, perhaps thinking that this isn't so bad after all, then get a rude shock when they take their first practice exam. It's completely normal, as chances are, most would have forgotten the earlier topics, and CFA exam questions are significantly more challenging to questions you've encountered before (don't let the multiple choice format mislead you).
Remember that it isn't that the topics that are hard to master, but rather managing the vast volume and the exam format that will prove to be the challenge.
---
"Pay attention to topic weights and focus accordingly."

There were many cases where candidates expressed that they could have managed their focus on topics a bit better. Some candidates focused too much on topics that weren't too heavily used in the exam, and others under-focused on what turned out to be significantly important topics.
The funny thing is, this information is publicly available. CFA Institute has a guide to exam topic weights, and our CFA Exam Insights further talks about historical performance and how past candidates found each topic. So when you're prepping for the CFA exams, sense-check yourself occasionally and see if your efforts are proportional to the exam weights and topic difficulty.
---
"Understand, rather than memorize."
The CFA exam questions are unpredictable. Since past questions are never released, you'll never know what is a 'typical' CFA exam question.
Practice exams from prep providers help, and the mock exams by CFA Institute give a better picture, but the best defense for this is to understand the material, rather than memorize it. Rote memorization may prepare you somewhat, but you may find yourself in trouble if the question types vary from what you're used to. If you thoroughly understand the topic, you'll be better prepared if a question takes an unexpected twist or angle in the real exam.
Of course, balance this with the amount of time you have left to study. But in general it's always better to put in the effort to full understand the topic and only memorize as a last resort.
If you're preparing for your own CFA exam, these are five important points to remember. To get more information on other exam tips, remember that you can get our CFA Exam Insights book in electronic format and on Amazon. And if you have any questions or comments, just drop them in the box below!