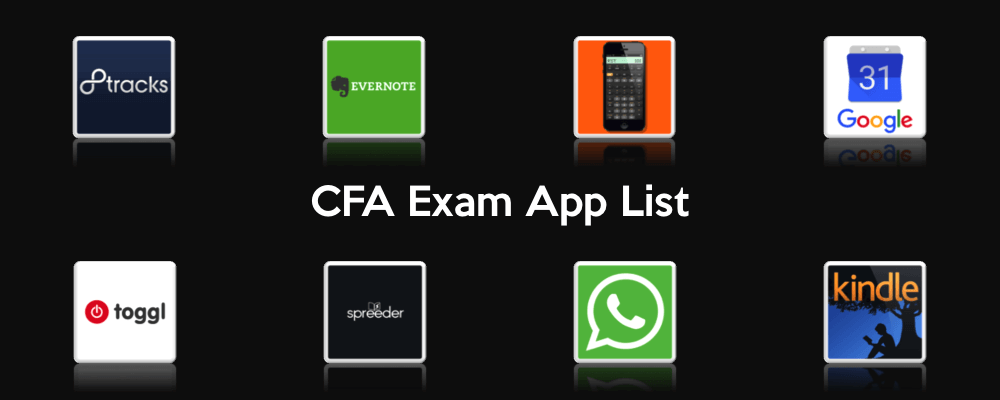 By Patrick Scholtes  | LinkedIn
While there currently is no technology that I know of to replace studying (now there's a dream!), there are some apps and resources that make studying easier.
I am going to share some of my favorite apps with you that will help you prepare for the CFA exam rather than procrastinate.
Stay Organized
---
Toggl Time Tracker




Toggl is a cloud-based time tracker that allows you to log your time both online and offline. It's easy to set up projects and split them into tasks. I used it to record my progress for each study session and make sure I was on track for completing 300 hours by Exam Day. As the old adage goes, "you can't manage what you don't measure."
---
Evernote

Evernote is a fantastic tool to write down your thoughts and organize your life. By providing a website, mobile app, and desktop application, Evernote makes sure you can access your notes anytime, no matter where you are. I used it to jot down questions for my instructor and to review practice questions that I had previously gotten wrong. Other than for studying, you can use it for your to-do list, grocery list, project ideas, reading list, travel plans, job search… People have even used it to write entire books!
---
​

Google Calendar




Just because you have a to-do list, doesn't mean things will magically get done in the future. We're more likely to get things done that are scheduled, so open your calendar and commit to a time and date. Every night before bed, I used Google Calendar to prepare for the next day and plan my review sessions.

You can also add the 300 Hours CFA Calendar to your personal calendar – just use the link below.
---
​Read Faster & Better
---
Spreeder




By increasing your reading efficiency, you'll spend less time reading and more time practicing. Spreeder is a free web app that lets you copy/paste any text you want and speed read it. You can adjust the words per minutes (wpm), number of words per chunk, font size and color, and several other settings. Check out Sophie's post for more

speed reading techniques

.
---
Kindle

CFA Institute provides an e-book version of the material, which can be accessed using VitalSource Bookshelf. Wouldn't it be nice if you could read it on your Kindle though? It turns out you can! Simply copy the text you're interested in into a Word document and transfer it to your device using "send to kindle"!
---
Increase Your Focus
---
8tracks




​There is a virtually infinite number of

study playlists on 8tracks

to help you focus and stay motivated. All playlists are handcrafted and can be accessed free of charge via the website or the mobile app.
---
Nature Sounds for Me




Nature Sounds for Me lets you create soothing soundscapes to drown out distracting noises in order to concentrate or relax. Choose from the most popular compositions or create your own by blending up to four different nature sounds. Whether you prefer the calm ambiance of a rainy day by the ocean or the lively atmosphere of a forest, the possibilities are countless. Check out Sophie's post for more

ambient sound apps

!
---
Other Useful Stuff
---
WhatsApp




Other than texting your friends, WhatsApp allows you to be part of a study group. While some people might find this useful, others might find it a bit distracting. By joining a study group, even a virtual one, you might get the help and support you need to succeed. I haven't tried this myself but WhatsApp study groups appear to be popular. If you're interested in joining one, check out the

CFA Group on LinkedIn

, people regularly initiate new ones.
---
BA II Plus Smartphone App

If you keep forgetting your calculator or are tired of carrying around a separate device, there's an app version of both the TI BA II Plus (iTunes only) and the HP 12c (iTunes/Google Play). Just keep in mind that you can't use your phone during the CFA exam.
What apps do you use in your CFA prep? Let us know in the comments!