Environmental, social, and governance (ESG) investing is a rapidly growing practice within institutional investment, accounting for non-financial factors in financial valuation. Investors are incorporating ESG analyses to gain a fuller and more thorough understanding of companies.
In response to growing ESG demand, CFA Institute administers the Certificate in ESG Investing, and now Kaplan Schweser, leading prep provider for the CFA exams, has launched their study package for the CFA Institute Certificate in ESG Investing.
---
What is CFA Institute's Certificate in ESG Investing?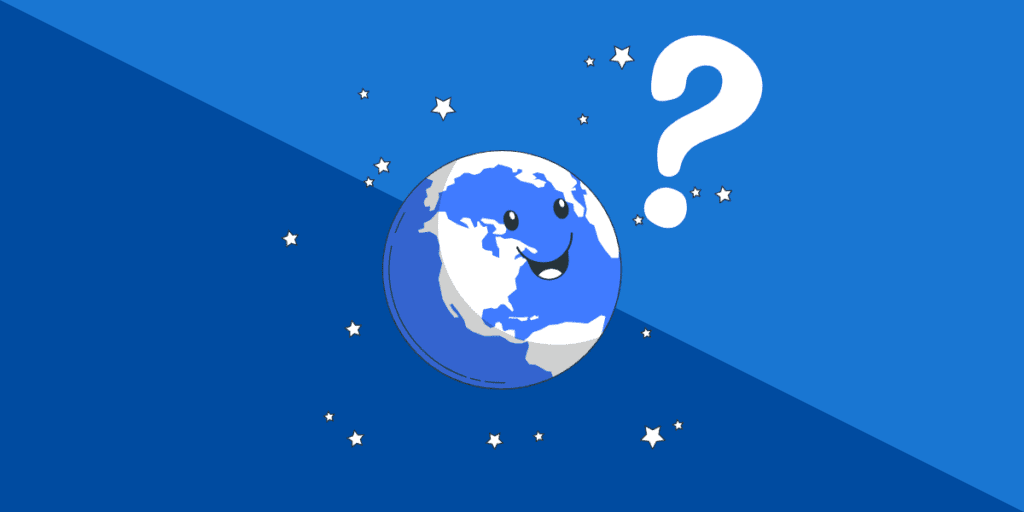 Initially developed by CFA UK in 2019, from 1st September 2021, the Certificate in ESG Investing is owned and administered by CFA Institute to provide worldwide access to this global credential.
This certificate is designed to meet the investment sector's increasing demand for further education, guidance and standards around ESG (environmental, social and governance).
The certification is a single 2-hour, 20 minute computer-based exam, available globally.
More questions about the ESG exam process? Check out Kaplan's ESG FAQ and primer.
Is ESG for you?
Obtaining the ESG certification demonstrates your knowledge in incorporating environmental, social, and governance factors in institutional investment analysis and your day-to-day responsibilities.
Suitable for anyone working in front or back offices and adjacent roles, this is also a great way to increase your understanding of current ESG issues and events.
Kaplan Schweser's study package for CFA Institute's Certificate in ESG Investing exam
Kaplan Schweser has been a leader in financial education and exam prep for more than 30 years – their CFA study packages have been the market leader for decades. With the launch of their ESG Certification Course Package, they're well-positioned to replicate their success in for the ESG exams.
Their ESG package promises to be an "efficient, effective study plan that is exam-focused and results-driven", with "top-of-the-line instructors, study materials, and delivery platforms that are backed by decades of proven learning science."
So what do you get with Kaplan Schweser' study package? Here's summary of what you'll receive – we'll dive into each item in detail.
20+ hours of OnDemand instruction from Kaplan Schweser's expert instructors
The OnDemand instruction videos cover the entire ESG curriculum. If you follow Kaplan Schweser's Activity Feed recommendations (more on that below), the OnDemand video lectures should be viewed after you've read through the relevant readings from the curriculum. This is designed to help you review and clarify concepts you've just studied, before taking a practice test.
The instructors in the videos are exceptionally experienced. They include Jim Maher, CFP, with 30 years of experience in the financial planning industry as both an educator and advisor, including Department Chair and Professor at the College for Financial Planning and Content Specialist with Kaplan Financial Education.
Slides from all lectures are also downloadable as PDFs – although they won't include instructors' handwritten notes made during the lectures.
SchweserPro QBank containing 500+ exam-like questions
At the end of each reading (or sometimes a few readings), the Activity Feed will prompt you to take a 10-minute Qbank test. This helps hammer home concepts you've read in the curriculum and reviewed with the OnDemand instruction videos – a combination that we know, from experience, works very well.
However, if you want some extra practice on your own, you can also build your own tests. You can configure the number of questions you want in your test and filter by question type (such as excluding used questions, or including previously incorrect questions).
You get your answer checked immediately after each question, together with the answer explanation. The feel of this is more learn-as-you-go rather than a test environment, which is perfect for the learning stage of prep.
The quality of the questions are meant to check your knowledge and not quite exam-level. But for general practice, you can generate many mini practice exams as you need, which I found really key for good preparation.
Interested in how their study package helps your ESG exam practice? Here's more detail on their QBanks and Mock Exams.
Getting Started Guide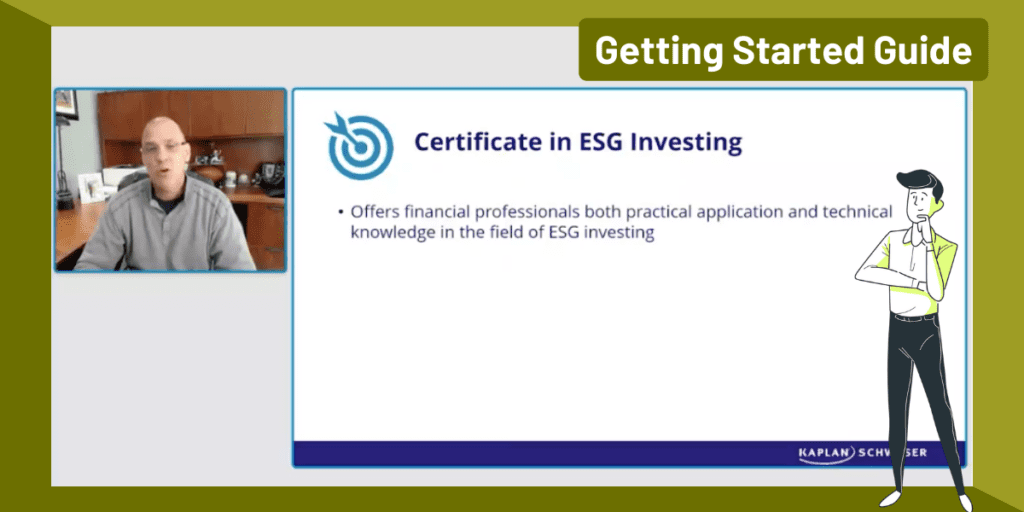 The Kaplan Schweser ESG study package includes a Getting Started Guide. The CFA Institute Certificate in ESG Investing is a relatively new exam, and this Getting Started Guide is key to understanding the basic aspects of it and how to effectively prepare.
The Getting Started Guide is a 15-minute video aiming to familiarize you with the exam, study process, and exam day tips, including:
Overview of the ESG exam process and exam-taking logistics
Overview of Kaplan Schweser's approach to studying and practicing
Overview of what's included in your Kaplan Schweser package and how to access all included features
Studying techniques and tips to help you learn as much in a time-efficient manner
Exam-taking tips
We highly recommend watching the Getting Started Guide before doing anything else. It gives you a good overview of what you're in for, outlines how you should prepare, and summarizes best practices for taking the exam. You will be set up to prepare better knowing all this before you start.
More questions about the ESG exam process? Check out Kaplan's ESG FAQ and primer.
Activity Feed to guide your learning from start to finish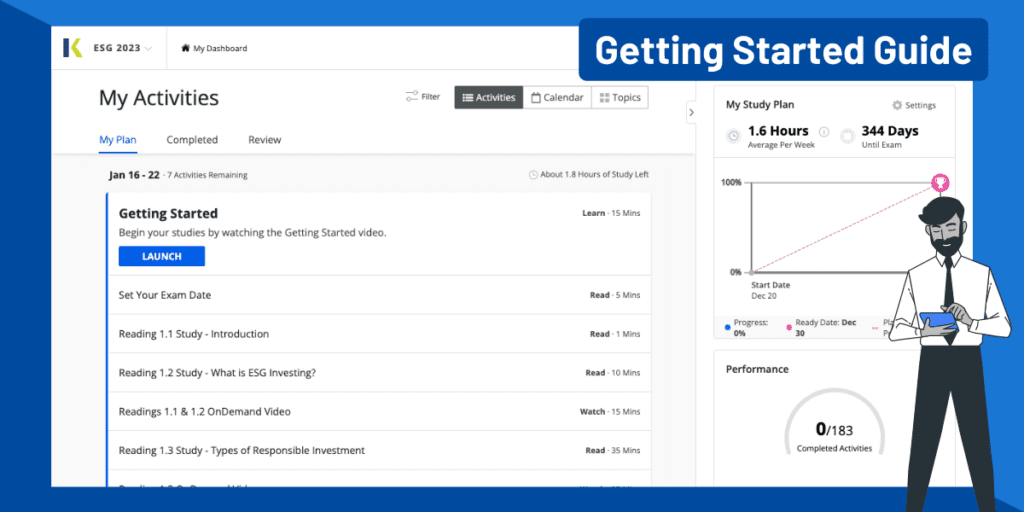 Kaplan Schweser's Activity Feed is what you see when you first get to your Dashboard. It's a hybrid of a study schedule and guide that outlines when you should complete areas of your ESG study package, and by when.
For example, the Activity Feed starts off with getting you to watch the Getting Started video and setting your exam date, then working through the curriculum readings and chapters. For each reading (or sometimes groups of readings), the Activity Feed recommends studying through the curriculum, then watching the OnDemand class, before taking the Qbank quiz and self assessments.
Mock exams are recommended by the Activity Feed right at the end. But since you can attempt each mock exam up to three times, personally I would prefer to take one mock exam earlier, to get a feel of what I'm studying for.
Two 100-question, realistic Mock Exams
The Kaplan Schweser ESG study package includes two Mock Exams which aim to simulate the real ESG exam. They have 100 questions each to be completed in 2 hours and 20 minutes, and covers the entire ESG curriculum.
The Schweser Mock Exams are as close as you can get to the actual ESG exam in format, difficulty, and length. The questions in the mock exams are exam-standard, meaning you get a similar challenge as you would during exam day. Mock exams are also a good way to get a feel for the test, identify any weak areas and guide your review.
Kaplan Schweser's mock exams are available in two formats:
Online: The 'standard' Kaplan Schweser online interface.
Exam Sim: An exam simulator designed to replicate the interface you will encounter on the actual ESG Exam. We recommend that you use this – the closer it is to the actual exam interface, the better.
When you've completed a mock exam, you can review answer explanations and also compare your scores to other candidates in the Performance Tracker.
As mentioned earlier, you can attempt each mock exam up to three times, so you can always come back and have another round of practice.
Interested in how their study package helps your ESG exam practice? Here's more detail on their QBanks and Mock Exams.
Kaplan Schweser Community – connect with candidates and experts
The Kaplan Schweser Community is Kaplan Schweser's own discussion forum for candidates to discuss questions and get help for their studies. Access is restricted to paid and logged-in candidates, who can post questions they have.
How is this forum different to other (free) forums? Kaplan Schweser instructors join the discussion and answer your questions alongside other candidates, so you're more likely to receive high-quality help. See the example below: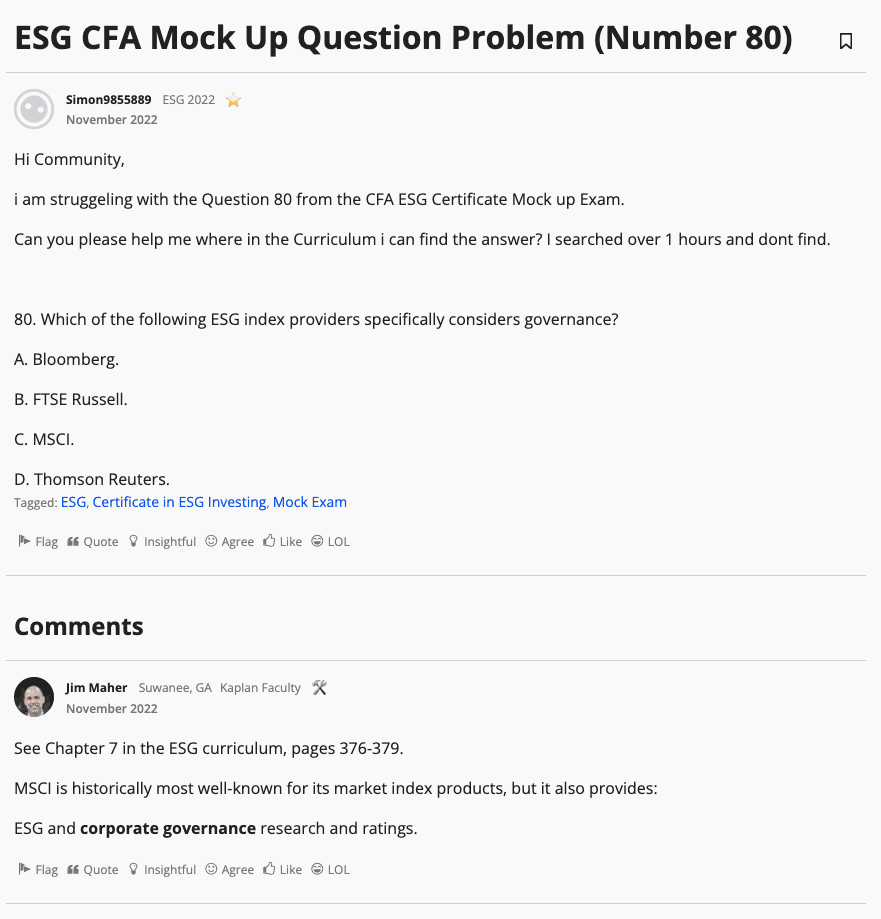 As of right now, the ESG exams do not have their own category in the Kaplan Schweser Community. Instead, it's currently in a combined category of "CAIA, ESG, & FRM", which can make navigating content specific to your exam a little challenging. But despite that, it should be a handy tool for candidates to clarify any points they might have while preparing for their ESG exams.
Additional Features included with Kaplan Schweser's ESG Study Package
Included with the ESG study package is InstructorLink – a direct helpline to Kaplan Schweser's instructors. If you've got a question, you can basically raise a support ticket to which Kaplan Schweser's instructors will answer. To access InstructorLink, while logged in, select "InstructorLink" under "Study Tools." Any comments sent via this link will be sent directly to the instructor.
The Kaplan Schweser ESG study package also comes with PassProtection. PassProtection ensures you don't need to pay again for updated materials if you fail your exam. It's not without terms and conditions though – you'll need to have answered at least 50% of your available online questions (e.g., SchweserPro QBank, Mock Exams). To receive credit, your answers must be entered into the online platform. Written answers will not count toward your total questions answered.
Want more details? Here's Kaplan ESG's full feature list.
Is the Kaplan Schweser ESG Study Package good value for money?
Kaplan Schweser's ESG study package is priced similarly to other providers – and the volume of materials you get (such as number of questions, mock exams) are similar.
But what about quality? Kaplan Schweser does have a lot of experience working with the CFA exams and CFA Institute, so candidates may feel more at ease with a provider with a longstanding reputation for their ESG certificate.
Compared to what CFA candidates spend on their materials though, ESG exam materials seem like great value. CFA candidates can expect to spend as much as USD1,300 per level on third-party prep materials.
Our thoughts on Kaplan Schweser's CFA ESG Certificate study package
CFA Institute's Certificate in ESG Investing is a great qualification to sink your teeth into ESG knowledge and accreditation, and it's great for ESG that Kaplan Schweser are now providing study materials it. The study package hits the important points:
provides study guidance to candidates
has lots of practice questions through their Qbank and mock exams
makes good use of the CFA Institute's curriculum materials
solid value-for-money
includes important perks such as PassProtection
You can check out their study package over at the Kaplan Schweser website. Their pricing is good and through their PassProtection, you only pay once until you pass. Check them out here!