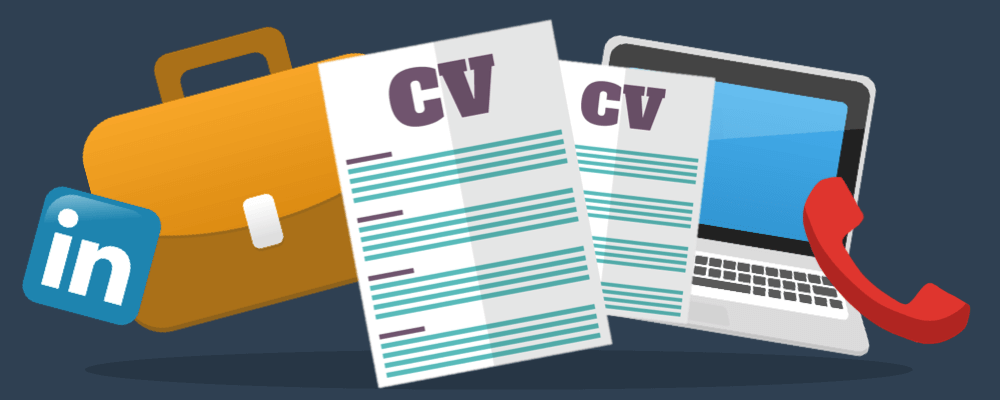 By Zee
So how does one be good at landing job offers?
Besides obtaining CFA charters, the other thing the team here at 300 Hours has been historically pretty successful at are job offers. Having switched jobs multiple times each, every one of us is also well acquainted with the art of applying and obtaining jobs.
There are several key things that you'll need to be good at to be good at to start getting job offers, and that's what this series of articles is about. We will be going through key skills to job-hunting, and in this article we look at CVs.
What's the function of the CV in getting you a job?
The CV gets you the interview, and no further.
The CV is important in getting you on the path to landing a job, but it only takes you as far as the interview. If a job is a relationship, your CV and networking skills get you that first date. To seal the deal, you'll also need to master the art of smashing it during interviews (hint: get as much practice as possible).
Now let's talk about the base skill of crafting an effective CV.
How to Create a Rockstar CV
---
1. Be prepared to spend a lot of time on your CV.
CV writing is a massive pain in the ass. It's highly open-ended, you haven't a clue what's important, and there's no end to how much you can edit and format. But having a killer CV is highly important. Once you've crafted a really eye-popping CV, you can duplicate that baby and send it in all directions. CVs get you interviews.
Without a good CV, you won't get any interviews. Not even with connections.
2. Find out who it's for.
The hiring manager, the HR person, someone. Don't use generic terms such as 'sir', 'madam', or 'recruitment team'. Ideally, use an inside contact to refer you, or put your CV through. Spend time to tailor your CV and cover letter to different companies.
Do not use templates that work for multiple people or companies. You may think you're being clever and using generic terms that saves you time, but they won't be fooled. They'll see clumsy efforts coming a mile away and you will get busted.
3. Know how many pages you need.
Every country has their own convention for CVs – one page for US, two pages in UK, photos as standard in Germany, and so on. Find out what works for your country and stick to it.
4. Choose a good font
If you compare your CV font to what you'll wear to the interview:
Handwriting fonts are like wearing your house clothes. Sloppy.
Fancy fonts like Papyrus are the equivalent of wearing a clown suit – definitely memorable, but for the wrong reasons.

There's nothing technically wrong with overused fonts like Times New Roman and Arial, but it's boring. People tend to forget boring stuff.

You want to stand out a little bit, so look for fonts that have great readability but are a bit different from the standard stuff. Fonts like Helvetica, Helvetica Neue, Lato, Garamond, Georgia will work great.
4. Suit the role you're applying to.
If you're applying to multiple job types, you need to create different CVs emphasizing different strengths and experience.
5. Have a 'mother of all CVs'.
Keep a master copy of a really long CV, with every single thing you've done on it, with no regards to length constraints.
The purpose of this CV is not to send to companies, but as a reference for other CVs and something to use for interviews. You will also cherry-pick achievements and details to create CVs to suit different industries.
6. Your CV must work whether the reader has 5 hours, 5 minutes, or 5 seconds.
This is where writing succinctly and formatting will be key. You have to be interesting to keep the reader going. Your formatting should also be clear so that if a reader only has a minute to scan, they can get the main points from your section titles.
Bolding and bullet points are your friends. Long paragraphs and sentences are not.
7. Sense-check, tidy, no errors.
It needs to be flawless. Print it out, see how it looks, and get somebody else to have a look at it too. Check for spelling and grammatical errors.
8. Sum up your dates.
Make sure the dates tally up and that you can account for any time 'lost' in between jobs/education.
9. Update it often.
Always send a current version of your CV. And by current, we mean one that's considered everything you've done up till now.
10. Augment it with LinkedIn.
Create a LinkedIn profile and link employers to it in your cover letter. This will help follow ups, and might even get you a job in the later years. The more people you know, the better!
​If you're a CFA candidate, you should also read our guide on how to maximize your CFA status on LinkedIn.
---
This is one segment of our 3H Job Hunting Guides. View all of them here:
Are you guilty of not being through enough when preparing your CV? Let us know below!