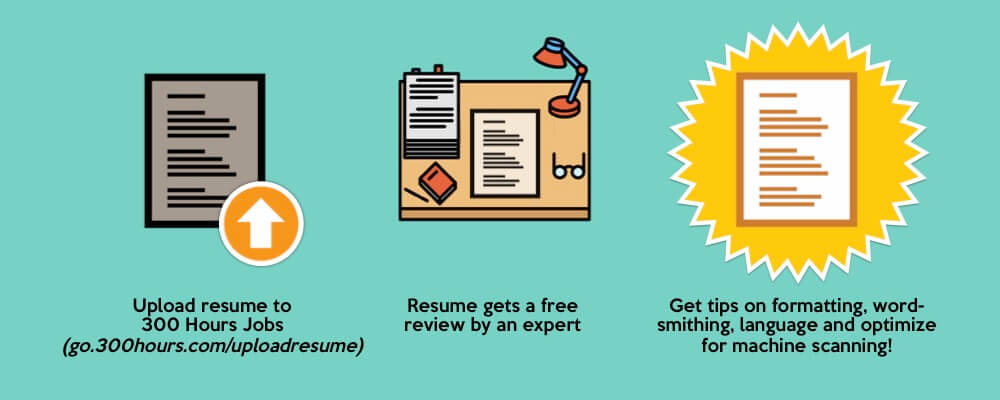 By Mike
When 300 Hours launched their job portal, Zee asked me if I'd like to try out and write about a
free resume/CV review service
. I'm always on the lookout to improve my professional skill-set, and even though I'm currently not actively looking for a job, I'm really lazy when it come to updating my resume. A free opportunity to review and further develop my resume sounded great to me.
The free review service, to be honest, surprised me. It was actually really helpful, a lot better than I expected, and helped me improve my resume in ways I did not know needed improving. Here are my thoughts on the experience.
How to get a free resume review
300 Hours offers this free to all their readers. Just upload your resume here – when you do so, you'll get an option to get a free review done. You can also keep your resume completely private, by the way, in case you're not keen to let employers view your resume.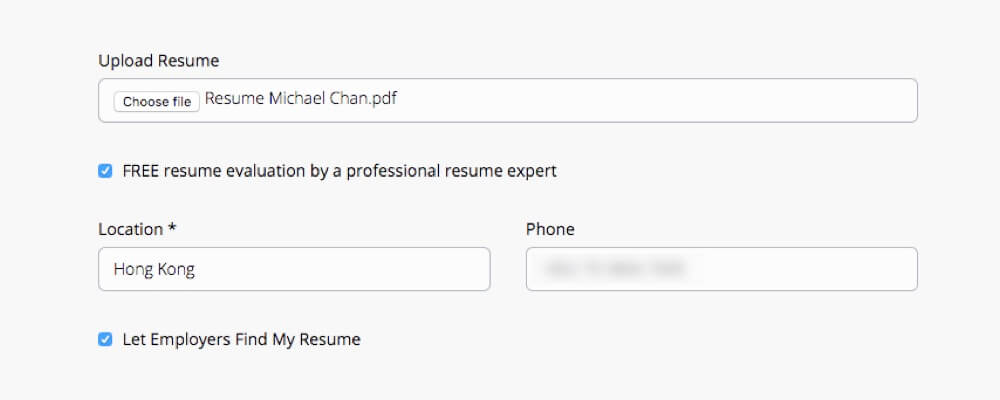 Once you submit your resume, you'll get a confirmation that your review is underway. This is not done by automated software, but by actual professionals, so it'll be a few days before you get your review. This should be pretty fast, but some resume reviews do take longer than others – a friend of mine whom I recommended this to got her resume back after a week.
I was genuinely curious to hear back from them. Over the course of my career, I've spent many hours sweating over my keyboard perfecting my resume, so my honest thoughts on my resume was that it was well-presented, carefully thought out, and more-or-less the best it could be.
So when I got my review, it was surprising how many points of improvement there were.
The resume feedback I received
I received my resume review after a few days. The review consists of a few sections – the first of which is a subjective review covering the overall presentation, formatting and language of your resume. Being a free review, the review doesn't go too much into specificity, but the weak points that they pointed out were interesting and well-reasoned.
I've since modified my resume to reflect their feedback, and you can always resubmit your resume to re-evaluate it. Alternatively there are also professional resume-writing services available, if you'd rather just pay to have someone do all the heavy lifting for you.
The screenshot below shows some of the feedback I received. The yellow highlights are mine, where I thought the suggestions were helpful in improving my resume.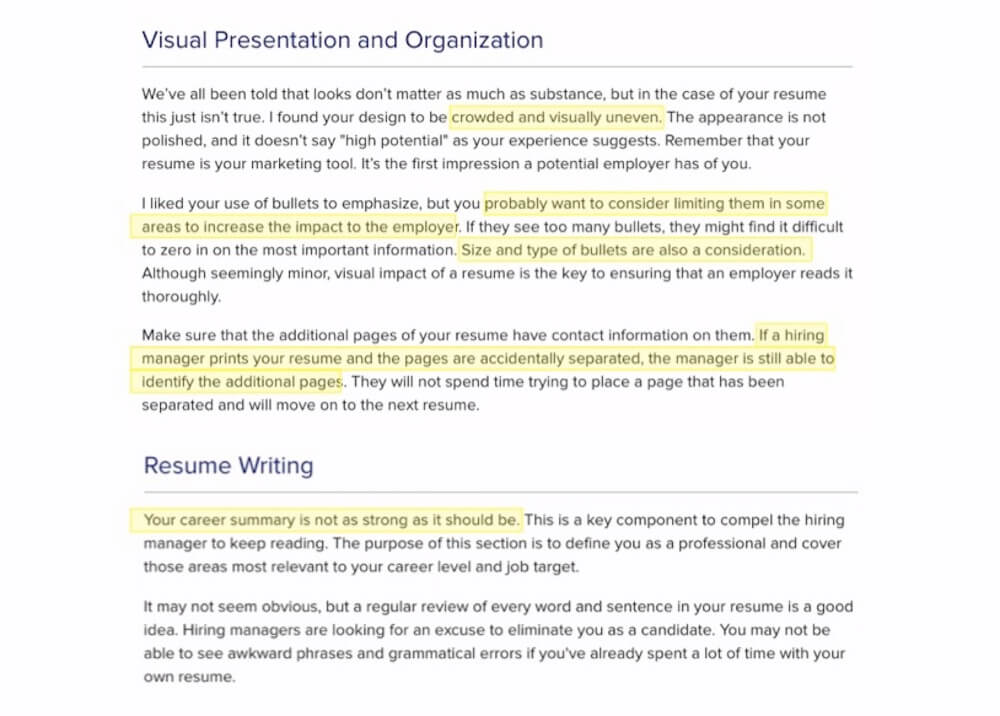 'Digital Readiness'
The Digital Readiness section shows a few quick facts on the size and type of the resume file that you submitted, and whether it's optimal, or whether you need to change your file type and/or size.
I was told that I needed to have my resume in a Word doc version as well, but I'm not sure if I agree with this. I do see their point that Word documents are easier for machines to read, but Word doc resumes can be accidentally reformatted and look pretty terrible for humans to read, depending on their Office versions and font packs, so I'm sticking to PDF on this. (HR experts, if you think or know otherwise, let me know in the comments please!)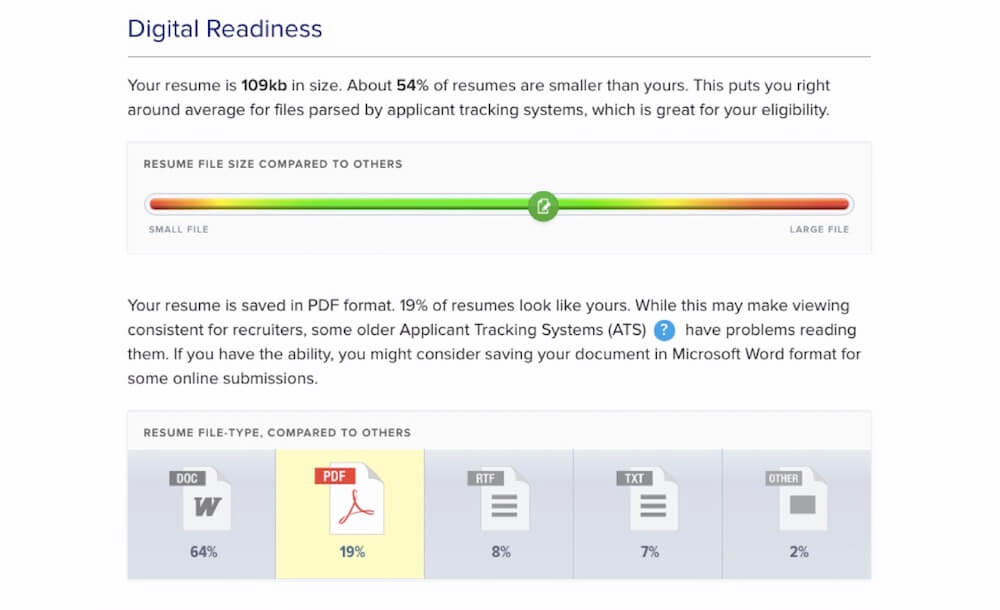 Resume Scanning Software Litmus Test
Nowadays HR managers all use automated software, so naturally an important angle was to see if your resume is well-tuned to be read by machines. This is where I really found it interesting, as I have not had this kind of analysis done for me before. My resume had some pretty gaping holes which I quickly fixed.
The resume scanning software litmus test revealed that my resume doesn't properly show crucial pieces of information, like who my current employer is, and where my current location or city is. Whoops.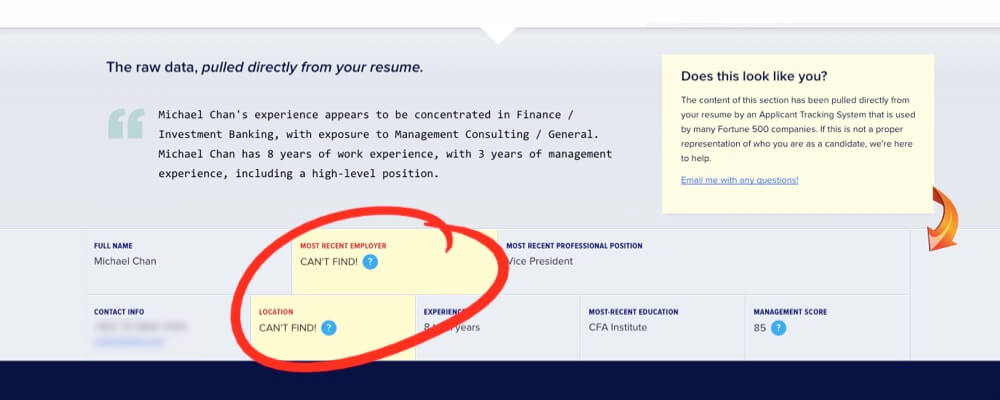 Again, these issues are easily fixed once you know they are there.
​Keyword Analysis
There is also a keyword analysis which reveals how software reads your resume and suggests roles best fit to your skills. If you're targeting a particular role, this would be helpful – although it would be better to have more granular categories.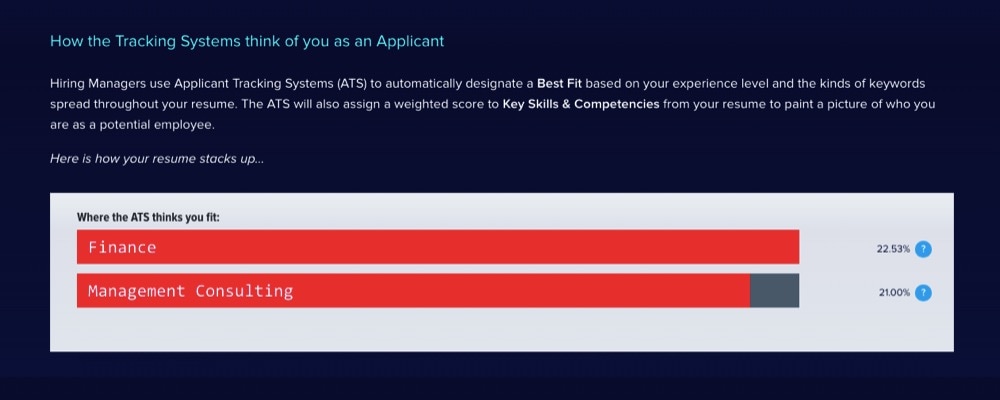 The detailed keyword analysis is also very helpful to make sure you're surfacing the right kind of skills to suit your ideal roles.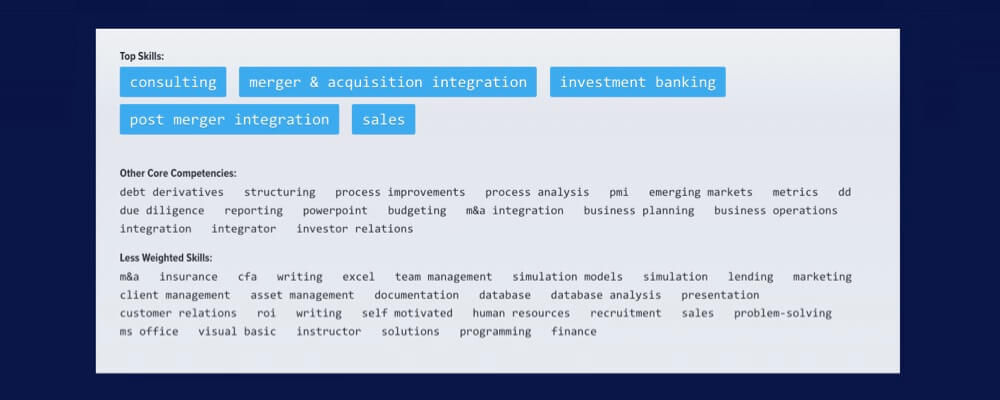 How to use this to improve your resume
The free way to use all of this, of course, is to take all the feedback you receive and use it to improve your resume. I found it quite easy to incorporate the machine-scanning feedback, and you can reword your resume based on the feedback you receive. I'd also recommend resubmitting your resume once you're done incorporating your feedback just to check that the issues are addressed.
Professional writing services available too
If you'd rather have someone else do it, there are also professional writing services on offer. I wasn't expecting to actually go for it, but I was impressed with the quality of the free review, so I decided to take a punt and chose a package – they're not too expensive. I'll be sharing my experience on that in a future article!
You can get the professional writing services straightaway here, or alternatively you can choose one of their suggested services once your review is completed.
Final thoughts and recommendations 
I highly recommend the free resume review. Anyone that's serious about job-hunting should at least get this done. I've recommended this to all my friends, especially the ones that are currently job-hunting.

The professional writing services are not bad, but as they come at a cost you'll have to think about it yourself. I personally find it worth it to have someone properly brush up my resume, but I also remember the early graduate days where every dollar matters, so you'll have to decide for yourself whether it's worth the investment.
The above are my personal opinions on Topresume's free resume review. If you have any questions or comments, you can reach me by commenting below.