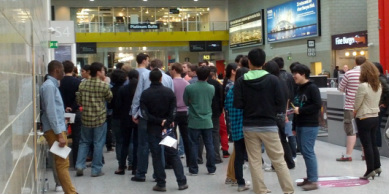 What you you think these guys are doing?
If you guessed 'waiting to enter the CFA exam hall' – you'd be right. Well done you.
Thing is, they're waiting to go in after the exam had already started.
These guys, ladies and gentlemen, are the lesser-seen aspect of the CFA exams – the people that, despite months of preparation and study, and multiple reminders from the CFA Institute in a myriad of formats, somehow manage to be late to the exam hall.
I did a quick count when I was in the Excel Centre this June for the exam, and I counted about 40-60 people stuck outside each of the large halls after the doors closed. Each hall accommodates probably about 1,000 people, so you're looking at about 5% of people being late for the exam.
Seriously guys, you can do better than that.
Why is it that some people always manage to be late? It doesn't matter how important the occasion – wedding, visit from the Queen, CFA exam, some people just show up late. Of course, occasionally there are just some circumstances that lead to unavoidable delays, but I just refuse to believe that 5% of CFA candidates are late due to unavoidable circumstances.
This is why I have always maintained that sometimes candidates focus so much on the material that they forget to take just a tiny bit of time to prepare for some small but highly important things that can seriously affect your exam. Come on, spend some time thinking over things like your travel game plan and list of items for exam day to avoid crappy situations like these. And just be conscious of the time for goodness sake.
Just in case you're wondering – if you were late into the exam hall, you are still allowed in, but only after the exam has started.