The demand for more sustainable, responsible and impact (SRI) investing options is real, even at the retail investor level:
Thanks to a stricter definition of what constitutes sustainable investing in the US, these assets now account for $8.4 trillion, or 1/8 of the total US $6.6 trillion assets under professional management.
Retail and high net worth individuals are increasingly using an ESG (environmental, social and governance) investment approach with $916 billion in sustainable investment assets.
This demand for SRI expertise in the financial advisory space has led to the creation of the Chartered SRI CounselorSM designation (CSRIC®), which is developed by College for Financial Planning (CFFP, a Kaplan company) in partnership with US SIF – The Forum for Sustainable and Responsible Investment.
If you're a finance professional looking to signal your ESG expertise to your clients, the CSRIC professional designation program may be a perfect fit for you:
it's quite cost effective with high success rate and a short time to certification (4 months);
although US-centric, the course is growing in popularity and available globally;
you can add a 'Chartered SRI CounselorTM' or 'CSRIC®' title after your name upon passing.
Here's everything you need to know about the CSRIC certification, let's take a look!
---
What is CSRIC designation (Chartered SRI Counselor)?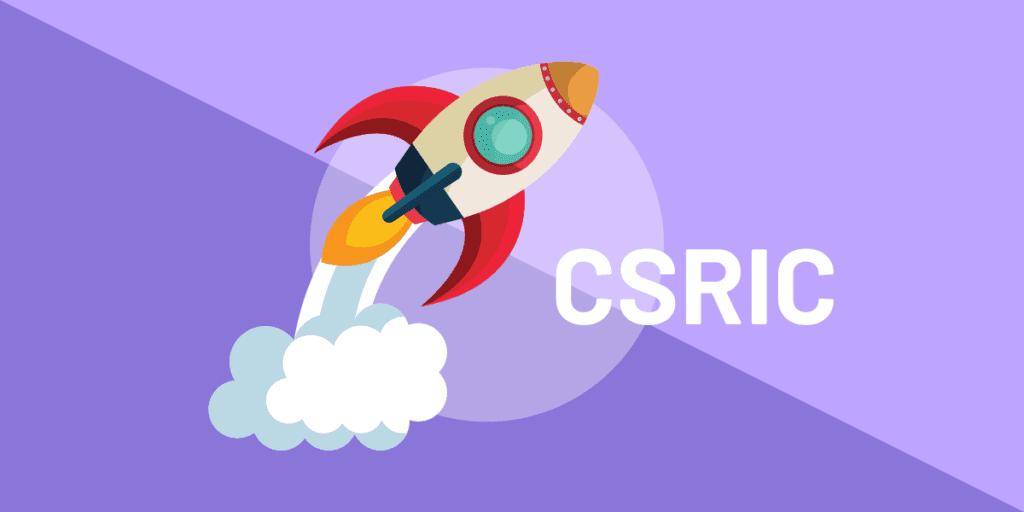 In response to investors' demand for more responsible investing options, the Chartered SRI Counselor (CSRIC®) professional designation was launched in 2018, having been developed by College for Financial Planning (CFFP, a Kaplan company) in partnership with US SIF. US SIF: The Forum for Sustainable and Responsible Investment is a US-based association that advocates for sustainable, responsible and impact (SRI) investing across all asset classes.
The CSRIC designation provides financial advisors and investment professionals with foundational knowledge about the history, definitions, trends, portfolio construction principles, fiduciary responsibilities, and best practices for sustainable investments.
Since its launch, there are more than 900 CSRIC certified graduates globally, mostly in the US.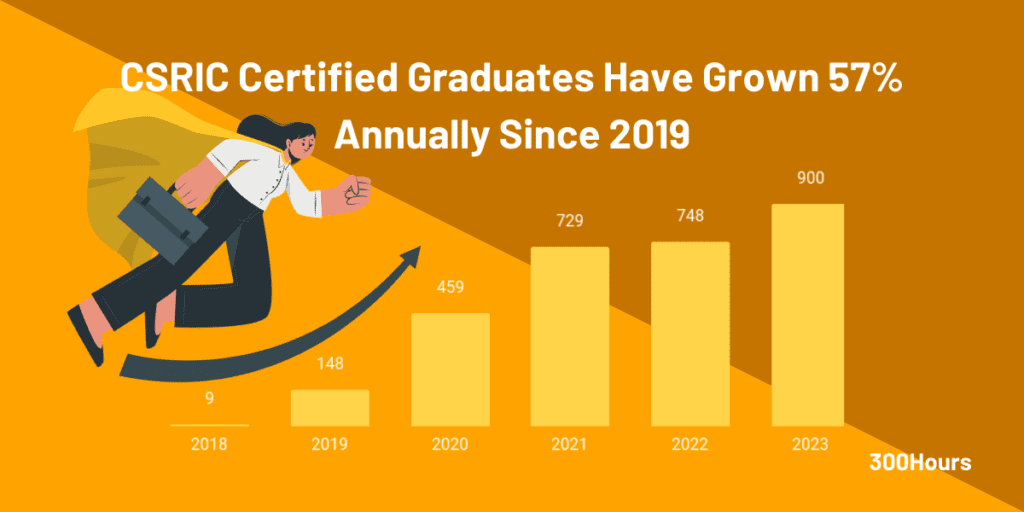 Although still in its early days, the Chartered SRI Counselor certification is growing fast, with the number of CSRIC certified graduates growing at 57% annually since 2019.
---
Who is CSRIC suited for?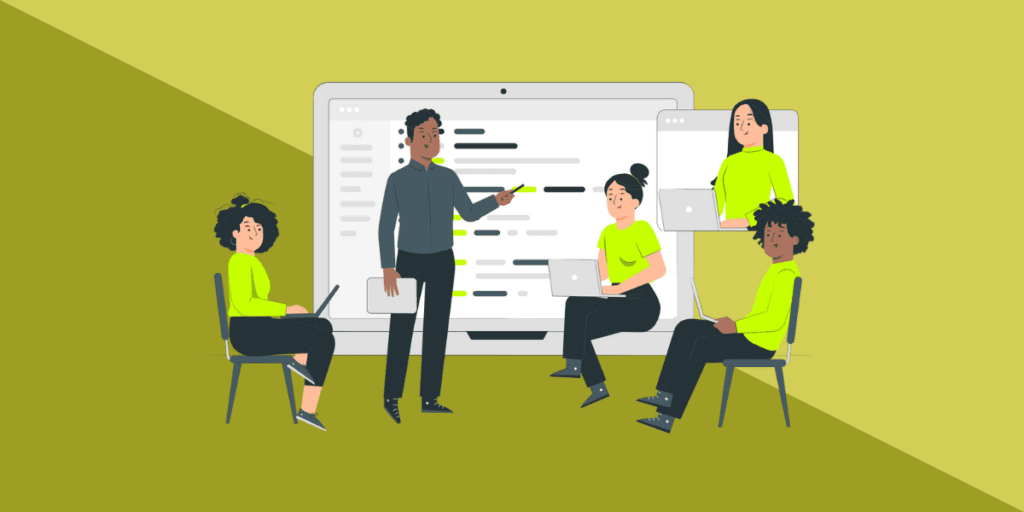 The CSRIC designation is a graduate level course ideal for financial professionals seeking to expand their knowledge and skills in environmental, social, and governance (ESG) investing. It teaches foundational knowledge and best practices for advising clients on sustainable, responsible, and impact (SRI) investments.
Although most CSRIC candidates are currently financial advisors, there are also candidates who are asset managers, traders, equity analysts, and in corporate finance.
Successfully completing the CSRIC program also earns credits which can be applied towards the College for Financial Planning's Master of Science in Personal Financial Planning graduate degree program.
---
CSRIC exam format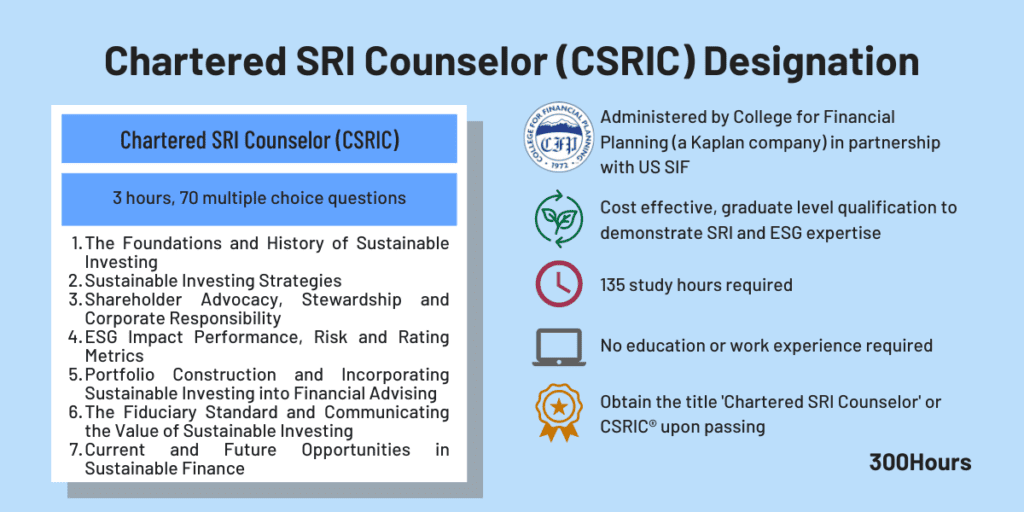 The CSRIC exam is a 3 hour long exam, consisting of 70 multiple choice questions.
The exam is done online through College for Financial Planning's (CFFP) learning platform.
It is not remotely proctored and there is a maximum of 2 attempts to pass, i.e. if you don't pass first time, you can re-attempt with a different exam.
The exam is graded immediately upon completion.
Upon signing up for CSRIC course, candidates will get access to the online learning platform which provides candidates:
120 days from the date they are provided online access to complete the CSRIC course (including testing and passing the final exam);
a choice of either live online classes or on-demand pre-recorded lectures for learning;
access to course materials (course eBook), module quizzes, 2 practice exams and final exam.
Similar to other professional financial designations, CSRIC is a self directed learning program where it offers candidates the flexibility to pace themselves.
In fact, College for Financial Planning is the (sole) CSRIC course training provider which means that the exam fees already include all the study materials you need, including practice exams.
In terms of study hours, it takes approximately 135 study hours to prepare for the CSRIC exam.
---
Pass rates & passing score
To pass the CSRIC exam, candidates must achieve a passing score of 70% or higher.
The pass rates are not disclosed by CFFP, but we expect it to be quite high – at least 80% if we had to guess – given the 2 attempts provided to pass.
---
Topic areas & weights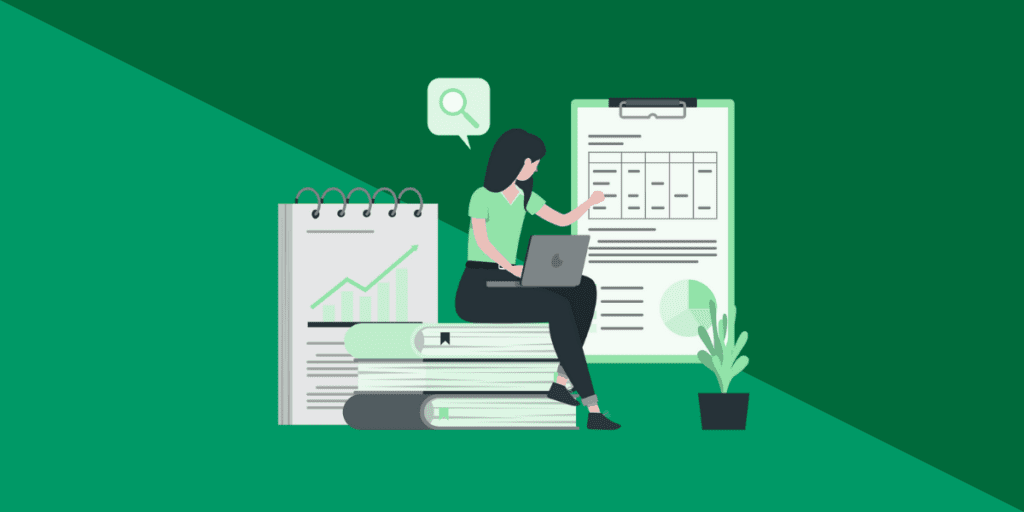 In terms of syllabus, the CSRIC program has 7 modules which covers:
The Foundations and History of Sustainable Investing
Sustainable Investing Strategies
Shareholder Advocacy, Stewardship and Corporate Responsibility
ESG Performance, Risk, and Rating Metrics
Portfolio Construction and Incorporating Sustainable Investing into Financial Advising
The Fiduciary Standard and Communicating the Value of Sustainable Investing
Current and Future Opportunities in Sustainable Investing
Interestingly, there are no published topic weights for each module that would be tested in the final exam. That said, most learning objectives in the course are tested at least once.
---
CSRIC exam fees & costs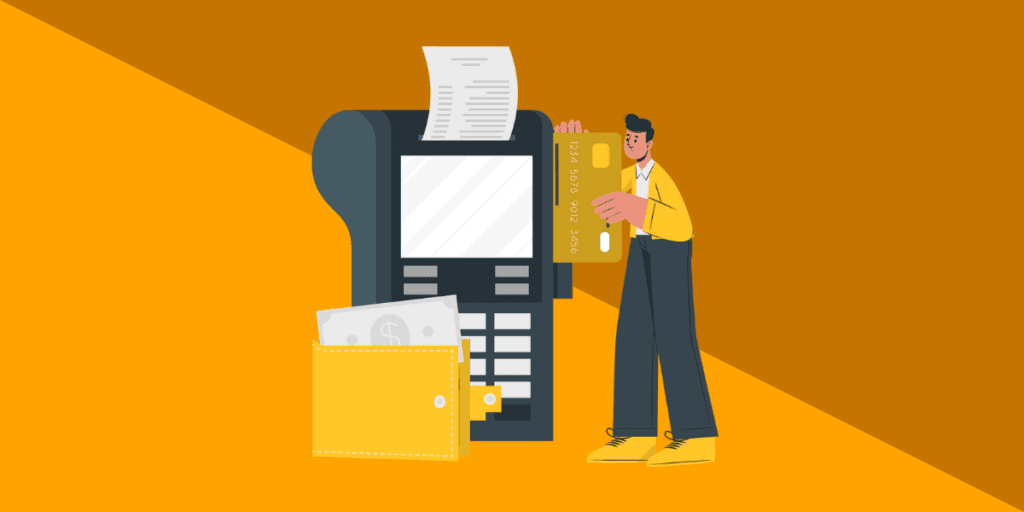 As mentioned earlier, College for Financial Planning (CFFP, a Kaplan company) developed the CSRIC designation in partnership with US SIF. CFFP administers the CSRIC exams via its online platform and handles the training program too.
The CSRIC program costs US$1,300 in total, which includes everything you need in a program via its online learning platform:
Exam registration fee,
Choice of live or on-demand classes,
eBook study materials (if needed, physical copies cost $150 extra), module quizzes, practice exams, resources documents, course introduction and the final exam.
Upon passing the exam, there is a small renewal fee of US$95 that is applicable every 2 years and ongoing renewal requirements.
---
Exam schedule & key deadlines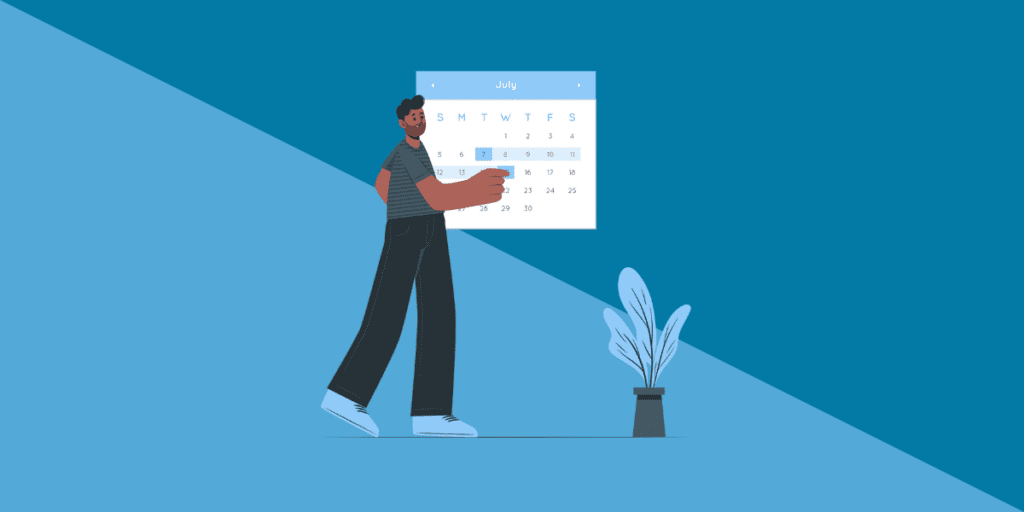 There is no set schedule for the CSRIC exam, as it's done online (and not remotely proctored).
Once registered, candidates have up to 120 days to complete the program, including testing and passing the final exam.
The final exam becomes available after a candidate completes all the required studying and preparation (i.e. attending online classes or viewing on-demand classes, study the eBooks, complete module quizzes and practice exams).
---
What are the requirements for CSRIC designation?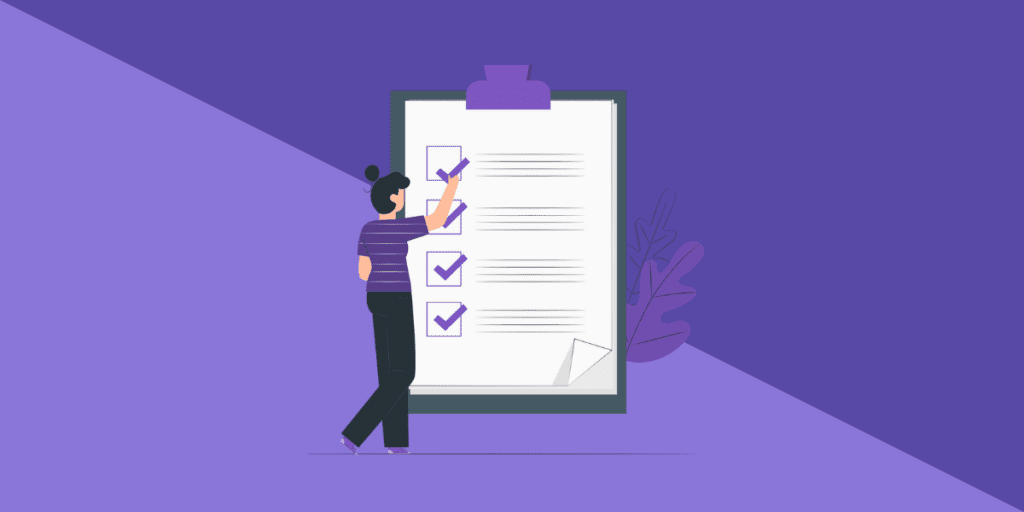 CSRIC is designed as an approachable foundational course in sustainable investing, hence there are no educational or work experience prerequisites to sign up.
To be entitled to use the Chartered SRI CounselorTM or CSRIC® marks, candidates must:
pass the final exam;
abide by standards of professional conduct;
comply with self-disclosure requirements regarding their professional conduct;
complete 16 continuing education (CE) credits per designation within the two-year authorization period.
There is a small US$95 renewal fee that is payable every 2 years to maintain the right to use the CSRIC title.
Since CFFP also offers a variety of professional designations courses such as Certified Financial Planner (CFP) and other Masters programs, there is an additional benefit here whereby upon passing the CSRIC exam:
Graduates earn direct credit for one elective course in the CFFP's Master of Science Degree in Personal Financial Planning.
If you are a CFP® professional, passing CSRIC also fulfills 28 hours of CE as part of your CFP certification renewal.
If you currently hold another professional designation from CFFP (e.g. Masters in Financial Analysis), passing CSRIC also fulfills 16 hours of CE as part of the renewal of your current designation.
---
Benefits of CSRIC designation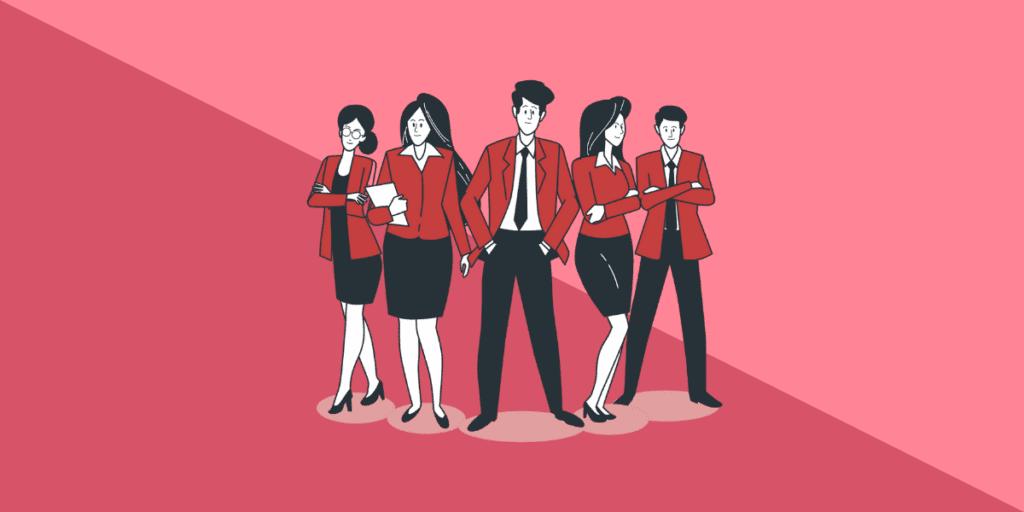 With sustainable and responsible investing options increasingly demanded by investors, being a Chartered SRI Counselor can be a robust differentiation to your career, especially if you're in the financial planning or wealth management sector.
Given its relative cost effectiveness and short time to certification (4 months), CSRIC could be a good investment to boost your sustainable and responsible investing credential.
By obtaining the CSRIC designation, you can expect to:
Better understand current ESG issues, factoring them into portfolio construction to better serve your clients with accurate, relevant, and timely SRI advice.
Gain a sustainable investing focused credential that is well recognized and endorsed by top financial firms.
Improve your career prospects and earning potential with highly demanded sustainable investing expertise.
Save time and money if you're pursuing multiple credentials from College for Financial Planning itself, since CSRIC title holders can receive direct credit for one course in Masters in Personal Financial Planning, or use it to fulfill continuing education requirements for CFP® certification or other professional designation.
---
Is the CSRIC designation something you'd consider taking on to enhance your resume? Let us know in the comments below!
Meanwhile, you may find these related articles of interest: