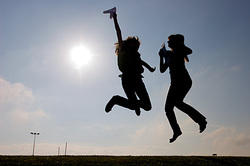 If you've just received your results – make sure you get further insight into how you did using our free Results Analysis tool!
As we approach results day, hope all of you expecting your results aren't getting too antsy! I have been keeping busy myself – I've been working on something for results day – a free analytics tool for your results.
In the run up to results day you might find it useful to have a quick FAQ covering some of the questions most asked by candidates. If you've got another one not covered, post it in the comments below and I'll answer right back!
What is the Minimum Passing Score (MPS)?
Simply put, the MPS is the score you have to match or beat in order to pass. Coming in at anything below this score, and it's a case of good try, come back again next year. The MPS is never known externally – but chances are it has a maximum of around 70%. As I mentioned earlier I am working on an exciting project – this could potentially shed more light around the MPS. I will be posting more on this closer to the
24th June (Level I and Level II results)
so watch this space!
What is the "Ethics Adjustment"?
If your results indicate that you're a borderline fail, you can be lifted into the passing zone by a strong performance in Ethics. What if you're a borderline pass? You could be failed if your Ethics performance was particularly weak. Taken directly from the CFA website:
The Board of Governors instituted a policy to place particular emphasis on ethics. Starting with the 1996 exams, the performance on the ethics section became a factor in the pass/fail decision for candidates whose total scores bordered the minimum passing score. The ethics adjustment can have a positive or negative impact on these candidates' final results.
For more information on the importance of Ethics see this dedicated post on Ethics.
When and how results arrive?
For the June 2012 exam:
CFA Level I & II: 24th July 2012, after 9am EDT
CFA Level III: 7th August 2012, after 9am EDT
Your results will be emailed to you, with a title 'Your CFA Exam Results' or something similar. Sender will most likely be cfa@cfa-program.org in case you need to set up auto-forward on your email account.
Results format – what are all these categories and bands?
Unfortunately the CFA Institute does not publish your detailed score. You will receive a Pass / Fail grade and in the case of a Fail, an additional Band 1-10 score (10 indicating the closest to a Pass grade). You will also receive a categorical score on your exam topics – just 3 categories: 0-50%, 51-70%, 71% and above. Again, I will be exploring this in more detail on results day – do remember to use the tool and help the analysis.
Retabulation
If you're not satisfied with your results and wish to request a retabulation, note that this is only a technical check to ensure that your paper was graded correctly with no mistakes. It is not a subjective reconsideration of your case so only request one if you think there has been an error in the grading process.
Want to add another question? Post it in the comments below.