If you're considering a career in finance, financial planning may be an ideal career path as it offers a great work life balance, decent salary with interesting, client-focused analytical work. It's a big growth area too, with global demand for financial planning expected to grow faster than average in the next 5 years.
In essence, financial planners are advisors who will look at the 'big picture' of your finances, understand your life goals, then use their expertise (in budgeting, taxes, pensions and investments) to create a financial roadmap to achieve those goals.
One way to start a financial planning career is via the globally recognized Certified Financial Planner (CFP) certification, which is currently available in 26 countries worldwide.
Although this article focuses mainly on the CFP certification in United States, global data are included whenever possible, with a summary at the end for countries outside US.
Let's take a look!
---
What is CFP certification?
Certified Financial Planner (CFP) is a global professional certification specializing in financial planning. It is offered by the CFP Board in the US, and Financial Planning Standards Board (FPSB) covers outside the US (currently 26 countries).
The first CFP exam was held in 1973. Since then, hundreds of thousands of candidates worldwide have registered for the program. There are currently more than 213,000+ CFP professionals globally, mainly in the Americas and Asia Pacific regions.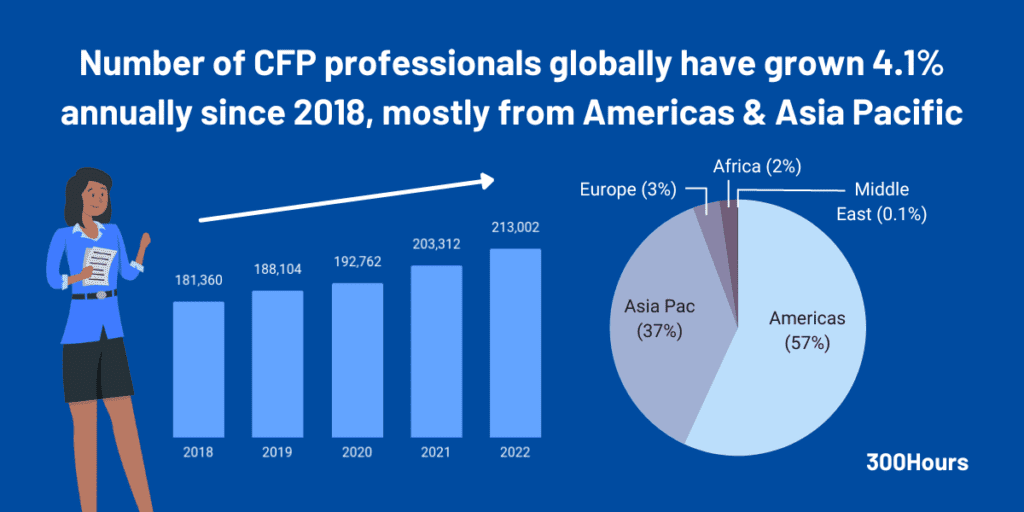 Overall, there is strong global demand for the CFP certification – CFP professionals have grown by an average of 4.1% per year since 2018.
However, the growth is quite fragmented and concentrated in a few countries. Here are the top 14 countries with the more than 2,000 CFP professionals in 2022:
| Countries | Number of CFP professionals in 2022 |
| --- | --- |
| US | 95,137 |
| China | 30,182 |
| Japan | 25,098 |
| Canada | 17,259 |
| Brazil | 8,630 |
| South Africa | 4,748 |
| Australia | 4,610 |
| Hong Kong | 3,937 |
| South Korea | 3,311 |
| Taiwan | 2,842 |
| Netherlands | 2,723 |
| Malaysia | 2,678 |
| India | 2,517 |
| Indonesia | 2,440 |
And here are the top 6 countries with the highest growth in number of CFP professionals vs last year:
| Countries | CFP professionals growth vs 2021 |
| --- | --- |
| China | 13% (+3,382) |
| United States | 3% (+3,082) |
| Brazil | 17% ( +1,245) |
| Japan | 4% (+1,034) |
| Canada | 3% (462) |
| Taiwan | 14% (+410) |
While CFP is targeted at those interested in the financial planning industry, the range of jobs within that industry is quite broad. CFP professionals work in a broad range of jobs, such as personal financial planners, client service advisor, wealth management advisor, financial analyst, investment manager or portfolio manager.
For those who prefer a less client-facing role, there are plenty of options to work in investments, operations, research and analysis to support their client's financial needs too.
---
CFP exam details, summarized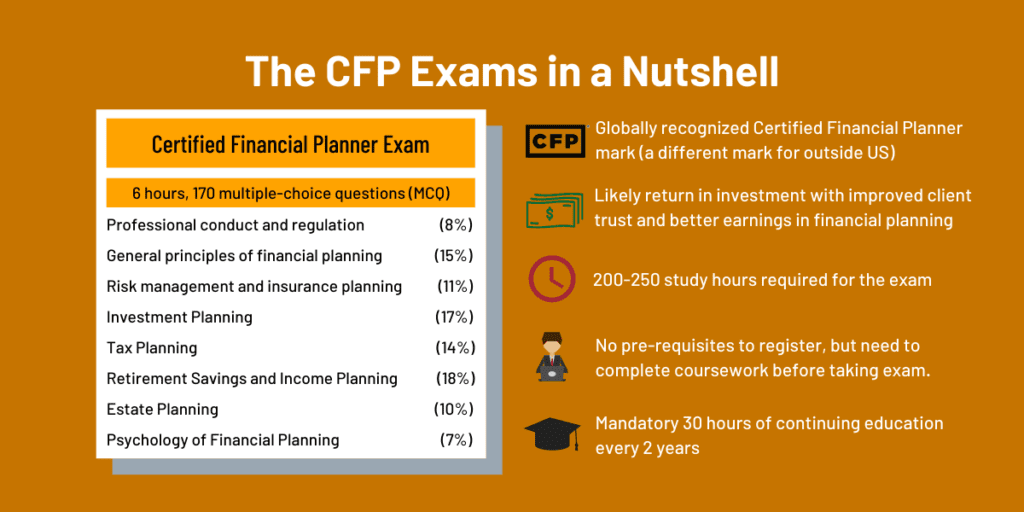 The CFP certification consists of a one-part computer-based examination with 170 multiple choice questions over 6 hours:
The exam itself is split into 2 sections, each containing 85 questions lasting 3 hours long. There is a 40 minutes scheduled break between 2 sections.
The exam includes stand-alone and scenario-based questions, as well as questions associated with case studies. You can check out 10 CFP sample questions here.
In the US, the CFP exam is offered three times per year: March, July and November. Test topics include the financial planning process and principles, tax planning, income and retirement planning, estate planning, risk management and insurance.
The exams are computer-based, administered either in-person at test centres or remotely proctored.
Only the following CFP-approved calculators can be used in the exam:
In terms of study hours, candidates typically spend 200-250 hours preparing for the CFP exam. This is in addition to the coursework requirement, which typically takes 12-18 months to complete.
Unlike other professional designations such as CFA, FRM or CAIA, CFP candidates do receive their preliminary results immediately after completing the exam. Official results are sent via email approximately 4 weeks following the close of the testing window. The result is simply a pass or fail, but only candidates who fail are provided with a diagnostic report to better understand their topic strengths and weaknesses relative to a peer group.
Since 2012, there are limits placed on the number of attempts of CFP exam:
5 attempts maximum in a lifetime;
3 maximum attempts within a 2 year period. If a person fails 3 times within 2 years, the next attempt can only be occur after 3 exam administration has passed.
---
CFP pass rates since 2016 vs candidate volume (US only)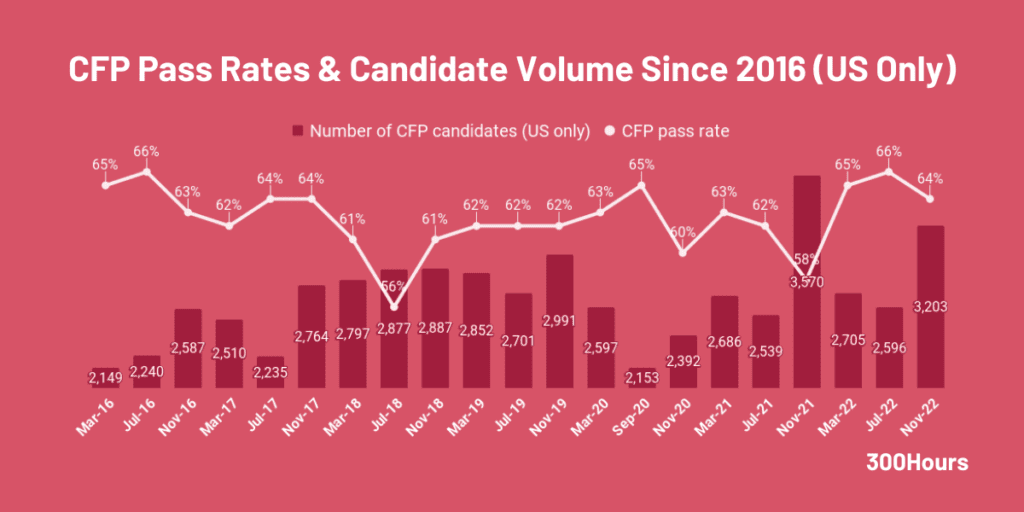 In the US, the latest November 2022 CFP exam pass rates is 64%.
The CFP exam began using a new exam blueprint in March 2016, and therefore pre-2016 exam performances are no longer comparable as they were based upon a different exam blueprint and minimum passing score.
Thus, since 2016, CFP pass rates are relatively stable between the ranges of 56%-66%, averaging 63% in the last 7 years.
We can also see that candidate numbers are gaining traction again since end of 2021, probably reflecting a combination of candidate growth and postponed candidates due to the pandemic.
---
CFP exam topics and weights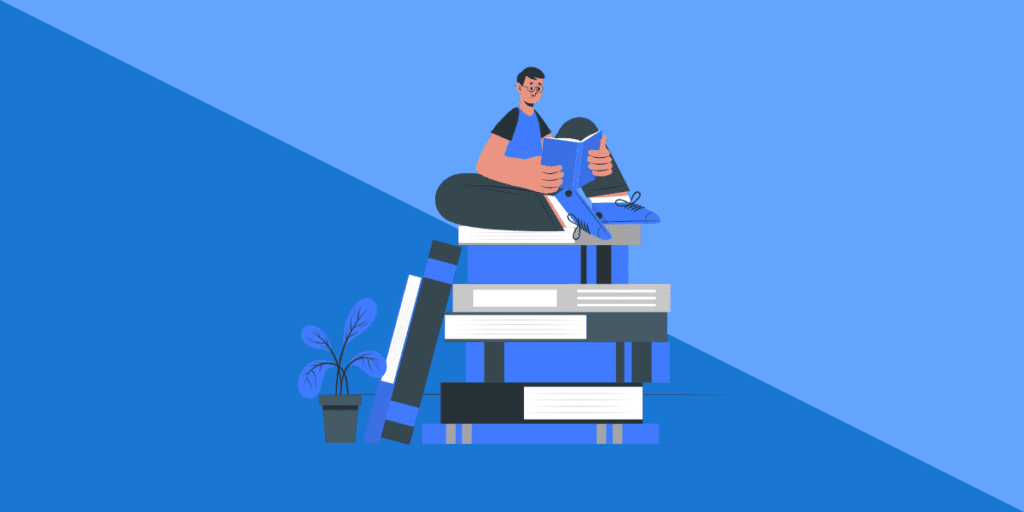 In the US, 2022's CFP exams are based on 8 principal knowledge topics, which also serves as a framework for CFP Board's coursework requirement and continuing education (CE) credits.
It contains a broad range of topics from ethics, regulation, finance concepts, risk management, insurance and financial planning strategies to full equip CFP candidates with practical, application-focused financial planning knowledge. The CFP exam focuses more on problem-solving and application, rather than recalling facts.
Here's a quick summary of the latest CFP exam topic weights:
| CFP Principal Knowledge Topics List | Approximate Weighting |
| --- | --- |
| Professional conduct and regulation | 8% |
| General principles of financial planning | 15% |
| Risk management and insurance planning | ​11% |
| Investment planning | 17% |
| Tax planning | 14% |
| Retirement savings and income planning | 18% |
| Estate planning | 10% |
| Psychology of financial planning | 7% |
---
What are the CFP requirements?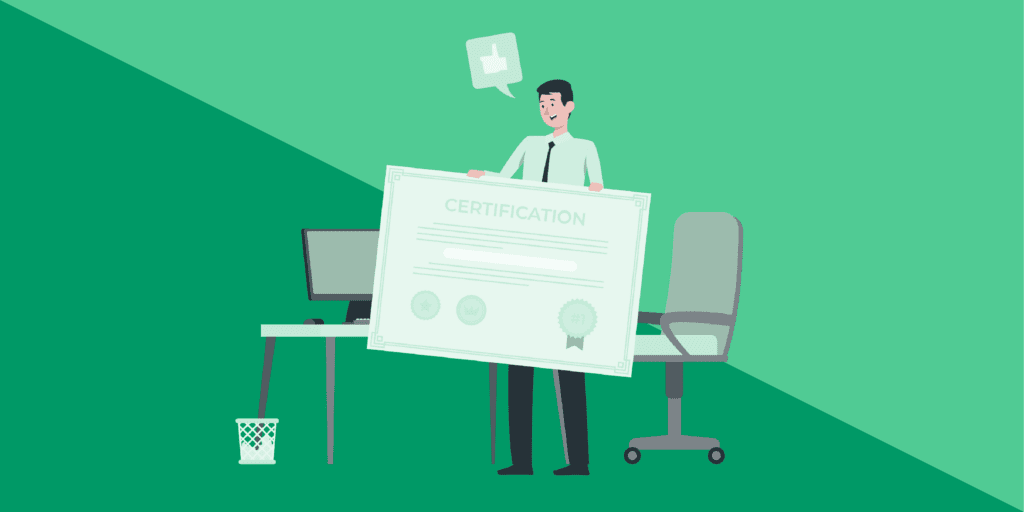 In order to obtain the CFP qualification, here are the following requirements for the US market (aptly named "4 E's"):
CFP Requirement Type
Details
Education
1) Minimum of bachelor's degree in any subject from an accredited institution (either completed before passing CFP exam, or within 5 years of passing it);

2) Complete financial planning coursework through an accredited CFP program (must be completed before taking the exam, exemptions available from other qualifications);
Exam
3) Pass the CFP exam;
Experience
4) Complete either 6,000 hours of professional experience related to the financial planning process, or 4,000 hours of apprenticeship experience that meets additional requirements (this experience requirement can be fulfilled before or after passing the CFP exam);
Ethics
5) Complete CFP's ethics declaration and pass the background check.
To maintain your CFP certification, you'll need to do these (in order):
complete 30 hours of continuing education (CE) every 2 years, which includes 2 hours of an approved Ethics CE course;
submit an annual renewal application to confirm adherence to CFP Board's Code of Ethics and Standards of Conduct;
pay an annual certification fee.
CFP exemptions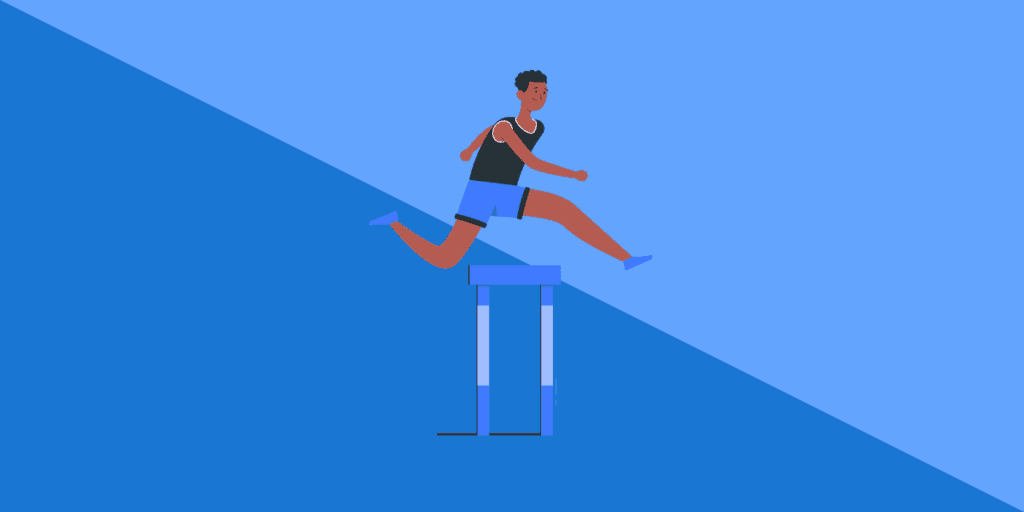 You can get your CFP certification faster via an Accelerated Pathway through bypassing the coursework requirement, if you have one of the following advance degrees or professional designations:
Certified Public Accountant (CPA)
Chartered Financial Consultant (ChFC)
Chartered Life Underwriter (CLU)
US Licensed Attorney
Doctor of Business Administration
PhD in Financial Planning, Finance, Business Administration or Economics
CFP certification from outside the US (from the Financial Planning Standards Board, FPSB)
If you have one of the above additional qualifications, you'll still need to do the following to qualify for your CFP mark:
Submit your credential documentation to the CFP Board for the Accelerated Pathway;
Instead of the regular coursework requirement, you'll need to complete the Capstone course (a financial plan development course) if you currently don't meet the CFP experience requirements, otherwise do the Capstone Alternative course.
The other CFP requirements such as passing the CFP exam itself, meeting the education and experience requirements, plus ethics background check still apply.
---
CFP certification cost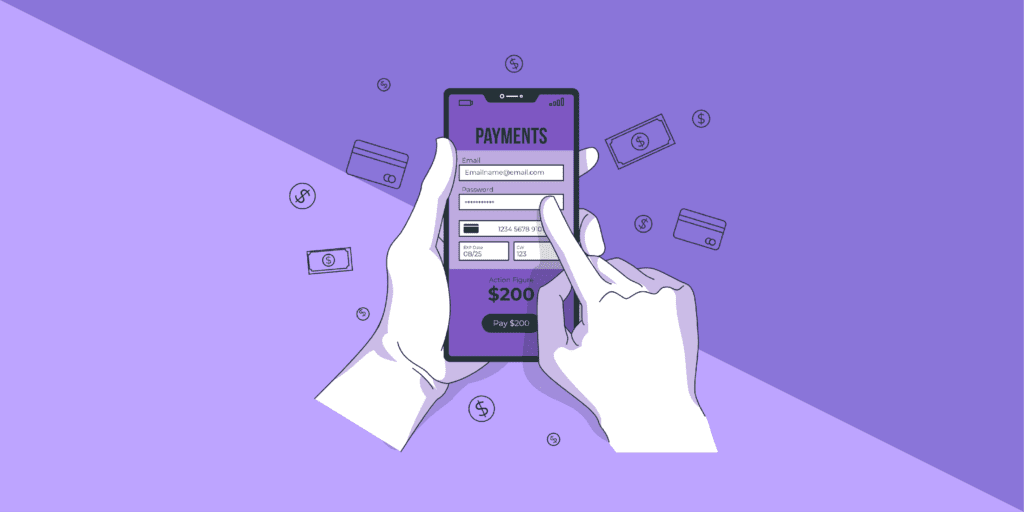 The total cost for becoming a Certified Financial Planner varies widely depending on:
your education background (whether you have a Bachelor's degree, or have CFP coursework exemptions),
choice of review course and study materials (if any)
Other than that, the CFP exam costs itself are quite straightforward, as there is just one exam, unlike the CFA Program. CFP exam registration fee varies between $825-$1,025 depending how early you register:
CFP exam registration fee type
Fee in US$
Early bird
(available until 6 weeks before registration closes)
$825
Standard
$925
Late
(final 2 weeks before registration closes)
$1,025
CFP exam retake fees are the same as the registration fees. There is a maximum lifetime attempt of 5 times for the CFP exam. There's also a maximum of 3 attempts within a 2 year period, which if occurred, candidates are required to take 1 year break before reattempting again (if still within the 5 times lifetime limit).
Upon meeting all the CFP requirements, applying for the Certified Financial Planner title requires:
An application fee of $200
A certification fee for your initial certification period (prorated amount of the standard $355 annual certification fee)
Once certified, there are also 30 hours continuing education (CE) requirements every 2 years.
---
CFP exam dates & registration deadlines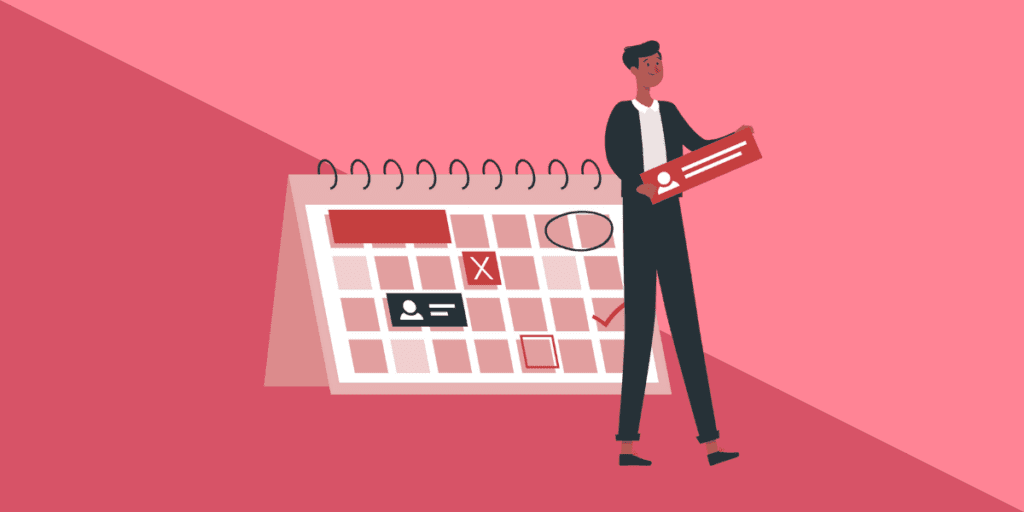 The CFP exam is offered 3 times a year in March, July and November over an 8-day window. The computer-based exams are offered in-person at Prometric centers or remotely via ProProctor.
Although it is possible to register for CFP exam prior to completing the education coursework requirement, this must be completed by the Education Verification Deadline (see table below) to be eligible to sit for the exam. Otherwise, a $500 postponement fee applies.
Here are the key CFP exam dates and deadlines for the upcoming exam windows:
CFP registration deadlines
March 2023
July 2023
November 2023
Registration opens
12 Oct 2022
15 Feb 2023
7 Jun 2023
Early registration deadline
10 Jan 2023
12 May 2023 (estimated)
5 Sep 2023
(estimated)
Standard registration deadline
14 Feb 2023
20 Jun 2023
10 Oct 2023
Education verification deadline
14 Feb 2023
20 Jun 2023
10 Oct 2023
Final registration deadline
21 Feb 2023
27 Jun 2023 (estimated)
17 Oct 2023 (estimated)
Exam window
7-14 March 2023
11-18 July 2023
31 Oct-7 Nov 2023
---
Benefits of CFP certification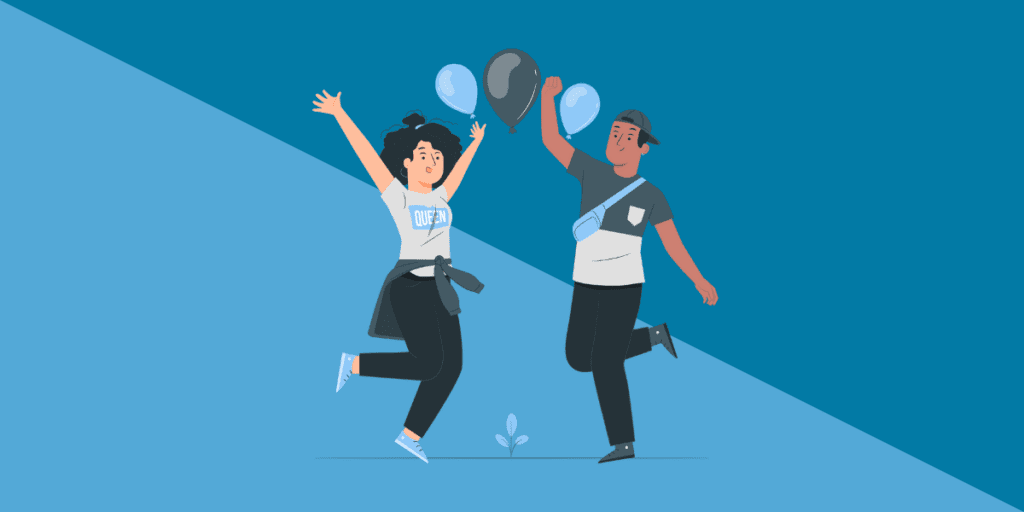 The CFP qualification is increasingly recognized globally as a global benchmark in personal financial planning and advisory.
Earning the Certified Financial Planner mark can be a key differentiator, signally your competency and ethics, giving your clients a peace of mind that you'll act in their best interest on their financial planning journey.
Once you are a Certified Financial Planner professional, you can expect to:
Boost your financial planning credentials to potential employers or clients.
Have a competitive edge over other non-CFP financial advisors, due to increased trust from clients (89% higher on average in the US).
Achieve higher compensation compared to other non-CFP financial advisors (26% on average in the US).
Broaden your career options in financial planning and wealth management sectors, whether it is becoming a financial planner, client service advisor, wealth management advisor, financial analyst, investment manager or portfolio manager.
Broaden your employer options: whether it is working for a large bank, credit union, a nationwide wire house, a small independent firm, or even starting your own practice.
---
CFP vs CFA – Which is right for you?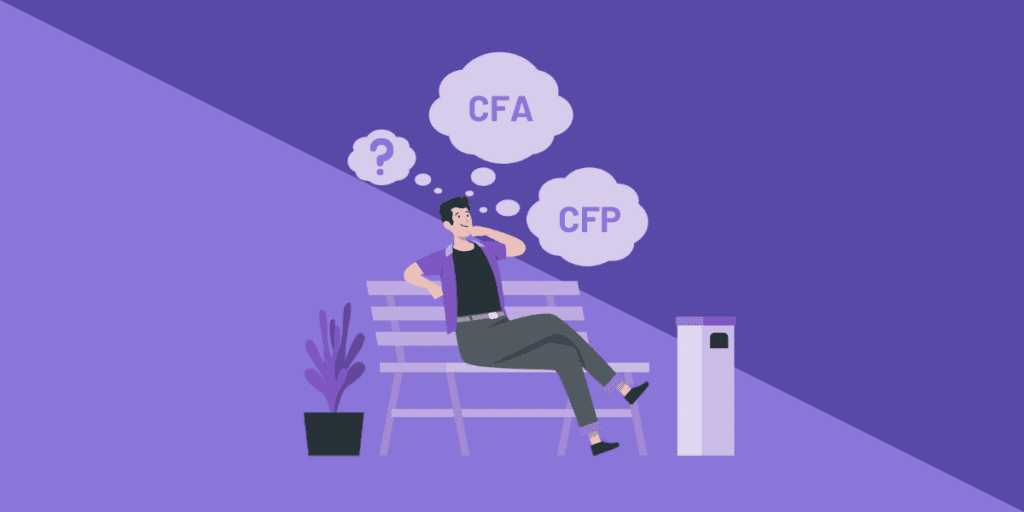 In essence, evaluating whether CFA or CFP is better for you depends on your career objectives. CFP is more geared towards personal financial and investment planning, whereas the CFA charter specializes more into financial analysis, investment valuation and portfolio management.
That said, there are some nuances here, hence this popular question of CFP vs CFA has a separate article in itself. We compare these 2 qualifications in detail, looking at syllabus, difficulty, career objectives and more. Find out more here.
---
Summary of CFP organizations outside the US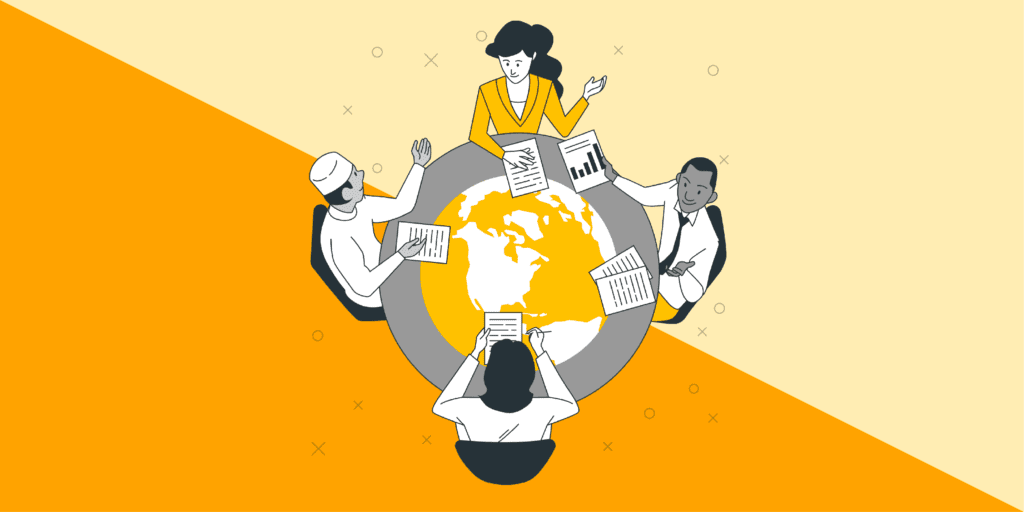 As mentioned earlier, Financial Planning Standards Board (FPSB) manages the CFP certification outside of US via its affiliate organizations in 26 countries.
Outside the US, CFP requirements are very similar to United States', although there are minor differences tailored to local laws and requirements. Hence it is best to check out the exact CFP requirements and whether exemptions are available in your country directly below:
---
Hope the above helps in your evaluation of the CFP qualification, and how to become a Certified Financial Planner. Got questions? Let us know below.
Meanwhile, you may find these related articles of interest: