Many CFA candidates take the CFA exams as part of a preparation to enter a career in finance. But are there other qualifications that may be useful as well?
For this post, I took a closer look at Bloomberg's financial foundations course,
Bloomberg Market Concepts
, taking the e-learning course over a one-week period to learn more about it. It's a pretty good course – while it will not be ubiquitously useful to everyone, it will be a great option for those who are about to start their journey in finance. Read on to learn more!
What is the learning format like?

An online course – take it on your own time
The course is taken entirely online. Access to Flash is needed, so we'd recommend a laptop rather than a tablet or a smartphone. The course format comprises of about 8 hours of teaching videos, edited in a documentaryish style that was surprisingly engaging. Rather than a person speaking to the camera and a whiteboard, the videos mainly teach through footage of case studies, highlighting feeds from Bloomberg terminals and interaction through quizzes. The course is narrated by Pimm Fox and Monica Bertran of Bloomberg Television, which brings familiarity to the course and makes it easier to comprehend the content.

Real-world case studies
In my opinion, the case studies are what makes the course engaging. BMC connects the  foundational concepts of finance with significant, real-world financial events like recent financial crises, Bretton-Woods, and the Great Depression. This really gives the content weight, and helps memory retention. Most (if not all) case studies used in the course are actual events occurring at real companies – so you get some great background knowledge as well that may come in useful in interviews.
120 questions to test your knowledge
The quizzes are good at testing…well, whether you were paying attention. Just like end-of-chapter questions, the quizzes cover the content that you've just reviewed to draw conclusions from a case study's market data. The right answers are immediately revealed for you to review before moving on to the next section.
A good introduction to the Bloomberg Terminal
The Bloomberg Terminal is a common sight in most financial services firms, and Bloomberg Terminal content is probably what sets this course apart from other financial courses. As you progress through the content, you're shown how the relevant market data would be retrieved, displayed, read and interpreted on the Bloomberg Terminal. There are also some sections where you get some (limited) interactivity with a faux Bloomberg Terminal screen,
just to give you an idea of how the technology works.

This is great semi-practical experience if you've never used a Bloomberg Terminal before. You won't be a Bloomberg Terminal whiz by the end of the course, but at least you wouldn't be completely at sea when you sit in front of one later.
The video below shows a small portion of the teaching course, demonstrating how the Bloomberg Terminal is integrated into the content.
Related tip
: Some university students may already have access to a Bloomberg Terminal on their campus. If you're a student and would like some practical experience, check to see if your university has one!
What's the course content of BMC?

BMC covers 4 main financial concepts – Economic Indicators, Currencies, Fixed Income and Equities. Subtopics are summarised below:
Economic Indicators


The Primacy of GDP
Monitoring GDP
Forecasting GDP


Fixed Income


The Roots of the Bond Market
Bond Valuation
Central Bankers & Interest Rates
The Yield Curve & Why It Matters
Movements in the Yield Curve

Currencies


Currency Market Mechanics
Currency Valuation
Central Banks & Currencies
Currency Risk

Equities


Introducing the Stock Market
The Nature of Equities
Equity Research
Absolute Valuation
Relative Valuation
What's the cost of BMC?
The online course is $149 USD for students and $249 USD for professionals, and requires about 8 hours of your time. I'd advise to really set aside proper time for this if you'd like to get the most benefit out of this. Trying to take this course while multitasking at work, for example, may still get you that completion certificate, but doesn't maximise your potential for learning.
What will I get at the end of this course?
Market knowledge. Aside from teaching the foundations of financial concepts needed for any financial-related career, the course also uses case studies that give you useful background information to recent financial events.
Familiarity with the Bloomberg Terminal. As mentioned above, this is a good introduction to the Bloomberg Terminal. If you're serious about a financial career, it may be a good idea to go into interviews having some familiarity with it.
Certificate of Completion. 

Upon completion of all four modules, you'll be able to download your certificate of completion. You can also add this certification to your LinkedIn profile and CV.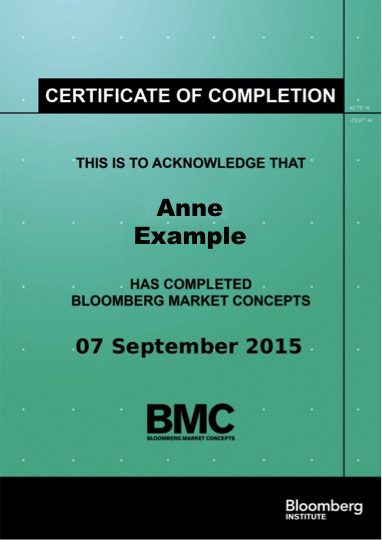 Who should take it?
Those who are interested in a financial career, including students and non-financial professionals
Those looking for a strong and time-efficient introduction to finance and market concepts
Do we recommend it?
In a nutshell, if you're new to finance, yes:
It's a really good course if you are an absolute beginner in finance and need some unjargonified guidance.
As a student, or someone looking to break into finance, I think it's worth the $149 or $249 to invest in some market knowledge. Having relevant, practical knowledge is important to landing your first job in finance, and that's why internships are so important. But even before your first internship, this could help set you on course.

To be clear, the BMC certificate of completion isn't going to get firms begging you to work for them – you'll still need to put in the effort in CVs, internships, and interviewing. BMC does show that you've taken the steps to familiarise yourself with the foundations of finance and the industry standard technology. The knowledge you get from the course will help you get on the right path.
Thoughts? If you've taken BMC, or are considering and have questions, I'd love to hear your thoughts in the comments below!