If you can afford it, classroom training is pretty awesome for a number of reasons:
it figures out what you need to be learning, and when you need to be learning it
experiencing someone explaining a financial concept is often a lot easier to understand
there's interactivity – you can ask questions if you're not sure about anything
the class will pace itself to its students, going faster or slowing down as needed
And for classroom training, you can't go far wrong with Fitch Learning. Fitch is one of the most recognisable names in finance, and Fitch Learning is one of the largest full-time CFA classroom training faculties worldwide.
Sometimes, however, you might prefer something more flexible, perhaps in the comfort of your own home, perhaps in snuggly home clothes. To help you with that, Fitch Learning has launched Cognition, an all-in-one virtual coach that covers all of the advantages of classroom training mentioned above. It's a pretty slick bit of kit that you can access anywhere, making CFA studying a lot easier.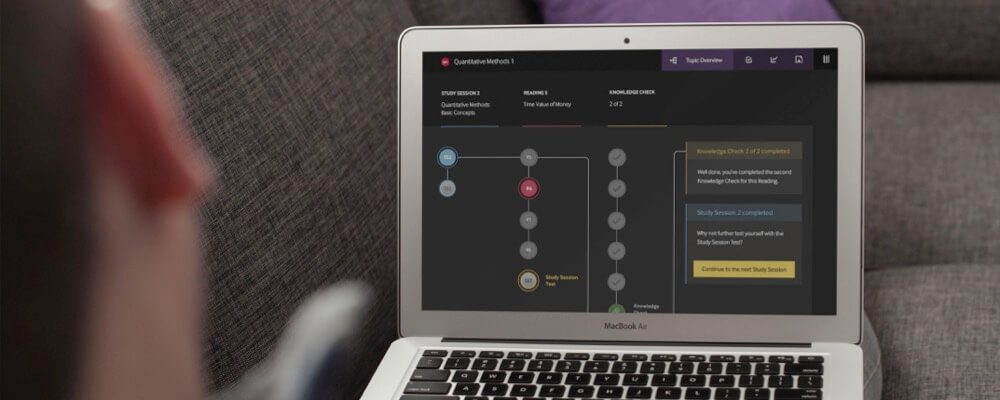 Cognition: an all-in-one package to pass your CFA exams
When we were contacted by Fitch Learning to have a look through their newest product, we were really excited to see what they'd come up with. The shift of learning materials and lessons to online platforms have been happening for some time now, but with Fitch Learning's Cognition, we can see how the future will be for CFA candidates.
Adaptive schedule, adaptive learning, adaptive testing
From our first glance, Cognition is very good. The key features of Cognition would be familiar to candidates who've looked around for the best of everything. But what Fitch Learning seems to have done well here is to cherry-pick the most effective tools for CFA candidates and package it in one product.
With its adaptive schedule, you just choose when you'd like to start studying (and when you'd like to finish), and Cognition will figure out everything else. Since it already provides you with the material, Cognition will know exactly how much you have to be studying every week and will generate a personalised CFA calendar for you. And if you miss some studying, Cognition automatically tracks that and adapts your schedule accordingly.
You may be familiar with the concept of adaptive learning. Cognition will adapt its level of difficulty to your performance throughout your study. This ensures that you don't space out and get lost in the material – you're constantly being challenged at the right level.
With adaptive testing, question banks and practice tests are tailored specifically for your stage and level of study. You'll be able to take practice tests tailored to what you've studied, and adequately challenging to your level of understanding.
---
You can get free trial access to Cognition, or if you're purchasing, you can get a 10% discount off your purchase price!
---
Fitch Learning's answer to the digital learning age
So what's the background behind the development and launch of Cognition?
Kate Lander, CFA, Chief Learning Officer of Fitch Learning says ,"We launched Fitch Learning Cognition to address the ever changing learning needs of our CFA exam candidates. [It] works in conjunction with our candidates to provide a truly adaptive learning experience. Continually testing an individuals' grasp of the CFA exam topics, Fitch Learning Cognition steers candidates from familiar topics and concentrates on the areas that might pull them down in the exam.
"Fitch Learning candidates get a personalised study plan from the day one, guiding them through the materials before moving them on to the review and exam preparation phase. Course content such as instructor recordings, live webcasts and questions are in the intuitive content library, ordered into micro learning modules, so even a short commute can be utilised for study!"
Level II and Level III:  coming very soon
Cognition is currently launched for June 2017 Level I candidates. But don't worry about Levels II and III – Fitch Learning will be introducing them for the June 2018 and June 2019 CFA exams respectively.
But why not all at once? Lander explained, "We want the learner to have a consistent learning experience and we will be launching Fitch Learning Cognition for Levels II and III in line with our candidates progressing through those Levels. Our current Level II and III candidates are already familiar with using our existing online portal and will continue to use this already successful study tool."
Price: a good deal compared to classroom courses, and you get 10% off!
Pricing of packages are significantly cheaper than full classroom courses, and on par with self-study packages, which makes it a great deal. Prices vary by CFA exam and there are optional extras to enhance your training – you can configure your own study package or see the latest prices here. Remember that you also get 10% off through 300 Hours, and you can also get free access to Cognition by following the instructions below.
---
You can get a 10% discount off your purchase price to Cognition, or free trial access through the buttons below.