Would you like to have one of the most experienced instructors in the CFA industry guide you through your CFA exams?
That's the idea behind Chalk and Board. Although Chalk and Board is relatively new, it is led by Nathan Ronen, CFA, one of the most experienced figures in the business. We've recently had a chance to speak with Nathan Ronen and John Sestito, founders of Chalk and Board, and delve into Chalk and Board's material. You can read the entire article below or jump straight to individual sections:
---
What is Chalk and Board?
Chalk and Board is a CFA course provider specializing in live and recorded instruction. CFA Levels I, II and III are all offered, with a range of live classes, instructional videos and workshops.
We particularly like their item-set and essays workshops, which focus on preparing candidates on how exam questions are structured and answered. In the essay workshops, candidates can even get their answers graded and get feedback on how to improve for the actual exam. "We believe what separates us from the rest are our workshops – we are the only providers that have item-set and essay workshops available for candidates," states John Sestito.
Chalk and Board is led by Nathan Ronen, CFA. His teaching and methodology is, in our opinion, what makes Chalk and Board a unique offering among CFA providers.
"We believe what separates us from the rest are our workshops – we are the only providers that have item-set and essay workshops available for candidates."

​- John Sestito, Chalk and Board
---
About Nathan Ronen ​​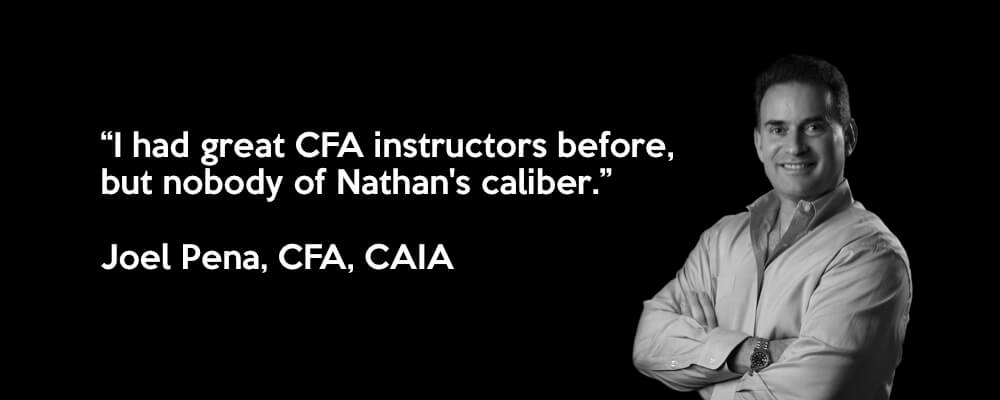 ​Nathan Ronen, CFA, is the co-founder of Chalk and Board, and also serves as the lead instructor. One of the most experienced CFA instructors in the business, Nathan has been a CFA charterholder and instructor for over 20 years. He has been a CFA instructor in 7city (now Fitch Learning), Kaplan Schweser, NYSSA (now CFA Society New York) and was also a CFA exam grader.
In our conversations, Nathan's enthusiastic energy is infectious, and it's clear how passionate and experienced he is in teaching the CFA curriculum. His effectiveness is clear from the many student testimonials we've heard. "I took Nathan's course to prepare for the CFA Level III, which at the time I considered the most difficult of the series," says Joel Pena, CFA, CAIA. "Thanks to his impeccable organization, energy in the classroom, and uncanny ability to convey complex ideas in simpler terms, I felt equipped to pass the exam and ultimately did. I had great CFA instructors before, but nobody of Nathan's caliber. I would comfortably recommend anyone, with any background, to take the course with him in order to maximize his chances of passing any level on the first try."
---
The Ronen Methodology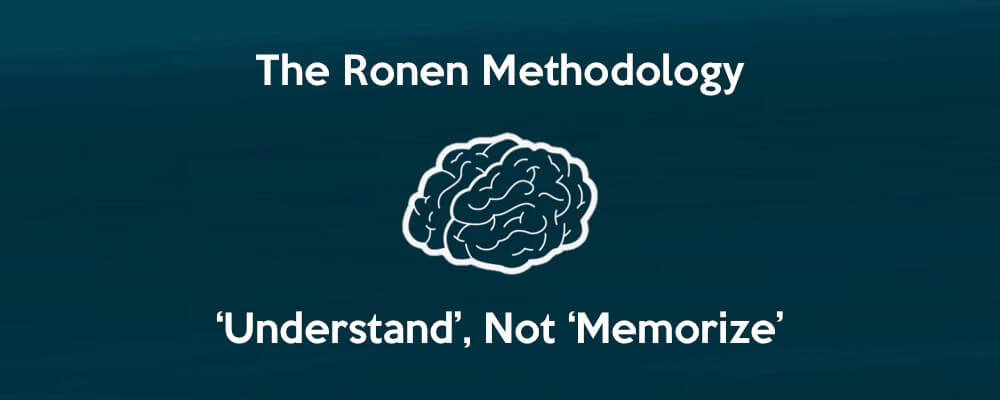 The Ronen Methodology is Nathan's unique approach to CFA education. The key concept underpinning the entire approach is a focus on understanding the concepts at hand, not resorting to rote memorization.
The methodology is best experienced first-hand, but key concepts of his methodology include:
No handouts or slides: One feature of the methodology is the focus on the lecture rather than handouts or slides. "Many CFA providers use PowerPoint slides but I think that encourages memorization, not comprehension. In order to teach the curriculum, there has to be a more holistic approach to integrate all concepts in the curriculum," states Nathan Ronen. "When teaching, I say throw away the slides and bullet points and look at the entire situation. Slides can be too boring as well. In a Chalk and Board course, we use real examples, real experience and real anecdotes to punctuate the concepts we're teaching."
Integrated, not independent topics: Another focus is to teach topics in an integrated way. "Topics aren't independent of each other – they work together in in the financial world, and that's how we teach it as well. This is especially important in Level II and III where item sets and essays can span across multiple readings and topic areas."
Acquire your own super-notes: Across the sessions, Nathan also notifies students when to make note cards, and highlights important points that are often tested in the exam. This ensures students don't miss any important points and make excellent notes for themselves that can be relied on for exam revision later.
Questions, item-sets and essays workshops: Regardless of how you prepare, the actual CFA exam is what matters. That's why Chalk and Board conducts practice workshops, where students are run through exam-style questions, attempt them, and are guided through a post-mortem. This is especially useful for item-sets and essays in CFA Levels II and III. In an essay workshop, students work through about 20 essay questions, where they are graded by Nathan and additional guidance provided based on how individual students performed.
Russel Greig, CFA, attended Nathan's essay workshops and says, "The essay writing workshops are a must – two full days of practice questions under strict time constraints, graded with feedback provided. Gives a very honest assessment of where you stand. Highly recommend for any CFA Level III candidates out there who don't want to take this more than once!"
"The essay writing workshops are a must – two full days of practice questions under strict time constraints, graded with feedback provided."

– Russel Greig, CFA
​
View All Chalk And Board Courses
---
Chalk and Board's Product Range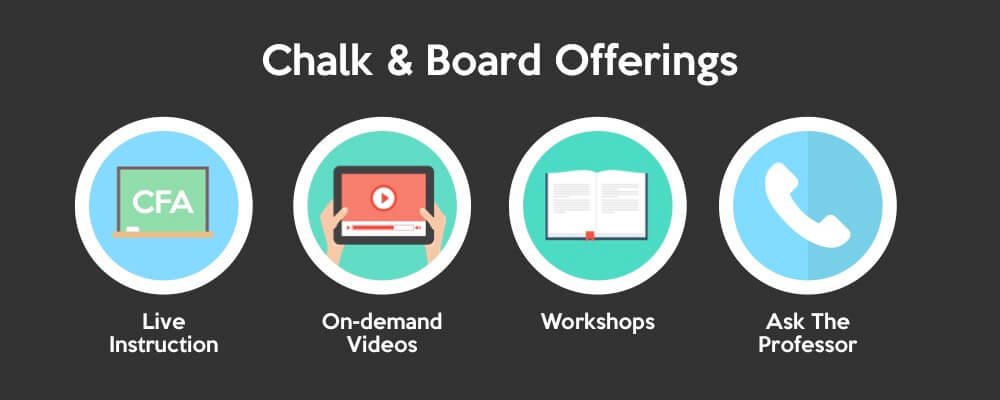 Live classes: Led by Nathan, these are in-person classes for CFA Level I through CFA Level III. Classes are held in New York City, but can be scheduled to be attended online globally.
On-demand videos: The same instructional content as the live classes, specially recorded for viewing at any time through most media devices, allowing students to study on their own schedules.
Supplementary classes / workshops: These are additional classes focusing on particular key skills or topics. Examples include essay and item-set workshops, which we highly recommend!
Ask the Professor: All Chalk and Board students can submit questions to Nathan at any time, either through the website or directly via phone. Nathan follows up every question thoroughly and has a discussion with the student to ensure the student understands that particular question or concept.
---
Our Impressions
Live and Recorded Instruction
Chalk and Board kindly allowed us access to their entire suite of recorded lessons for CFA Levels II and III. The quality of instruction is good and clear, with Nathan taking the time to delve deep into each concept to ensure the viewer's comprehension. The videos render perfectly on laptop, tablet and mobile but are unfortunately not downloadable for offline use.
The live lessons and courses are priced at similar levels to other providers – if you can afford it and are looking for a boost to your CFA prep strategy, it's a good accompaniment to your study notes or CFA curriculum.
Item-set and Essay Workshops
We really like the item-set and essay workshops offered and would recommend them, especially for Level III. We've always focused on advising our readers to get lots of practice for the actual exam, and with the workshops, you get to attempt questions, get them graded and receive personalized feedback on what you did well, and what you need improvement on. That kind of training would greatly add to any candidate's pass chances.
---
To give you a taster for Nathan's teaching style, here are three free videos you can view right now: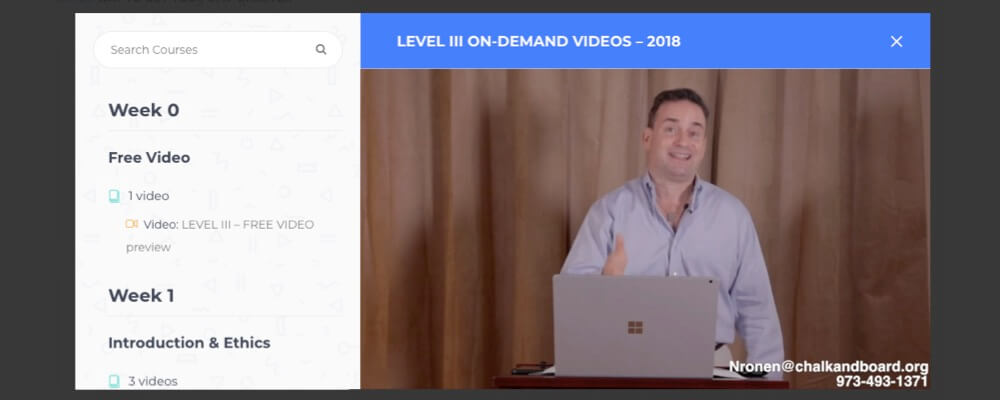 CFA Level I
Nathan guides candidates through the students t-distribution, a key concept in Quantitative Methods.
CFA Level II
Nathan talks through free cash flow to the firm (FCFF) and free cash flow to equity (FCFE).
CFA Level III
Nathan shows how to answer an essay question by going through a question about carry trades.
---
Offers and Discounts
Chalk and Board also offers discounts for:
CFA retakers (regardless of provider used)
Group discounts, such as through a society, company, or a group of friends banding together
If you think you qualify, get in touch with Chalk and Board here.
Want to Know More? Check Out Chalk and Board Here
If you'd like to learn more about Chalk and Board and how they can help you with your CFA prep, you can check out their website, or get in touch.