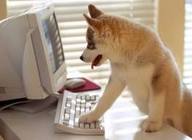 I have a great full-time role, and my company is pretty awesome in their web-surfing policies. I can surf on pretty much anything I want – Gmail, Facebook, YouTube, you name it. (I've haven't tried porn and have no intention to. I like my job.)
A forum thread however recently raised an important point for candidates that work in more restrictive firms – how on earth are you going to check your results in the middle of Tuesday, a work day if you can't access your personal email at work?
If you have a smartphone and a data plan, obviously this is no problem for you – you can always check it on your phone at work. I guess an internet cafe would also work during lunchtime, or just waiting it out until you get home. But if none of these options work for you, there is a simple way to forward the results email straight to your work email address. Most email services these days allow you to forward email from a specific sender to another email address – here are the results of me experimenting with Gmail, Hotmail and Yahoo.
Set up email forwarding – Gmail

After signing into Gmail, click on the settings icon in the upper right corner (the one that looks like a gear), and click on 'Settings'.
Look among the Settings tabs and click on 'Forwarding and POP/IMAP'.
Under 'Forwarding', click 'Add a forwarding address'.
Enter your company address into the forwarding address field, click 'Next' and 'Confirm'. To complete the authorization process you will need to verify this from your company email account. Just look for the email from Gmail in your company account and click on the verification link.
Back in the Gmail Settings tabs, click on 'Filters' and then click 'Create new filter'.
In the 'From' field, enter 'cfa@cfa-program.org' and click 'Create filter with this search' (NOT the blue magnifying glass button).
Check the box for 'Forward it to:', select your company email as the forwarding address and click 'Create filter'.
Your filter is now created and active – to delete it after results day simply look for it in the 'Filters' tab and click 'delete.
Set up email forwarding – Hotmail

After signing into Hotmail, click on 'Options' in the upper right corner, and click on 'More Options' from the dropdown menu.
Under 'Customizing Hotmail', click on 'Rules for sorting new messages'.
Click 'New' to add a new rule.
In Step 1, enter the sender address as 'cfa@cfa-program.org'
In Step 2, click 'Forward to' and enter your company email address.
Set up email forwarding – Yahoo [Failed]
Investigating Yahoo Mail, it seems that Yahoo Mail deems email forwarding to be a premium service and my account has to be a paid one to get forwarding enabled. Come to think of it I think this was the reason why I dumped Yahoo Mail back in 2002. If there are any workarounds please let me know, but as far as I know for now, if you use Yahoo Mail you're stumped for options (free ones anyway).
Found this helpful? Access my full Resources section for my reviews on where to find the best free CFA material online & my critical exam tips for every CFA Level.