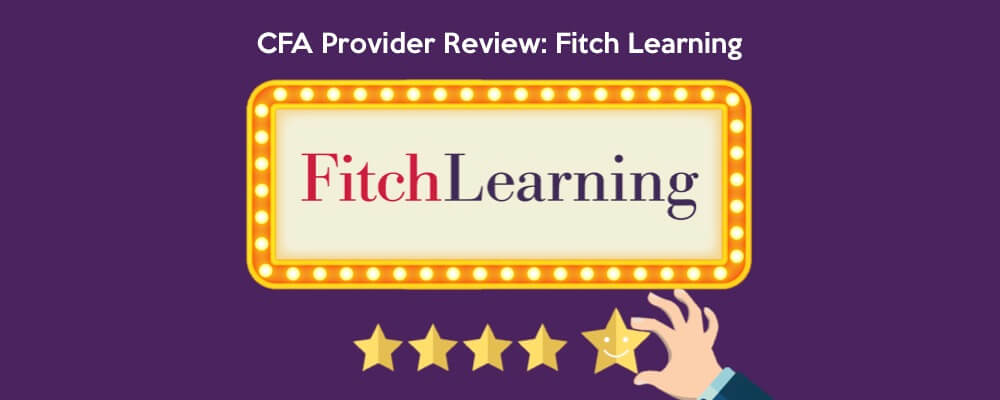 By Christine
As all of our team have completed the CFA exams, we know how important choosing the right provider is to give you just enough advantage to pass. Our Review series covers the best names in the CFA provider business, combining our thoughts on providers' latest products with independent candidate reviews.
Our detailed review for Fitch Learning includes:
Details on their full product range
A summary of all packages on offer and what's included with every package
Candidate reviews and ratings
Our final thoughts and recommendations, pros and cons on Fitch as a CFA provider
---
About Fitch Learning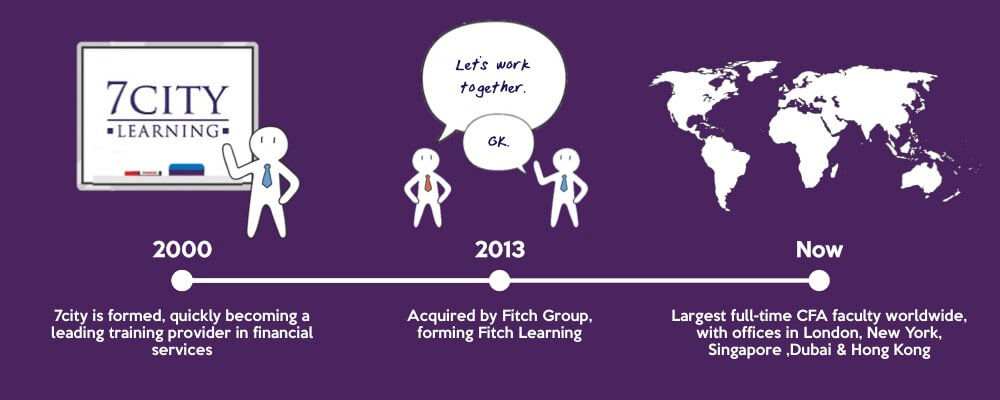 Formed in 2000, 7city Learning expanded rapidly both across locations and their product offering, quickly becoming
a recognised leading training provider specialising in financial services.
Their success led them to be acquired by Fitch Group in early 2013, forming Fitch Learning.
Since rebranding as Fitch Learning, they've continued to expand their product offering, most recently with the launch of Cognition – their personalised all-in-one CFA solution. CFA classes continue to be their specialty – with centers in London, New York, Singapore, Dubai and Hong Kong, they are one of the largest full-time CFA classroom training faculties worldwide.
---
An Overview of Fitch's CFA Packages
---
Fitch's Detailed Product Range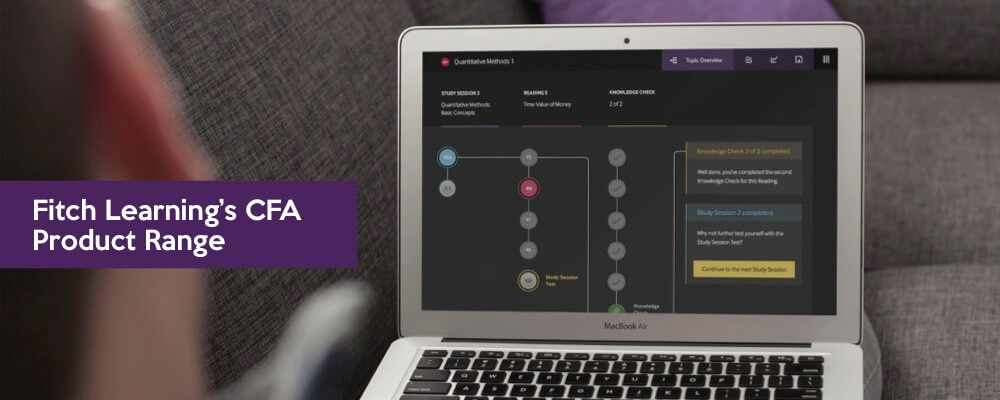 Classroom Courses, Instructor Videos & Materials
Fitch Learning's strong suit is classroom courses. Being

'the largest full-time CFA exam training faculty worldwide'

, it shows in the wide range of options you can choose from. Classroom options include:

Regular weekend/weekday courses: Ten full days of classroom lessons covering the entire CFA curriculum
Intensive courses: Five

full

days of intensive classroom lessons

covering the entire CFA curriculum

Review courses: Two full days of intensive classroom lessons, focusing on reviewing topics nearer to the CFA exam

Instructor Videos: All classroom lessons are streamed live and recorded – if you are unable to attend, you can easily view and interact with the class live online, or catch up via recordings in your own time.
Classroom Slide Pack: All courses also include a portable 'classroom slide pack', including summary notes, slides, useful diagrams and tables. The material in the pack is constantly updated – Fitch Learning dedicates 'more than 240 days per year' to updating their CFA exam course materials.
Mock Exams – four full mock exams offered
Fitch Learning Cognition – a comprehensive online learning solution
Fitch Learning Cognition is Fitch's all-in-one, adaptive online learning platform, covering an online learning program, adaptive scheduling, performance analysis, and intelligent testing.
Candidates get a personalised study plan from the day one, guiding them through the materials before moving them on to the review and exam preparation phase. Course content such as instructor recordings, live webcasts and questions are in the intuitive content library, ordered into micro learning modules.
Cognition is included with most of Fitch Learning's packages, but you also can purchase access separately.
Practice Questions & Mobile App
In Cognition, Fitch Learning has Knowledge Checks – recurring quizzes through out the curriculum which reinforces your learning. Your performance is constantly measured and fed back to the system, where it can detect topics you're weak on and automatically personalise your study plan to address them.
At the end of less successful Knowledge Checks, you'll also have a choice to revisit your problem topics on the spot to review them before moving forward, creating a more rounded learning experience.
You can also use a more traditional Question Bank with their mobile app, which also includes course slides and instructional videos.
Final Countdown
The Final Countdown is a full revision guide with must-know equations, key concepts and top tips for taking the exam.
This is handy to bring around during the review period of your CFA preparations and for last-minute reviewing on exam day.
Instructor Support: Global Instructor Helpdesk, and One-to-One Consultations
As Fitch Learning has one of the largest faculties, it's not surprising that their instructor support is pretty good.
The Fitch portal has a global helpdesk – just ask and one of their instructors across any region will get back to you fast.
If your package includes it, you can also schedule a one-to-one call of web chat with an instructor to discuss specific problems you may be having.
No Pass No Pay & Pass Guarantee
For CFA Level I candidates using Fitch for the first time, you can get their No Pass No Pay guarantee, which offers just that – a refund if you don't pass your CFA exam when using Fitch. You'll have to prove that you've seriously studied for it though, which is a reasonable condition!
For all other candidates, there is a Pass Guarantee, which basically offers their online learning portal free of charge until you pass, and 50% off their cost of fees for retaking candidates.
---
Our Conclusion on Fitch Learning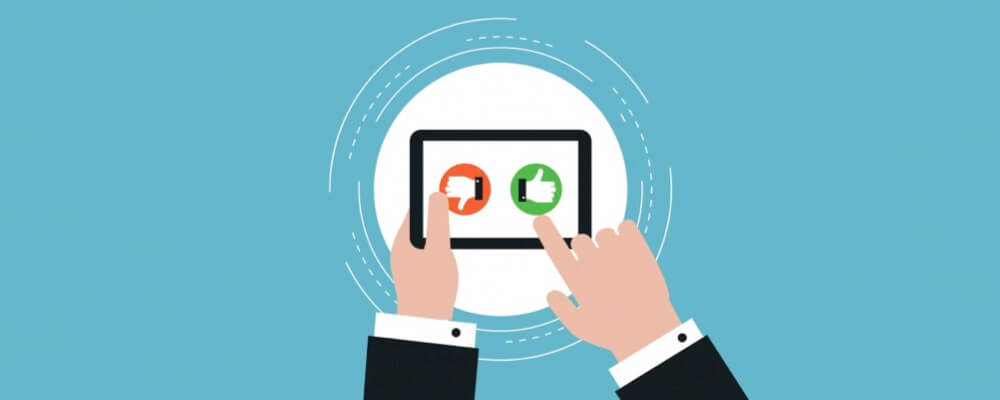 Pros
Long-standing: Fitch Learning (and 7city Learning before it) has a long-standing reputation as a strong training provider.
Specialist CFA classroom provider: With a large established faculty, if it's classroom learning you're after, you can't do much better than Fitch Learning.
All three CFA levels covered: Newer providers may not offer support for all three CFA levels, but Fitch has plenty of experience in this area and thoroughly covers all of them.
​Consistently updated: All materials are updated every exam cycle, so you know you're always using the latest curriculum.
Pass guarantee: Fitch's Pass Guarantee gives you access to their online learning portal free of charge until you pass, and also offers you 50% off their cost of fees for your next attempt. For CFA Level I candidates using Fitch for the first time, you also get their No Pass No Pay guarantee, which offers you a refund on any Fitch Learning product.
Instructor coverage: Having loads of instructors across multiple regions mean that contacting an instructor is easy and you get a fast response.
Cons
Classroom courses regardless of provider can be pricey, although Fitch Learning does offer discounts. You can check the latest offers here.
Candidate feedback indicates that practice questions could be further improved.
---
Fitch Learning's CFA Provider Rating
(190 candidate ratings)
---
Fitch Learning's CFA Candidate Reviews