By Zee, interviewing Edmund
Limited time offer – Bloomberg are offering 300 Hours readers a 100% free week-long trial of their Essentials Package (worth $599), and if you choose to continue with it you'll also get $100 off automatically. Offer ends 14th March 2016 – check it out here.
We've previously written about Bloomberg Exam Prep, the new kid on the CFA prep block. Despite having old-school (paper) preferences, Sophie took Bloomberg for a quick spin and was impressed by how Bloomberg effectively used technology to prepare CFA candidates.
But Sophie's passed all 3 exams already. So we thought views from a candidate that used Bloomberg to pass his CFA Level I would be even more helpful. Edmund passed his CFA Level I recently and kindly agreed to share his experience using Bloomberg. Read on for full details of his interview!
About Yourself
Can you tell me a little bit about yourself?
I graduated in May 2015 with a BA degree in Economics. Currently I'm looking for that first job, browsing my college's career job search website as well as Indeed. I am also taking accounting classes while applying for jobs.
I live in Virginia and went to CFA's D.C. location to take Level I. For many of the jobs I'm applying to, CFA is listed as a preferred credential they want to see progress towards to. That's why I am studying for the program. My career goal is to become an investment/equity analyst on either the buy or sell side for a well known bank/fund.
Choosing Bloomberg
What caught your attention about Bloomberg CFA Prep, and what made you decide to use them as your CFA exam prep provider?
I didn't know Bloomberg offered help with CFA prep, until I received a letter/flyer in the mail. And I'm so happy I did! I thought maybe I'll try their trial and see how I like it, I have nothing to lose. Right from the get go I was surprised by how easy to use and innovative the program was.
Which Bloomberg package did you go for?
I went for the $599 CFA package: the cheaper of the two options available. I compared the offerings of each and it looked like the more expensive one ($999) offered 4 additional mock exams and I could ask an instructor more questions. I didn't feel that additional expense was worth it for me, but that's a personal choice, of course.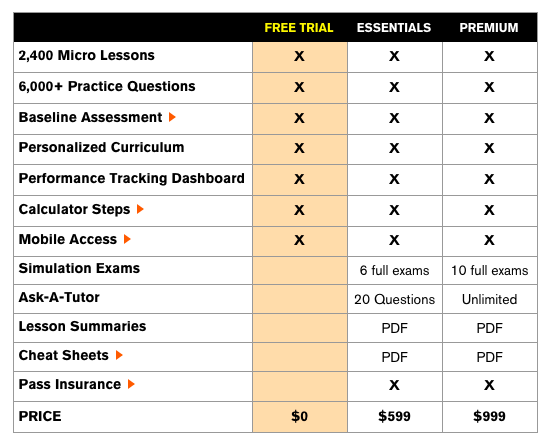 What was the 'killer feature' that convinced you about Bloomberg CFA Prep?
The feature I found brilliant about Bloomberg's program is its questions-centric approach. My philosophy is that you don't know the concepts concretely unless you can correctly answer questions. They're delivered in a wonderfully concise method: via bite size lessons.
These bite-sized lessons are very digestible: condensed, short and to the point. You read a few sentences, do a couple of questions. Then onto the next. It just worked for me!
What other factors did you think about in choosing your prep provider? How was this different from other test prep products you tried or considered?
The main two factors I considered when I was thinking about which providers to choose were:
Which provider is going to allow me to be able to grasp the most material in the least amount of time.
Which program would increase my chances of passing the most?
I tried another leading CFA provider previously, but personally I found the passages were a bit too lengthy for me. I found that initially I thought I 'got' the concepts, but when it came time to do the questions I forgot many key points that were hidden in the pages like needles in a haystack. It was harder for me to comprehend when you have to read so much information at one go. This Bloomberg program was a (more) refreshing break from that.
The Experience
When using the materials, what was the aspect or feature of Bloomberg CFA that you thought was the most useful for your studies?
What I loved about the program was that on the dashboard you could see all the topics laid out. I could, in a way, 'visualize' the curriculum and see how it fits together and how one topic flows onto the next. When I started to complete the recommended lessons, it guided them in such a way that were almost naturally progressive. And it would sometimes switch things up according to how you did in the previous lessons. And I loved this spontaneity. It kept things fresh and as interesting as they could be, given the circumstances and reality of studying for this exam.

Do you feel like the adaptive technology that's in Bloomberg's exam prep helped?
No doubt it played a critical role in my passing. It's like a robot teacher guiding you through the process. You never quite know what she's up to, but she delivers.
Were the e-versions of the materials effective? What devices did you use to access your materials? Did you need to print out any materials to supplement your studies?
I only used my Macbook to access the materials. I never printed out any materials myself, but of course, that's a good idea if you prefer physical text, want to avoid eye strain, or are going somewhere without internet and want (more like have to) keep studying.
With Bloomberg, you can ask any CFA questions that you have directly to their tutors. Did you use this feature, and if so how was your experience?
I did not ask any tutors any CFA questions but it was helpful to know that they are around just in case you're having trouble with one concept or another.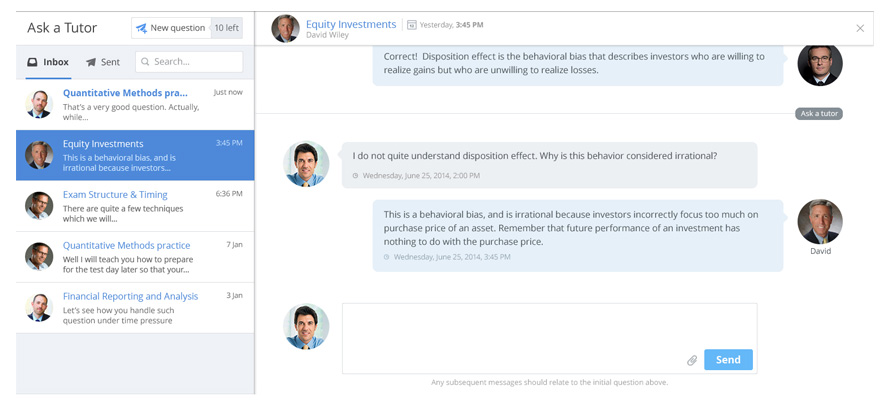 Did you experience any glitches while using Bloomberg?
While they were a couple of typos, that is of course inevitable with a program of this size. I didn't have any trouble with questions freezing up or anything, my computer only froze up once when I foolishly tried to zoom out on the entire concept map. But of course, that is the CFA level 1 curriculum for you. I didn't try doing that one again.
Going Forward
Would you use Bloomberg again for Levels 2 and 3 (if they published materials for it)?
Definitely, it may seem rash, but I wouldn't have to think about it. Add that baby to my cart. While I did study a lot for the exam, I credit Bloomberg with my passing the exam. Honestly, if I studied the same amount of time with Kaplan, I do not think I would have passed.
Would you recommend Bloomberg as a CFA provider to other candidates?
Yes, because I think I'm not alone in thinking comprehension of a chapter of reading material can be daunting, especially when you're stressed and cramming in as much as information as you can. Asking so many questions and minimizing the amount of reading allowed me to become stronger at the material at a quicker pace.
Do you have any suggestions for improvement that Bloomberg can incorporate for future candidates?
​While I was pleased with almost every single facet of Bloomberg's CFA program there are a few things I would change.
In the mock exams, which consisted of all 240 questions, I didn't like how you had to complete 120 questions, take a break, then complete the other 120, without knowing how you did on the first 120. When you spend 3 hours on questions, it's nice to get some feedback before continuing on.
​
​It would have been great if you could check on how you did on the first questions so you could learn from your mistakes before making often the same mistake on the second set of questions.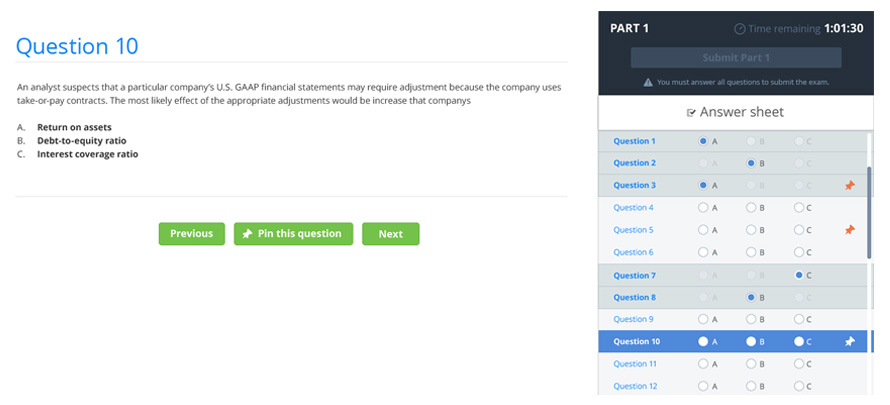 What do you think was the most effective part of the Bloomberg CFA Prep that helped you pass your CFA Level 1?
The most effective aspect of the material is the constant peppering of questions throughout the material. I like doing and practicing, as opposed to reading. The program allowed me to do precisely that. A little reading, a lot of questions. Most providers tend to do the opposite.
I would also have preferred to have separate buttons rather than a sliding scale of confidence when answering questions – I felt that I kept automatically defaulting to clicking 'most confident' setting, which must have confused Bloomberg's adaptive software.
Finally, I think the software that grades your performance could be improved further to reflect CFA grading standards. In allocating grades from Levels 1-4, you could get lucky in a practice set of 1 out of 1 question, getting it right and attaining Level 4 straight away, or get stuck in say Level 2 trying to get 5 out of 5 questions right to improve your grade.
Thanks for your time and for this interview, Edmund. We appreciate it!
Hope I've been some help in discussing my experience with the program, and good luck!
---


Limited time offer – 100% free trial, with $100 discount
Bloomberg's also kindly shared an exclusive discount with 300 Hours readers – a week-long full-access trial of their Essentials Package. And if you choose to continue, you'll automatically get $100 off then, making the full package just $499.
Check it out below – offer only lasts until 14th March 2016!