About Bloomberg CFA Exam Prep
Bloomberg as a brand needs no introduction – the ubiquitous Bloomberg terminal has been commonplace since the 1980s.
Bloomberg Exam Prep's CFA Program entered the CFA provider market in 2015 with a Level I online-first approach for CFA virtual learning. Since then, they have expanded its offerings to include CFA Levels II and III, as well as GMAT, GRE, LSAT, and PMP prep products.
Unlike textbook and lecture learning, Bloomberg Exam Prep's programs feature adaptive and highly interactive learning and practice. Their packages also offer academic support from their expert CFA charter holders and up to 11 practice exams, comfortably more than what we recommend.
Bloomberg Exam Prep's CFA study packages
Bloomberg CFA's current offers and deals
Here are the available deals, offers and discount codes for Bloomberg CFA Exam Prep packages:
Bloomberg CFA also features several other discounts and offers:
10-20% discount: Depending on the exam cycle, Bloomberg sometimes offers a 10-20% discount on their packages. To see if a discount is currently offered, head over to their website – if there is a discount, a notification bar at the top will appear showing the discount details.
20% discount when you buy 2 levels together: If you commit to two CFA levels with Bloomberg CFA Prep, they offer a 20% discount.
35% discount when you buy 3 levels together: If you commit to all three CFA levels with Bloomberg CFA Prep, they'll offer a 35% discount.
Bloomberg terminal discount: As a terminal customer, you can get any of the discounts below:

35% discount on a 2-level Premium or Ultimate bundle
50% discount on Premium or Ultimate 3-level bundles
a free 1-tier upgrade (Essential → Premium or Premium → Ultimate) on any of their single-level plans.
Study and Review Materials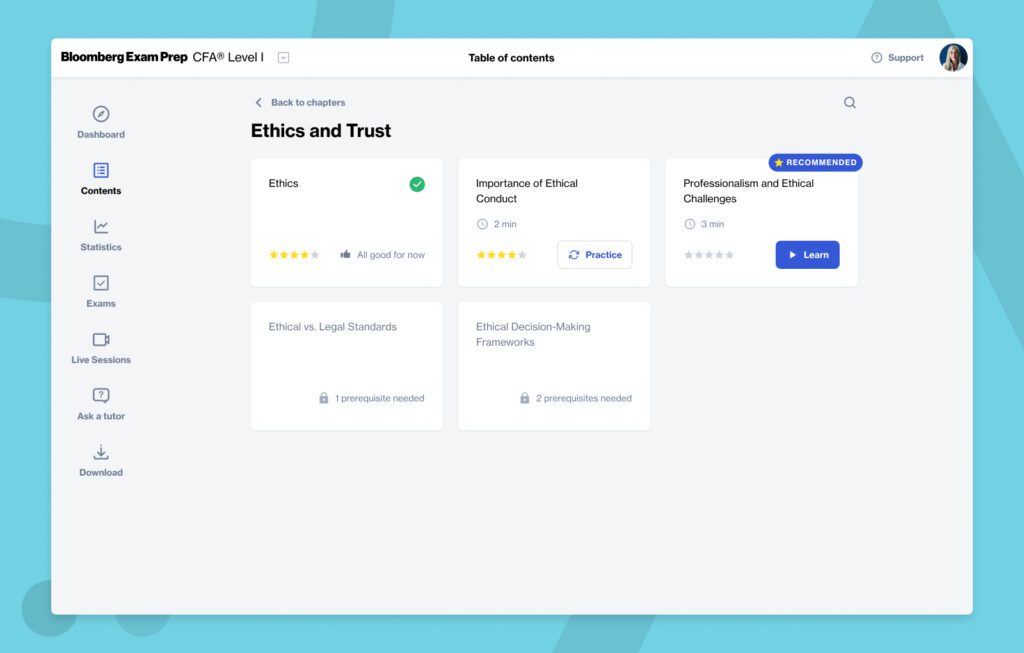 Study Guide: the entire CFA curriculum in an adaptive learning platform
Bloomberg uses an online teaching platform, which means you will need internet access when and where you plan to study. However, this means no heavy books to lug around, and the platform works on tablets and mobiles too, so convenience is a major advantage.
The entire curriculum is covered by 'micro-lessons', followed by practice. Each micro-lesson covers a small concept, after which your understanding is checked by a few questions, and then you move on to the next concept.
Interspersed within the learning, you will encounter practice sets so you stay sharp on concepts you have already learned.
The adaptive algorithm that focuses on learning a variety of topics at once may not be everyone's cup of tea, as some candidates prefer the usual structure of learning a topic in full before moving onto the next. You can try the program out for yourself – Bloomberg offers a two-week trial to get you started.
Cheat Sheets and Lesson Summaries
Bloomberg Exam Prep provides printable cheat sheets filled with formulas and definitions—useful for reviewing in the last few days before the actual exam.
Additionally, there are dozens of pages of printable concept summaries covering the entire curriculum in a condensed form. They are ideal for skimming or reviewing by candidates who want to study offline or have a paper study guide.
Learn more about Bloomberg's CFA study materials ↗︎
Online Tutoring
Ask-a-tutor questions
If you need more help understanding a concept or question, there's always an ask-a-tutor help button in the interface. Clicking it allows you to send a quick question to Bloomberg Exam Prep's CFA-chartered tutors, who will then get back to you, usually within one business day.
Essential package users get 20 ask-a-tutor questions, Premium package users get 80, and Ultimate package purchasers get unlimited ask-a-tutor questions.
Private tutoring
Ultimate package purchasers also get 5 private tutoring sessions via videoconferencing.
This can be useful when you're stuck with particular bits of the curriculum or would prefer a bit of live consultation when working through a particularly gnarly topic.
Learn more about Bloomberg's CFA courses ↗︎
Practice Questions and Mock Exams
Up to 11 practice exams updated for the latest curriculum
Right from the start, Bloomberg Exam Prep distinguished themselves from others by offering a maximum of 11 practice exams. We recommend that candidates complete about 4-7 exams, so their offering is definitely more than enough.
As with all Bloomberg Exam Prep's material, the practice exams are taken online. They can be paused in case you didn't have time to complete the whole exam in one sitting.
The exams are kept up-to-date with the current year's curriculum. They are weighted to the official CFA Institute topic weightings and timed just like the actual exam.
Bloomberg's practice exams are also available as printable PDFs for those who want to take the exams offline. Your answers can then be entered later to get the your scores and detailed explanations.
Practice questions: up to 10,000+ practice questions throughout the course
Bloomberg doesn't offer a "question bank" in the same sense as some of the other CFA providers do. Instead, questions are shown to candidates as they progress through the material and, of course, during the practice exams.
There is a lot of practice, too — the entire Level 1 course, including simulation exams, comprises over 10,000+ CFA practice questions.
Their Level 2 and Level 3 are no slouches either, with well over 3,000 practice questions each, including Constructed Response (Essay) questions for Level 3.
There are new practice questions being added to their courses all the time, and old questions are being updated.
Learn more about Bloomberg's CFA practice prep ↗︎
Online Platform and Apps
Student dashboard
Their performance dashboard helps you navigate all of the features of the platform and provides you a place to quickly start your study every time you log in.
It's also the place to go for stats about your learning, including course completion, areas covered, time taken, and success rates.
'Next Recommended Topic' functionality
The adaptive learning process also recommends the next topic for you to learn based on your performance in the previous lessons.
Bloomberg claims that by using the recommendation engine, candidates are likely to save dozens, if not more than a hundred hours compared to any other CFA prep approach.
Contents
The Contents tab lets you navigate through all of the topic areas and readings of the CFA Institute curriculum.
A handy search feature allows you to find the concept you are looking for with ease.
If you don't want to learn what the recommender suggests, you can always choose the next activity yourself.
You can review topics and readings already learned or see what's coming up next.
You can also fast-forward to advanced parts of the course by taking a quiz to unlock them.
Learn about Bloomberg's CFA online and mobile features ↗︎
Pass Guarantee
Bloomberg Exam Prep has a "100% money-back guarantee" subject to these conditions:
If you don't pass but completed 95% or more of their course, you can get your money back. This has changed substantially from their previous pledge detailed in our pass protection article.
If you do not meet the conditions of the guarantee, you are still entitled to a complementary extension of your plan to study further.
Learn more about the extras that Bloomberg offers with their CFA product ↗︎