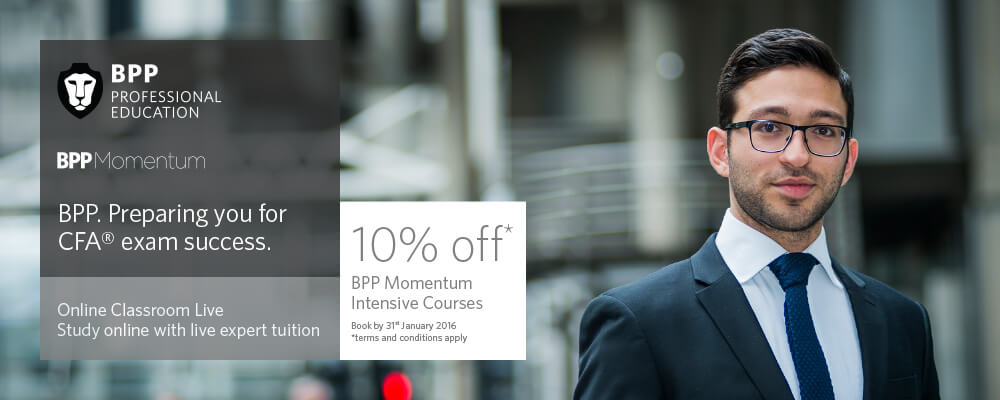 By Sophie
​
Happy new year! Hope you guys enjoyed a well deserved break during the holidays and are raring to go in 2016 🙂
As promised from my previous post on BPP's new platform called Momentum, I've had the opportunity to obtain early access to their Momentum platform during the last 2 weeks to take it for a good test run, and here are my first impressions of BPP's new initiative for June 2016 exams.
What do I like about BPP's CFA course?
#1. Complete, structured & a no-nonsense approach to learning
Upon logging in to BPP's Momentum learning platform, you're greeted with a simple, neat dashboard detailing all the Study Sessions you'll need to cover. Each study session is further broken down into bite-sized learning modules, completed with all materials you may need for learning: notes, test questions, pass cards etc.
I found the study guides particularly useful for students to have a quick look through as it details what you need to know for the exam from CFA Institute, and forms the basis of your focus as you go through the course. BPP's study materials are included for those who bought their Intensive (Taught + Revision) or Taught courses, where it is designed to complement the CFA curriculum to focus your studies effectively on key areas.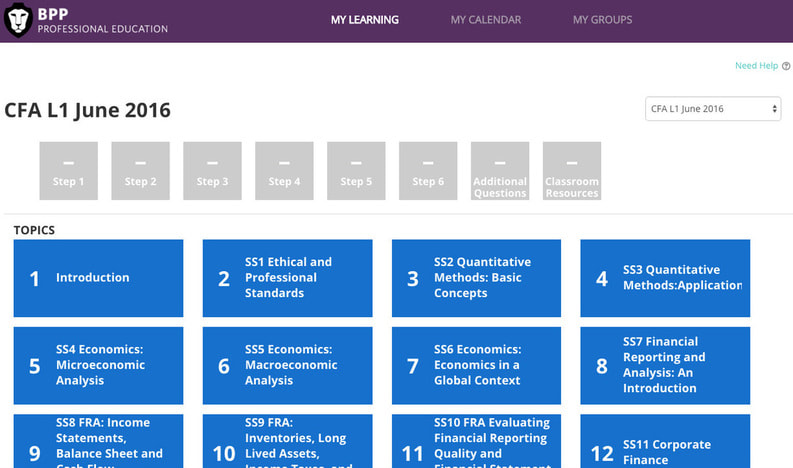 #2. Video lectures with huge emphasis on learning-by-doing
BPP's approach has been centered around its tried-and-tested classroom-based learning, which is great news for those who prefer to learn through video based lectures.

The videos have been updated on their platform to enable online learning easily (not simply just a class recording), and varies between 5-60 minutes depending on topic depth. Lectures are mainly based on doing examples, where the instructor walks you through questions in a clear, step-by-step manner.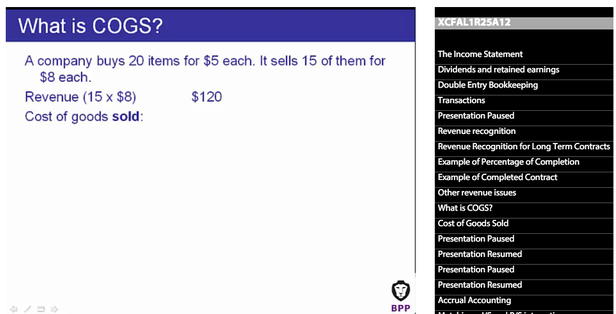 One of the key benefits of these video lectures is that BPP's experienced instructors tend to start off the topic with a quick overview of the topic, and supplement it with their advice and tips on areas of focus and common exam mistakes that you'd need to be aware of – not something you get easily from reading the book itself!

​#3. Active steps to monitor study progress
BPP's new Momentum platform takes a simple approach to monitor your learning, with progressive questions and tests you need to do as you complete each topic. It also reinforces your learning by incorporating spaced repetition in its modules whereby you're required to complete "Steps" to test your knowledge of a broader set of topics (instead of just end of topic questions) as they are completed chronologically.
There is no excessive nor detailed topic-by-topic analytics here where some of you may find distracting. BPP's Program Advisors do track your progress and will check in with you via email with useful webinars/tips that may help your weaker topics. Old school perhaps, as long as it works!
What else should you know?
Pricing & availability
BPP is now offering a 10% discount on all their Intensive courses (i.e. taught classes and revision included) on BPP Momentum if you book by 31st January. Here's a quick summary of their post discounted pricing (depending on Levels and study methods):
Study Mode

Level I
£ Fee (excl. VAT)

Level II

£ Fee (excl. VAT)

Level III

£ Fee (excl. VAT)

In Centre Classroom
​(London, UK)

Full price: £1,745.00
​Discounted: £1,570.50
Saving: £174.50

Full price: £1,995.00
Discounted: £1,795.50
Saving: £199.50

Full price: £2,175.00
Discounted: £1,957.50
​Saving: £217.50

Online Classroom Live

Full price: £1,170.00
Discounted: £1,053.00
Saving: £117.00​

Full price: £1,320.00
Discounted: £1,188.00
Saving: £132.00

Full price: £1,460.00
Discounted: £1,314.00
Saving: £146.00

Online Classroom

Full price: £840.00
Discounted: £756.00
Saving: £84.00

Full price: £960.00
Discounted: £864.00
Saving: £96.00

Full price: £1,065.00
Discounted: £958.50
​Saving: £106.50
As you can see, all 3 Levels are available at your preferred method of study. International (non-UK) students can benefit from BPP's teachings as well with the Online Classroom Live or Online Classroom modules.
Given the looming start dates of these classes, here's a quick summary for all Levels (see full details on start dates here):
Online Classroom Live: 5th or 6th Feb 2016
Online Classroom: 13th Jan or 14th Feb 2016
In Centre Classroom (London) – various start dates in Jan and Feb depending on preferred day/time
​
Reputation & effectiveness
BPP is an established UK company that has been delivering CFA preparation classes for over 20 years. Their new Momentum platform is a good effort to bring their tried-and-tested classroom learning methods to the Internet age, allowing global access to all CFA candidates around the world whilst retaining teaching quality.
The course should appeal to those who prefer more structure in their studies, and enjoy a classroom style or video-based lecture.
​
Over to you…
What's your preferred study method like? Would video-based / classroom style lectures work best for you?

​
I'd love to hear your comments below and discuss it with the 3H community. To learn more about BPP Momentum, check out their website here.